When it comes to urban hip hop and street style fashion, A Bathing Ape or BAPE is one of the world's renowned brand people are digging into. A Bathing Ape was founded by Tomoaki Nagao, also known as Nigo, in 1993. Nigo, born in Gunma Prefecture, Japan, a former magazine editor prior to conceptualizing the BAPE urban clothing line, is currently a music producer, DJ and main rapper of Japanese hip hop group called Teriyaki Boyz.
Nigo's inspiration in creating BAPE urban clothing line came from Japanese saying "a bathing ape in lukewarm water" which means spoiling someone to luxury and from the 1968 American science fiction film "Plane of the Apes". Nigo opened his first ever store which he called "Nowhere" in Harajuku, Japan on April 1, 1993 where he first introduced BAPE to the public. At first, there were only a few shirt and camouflage printed hoodies on his store which became popular among teenagers and soon became mainstream to mid to late 20s demographics.
BAPE (A Bathing Ape)'s Target Market
A Bathing Ape's market reaches far with specialization in hip hop and urban lifestyle wear for men, women and kids. Female couture or dress clothing line called "BAPY" was resurrected in 2010 where it caters women from teenage to adult market. Men who are into upbeat music genres can generally relate to BAPE's fashion style offering.
In Japan alone, there are 19 store outlets of BAPE including BAPE Pirate Stores, Bapeclusive Aoyama, Bape Kids store and Bapexclusive Kyoto, where Bape Gallery is collocated. BAPE became famous to Japanese celebrities before successfully penetrating the international market. BAPE stores are found in Asian countries like Beijing and Shanghai in China, Seoul in South Korea, Hong Kong, Singapore and Taipei, Taiwan. Outside Asia, BAPE can be found in New York, the sole store in the US, Paris and London.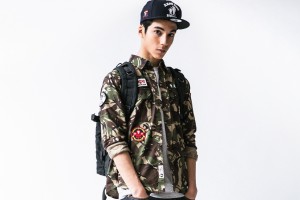 BAPE (A Bathing Ape) Fashion Articles
Among the wide variety of clothing articles offered by BAPE, the store became critically acclaimed with its straight up ape-printed shirts and camouflage-printed hoodies and jackets. Today, BAPE's collection expanded from undergarments to skater shoes and even toys. BAPE offerings include, but are not limited to the following:
Pocket Tees
Polo Shirts
Crew Neck Sweatshirts
Knit Cardigans
Snapback Caps
Felt Hats
Bow ties
Trunks
Boxer shorts and briefs
Varsity Jackets
Leather shoes
Suits and ties
Pillow cushions
Stuffed toys
Playing cards
BAPE (A Bathing Ape) Signature Logos
A Bathing Ape is easily distinguished by its ape logo and trademark ape-inspired camouflage pattern. For the streetwear shoes however, BAPE gave birth to what is considered as hybrid fusion of Converse All-Star and Air Force One called Bapesta. Bapesta shoes bears a Star logo with a Nike-ish "check" on the side. Baby Milo is also a famous BAPE trademark. Baby Milo is like the cartoon version of the BAPE logo and considered as the Hello Kitty and Mickey Mouse counterpart of the BAPE clothing line.
BAPE (A Bathing Ape) Collaboration Projects
BAPE founder and creator, Nigo, did lots of collaborations with other brands that made BAPE more appealing to the mass and reach further in terms of market penetration. For its 20th founding anniversary, BAPE collaborated with 20 artists to create a collection that features each artist's version of BAPE's ape-inspired trademark imagery, all on white graphic tees. Heavy hitters that participated in this collaboration include Kanye West and William Pharrell. In the same year, BAPE collaborated with Playboy, and released only black and white articles like polo shirts, cardigans, bow ties, and undergarments to name a few. The design basically incorporated Playboy's trademark rabbit logo with BAPE's trademark camouflage and star and swooshes and ape logos.
More collaborations of A Bathing Ape include popular characters like comic characters of Marvel, Sponge Bob Squarepants, Hello Kitty and the Sanrio Family, Nintendo, DC Comics and The Simpsons. The popular characters are blended with BAPE's signature logo and appear on various clothing articles and fashion accessories.
A Bathing Ape is not only known for selling urban hip-hop and street style fashion articles. It also runs businesses like an art gallery, which hosts various fashion and art events, coffee shops called Bape Cafe, beauty salons called Bape Cuts and a record store.
Watch this documentary if you want to know more about A Bathing Ape and its history:
Did you know that you can order BAPE (A Bathing Ape) clothes and goods via From Japan?