Updated in July 2019 to add fresh items. Enjoy!
Do you know Cu-Poche? These adorable action figures are pint-size perfection! Standing around 110 mm tall, they offer fourteen points of articulation to give you near-infinite posing options. Cu-Poche, or キューポッシュ in Japanese, are named for their two key qualities – they're cute and they fit in your pocket, or poche in French. As well as being fully poseable, Cu-Poche parts are also interchangeable, opening up even further possibilities for brand-new remixes and situations. With a wide selection of both Cu-Poche versions of your favorite anime and game characters as well as original designs and imaginative accessories, the Cu-Poche series is perfect for collectors, miniature aficionados, or just for playing with! Read on for some of the top Cu-Poche collections and for more information on these charming cuties.
Fate Cu-Poche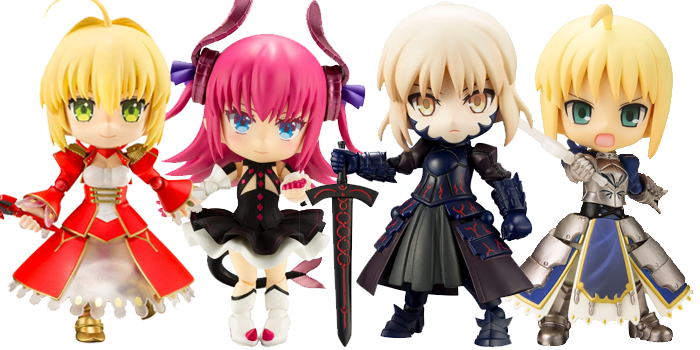 Some of the Fate series' most beloved characters have joined the Cu-Poche family! Saber Altria Pendragon, Saber Nero Claudius, Saber Alter, and Lancer Elizabeth Bathory have all been chibi-fied in these adorable Cu-Poche figs! Each of the Servants comes with alternate faceplates and accessories so you can reenact scenes from your favorite Fate game!
Search for Madoka Magica Cu-Poche
Madoka Magica Cu-Poche
The full cast of magical girls from Madoka Magica have made their appearance as Cu-Poche figures, with their outfits recreated in minute detail. Each comes with a range of expressions, as well as her weapons of choice to recreate combat scenes.
Search for Madoka Magica Cu-Poche
Idolmaster Cu-Poche
Idols from a wide range of Idolmaster titles have made their debut on the Cu-Poche stage! With appearances in both performance costumes and off-duty looks, you can enjoy all aspects of your favorite idol's personality in adorably tiny form. The Cu-Poche idols also come with accessories matching their personality and background, so no two are alike.
Search for Idolmaster Cu-Poche
Girls und Panzer Cu-Poche
With a deep cast full of personalities, Girls und Panzer provides ample inspiration for the Cu-Poche series! Accessories and interchangeable expressions give you the signature range of options for displaying your Sensha-do favorites.
Search for Girls und Panzer Cu-Poche
Frame Arms Girl Cu-Poche
Characters from Kotobukiya's model kit line Frame Arms Girls also make for adorable Cu-Poche figures! With all mecha parts removable, you can enjoy the Frame Arms Girls ready to go to battle, or in more relaxed moments. By mixing and matching, you might even be able to create a brand-new mecha original!
Search for Frame Arms Girl Cu-Poche
KanColle Cu-Poche
KanColle's fleet girls always look cute, so they're perfect candidates for Cu-Pochification! They come with removable parts for you to display them mid-battle, damaged, or just relaxing at your naval base.
Cu-Poche Friends
In addition to the main line of character Cu-Poche, you can also get some additional pals to add variety to your collection – the aptly named Cu-Poche Friends! This adorable cast of original characters started with energetic brunette Anne, followed by blue-haired dreamer Belle and kind and helpful blonde Cherie. Recently, Dino became the first boy to join the friends, and the series even took a fantastical turn with the addition of Alice in Wonderland and Little Red Riding Hood.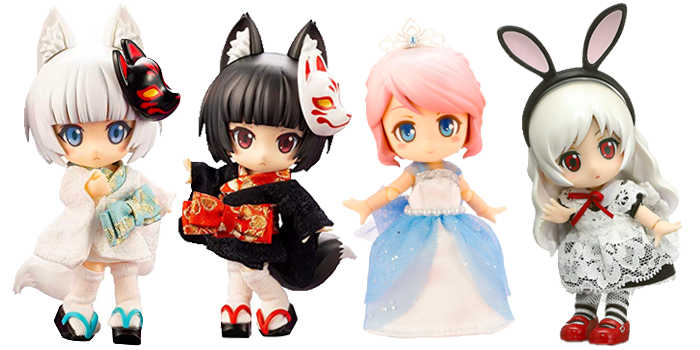 More friends join the Cu-Poche family, including two kimono-clad Kitsunes, the lovely Princess Cinderella, and an alternate version of Alice in Wonderland – Alice Noir.
Cu-Poche Extra: Bodies
All the Cu-Poche parts are interchangeable, which is key to the customizability of the line. While most character Cu-Poche come with their outfit molded onto their body, have no fear – you can get additional Cu-Poche bodies to realize your creative vision. The basic body set comes with a stand and magnetized base, but there are a wide range of further options available – from swimwear to uniforms. Many Cu-Poche bodies come as a set with additional hands and accessories for further posing options.
Search for Cu-Poche Extra: Bodies
Cu-Poche Extra: Costumes
Cu-Poche are some of the best-dressed figures around! From delicate dresses to cosplay outfits, a well-stocked wardrobe leaves your Cu-Poche prepared for any situation. Some Cu-Poche outfits come with additional body parts to give you more display options, while others come with an extended range of accessories such as shoes and bags. Whether attending school or shielding from the rain, enjoy putting your favorite characters into an entirely new context!
Search for Cu-Poche Extra: Costumes
Limited-edition Cu-Poche Items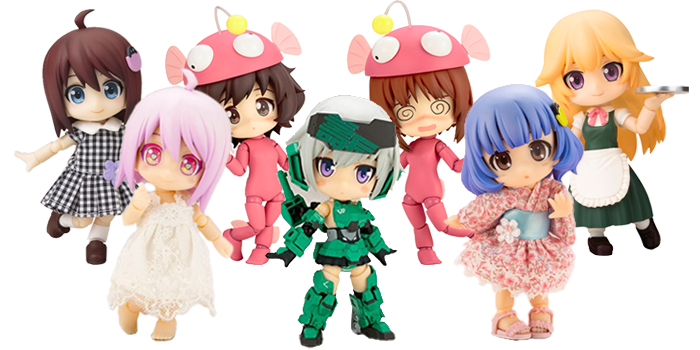 Cu-Poche are widely available from major Japanese retailers and online shops, but some items are harder to come by. Seasonal costumes, special colorways, even character Cu-Poche themselves are sometimes released only in limited numbers, or only available from select shops. Don't worry if you can't get your hands on these in person – you can search for limited-edition Cu-Poche and other exclusives on FROM JAPAN!