Updated in August 2019 to add fresh items. Enjoy!
Hello Kitty, My Melody and Twin Stars are beloved by old and young all over the world – but the wonderful universe of Sanrio contains a staggering number of cute and quirky characters of every stripe! We want to do our bit to help these local favorites build a global reputation! Read on for our pick of Sanrio stars whose time has come – as well as some seriously obscure hidden gems.
Marumofubiyori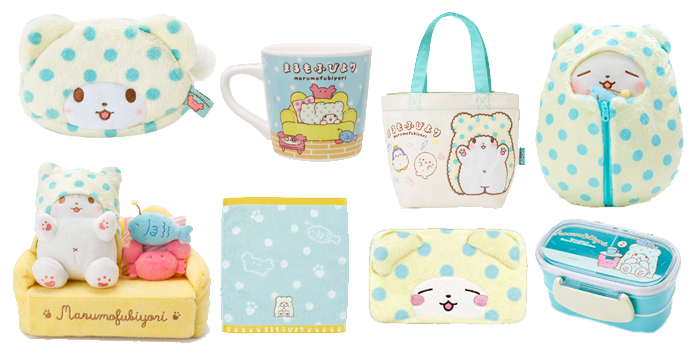 Marumofubiyori (まるもふびより)
Debut: 2017
Marumofubiyori is one of the latest additions to the Sanrio family – an adorable polar bear who loves to laze about at home. His roommate gave him the nickname "Moppu" as he always drags his blanket like he's cleaning the floor with a mop. Moppu is never seen without his best friends, Kanikama the crab and Gyoniku the fish.
Goropikadon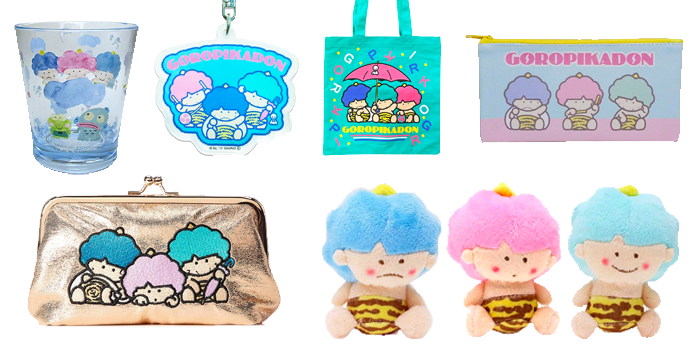 Goropikadon ゴロピカドン
Debut: 2013
If you're into some retro-Kawaii vibes, then look no further than Goropikadon! This trio of cave-dwellers are natives of the Land of Thunder, an island where the brothers love to wreck havoc by playing pranks on their unsuspecting neighbors. The brothers may be a bunch of cheeky monkeys, but they're just too adorable to get into any real trouble!
Cogimyun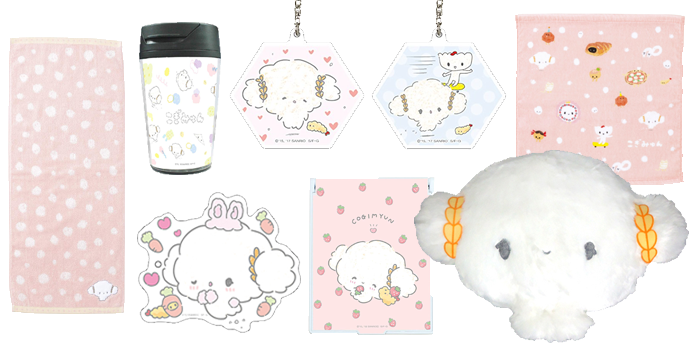 Cogimyun こぎみゅん
Debut: 2015
Comyun is a little speck of flour with big dreams – she wants to become an onigiri! Although she's not entirely sure what that entails. Cogimyun is currently travelling around the world in lieu of her grandfather who is a bigwig at Cogicorp. Have Cogimyun join your kawaii adventures by adding her to your Sanrio collection!
Tuxedosam
Tuxedosam (タキシードサム)
Debut: 1979
The consummate dandy, Tuxedosam has an impressive bow tie collection – he can sport a different one all 365 days of the year. Perhaps not the sharpest tool in the shed, but this charming gourmand is fluent in both Penguinese and English and has no problem making friends.
Huge scoop! We have Tuxedosam's measurements:
Height: 100 cm
Chest: 100 cm
Waist: 100 cm
Hip: 100 cm
Just like Tuxedosam himself, those numbers sure are round!
Pankunchi
Pankunchi (ぱんくんち)
Debut: 2007
Pan-kun is an intrepid baby panda who was abandoned in Panda Forest, but made the best of it by becoming chums with cheerful breadfriends Shokupan-kun and Koppepan-kun. But there's a tragic undertone to this friendship. Pan-kun loves bread, and whenever he sees his bready buddies his little tummy lets out a huge growl.
Kirimi-chan
Kirimi-chan (KIRIMIちゃん.)
Debut: 2013
Could Kirimi-chan have been created anywhere but Japan? Ever since she was born from the meeting of a sharp chef's knife and a delicious salmon, Kirimi-chan has had one goal: to become a tasty meal, and look cute doing it. She and her yummy seafood pals are your mealtime partners – bon appetit!
Nya, Ni, Nyu, Nye & Nyon
Nya, Ni, Nyu, Nye & Nyon (ニャニィニュニェニョン)
Debut: 1984
These five feline siblings are just about the cutest litter of kittens there ever was. Nya is the responsible sibling, keeping everyone in line. Ni is kind and loves marshmallows. Everyone spoils Nyu, who prefers them to do it by giving him more milk, his favorite. Nye is a sophisticated little lady with a sharp sense of style. And last but not least, Nyon is the put-upon butt of family jokes.
My Sweet Piano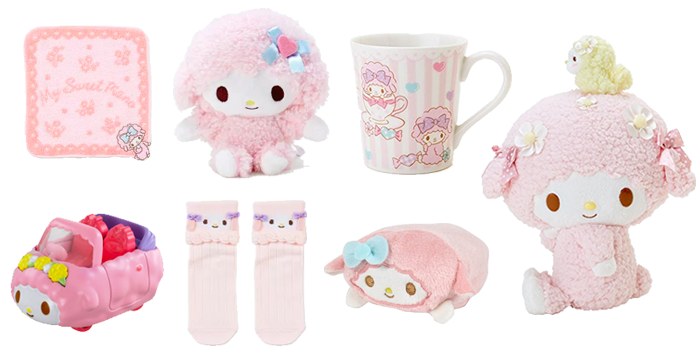 My Sweet Piano (マイスウィートピアノ)
Debut: 2005
My Sweet Piano is an pink and poofy lamb who is also the best friend of My Melody! My Sweet Piano loves nothing better than frolicking in fields with her bestie and eating meringue cake. She may be slightly spoilt, but My Melody will agree that you could have no better friend than My Sweet Piano.
Cheery Chums
Cheery Chums (チアリーチャム)
Debut: 1979
Adorable bunny Chum's favorite thing is baking a whole lot of cakes and cookies and throwing a party for her friends: Pam, Mu, Pu and Myu! Pam the elephant is not very good at expressing his emotions, but is a kind and dependable sort who often takes a leadership role in this little group. Mu the bear loves studying and always lends an ear to his friends' problems. Pu the pig is a shy little romantic – he hopes you won't tell Chum he has a crush on her! Rounding out the gang is Myu the mouse, a merry prankster who is maybe just a little spoiled.
Haguruman Style
Haguruman Style (歯ぐるまんすたいる)
Debut: 2015
The Haguruman crew is a group of polished dental professionals working overtime to keep your mouth in ship shape. They all have different strengths and weaknesses, but together they make a solid team. Treat them right, and there's no lengths they won't go to to get the job done!
Framboiloulou
Framboiloulou (フランボアルゥルゥ)
Debut: 2010
Loulou and her best teddy friend have been inseparable ever since they first met – no wonder considering how magical that first meeting was! Loulou was lost in Paris when she looked through a shop window and saw the sweetest teddy bear exactly the color of mousse à la framboise. Their eyes met and she seemed to hear a reassuring voice, telling her everything would be all right. Seeing this bond, the kindly shopkeeper gave Loulou the bear to keep.
Hangyodon
Hangyodon (ハンギョドン)
Debut: 1985
A charming marine creature who loves to make people laugh, as so many clowns before him Hangyodon's jokes and antics mask a sensitive and romantic soul – a real Pisces type. He tries to act the dashing hero, but somehow it never turns out quite right. But he's no cold fish – some of his favorite things are hot pots and hot springs. Dainty octopus Sakura is his best friend and frequent companion.
Shinkansen
Shinkansen (しんかんせん)
Debut: 1999
The world's in awe of the speed and smooth running of the Shinkansen, the famous Japanese bullet train. However, the Shinkansen's adorable Sanrio alter-ego is less known outside Japan. These cheerful fellows are always flashing their trademark smile as they spend their days going through tunnels and crossing bridges all over Japan, making sure everyone gets to their destination. What champs!
Corocorokuririn
Corocorokuririn (コロコロクリリン)
Debut: 1998
He's only a little golden hamster, but he's never let that stop him! Corocorokuririn is a curious little creature, instantly recognizable by his snazzy flower hat. He loves eating his fave snacks (cookies and sunflower seeds) and snuggling into tight spaces. Corocorokuririn and his beloved Sakura have a litter of seven pups, each one cuter than the last: Chibikuri, Komachi, Kurumi, Cherry, Shingo, Miriku, and Chacha.
Show by Rock
Show by Rock
Debut: 2012
Show by Rock is not just a character – it's a whole city filled with the cutest and most talented critters, who all dream of making it big! Who's got the star quality and staying power to become Midi City's next musical sensation?
Ichigoman & Darkgrapeman
Ichigoman (イチゴマン) & Darkgrapeman (ダークグレープマン)
Debut: 2011
In trying times, a new hope appears…and this is one super cute superhero. Ichigoman is Hello Kitty's heroic alter ego, fighting evil-doers and monsters alike. Hello Kitty accesses these powers by holding a strawberry-shaped phone aloft and yelling "Power the kitty!" – transforming into Ichigoman. Darkgrapeman is Ichigoman's partner in crime-fighting, appearing on the scene in a motorcycle with sidecar, black cape billowing behind him. Name a more dynamic duo!