What are the rarest, most expensive, and most popular Bearbrick collaborations?
Over 20 years since the first ever edition was created, Japanese toy manufacturer's Bearbrick (BE@RBRICK) creations have become the most sought after toy collectibles in the market. The line is so renowned that countless other companies and brands have collaborated with Medicom Toy to come up with Bearbrick designs that'll appeal to people of all interests.
If you've arrived at this article with the question "What is Bearbrick?" in your mind, we recommend reading through one of our previously released articles that will answer just that, which will give you details including Bearbrick sizes, types, and even the rarity of specific Bearbrick collections.
But if you're already a Bearbrick enthusiast looking to learn more about the rarest, most expensive, and the most popular Bearbrick collaborations, then we won't keep you waiting. Let's get right into it!
KAWS Dissected 1000% Bearbrick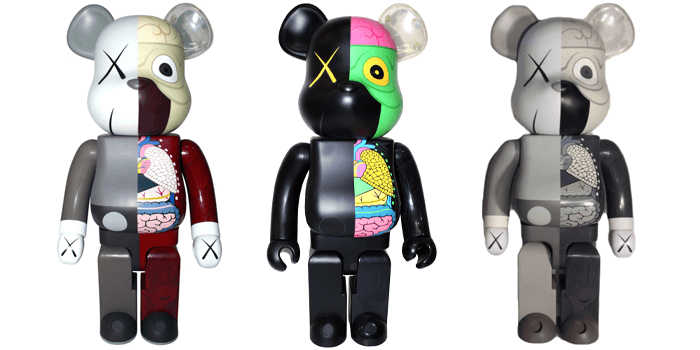 American artist KAWS is known for creating one-of-a-kind character designs that have been turned into sculptures and various other art pieces across the globe — the most famous of which is his Companions series of clown-like figures with traits resembling the famous Mickey Mouse.
Kaws' collaboration with Bearbrick makes use of his Companions in the KAWS Dissected 1000% Bearbrick lineup. It's quite unique in that its one of the few Bearbricks that have different designs for each half of the Bearbrick's body, with one half showing the exterior of the Companions and the other being a "dissected" half, showing their internal organs. Three colors currently exist: Black, Brown, and Grey, with their 1000% versions going anywhere between $9,000 to $14,000.
Coco Chanel 1000% Bearbrick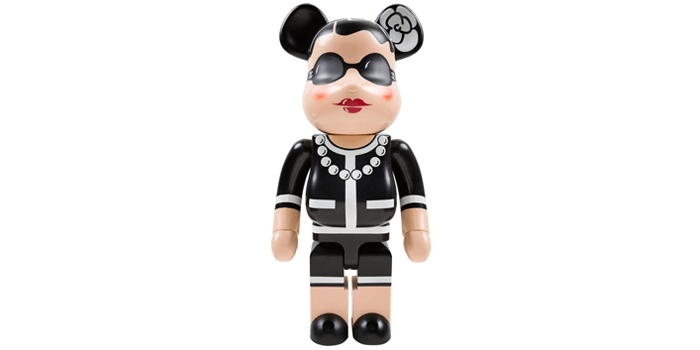 Renowned French fashion designer Coco Chanel was immortalized by another renowned designer, Karl Lagerfield, in her very own Bearbrick for a charity auction in 2007. The result is this unique Bearbrick patterned after her likeness.
Due to it being produced for a one-time event and never remade again, the Coco Chanel 1000% Bearbrick is hard to come by in markets and auctions. Its rarity is reflected in its price too — it's been steadily going up over the years, and is currently valued online at $74,999! This is the most expensive Bearbrick on this list, but you should read on to see what else we've included.
mastermind vs BAPE Bearbrick 1000%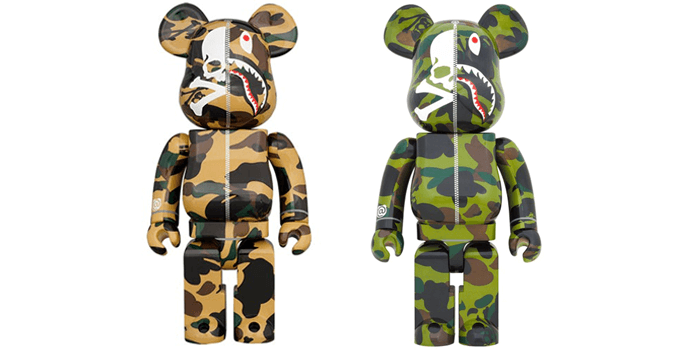 The mastermind vs BAPE Bearbrick 1000% is what happens when three celebrated Japanese brands come together. mastermind and BAPE are both Japanese clothing brands that have a huge following especially among avid fans of streetwear. BAPE are known for their camo patterns which can be seen all over the Bearbrick's design, and for their shark motif which is featured on one half of the Bearbrick's face. The icon of mastermind, on the other hand, is their skull and crossbones symbol which you can see as the other half of the face.
The two color versions are valued at different prices, with the Green Camo version ($4,774) being more than twice the price of the Yellow version ($2,208).
Emotionally Unavailable 1000% Bearbrick (Red Heart)
While this Bearbrick is one of the more recent ones on this list, it's still one of the rarest and most valued Bearbrick collaborations out there. Emotionally Unavailable is a clothing brand by Edison Chen and Kybum Lee, and the Emotionally Unavailable 1000% Bearbrick was released in 2020 in Shibuya, Tokyo. The heart inside the Bearbrick lights up as well, making it one-of-a-kind. The Red Heart versions go from $1,700 (the leftmost Bearbrick in the image), and can go as high as $9,556 for the Clear version.
KAWS "Chompers" Bearbrick 1000%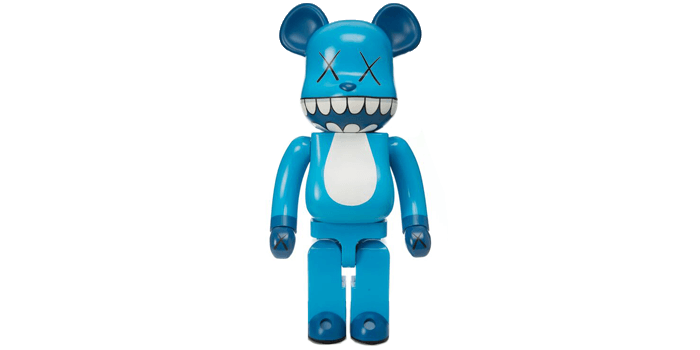 Next, we have another entry from a Bearbrick and KAWS collaboration, but this time, we'll be talking about one of their earliest collaborations dating back from 2003. The KAWS "Chompers" Bearbrick 1000% features KAWS' signature character designs through the bright blue figure with a wide open mouth and exposed teeth, which is what the "chompers" portion of the name refers to. Because it had a limited release from almost 20 years ago, the 1000% Bearbrick is currently valued on sites abroad at around $18,500.
Bearbrick x Keith Haring Collection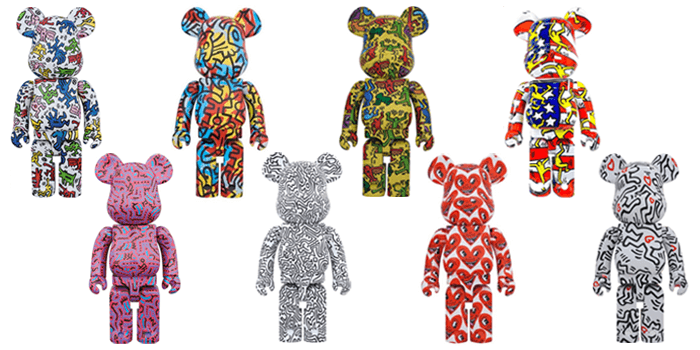 American artist Keith Haring was so influential in the pop art world that more than 30 years after his death, his work can still be seen everywhere. He started out as a graffiti artist in New York in the 1980's, and his creations filled with bright colors, dancing people, and strong lines also served a deeper purpose with their usage in social activism.
Even if you've never heard of him, you'll definitely find his work eye-catching as evidenced in the Bearbrick x Keith Haring collaboration. The Keith Haring BE@RBRICK #1 1000% (the first full-sized version in the collection) is currently listed at $3,950. Since then, they've added more designs to the lineup, for a total of 8 versions of the original Keith Haring Bearbrick collaboration, which you can see in the image above.
Bearbrick x Breaking Bad Collection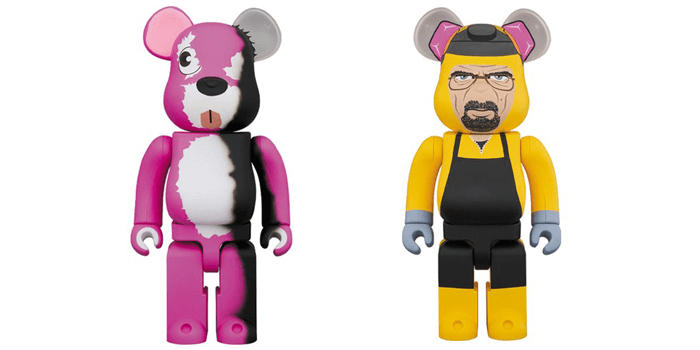 No other TV show defined the late 2000s and early 2010s the way Breaking Bad did. The multi-award winning American TV series received constant praise and always managed to keep fans on edge all throughout its 5-season run.
Breaking Bad also spawned several signature items that fans will immediately recognize, such as the show's intro that used chemical symbols, Walter White in his bright yellow protective uniform, and the one-eyed half-burned bright pink teddy bear — with the last two becoming the design basis for the Bearbrick Breaking Bad collaboration.
With listed prices going for around $300-$600 depending on the size, the Bearbrick Breaking Bad lineup isn't the most expensive of them all, but the influence of the show has definitely made the appeal of this collection much wider and made it one of the most popular pop culture collaborations.
Bearbrick x Banksy – Flower Bomber and Flying Balloon Girl
We've already talked about one renowned American graffiti artist, and now we go across the pond for another one. Little is known about the elusive artist Banksy. All we really know about Banksy is that they started being active in the 1990s in Bristol, England. Despite the lack of information about this English artist, Banksy's work has managed to become very iconic — a feat that not everyone can achieve.
Two of Banksy's most famous works were used as the inspiration for a Bearbrick collection. The first is a graffiti known as "Flower Bomber" or "Flower Thrower", which depicts a masked man in a pose about to throw a colored bouquet of flowers. The other Banksy artwork featured here is "Flying Balloon Girl", which depicts a young girl holding on to balloons as she starts to fly away. Both graffiti pieces have been used as patterns for the Bearbrick designs, and prices for them range between $400 up to $1000.
Karimoku 1000% Bearbrick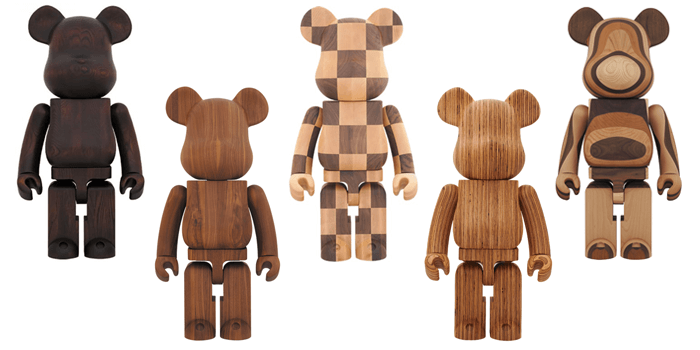 Karimoku is a high-end Japanese furniture store that specializes in wooden furniture. In Japan, they're known for the quality of their products which are straightforward in design, but will last in your home for a long time.
The Karimoku Bearbrick collaboration is to date, the only one of its kind to be produced. So far, there hasn't been other designs that make use of the beauty of natural wood, and the 1000% version of this collection has five unique styles.
Some of the 1000% versions were only made available during certain events, such as the BE@RBRICK Worldwide Tour 2 Karimoku 1000% ($4600) and the BE@RBRICK Karimoku Walnut 1000% ($5530) from the Medicom Toy Exhibition 2013. These prices aren't unusual either — the lowest original distribution price for a Bearbrick Karimoku 1000% is ¥525,000 or $4600!
Bearbrick Evangelion Unit Set of 3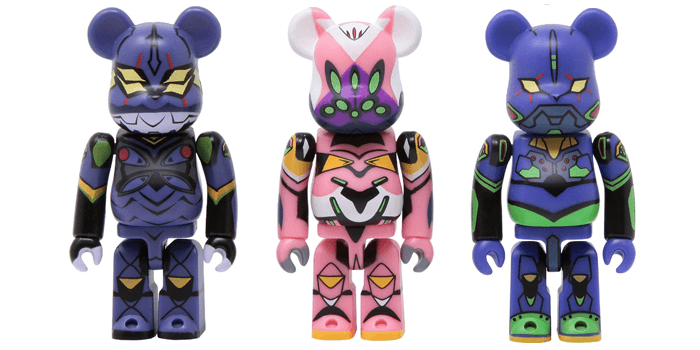 The Bearbrick Evangelion collaboration is only one of dozens of Beabrick anime collaborations that have happened over the years. This Bearbrick Evangelion Unit Set of 3 isn't the most expensive on this list, but with the hype over the Evangelion: 3.0+1.0 Thrice Upon A Time movie from 2021, there's been a renewed increase in popularity for Evangelion merch in Japan and across the world.
The good news is that even though these Bearbricks are popular, they aren't extremely rare, so if you're an Evangelion fan, you can still find Evangelion Bearbricks from Japan.
Find Japan-exclusive Bearbrick with FROM JAPAN!
Since Bearbrick makers Medicom Toy are based in Japan, lots of Bearbricks are only released for the Japanese market, making them rare and hard to find abroad. But with the help of a proxy shopping service like FROM JAPAN that finds Bearbricks listed on online auction stores and Japanese websites for you, you'll have an easy-to-use resource to get Bearbricks for your collection.
Learn how to start using our powerful search engine with our blog post here, or take a look at our Usage Guide to learn more about how to use our site. Lastly, our Customer Service team can be contacted at any time if you experience any issues. Happy shopping!