All information is accurate as of time of publication.
What is BAPE?
A Bathing Ape, also known as BAPE, is one of Japan's most iconic and established luxury streetwear brands. BAPE has its beginnings in 1993, where founder Nigo set up his first store in the trendy Ura-Harajuku neighborhood of Shibuya, with fellow Japanese streetwear heavyweight Jun Takahashi of Undercover. Since then, BAPE has been a whirlwind success, boasting many celebrity fans including Pharrell Williams who co-owns Nigo's other fashion line, Billionaire Boys Club.
This popularity has to lead to BAPE opening stores in fashion capitals like London, Los Angeles, and New York City but true Bapeheads know that buying from the official Japanese BAPE online store and stockists means that you have access to a plethora of Japan-exclusives and weekly BAPE drops! However, the official BAPE Japan online store is only available to those with a Japanese address and payment method.
But that's where FROM JAPAN comes in! Our proxy shopping service is highly trusted and recommended by BAPE fans for helping them cop the latest BAPE releases. Read on to find out how to get access to limited-edition, authentic BAPE using FROM JAPAN!
How to buy from the BAPE official webstore with FROM JAPAN
As BAPE'S official webstore has all its categories in English, it is one of the few Japanese retailers that even non-Japanese speakers can easily navigate, although the item descriptions are still written in Japanese.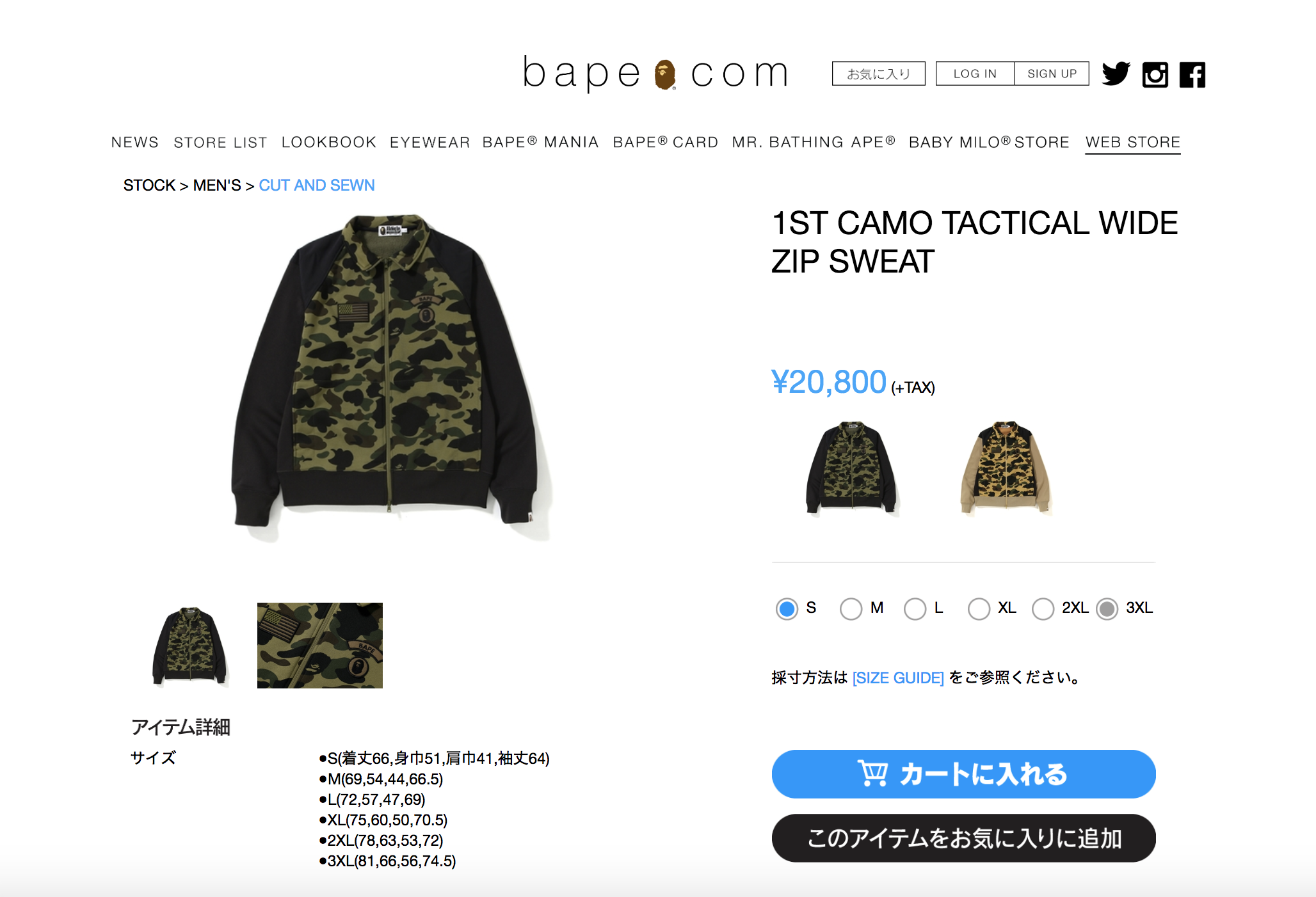 Google translate is your friend here, but if you want any information confirmed on the item page, our English-Japanese bilingual Customer Service team is happy to help.
Once you've found the item you want to purchase, all you have to do is simply copy and paste the URL into FROM JAPAN's search bar to add it to your cart.
Alternatively, you can search and buy from BAPE's website directly through FROM JAPAN's very own BAPE homepage.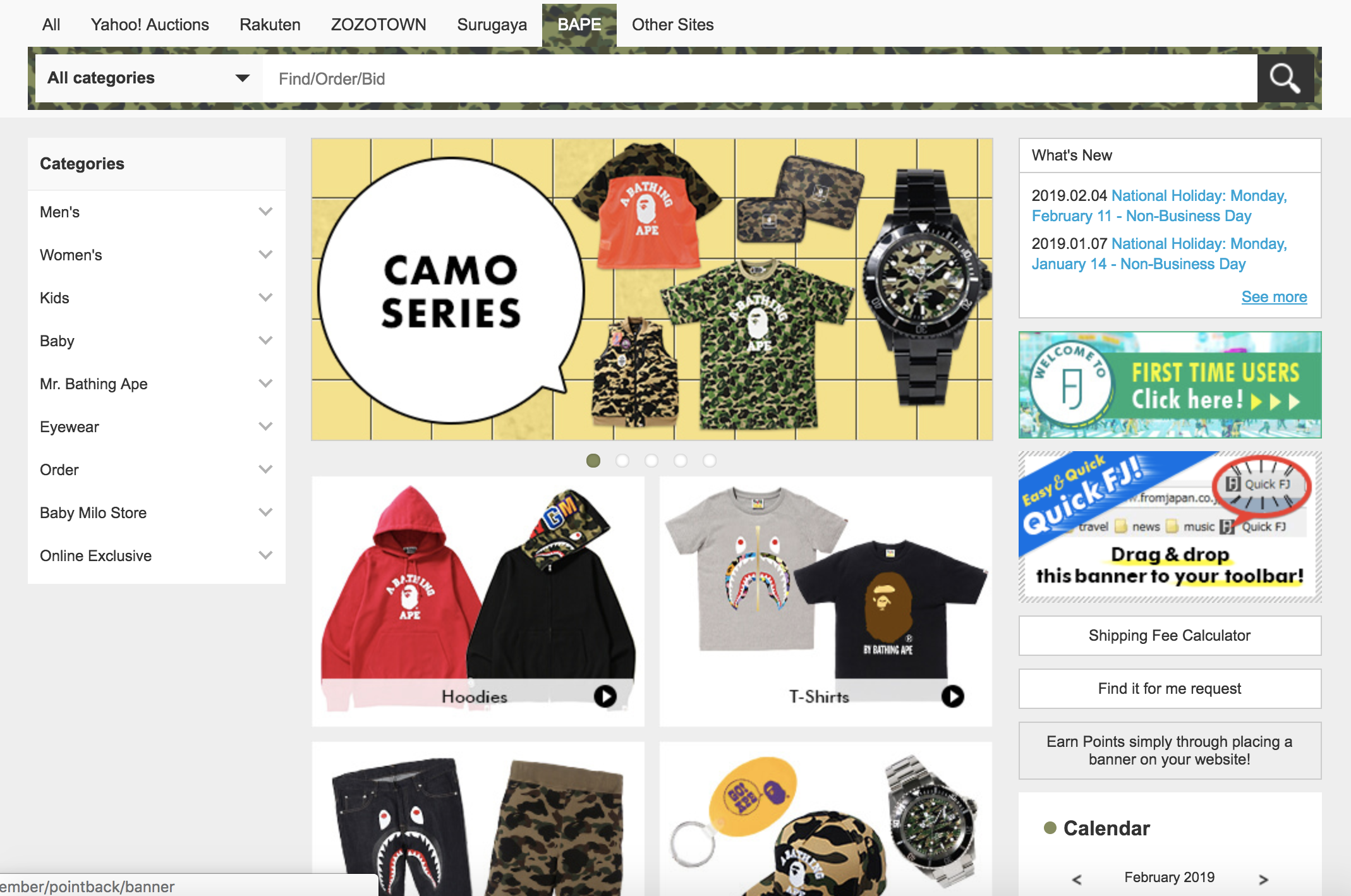 Here you can start your search the store either by using the search bar or by browsing through the categories on the left-hand side. We've also selected some of our favorite lines from BAPE to help you get started on your shopping. Once you've found an item you'd like to buy, all you need to do is add it to your cart!
As Japanese sizes can differ from Western sizing, we recommend thoroughly checking the size of the item before purchasing. If you have any questions or queries during your shopping, don't hesitate to ask our Customer Service team.
How to buy BAPE on ZOZOTOWN with FROM JAPAN
ZOZOTOWN, Japan's biggest online fashion retailer, is also an official stockist of BAPE, meaning you won't find any "fapes" (fake BAPE) here! With FROM JAPAN, ordering from ZOZOTOWN is just as easy as ordering from the BAPE's official webstore.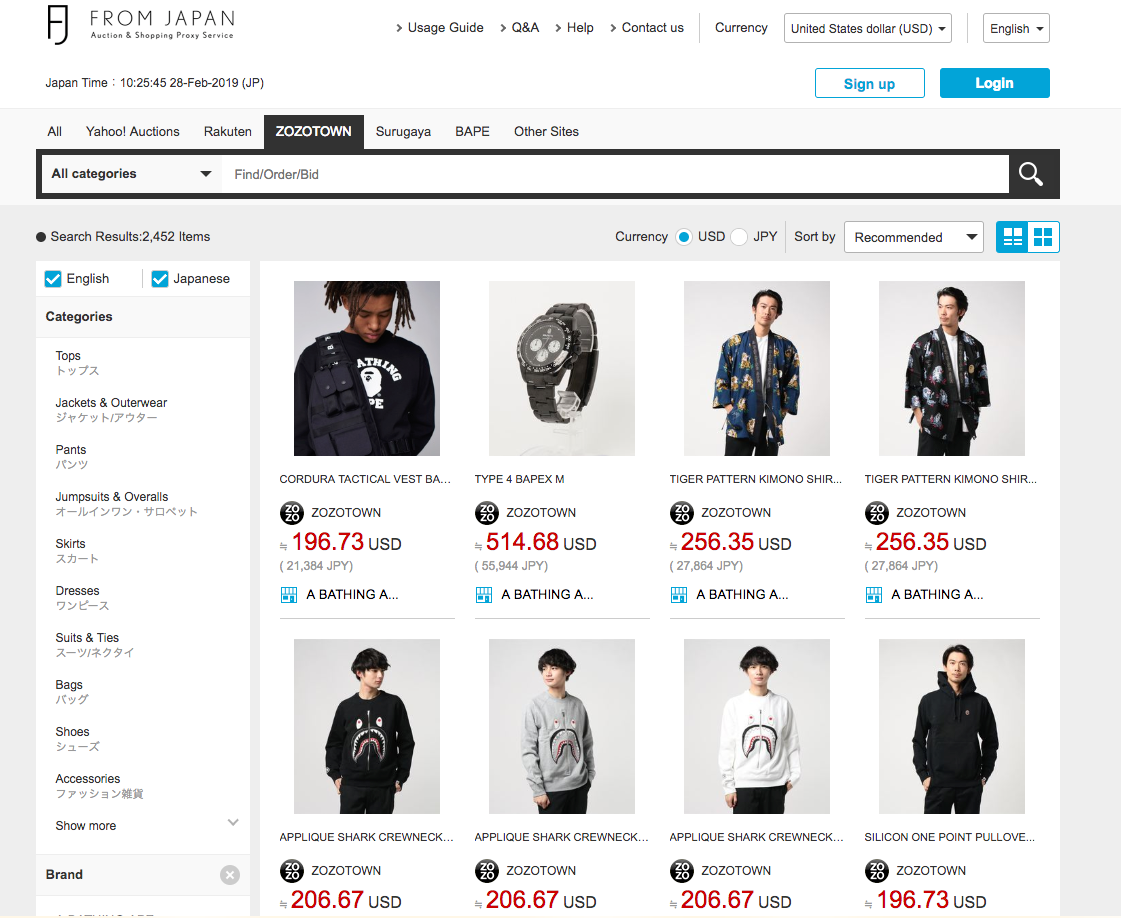 From the three tabs at the top, you can filter the results to new Items (新品), pre-owned (古着) or search outfits (コーデ) with BAPE items.
Just like with the official BAPE webstore, once you find something you'd like to buy all you need to do is simply copy and paste the URL into FROM JAPAN's search bar to add it to your cart. If you don't feel like trying to fumble through the Japanese site, you can also search BAPE's ZOZOTOWN homepage directly on FROM JAPAN!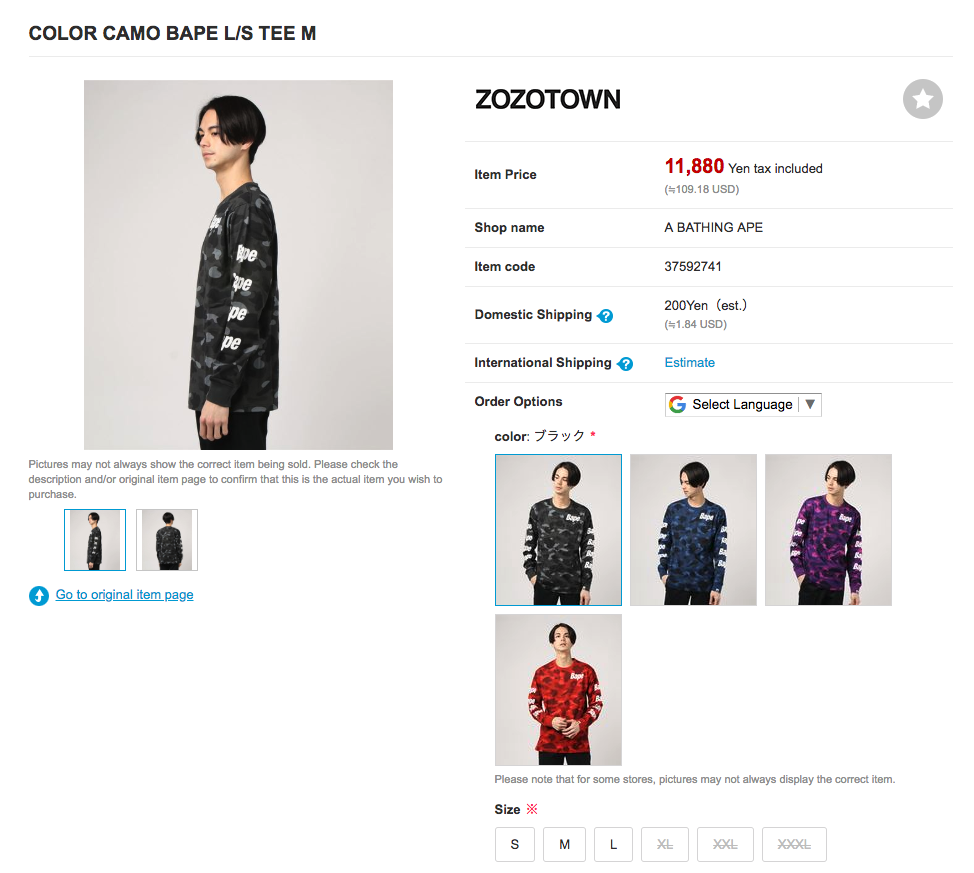 Here you can see more detailed information about the product in English and get an estimate on both domestic and international shipping. When you're ready to buy, just select your size and add it to your cart.
* For a full guide on how to buy from ZOZOTOWN, check out our ZOZOTOWN shopping guide here.
No matter how you bought your BAPE, the next steps are the same. Once you have paid for the cost of the items, we will wait for them to arrive at our distribution center. Once we receive the items, we will wait for your instructions regarding shipment. We can also consolidate several orders free of charge for international shipping. After you've notified us about your shipment instructions, we will send an invoice for international and domestic shipping and the plan fee.
Then all you have to do is just have to wait until the items come to your door! Check out our usage guide for more details about our process and fee structures. If you have any further questions on how to use our service, our Customer Service team will be happy to help.
Unlike other proxy shopping services, FROM JAPAN charges per order, not per item, meaning that you won't have to worry about fees stacking up when you're on your BAPE-shopping spree. We hope you enjoy copping the latest BAPE with FROM JAPAN!