All information is accurate as of time of publication.
What is Eva Store?
Eva Store is the official merchandise store of Neon Genesis Evangelion, the cult-classic mecha anime that is still making waves in the anime world over 20 years after its debut. The online store is shopping heaven for NGE fans, with Eva Store offering a plethora of exclusive Evangelion goodies including figures, stationery, homeware, fashion, and much more!
How to buy from Eva Store
As Eva Store does not ship outside of Japan, you're going to need some help from a proxy shopping service like FROM JAPAN. But fear not – FROM JAPAN makes it easy to buy and pre-order a whole range of Japan-exclusive items, even for those who have never used a proxy service before. Read on and see how easy it can be to get your hands on amazing Evangelion merch with the help of FROM JAPAN!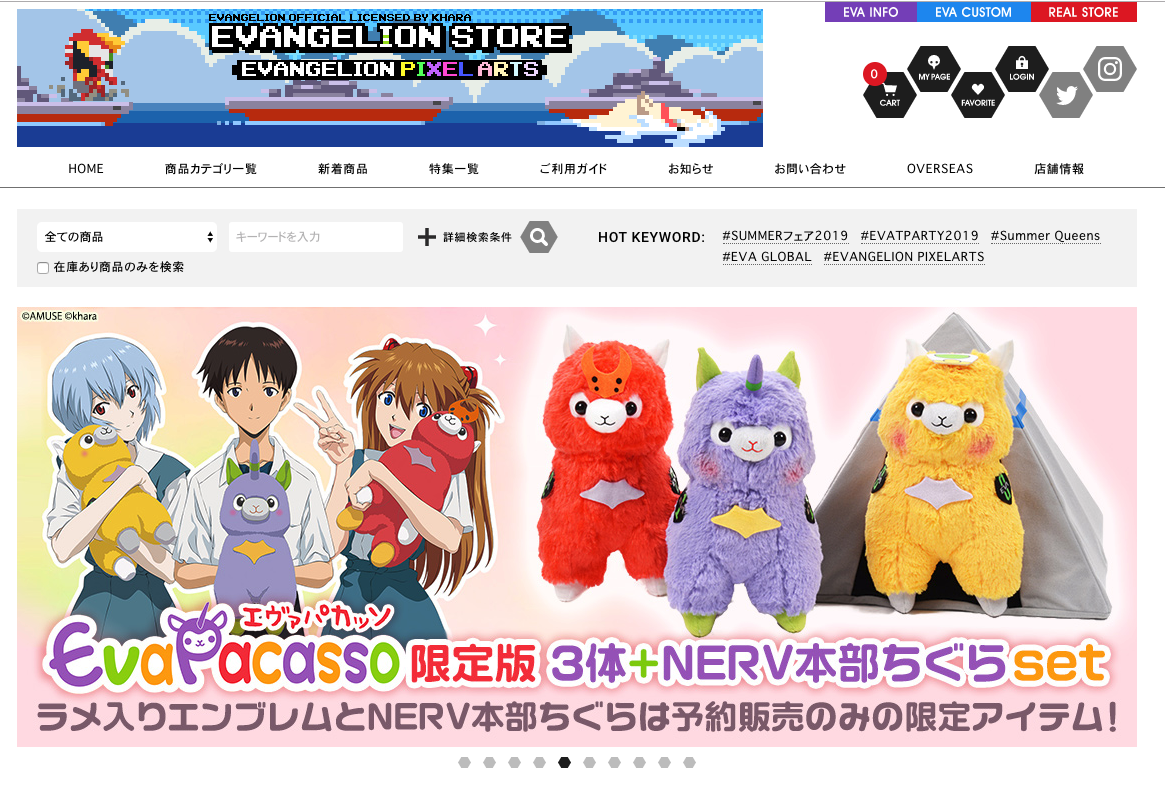 Once you've arrived at Eva Store's homepage, you'll see a showcase of some of the store's latest and most popular goodies. You may also notice that there is no option to change to your preferred language on Eva Store. For those who are a little intimidated about navigating the store in Japanese, running the site through Google Translate can help you get the basics down. If you have any more specific queries, we recommend contacting FROM JAPAN's multilingual Customer Service team who can help with any Japanese language troubles you may encounter.
Step 2. Get searching!
There are several ways to start searching on the Eva Store. If you know the Japanese product name, then you can search for it using the search bar on the top left. If you want a little shopping inspiration, then you can search via hot keywords that Eva Store has provided so you can get exploring!

You can search by category by clicking the heading 品カテゴリ一覧 (item category list), which will bring up the following sidebar.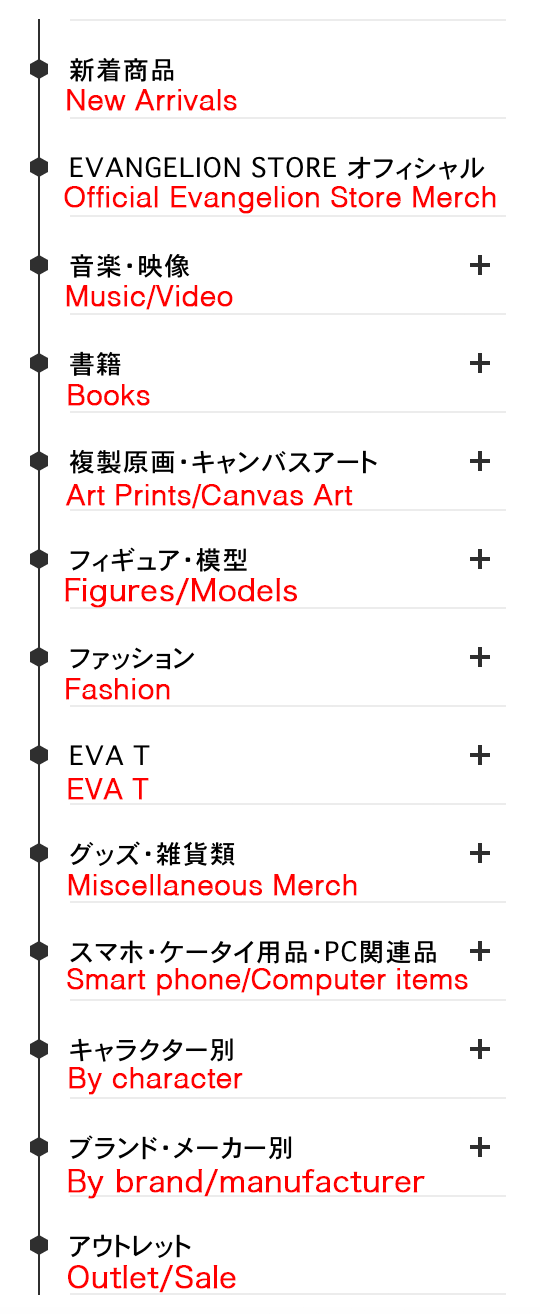 On this menu we'd like to draw your attention to the キャラクター別 (by character) section, which will give you the option to filter the full product selection by your favorite NGE character.
One more way to search for products on the Eva Store is through their list of featured products, which you can find by clicking on 特集一覧 (featured collections) in the top menu.
The page lists the latest in Eva merch, seasonal items, and themed collections making it a great place to start your NGE shopping!
Step 3. Check the details of the item.
Before making your Eva Store order with FROM JAPAN, we strongly recommend that you check the item page to confirm the details of the item before you buy.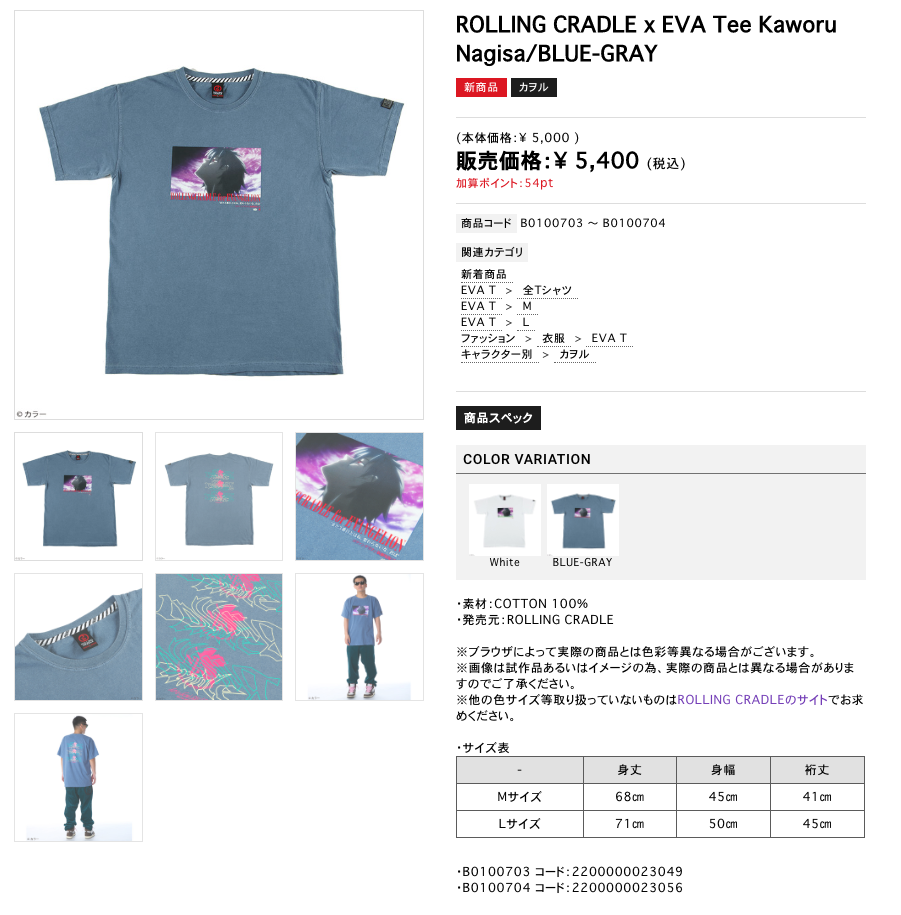 Here you can see the price (which includes the 8% tax rate as of August 2019), color variations, and sizes available. There is also a handy size guide on the page for the t-shirt, as with every fashion-related item on Eva Store. If you are purchasing clothing from Eva Store, please make sure to check the sizing of the clothing before you make your purchase. Japanese clothing tends to run smaller than many other countries' standard sizing, making it important to check the size before you finalize your purchase.
We also recommend checking whether or not the item is for pre-order. We can see that this Kaoru t-shirt is in stock by scrolling down to the bottom of the product page: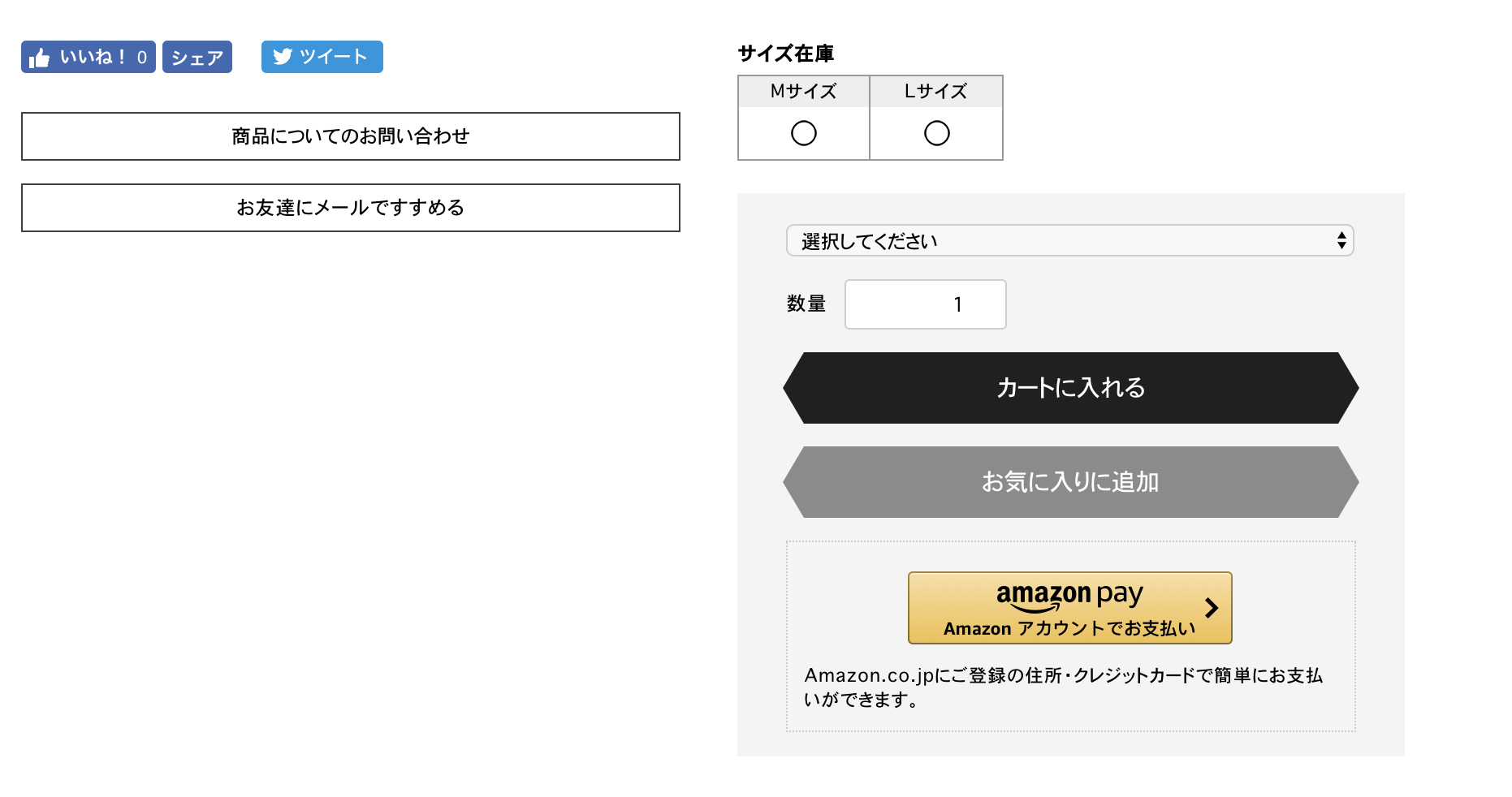 Here you can see that what sizes are in stock, marked clearly by a circle. This page also gives the option カートに入れる which means "add to cart", indicating to us that the t-shirt is not a pre-order item and will be shipped once the order has been placed.
For pre-order items, the product page will look something like this: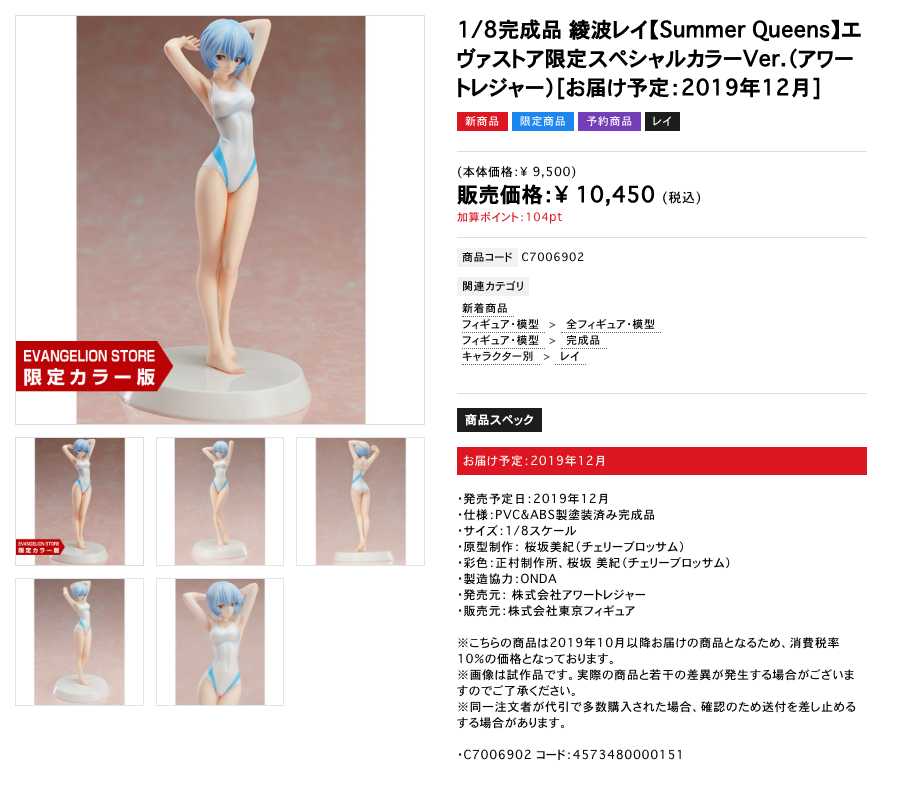 Here we can see a couple of things that indicate to us that this is a pre-order item. Firstly, you can see the purple button that reads 予約商品, which literally translates to "pre-order item" in English. The scheduled time of delivery (お届け予定) is also highlighted in red.
If you have any questions about a particular item, please contact our Customer Service team.
Step 4. Create an account with FROM JAPAN and copy and paste the URL of the item page into FROM JAPAN's search bar.
Once you've double-checked the details of your items, it's time to make the order. All you need to do is copy and paste the URL of your desired item's page in FROM JAPAN'S search bar like the example below:

Step 5. Hit search and complete the order form.
After hitting search you will be taken to our price quote request form where you can fill out the details of your order. Here's an example of a completed form: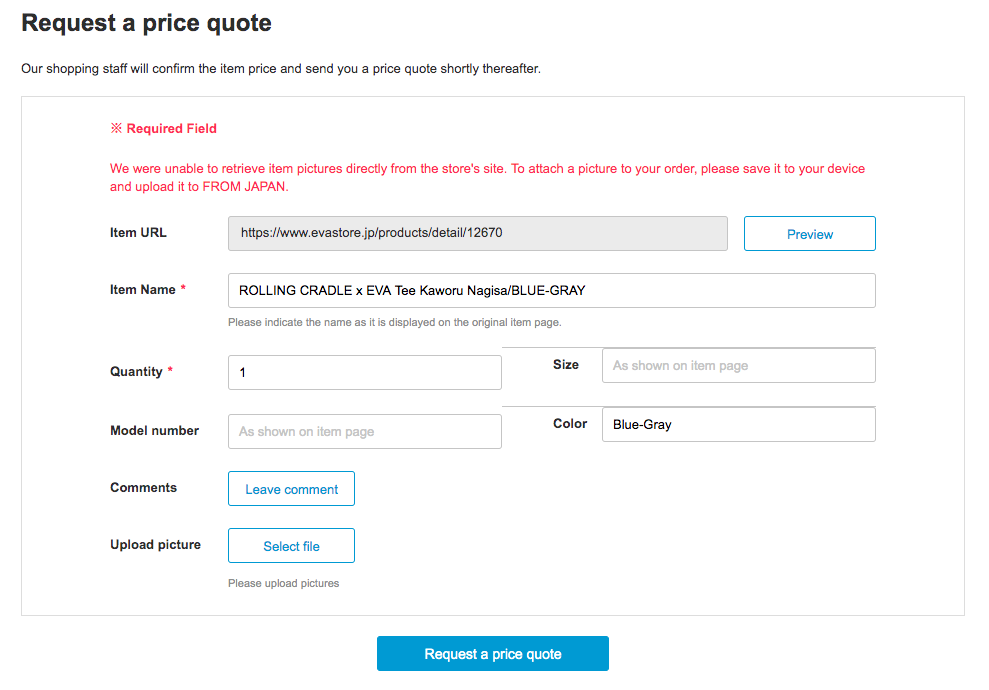 You will need to write the item name as it appears on the site and provide the desired quantity of the item. Make sure to fill in everything about your preferred size, color, and design if applicable, as we will need this information to proceed with the order. You can also leave us a comment for any extra information you would like us to know. Don't forget to double-check all the details before sending it to us!
Once we've processed your price quote request, our Shopping Team will send an invoice for the cost of the item.
After all your invoices have arrived for your items and Charge 1 has been paid, your items will be shipped to our distribution center. Once all your items have arrived at our warehouse, you can choose which items you would like shipped together and select your preferred shipping method. At this point you will be sent to the Charge 2 payment page. Charge 2 includes international and domestic shipping fees, as well as the fee for our Production Protection Plan. Eva Store charges a flat shipping fee of 648 yen, with free shipping for orders over 10,800 yen.
And then all you have to do is wait for your Eva swag to arrive at your door! We also recommend that you check out our usage guide for more details about our process and fee structures. If you have any further questions on how to use our service, our Customer Service team will be happy to help. Happy shopping on Eva Store!