Why buy secondhand Hermes from Japan?
The current economic climate coupled with the push towards sustainable shopping has led to a boom in the resale market. The Japanese are particularly known for their love of luxury goods and taking great care of their belongings, making it the perfect place to shop for your pre-loved designer pieces in excellent condition.
Whether you are a Hermes fan or not, you cannot dismiss the brand's uniqueness and popularity in the fashion world. From the iconic Kelly and Birkin designs, Hermes is known for making the most sought-after designer bags across the globe, thanks to the brand's commitment to craftsmanship in making durable and timeless fashion items.
In Japan, the second-hand market for Birkin and other Hermes designs is thriving. In this post, we provide you with a detailed step-by-step guide on how you can buy original Hermes from Japan using FROM JAPAN's proxy bidding and shopping service.
Step-by-Step Guide on Buying Secondhand Hermes
Step 1: Browse our site for the Hermes piece you want to buy.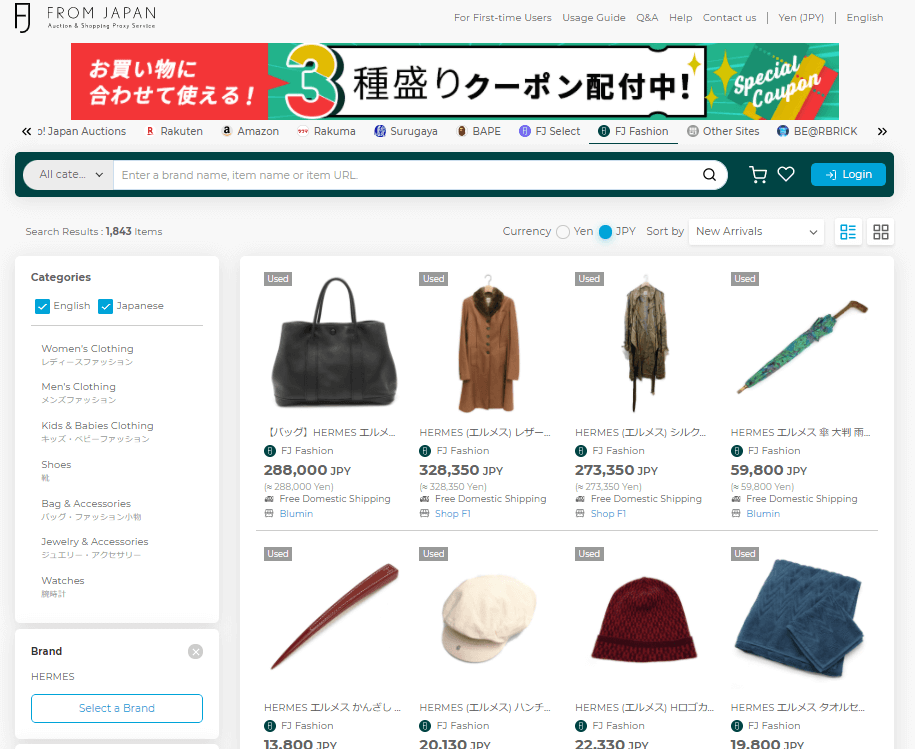 Once you log into the website, key in "Hermes" or "エルメス" on the search button and proceed to search the hundreds of products from the designer brand. You can filter your options depending on how much money you are willing to spend or if you want to buy from a certain online shopping site like Yahoo! Auctions or Rakuten.
Another great option is to start your search on the FJ Fashion section of FROM JAPAN's site which aggregates several trusted second-hand retailers, so you can shop Hermes with peace of mind.
Step 2: Check the details of your preferred Hermes product.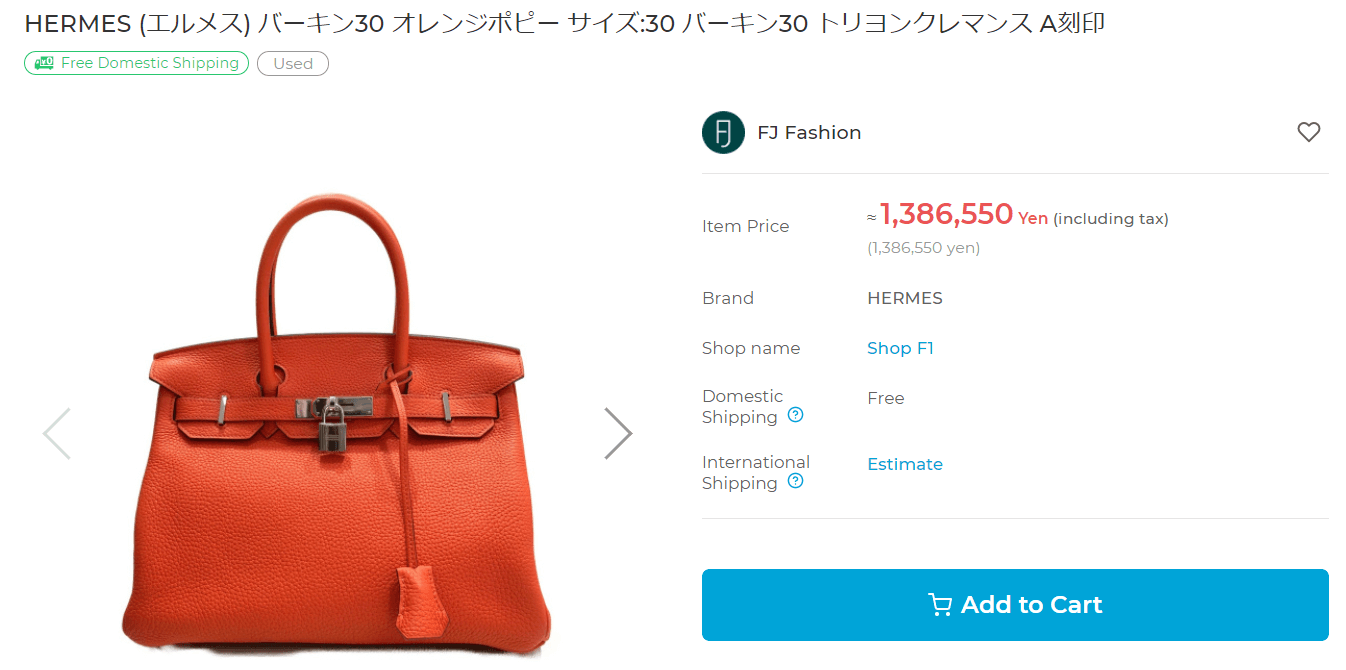 For example, let's say you want to buy a Hermes bag. Besides its image, you will notice pertinent details such as the shop selling it, brand, its price, as well as the shipping costs. If you are outside Japan, click on the 'Estimate' button to get the ballpark figure of the international shipping rates to your location.
Below the product's image, you will get its detailed description in Japanese. Use Google Translate's dropdown button to get the description in your preferred language. Should you have queries regarding its description or a detailed breakdown of the shipping costs, our Customer Service team will be happy to help.
Step 3: Add the Items to Your Cart and Pay for Charge 1.
Once you are sure of the item you want to buy, add it to the cart and pay for Charge 1. If you have not signed up on the site, you will be prompted to do so at this point. You can pay through Credit Card, Deposit, FJ Points, or PayPal.
Step 4: Items Arrive at Our Distribution Center for Shipment Instructions
The item is shipped to our distribution center. Our Customer Service Team will immediately get in touch with you to ensure we have all your shipment instructions. If you are ordering multiple items, you can have them shipped together in order to save on international shipping costs. You can store items for up to 45 days free of charge in our warehouse, so you can choose to ship as many items as you want in that period to make the most out of our free package consolidation service!
Step 5: Pay for Charge 2.
After submitting your shipping instructions, we calculate the shipping fees and send you the Charge 2 invoice.
Step 6: Shipping.
Once you pay for Charge 2, we dispatch your item within two business days. This excludes holidays and peak seasons. The amount of time it takes to ship your item is normally found on the item page. For products that are from flea market sites like Rakuma, it roughly takes five days to ship your item once the seller receives your order. Except for Small Packets sent via SAL, all other shipments should have a tracking number.
Step 7: Arrival.
And just like that, you have just "bagged" yourself a pre-loved designer second-hand Hermes purse, bag, or accessory. All that's left is for you to pair your bag or accessory with a befitting outfit!
Why use FROM JAPAN?
Choosing to buy second-hand statement pieces and fashion items is a great way and cost-effective way of adding to your designer collection. Hermes bags and accessories are a huge investment. The brand's signature bag, Birkin, is said to have increased five-fold over the last few decades.
Using FROM JAPAN, you can get incredible vintage and modern pre-loved Hermes bags and accessories such as belts, cufflinks, luxury watches, scarfs, and ties, among others. When you are buying from our site, you are assured of the item's condition and accurate details. We also have taken the time to streamline our shipping process to ensure your Hermes items get to you in good time.
If you have any queries, refer to the Usage Guide or get in touch with us. Happy shopping!