What is Hololive?
If you've Googled and found this article, then it's very likely you already know what Hololive is. But for those who might have just been browsing our blog or randomly stumbled upon this article from elsewhere, we'll do a quick explanation of the phenonenon that is Hololive.
Hololive (officially known as Hololive Production) is a Tokyo-based agency that's most popularly known for managing Virtual Youtubers, or VTubers for short. They're under the umbrella of Cover Corporation, a Japanese tech entertainment company.
All of the Vtubers under Hololive have their distinct avatars and personalities, and their members currently create content in three languages: Japanese, English and Indonesian. The members of Hololive stream a variety of content, some are more known for streaming video games, while others simply talk to or engage with their fans live — so there's a type of Hololive content for anybody.
As of March 2022, the top 5 Hololive members consist of English and Japanese VTubers. These are based on their number of Youtube subscribers, and they are: Gawr Gura (English), Mori Calliope (English), Usada Pekora (Japanese), Shirakami Fubuki (Japanese), and Houshou Marine (Japanese).
Usada Pekora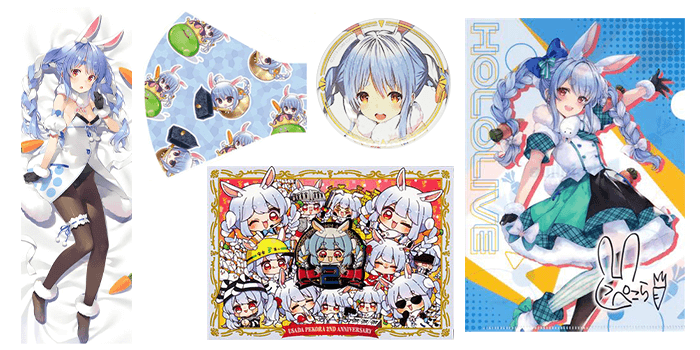 Houshou Marine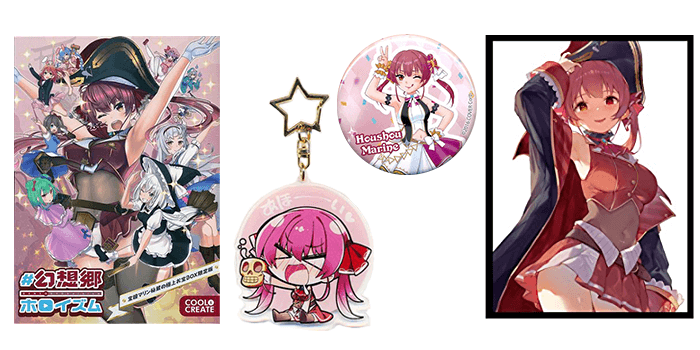 Shirakami Fubuki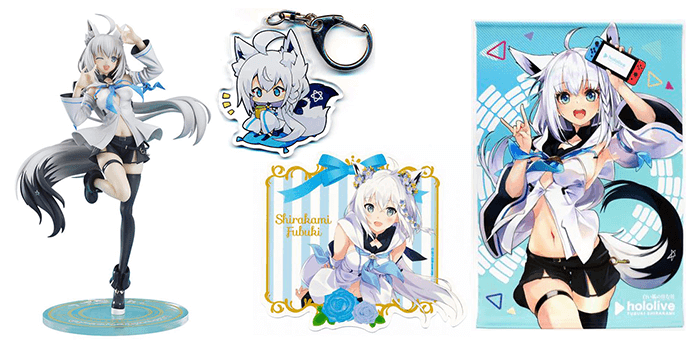 Where can I get Hololive merch from Japan?
Lashinbang is one of Japan's most popular stores when it comes to pop culture merchandise. In addition to being a great source for doujinshi (self-published print work by Japanese writers and artists), they also sell a wide range of secondhand merch related to anime, manga, video games, and of course, Vtubers and Hololive.
Lashinbang has branches all over Japan and an online store. They're partnered with FROM JAPAN, a proxy shopping service that makes Japanese products accessible to the rest of the world. We have a handy search bar that you can use to filter between shops and types of products to make your search for the perfect item much easier.
What kind of Hololive merch is there?
Now that you know about a good source for Hololive merch, we'll introduce you to a few examples of what you can find through Lashinbang!
Limited-edition Collaboration Goods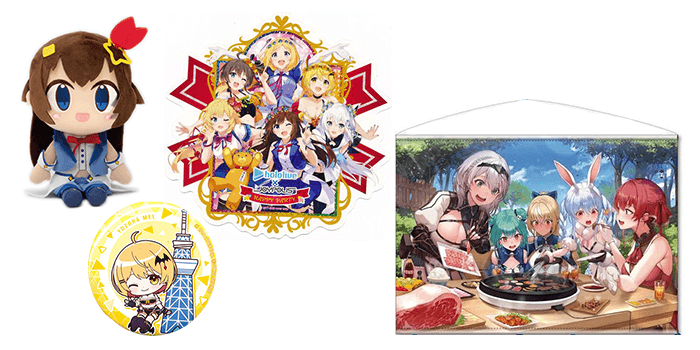 One of the biggest appeals of ordering Hololive merch from Japan is that you can gain access to Japan-exclusive items. Many of these were from collaborations or events, and even within the country, they were only released in limited amounts. They feature a wide variety of Hololive members, and are really worth getting for that rarity and exclusivity if you're a big fan of a certain member.
The images we included above are from Hololive's collaborations with Japanese computer parts store, Tsukumo, department store atre, amusement park Joypolis, and Tokyo Skytree, just to name a few.
Official Merchandise released through Cover Corp.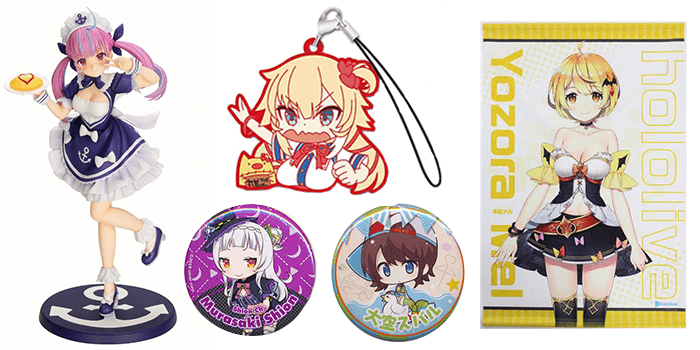 As we mentioned earlier (and as you probably already know), COVER Corporation is the parent company of Hololive Production. So all the merch has to go through them, and you'll also see the company name marked on officially released Hololive merch.
Majority of the merch you'll find online will fall under this category, and the good thing is that even for the newer Vtubers under Hololive, it doesn't take too long for there to be official merch released with their image. And if they're in high enough demand, you'll see some secondhand merch for them go through Lashinbang as well. For the really popular members, you'll see all sorts of items such as keychains, tapestries, folders, acrylic stands, pins, figures, plushies, and so much more.
Hololive Fan Art Books/Illustrator Art Books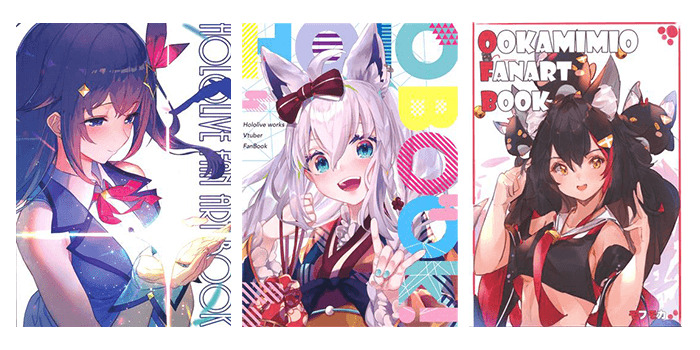 Since Hololive and Vtubers in general are a heavily visual-based medium, it's easy for fans to transform their favorite member into their own illustrations. Although this category is a bit rarer than the previous two, if you're someone who likes to appreciate the art that's come out of Hololive, you can find art books created by talented Hololive fans and illustrators sold through Lashinbang.
How do I order Hololive merch on Lashinbang from abroad?
If you've never shopped with us before, we'll show you how you can get these Hololive items delivered to your doorstep. All you need to do is follow these steps, and soon, the Hololive merch you picked out will be all yours!
Step 1: Find the item you want to purchase through our Lashinbang store page.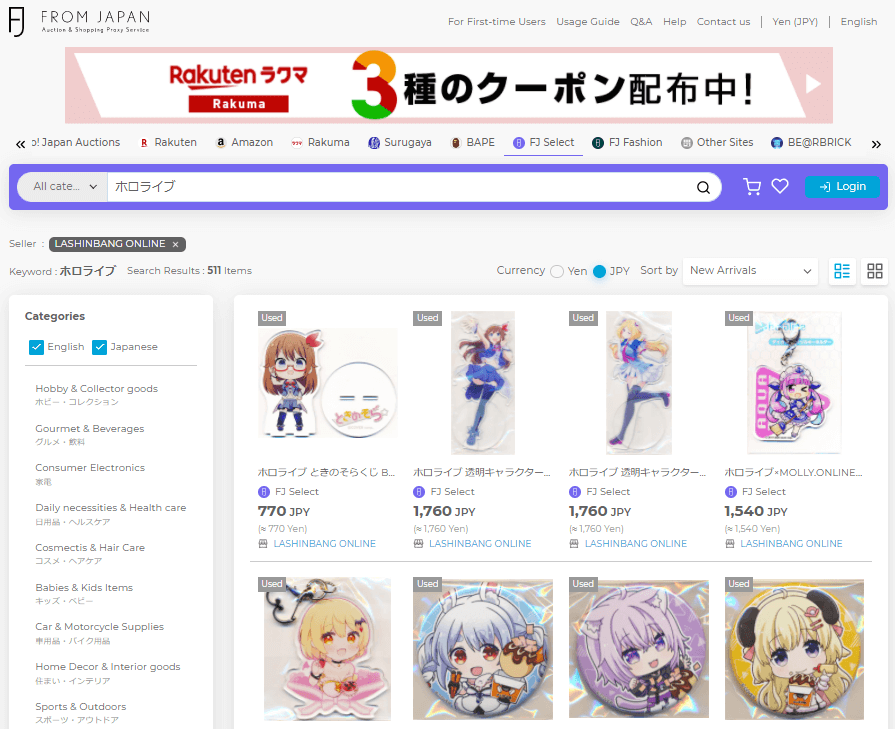 Searching for items through our site is very convenient thanks to all the different filters you can use to refine what you're looking at. Clicking on the link we included above (or on the button below) will take you to a search results page filtered to show you only items sold through Lashinbang.
The search results you see here show all sorts of items featuring different Hololive members. If you have a favorite member whose merch you want to search for, you'll have to check online what their Japanese name is. Once you know it, simply copy and paste that name, add it next to the ホロライブ (Hololive) keyword that's already put in for you, then click search. You should see results only for the merch of that specific member like we did for Inugami Korone merch below.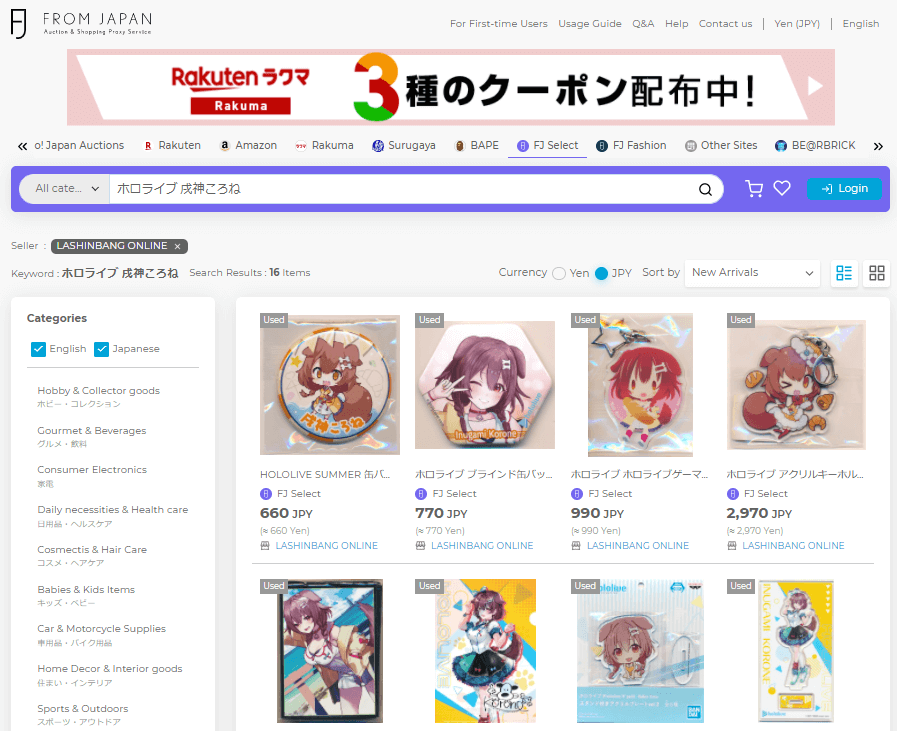 Once you've found something you like, it's time to proceed to the next step!
Step 2: Check the Details of Your Item.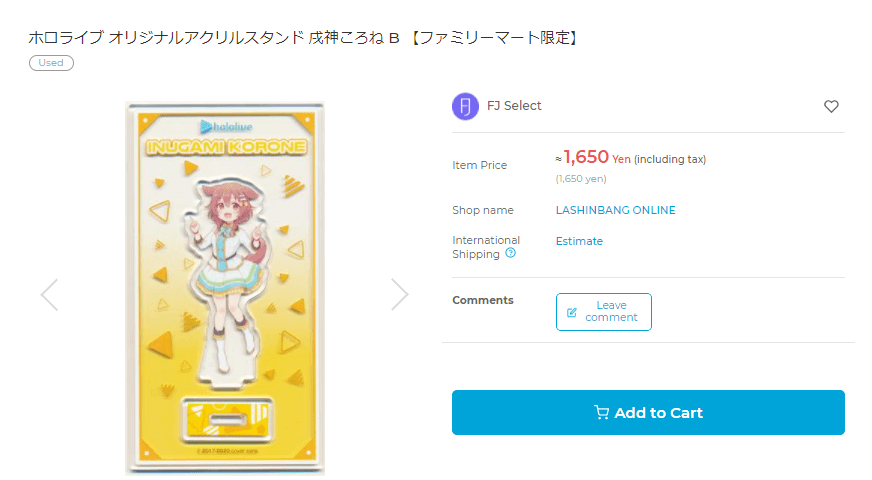 Above, you can see a screenshot of what it'll look like once you click an item listing through our site. For this example we're using an acrylic stand of Inugami Korone that was sold exclusively in Family Mart branches in Japan.
The product page includes image/s of the product, along with the product price and fees for domestic and international shipping. The domestic shipping fee (if applicable) is the cost of getting it from Lashinbang's storage facility to our warehouse in Japan, and the international shipping fee is the cost of getting the item to your part of the world. You will also get these prices quoted to you by our Customer Service team once you go through with your order.
Please keep in mind that since Lashinbang deals with secondhand items. This means that although many of the items that go through them are quality checked and are often still in their original packaging, the item quality won't be the exact same as a brand new item. It's also helpful to read the notes included by Lashinbang under the Description portion to get a clearer idea of what you can expect. You can do this by clicking the drop-down button and switching to 英語 to get an automatic English translation.
Step 3: Add the Items to Your Cart and Pay for Charge 1.
Once you've gone over the item listing and are happy with what you're about to buy, click on the Add to Cart button and you will be prompted to pay for Charge 1.
Step 4: Items Arrive at Our Distribution Center for Shipment Instructions
Next, your items will be sent to our Distrubution Center. Once they've arrived, we will contact you for shipment instructions to get the item to your destination. If you'd like to purchase multiple items at different times, they can be stored in our warehouse for up to 45 days for free, so you can then choose to have them all shipped to you together and save on your shipping fee.
Step 5: Pay for Charge 2.
Once we've confirmed your shipping instructions, you'll be sent a Charge 2 invoice which contains the details for domestic and international shipping charges, as well as the fee for our Product Protection Plan.
Step 6: Shipping.
After the Charge 2 payment, your items are prepared for dispatch. We dispatch all items within two working days to ensure that you receive your items speedily.
Step 7: Arrival.
And that's it! You've now got some pretty neat Hololive merch heading your way and you now have new ways of showing some love to your favorite Vtuber!
---
To learn more about FROM JAPAN, visit our Usage Guide for more information on our services. Happy shopping!