Why buy second hand Celine bags from Japan?
Celine is one of the world's most desirable luxury brands, founded by the French fashion designer Celine Vipiana in 1945. Since its establishment, Celine has clothed the rich and famous with their elegant designs. If you're a keen luxury shopper, then you probably have several Celine items on your wish list and we're here to tell you the secret of getting real Celine for less – buy secondhand from Japan!
But why would you buy secondhand from Japan, I hear you ask. The answer is simple – Japan is a treasure trove of luxury secondhand goods in excellent condition. Japanese consumers are famed for looking after their items extremely well, and you can often find luxury goods in their original dust bags with minimal damage for a fraction of the original cost. With thousands of listings featuring Celine items, you may even be able to find some of your grails on the Japanese pre-loved luxury market!
How to buy second-hand Celine designer bags and clothing using FROM JAPAN
Unfortunately many Japanese online shops require a Japanese address or payment method in order to order, but that doesn't mean you have to give up on your Celine dreams just yet! FROM JAPAN is a proxy auction and shopping service that allows you to order from major Japanese online sites like Yahoo! Auctions Japan and Rakuten with ease.
Read on to find out just how easy it is to shop Celine with FROM JAPAN!
Step 1. Search for the item you want to buy.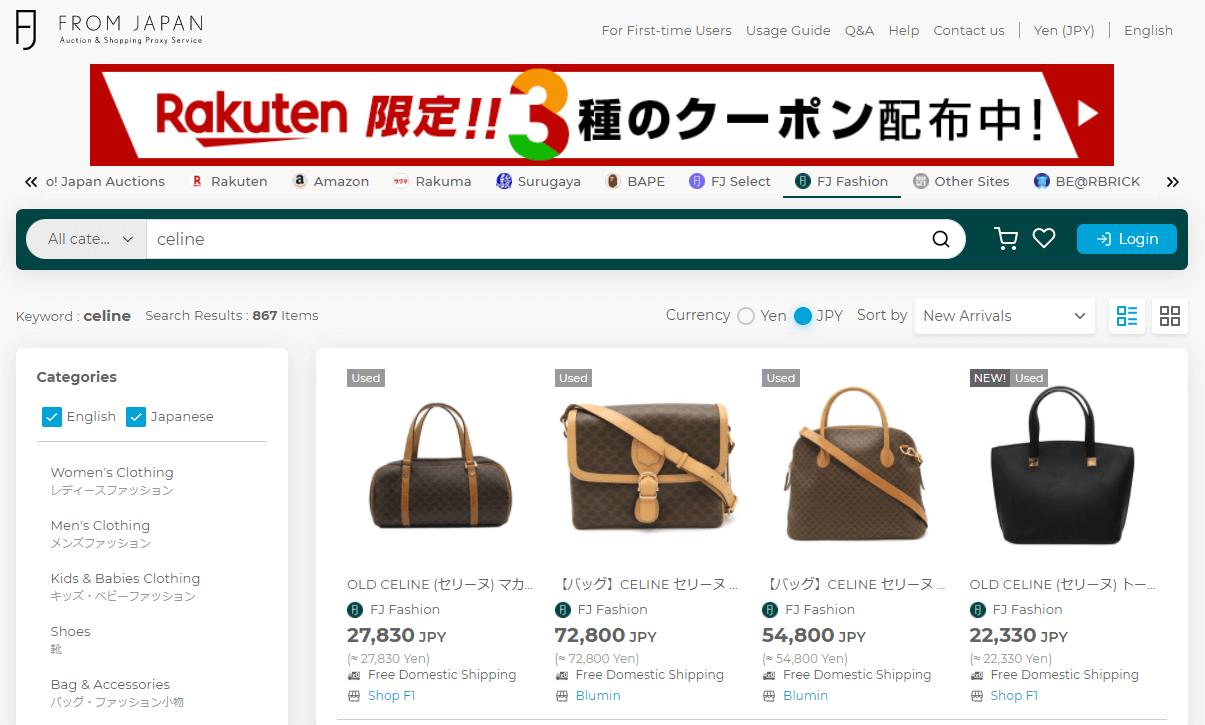 The best place to start your Celine shopping on FROM JAPAN's website is our FJ Fashion section, where you can find all of our partnered fashion stores that deal with secondhand fashion. Alternatively you can search either Celine or セリーヌ (the Japanese for "Celine") in our search bar to search for items across Japanese online stores such as Rakuten, Yahoo! Auctions, Amazon.co.jp, and more.
Step 2. Check all the details concerning your item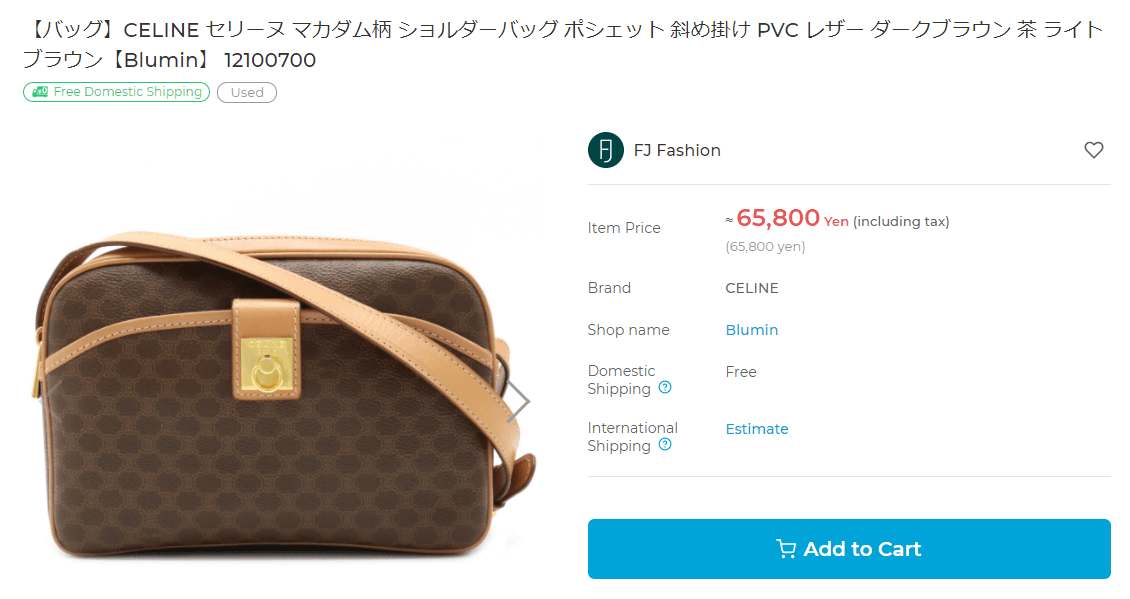 Once you are on the product page for the item you would like to buy, make sure to check that everything is to your liking. This is especially important for secondhand items that may have damage. Sellers will note the condition of the item in more detail in the product description, which appears under the photo of the item. Here you can click on the Google Translate button and select your preferred language for the Japanese product description to be displayed.
We encourage you to contact our Customer Service team if you have any questions about a particular item before committing to buy.
Step 3. Add items to your cart and pay for Charge 1.
Once you've checked the item's details and are 100% sure you are ready to go through with the purchase, you can request an invoice with our shopping team. Make sure to include all pertinent information in the comment section of the price quotation request form, so there is no delay in purchase. You will also pay for the Charge 1 payment at this point.
Step 4. Products arrive at our distribution center, ready for shipment instructions
When your items have arrived at our distribution center, you will need to provide shipment instructions for which items you would like to be sent together to save on international shipping. Items can be stored for free in our warehouse for up to 45 days, which you can take advantage of if you're ordering multiple items from us!
Step 5. Pay for Charge 2.
After receiving your shipment instructions, we will send the Charge 2 invoice which includes the cost of domestic and international shipping, as well as our Product Protection Plan.
Step 6. Shipping.
Once you pay for Charge 2, we dispatch your item within two business days. This excludes holidays and peak seasons. The amount of time it takes to ship your item is normally found on the item page.
Step 7. Arrival – enjoy your Celine!
And then all you have to do is wait for your Celine items to reach your doorstep! Easy as one, two, Celine! And remember, the FJ Fashion page has a plethora of other luxury brand items to look through including items from Louis Vuitton, Chanel, Gucci, and more!
If you want to know more about FROM JAPAN and how our services work, you can visit our Usage Guide or send our Customer Service team a message.
Why use FROM JAPAN?
Choosing to buy second-hand statement pieces and fashion items is a great way and cost-effective way of adding to your designer collection. Using FROM JAPAN, you can get incredible vintage and modern pre-loved clothing, bags and accessories such as belts, cufflinks, luxury watches, scarfs, and ties, among others. When you are buying from our site, you are assured of the item's condition and accurate details. We also have taken the time to streamline our shipping process to ensure your items get to you in good time.
We hope you enjoy your shopping using FROM JAPAN!