| | |
| --- | --- |
| | Hi, Masa! Is it true that everyone in Japan wears Samurai-style kimono? |
| | |
| --- | --- |
| | What? No! No one is wearing Samurai-style kimono these days. |
| | |
| --- | --- |
| | Really!? I thought Japanese people still wear kimono… |
| | |
| --- | --- |
| | Well, there are a few occasions where we still wear traditional kimono and yukata, for example when going to a hanabi festival or on the Coming of Age day. But nowadays you will find in Japan a huge variety of fashion styles, for example Onii-kei, Salon-kei, Kireime-kei, Street-kei etc. By the way, "kei" is Japanese and means "style". Read below to find out more about the different styles for guys. |
If Japanese women are considered experimental and bold when it comes to fashion, men are characterized as chic, fabulous, and varied. Most men in Japan do not want to trouble themselves with faint criticism that is why they dress more casually and fearless. From the executive level to teenagers, there is a trace of independence to everyone's style. Gazing the streets of the big cities, one may find the very varied styles of Japanese men. Business men flood the streets of the cities every day in the usual suit mostly in black but apart from it, there is no definite uniform as to how Japanese men dress up and it is in fact liberating. Japanese men get to express their unique individuality through dressing up and accessorizing, something that is quietly muted to some other places.
Men's fashion industry is not stereotyped and limited to one "kei", which is Japanese and means "style". Men's fashion styles are varied according to age and personal preference of a man. It is also varied according to where in Japan he lives. Men's styles are mostly customized and blended with layered articles and accessories. Formal styles may be divided and identified through various -kei such as the following:
Kireime-kei
A conservative and minimal dressing style. Most guys love this style; it is not exaggerated and never loud. The Kireime style is minimalistic and conservative, cutting out on the accessories and focusing on one single tone. It is almost not considered as subculture of Japanese fashion as tourists can totally relate and blend with Kireime-kei.
Mode-kei.
These guys rule the A-List in Japanese fashion industries. One may see them casually strolling around Tokyo in Louis Vuitton, Gucci, Prada, Dior Homme outfits and the like. This style is the high-end version of Kireime except that it is more ostentatious and bold. The label name of their outfit is very important.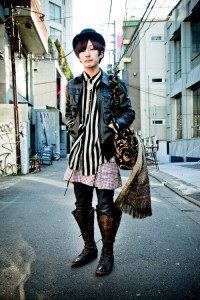 One can never rule out those guys who love taking things light, fun and wacky. Fun-loving styles are often carried by the younger men in Japan. Through fashion, the gentlemen get to separate themselves from the social norm and embrace their uniqueness. Here are some of the famous fun and expressive styles for guys:
Salon-kei
It is not a big thing if one finds out that boys do go to cosmetic schools. Salon-kei was started by guys who attend beauty school. This style gears towards the feminine side and is characterized by mixed low and high fashion brands accentuated with accessories like bags, hats, scarf, belt, and sunglasses. And because they attend beauty school, they sweat out in taking care of their hair style and make up to match their outfit.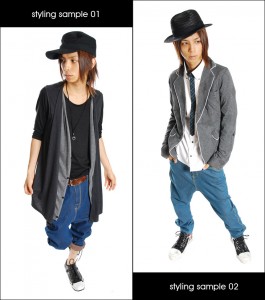 Onii-kei
Onii-kei is the male counterpart of Onee-kei and the conservative big brother of Gyaruo-kei. It is a highly active style often associated with rocker and military looks but also with hosts. The fashion style is geared towards high-end fashion sense leaving the rugged elements of street style. Although this style is trendy and edgy, Onii-kei is smooth and artistic. It also makes a strong statement when it comes to hairstyle and fashion accessories.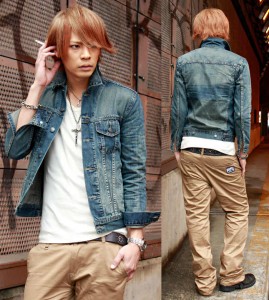 Visual-kei
Visual-kei is deeply influenced by Japan's music subculture, Japanese Rock or J-Rock, almost monochromatic, black being the base hue, with guys wearing eyeliners, leather jackets, tight denims and body piercings. Visual-kei fans are often seen with wild haircuts and hair colors. The guys who love this style are said to be very resourceful, having DIY fashion projects and personally customizing their outfits by advanced pattern mixing and alternating second hand high-end fashion brands with local designer's creations.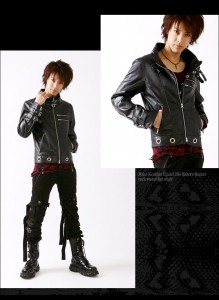 Gyaruo
This is the male version of Gyaru-kei and the little loud brother of Onii-kei. Just like Gyaru, the Gyaruo boys are characterized and easily recognized by their tanned skin, dyed hair, heavy makeup, and multiple body piercings. This style also has subcategories borrowing biker, military, or rocker looks.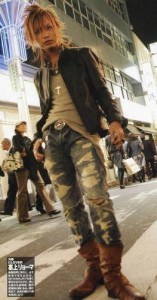 Street-kei
This style is highly influenced by the American culture. Everything that is trending in the US – the street style boys will soak it up like a dry sponge. Basketball and hip-hop music fans can relate to them as they are often seen in baggy yet neat clothes, sometimes in NBA jerseys accentuated with signature sneakers or rubber shoes. Street style is very popular among younger guys from their late teens to early twenties.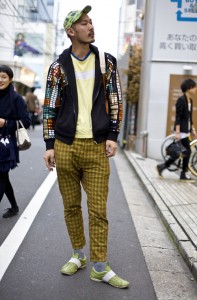 Popular brand founders and fashion icons of the international fashion industry love to pay a visit to Japan for a wholesome search of style inspiration. You can see how carefree Japanese men are and it is quite surprising how multiple styles can gather in one place without intimidating each other.
| | |
| --- | --- |
| | Oh my god, nobody wears kimono and sword anymore! o_O |
| | |
| --- | --- |
| | In Japan Kireime-kei is the most popular style. It is also known as "conservative" style. It is very minimalistic and makes you look cool and sleek. Vizvim, Comme de Garcons, and Yohji Yamamoto are popular Kireime-kei brands in Japan and they are also getting more popular outside of Japan these days. |
| | |
| --- | --- |
| | Oh really!? Can I get a Japanese girlfriend if I wear Kireime-kei fashion? |
| | |
| --- | --- |
| | Mmmm…well I think it might increase the possibility a little bit. |
| | |
| --- | --- |
| | But I don't live in Japan and in my town I can't buy Japanese fashion brands. So where can I get them? |
| | |
| --- | --- |
| | It's easy, all you need is an internet connection! |
| | |
| --- | --- |
| | Why is that? |
| | |
| --- | --- |
| | Well, you only need to visit the From Japan website and sign up as a user. Then you can either browse Yahoo Japan Auctions or online fashion stores such as ZOZO and pick your favorite clothes. Then you just place your order via your From Japan dashboard and they will buy the stuff for you and send it right to your doorstep. It's super easy and convenient. |
| | |
| --- | --- |
| | Wow, that sounds great. I guess I will go shopping now! |
Likes:

Anime, Karate, AKB48
Likes:

Photography, Fashion, Sleeping