The Liz Lisa fukubukuro, one of the most popular fashion lucky packs for women in Japan, was recently released on January 2, 2015.
Like last year, Tokyo's legendary youth fashion mecca Shibuya 109—which also happens to be one of Liz Lisa's main store locations—was swamped with a line of customers in anticipation of getting their hands on one of this year's fashionable lucky packs. Coming in a variety sizes and price points, each pack featured a collaboration with Sanrio showcasing the brand's equally cute character My Melody. And as you may know for the past three years the two most expensive fukubukuro (which also have the best deals) were packed in adorable suitcases while the lower-priced packs were available with giant totes or a purse.
As just mentioned, My Melody once again appeared on the Liz Lisa suitcases greeting new owners with a knowing wink of what hidden treasures lay inside. When opening the case we particularly notices the tasteful brass clasps and adjustable white straps accompanied by functional number code locks—not only is this suitcase almost too cute to take in public, it's secure to boot!
The Liz Lisa Coat – Warm, Furry, and Ultra Cute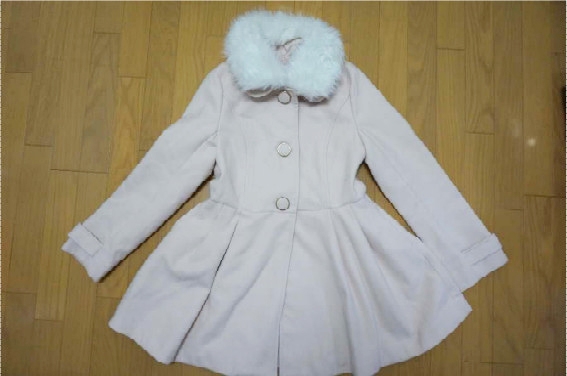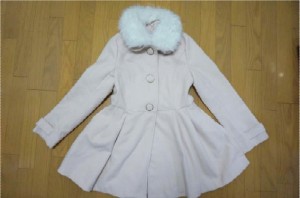 Liz Lisa's signature dolly-style coat is perfect for staying warm and looking fashionable throughout the brisk winter weather. The coat features a rich tan color and a smooth, soft fur collar. The front has three large buttons, with a slight flare at the midsection creating the perfect princess look. Because it is a one-size coat, it may not be form fitting enough for some, but its cuteness factor more than makes up for this. If you like Liz Lisa coats or are hoping to find the one pictured below.
Delicate Cardigan, Meet Your Friend Delicate Blouse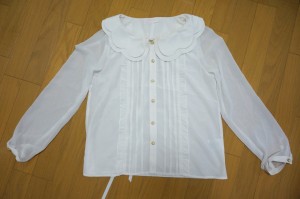 This year's fukubukuro also contains these two great finds—a long-sleeve white collared cardigan with delicate lace trimming and a cute blouse with a Peter Pan-cut collar and bishop sleeves.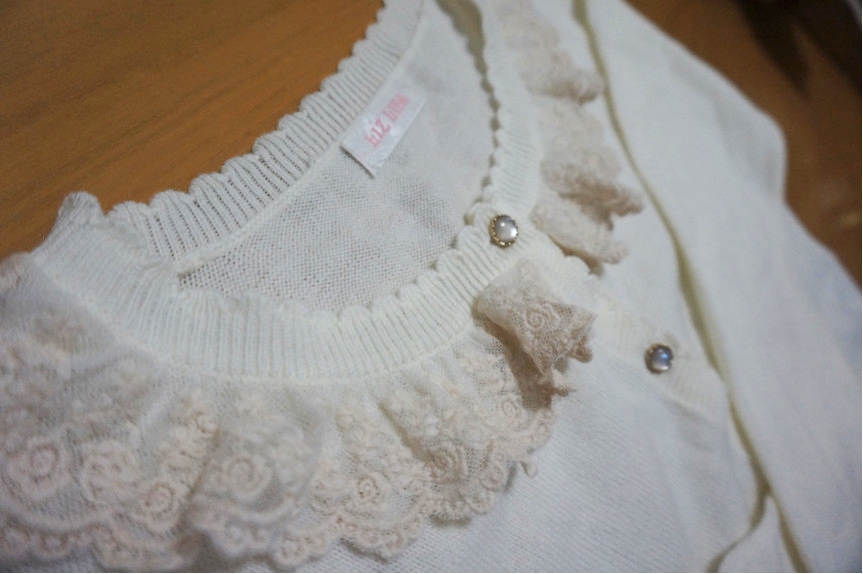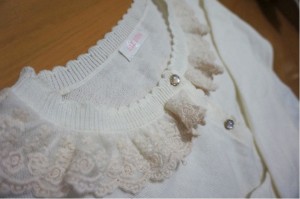 At the center of blouse's collar is a petit white ribbon that can be tied into a small a bow in the back and just the right amount of tastefully placed lace. The blouses feel is extremely light and silky, perfect for the summertime or even winter when paired with the cardigan.
If you're searching for Liz Lisa Cardigans, you may be able to find some below.
Hard Decisions: Which Liz Lisa Skirt Should You Wear?
One of the reasons why Liz Lisa fukubukuro are a great purchase for overseas buyers is that the clothing you get is "free size" (one-size-fits-all), and this is best seen in the selection of two skirts in these year's haul.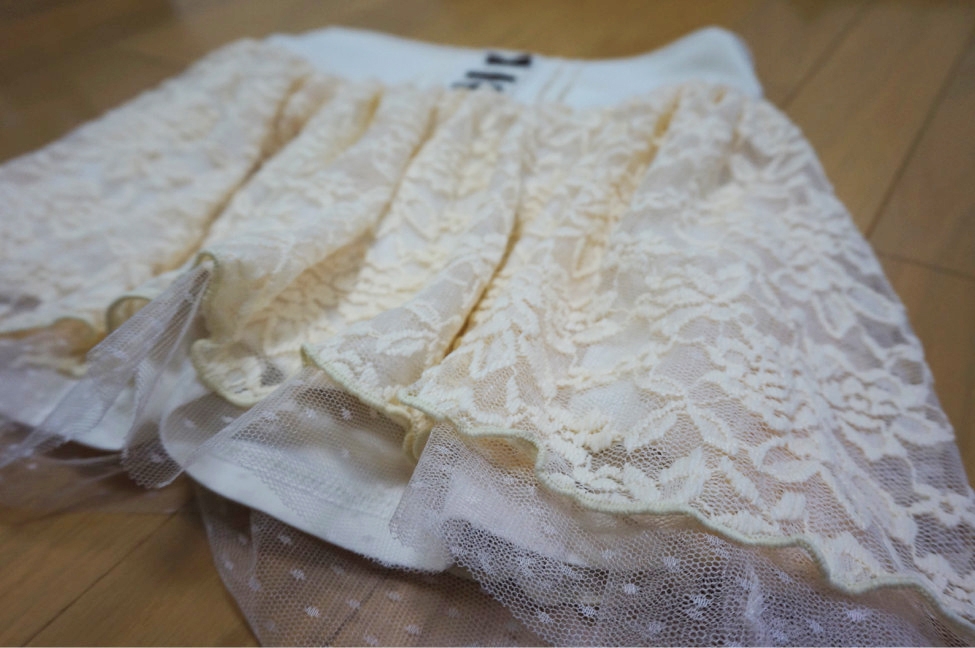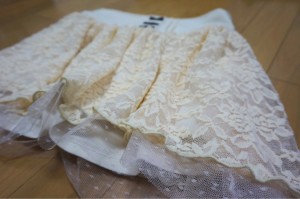 The first, a high-waist, cream colored lace skirt, features multiple layers and hidden shorts, which is great for preventing accidental flashing! The top has a secure, elastic waistband with light ruffles and three small, brown bows. The added thin layer of sheer, cream polka-a-dot tulle makes this wardrobe choice nearly perfect.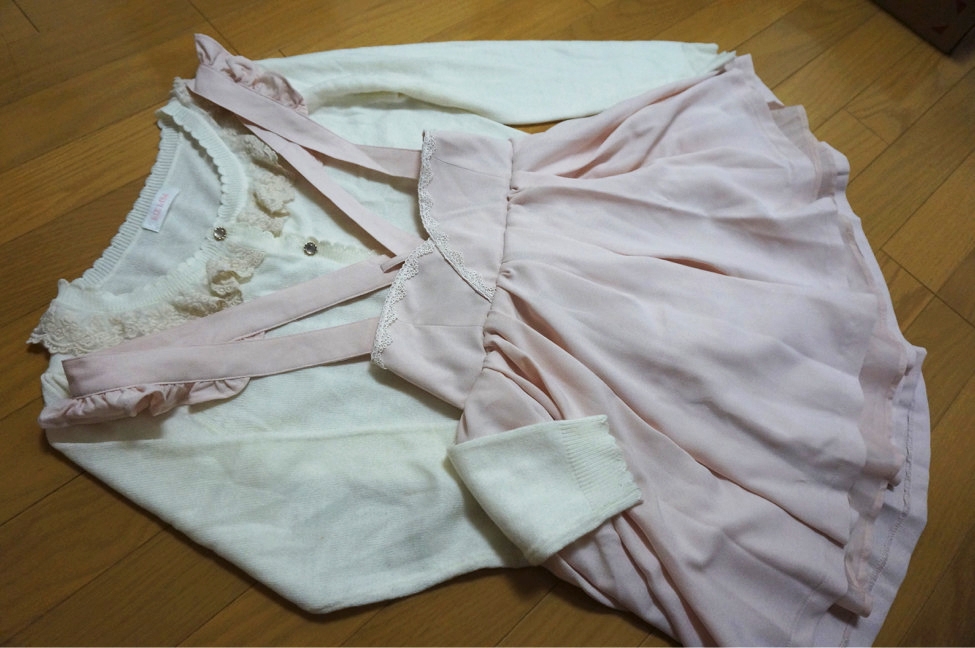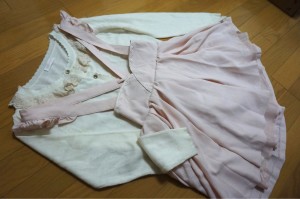 The second is a jumper skirt featuring ruffled overall straps in a soft beige-peach color. The thick waistband, lined with lace, hides an invisible zipper down the left side of the skirt for easy entry.
With the unique downward cut on the front section and the dual layer of thick and sheer fabric at the bottom, this skirt makes for a good match with the long sleeve blouse.
A Great Liz Lisa Dress Find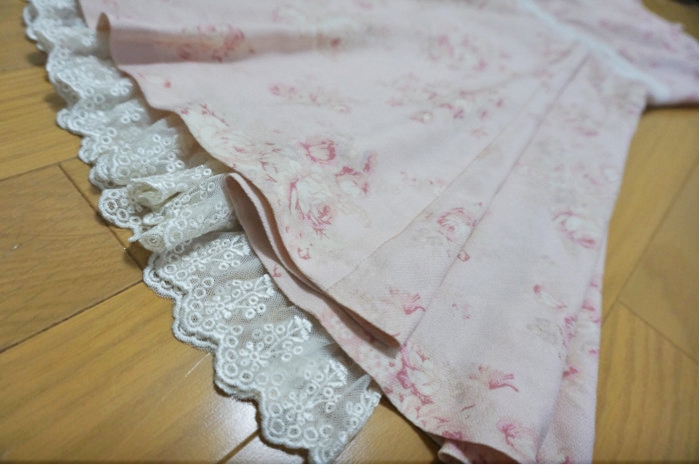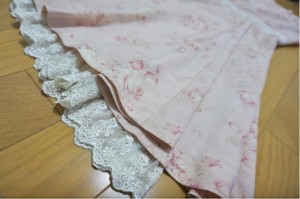 One of the most popular items in this year's fukubukuro is the dark pink and beige rose dress featuring a rounded neckline and short sleeves. The midsection flares downwards flare and is highlighted with simple white lace around the waist. Though it is fitted for free size, the dress's cut gives off a shapely form nonetheless.
This Liz Lisa Top could be a….dress?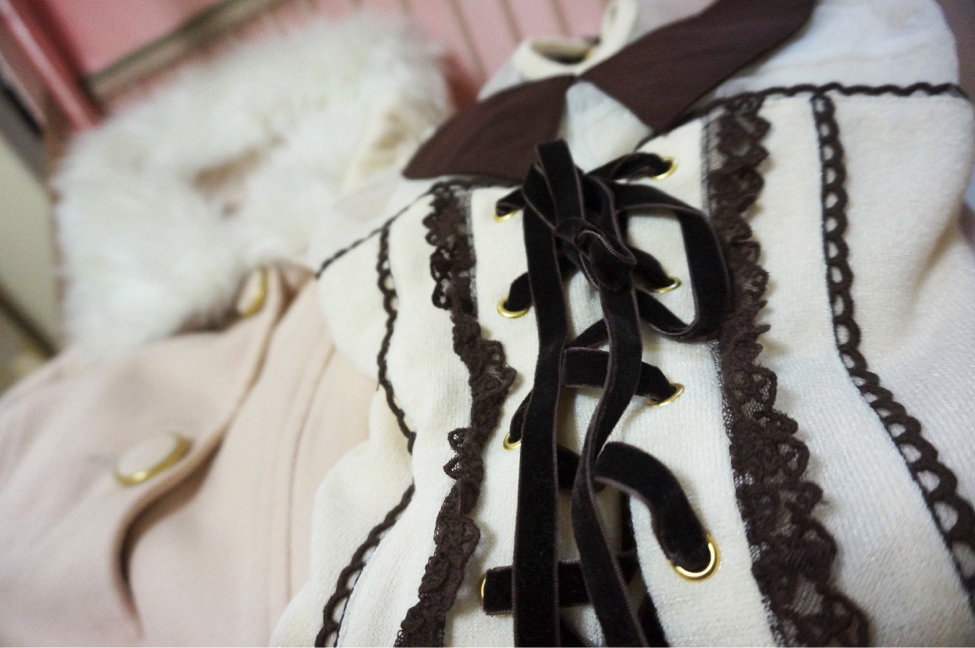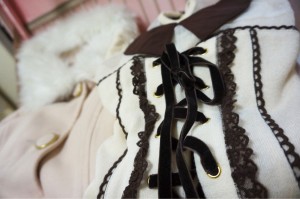 This Liz Lisa top, showcasing bishop sleeves, a high waist, and a Peter Pan-style collar, perfectly complements its two-toned cream and chocolate hues. Other features include lace, piping, and bows all in the right places. While this long top is only single layered its soft, cotton blend fabric makes it comfortable to wear. Depending on your height and how short you like your dresses, this top could also serve as a dress as long as you wear safety shorts!
Liz Lisa Makeup Pouch and My Melody Blanket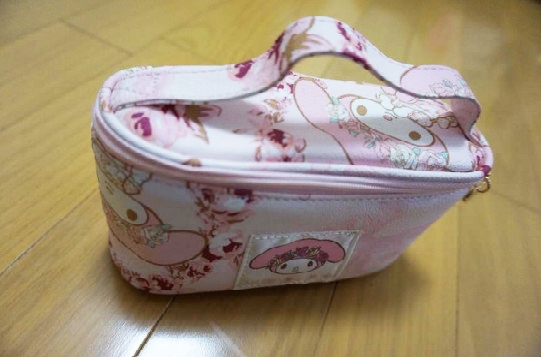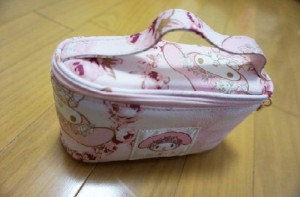 One of the two additional items included in the pack is an oval shaped, semi-soft makeup pouch. Like the suitcase, the design features My Melody and gold colored zipper pulls.
The last item, an exclusive My Melody blanket, is super soft and super lovable. Perfect for staying cute on cold winter nights.
2015 Liza Lisa Lucky Pack Wrap-Up
Overall, the Liz Lisa suitcase was an exceptional deal. Most of the apparel items were originally priced at 5,000–7,000yen, with the coat retailing at 12,000 yen. So for nine pieces of clothing, a makeup case, an exclusive blanket, and a fully functional carryon suitcase, 30,000 yen is quite a steal.
Buy Liz Lisa on FROM JAPAN
Buying Liz Lisa can be expensive when purchasing new from a Japanese store and shipping it overseas. However, FromJapan provides a great way to get your hands on some adorable outfits without emptying your purse, and you can often find cute ensembles for much cheaper than their retail prices on other websites. Even the fukubukuro items showcased in this article may wind up on FromJapan from time to time since buyers are usually interested in keeping only some of the items. If you're interested in finding some great deals on Liz Lisa, bookmark this page and check the links below to see what's available.