Every year, Japan's Good Design Award organization releases a list of products across a range of fields that are deemed worthy of the coveted "Good Design Best 100." Culled from thousands of applications submitted by Japanese and international firms, the lists for 2015 and 2016 included 12 award-winning timepieces by watchmakers Casio, Seiko, and Citizen that met one or more of the organization's selection ideals: integrity, innovation, esthetics, and ethics. Since not all timepieces are created equal, we've put together this list of Good Design Award watches to highlight why each one would be a worthy award for your wrist.
Best Casio Watches
G-SHOCK GWF-D1000 Frogman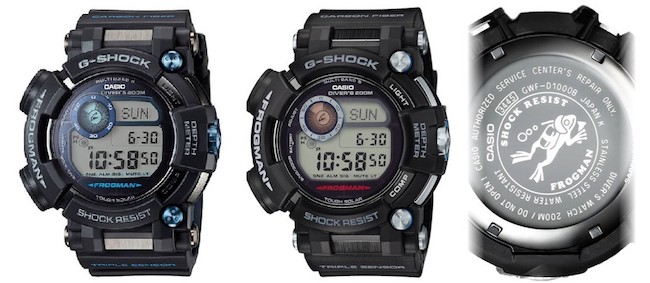 Available with either silver or blue ion-plated accents, the G-SHOCK GWF-D1000 Frogman is designed with professional rescue divers in mind. Advanced precision technology includes an 80-meter depth sensor, a compass bearing sensor, and a thermometer for monitoring diving conditions. The biggest splash of all, though, is the Time Stamp function, which can record 20 unique readings on water depth, bearings, and temperature while you take the plunge. The watch also reports moon and tide data, features an LED backlight to cut through the murkiest subaqueous spaces, and boasts a unique 200-meter water resistance that's ISO-approved.
G-SHOCK GWG-1000 Mudmaster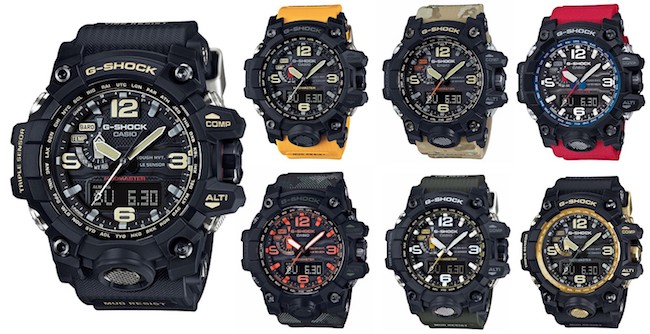 The G-SHOCK GWG-1000 Mudmaster offers the widest range of models on this list, with seven colorways to choose from and a tactical appearance that fuses the best of digital and analog displays. It boasts ultimate resistance to vibration, extreme environments, and any other fury Mother Nature might throw at it. Add to that a slew of other rugged features—including low temperature resistance (-10°C / 14°F), radio wave reception, and automated altitude readings—and we think you will agree that this watch deserves the title "Master of Mud."
Smart Outdoor Watch WSD-F10

Casio's WSD-F10 smartwatch
offers more features and functionality than most outdoor enthusiasts could ever dream up. Framed with a choice of four metallic colors, the WSD-F10 utilizes Android Wear technology to offer a customizable digital display as well as essential apps for popular activities like hiking, biking, and fishing. If you're a die-hard Apple enthusiast, don't worry; the smartwatch is not only compatible with Android 4.3+ smartphones but can also be connected to the iOS 9+ platform.
ProTrek MANASLU PRX-8000

The ProTrek MANASLU PRX-8000 is the go-to watch for climbers looking to take their adventures to new heights—literally. Named after an 8,163-meter peak in Nepal, the Manaslu represents the pinnacle of ProTrek's achievements. Among its many features are dual analog and digital displays, a high-contrast face for perfect visibility in cloudy environments, and the ability to charge with sunlight for times when the closest spare battery is eight kilometers below you.
Oceanus Cachalot OCW-P1000

With a lightweight titanium band and a splash of aquatic color, the Oceanus Cachalot OCW-P1000 is a dapper addition to any consummate gentleman's wardrobe. Useful features include automatic time zone synchronization, a solar-powered digital compass that can be activated with the push of button, and an automated calendar that's pre-programmed through 2099. Add in standard Casio features like a stopwatch, timer, and alarm paired with Japanese retailer exclusivity, and you have a collector's watch fit for wherever your travels may take you.
Best Seiko Watches
Grand Seiko Black Ceramics Limited Collection

Manufactured by one of the world's oldest watch brands, the Grand Seiko Black Ceramics Limited Collection boasts state-of-the-art composition, featuring a hybrid of scratch-resistant ceramics and ultra-lightweight titanium. Between the band lies a plethora of practicality and precision, including an anti-reflective coating, water and magnetic resistance, and an impressive chronographic correction of only one second a day—making it one of the most accurate luxury timepieces in history.
Lukia Series SSQV001, SSQV004, SSQV003

Seiko's petite Lukia Series is designed with the needs of the working woman in mind. Flattering to any fashion, the elegant design of this timepiece is matched only by its functionality, which includes solar radio reception compatible with 25 time zones. And because it operates with easy-to-use buttons, there's no risk of accidentally ruining a manicure on a stubborn crown.
Astron Series SBXB003, SBXB005, SBXB007

If you're a world traveler looking for one watch to cover your every need, Seiko's Astron Series is a worthy choice. Astron's on-the-go models made history as the first GPS solar-powered watches, able to automatically adjust to any time zone on the planet. Incorporating all the applications of the previous Astron generation in a more intuitive manner, the SBXB003, SBXB005, and SBXB007 models also include new color schemes, a 6-hour chronograph, and a dialed-down size that makes it a modest, yet methodical accessory.
Presage Series SARW013 & SARX029

Since their release in 2015, these Presage SARW013 and SARX029 watches have become highly valued for their Japanese urushi lacquer finish that tastefully conveys the beauty of Seiko's traditional craftsmanship. Both mechanical watches feature an understated dial and a self-winding movement, styled for the preferences of discerning businesspeople—though with a 10-bar water resistance and an anti-magnetic design, these watches are quite well-rounded for any fashionable wrist.
Best Citizen Watches
Citizen L Ambiluna
With its frosted sapphire surface and Nishijin textile band, the limited edition Citizen L Ambiluna is as radiant as the pale moon that gives the watch its name. This model derives energy solely from external light sources, and takes pride in its DRC conflict-free manufacturing. And while the Ambiluna's Super Titanium™ case is five times tougher than stainless steel, all of the watch's materials are irritant-free and gentle on the skin.
Eco-Drive Bluetooth Watch

Available in classic black and silver with traces of astral blue or neon green, Citizen's Eco-Drive Bluetooth Watch is equipped with state-of-the-art light-powered Bluetooth technology. Enhanced with a companion iOS and Android-friendly app, this model can automatically map its time zone to your location, notify you of incoming emails and phone calls, and even alert you if you've left your phone behind by accident.
ProMaster Eco-Drive Professional 300m Diver

If there's a watch that can rival the G-SHOCK GWF-D1000 Frogman, it's Citizen's ProMaster Eco-Drive Professional 300m Diver. The light-powered model can dive up to 300 meters while resisting 1.25 times the normal water pressure and allow any helium gas to harmlessly escape from within through a built-in pressure valve. With its durable case, prominent hands, and backlight, the ProMaster 300m Diver is an ideal water-compatible companion for anyone who performs saturation diving operations.
Where to Buy the Best Casio, Seiko, and Citizen Watches from Japan?
If you're looking to buy a timepiece from one of Japan's premier watch brands — Casio, Seiko, and Citizen — there's no better place to begin your search than FROM JAPAN. Easily browse listings from Japan's biggest online shops and auction sites and have your order shipped to your door. If you see an award-winning watch that makes you tick, don't hesitate to put it on your wrist—time flies, after all.
Also, be sure to check out our top-10 list of limited edition G-Shocks here.