Tomica has two series that feature Disney characters—Disney Tomica (D) and Disney Motors (DM). The quickest way to distinguish one from the other is by the series numbers. Also, D model cars are existing car models reinvented to look like Disney characters while the DM model cars are fictional vehicles using the Disney.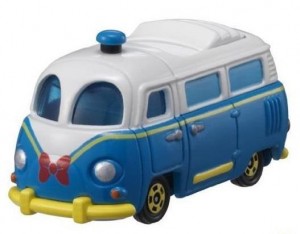 For instance, Tomica uses a minibus to look like Donald Duck. Another example is the D-42, which is a Toyota Land Cruiser that mimics Wall-E. The D series also features partner teams like Mickey and Minnie themes. Under the DM series there are Tomica models that look like Mickey Mouse, Minnie Mouse, Donald Duck, Stitch, Winnie the Pooh, Tigger, and Piglet.


Other Disney characters or franchises that are being used in the Disney Tomica series are characters from Toy Story, Cars, Planes, Disney Princesses, A Nightmare before Christmas, and Pirates of the Caribbean. All of the Disney Tomica cars are available at Tokyo Disneyland or Tokyo DisneySea.


The tie-up between Tomica and Disney started around the 1990s. The Disney series was originally called Putica although the Disney Motors Series was launched around 2005. Interestingly, Disney Tomica will occasionally launch theme model cars like a Winnie the Pooh Halloween special, which can be bought online although it's difficult to find. If you are unable to visit Tokyo to find the Disney series, you can try online stores like From Japan. All Disney Tomica and Disney Motor models tend to fetch a higher dollar than the regular models.
If you're interested in seeing what other popular characters Tomica has teamed up with, check out our article on the Dream Tomica Series.