Despite the Empire's best efforts, a force much greater than the Dark Side is still spreading throughout the galaxy: The joy of being a Star Wars fan!
While The Force Awakens propelled our favorite space saga into exciting new directions, it looks like Rogue One: A Star Wars Story is seeking to become a darker form of OT nostalgia, taking us back to the Rebellion's ragtag beginnings. And in anticipation of the theatrical release of Rogue One, FROM JAPAN has put together a list of amazing Japanese Star Wars merchandise that is guaranteed to throw you into hyperdrive!
Japanese Star Wars Figures
K-2SO & Scarif Stormtrooper Figures (May 2017 Release)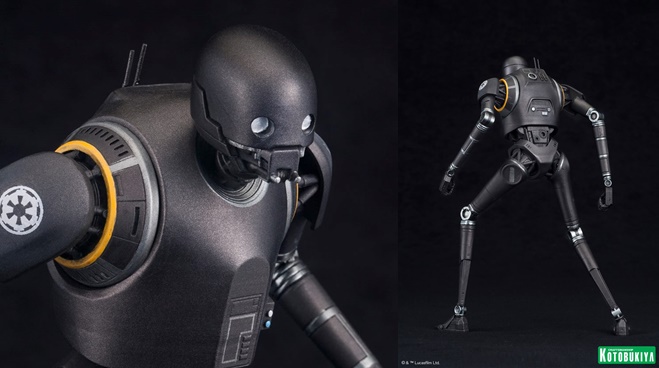 Rogue One's K-2SO (or "Kaytoo") takes our long-held ideas about trusty droid sidekicks and throws them into the Sarlacc pit—once an Imperial droid, but now repurposed and fighting for the Rebellion. Continuing their superb Star Wars line, this creation from Kotobukiya and ARTFX+ gets every detail right, from the hands perfect for hurling bombs to the Imperial shoulder markings showcasing Kaytoo's dark origins. Magnets on his feet help him to stand—for the Rebellion? Now available for pre-order.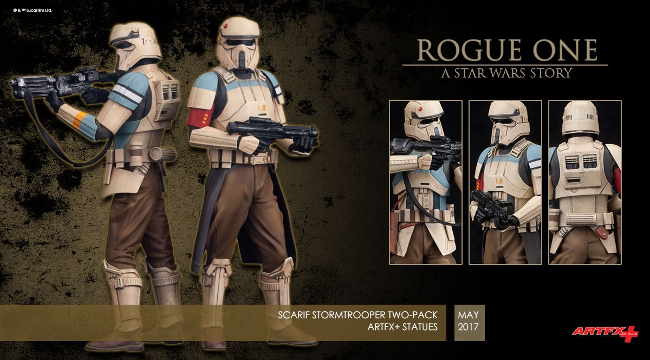 Hoth troopers were a chilling foe, but it seems the scouts on Endor needed help hiding from Ewoks—if only they were suited as Scarif Stormtroopers! Officially called "shoretroopers," these infantry men are outfitted in dark brown fatigues augmented with tan leg and upper armor and helmets, all perfect for guarding a mysterious paradise planet. ARTFX+ has crafted a set of two 1/10 scale battle-ready figures that come with interchangeable weapon and arm parts, so there's no excuse for not acting fast when they catch sight of Rebel scum. Now available for pre-order.

Bandai Star Wars Movie Realization Figures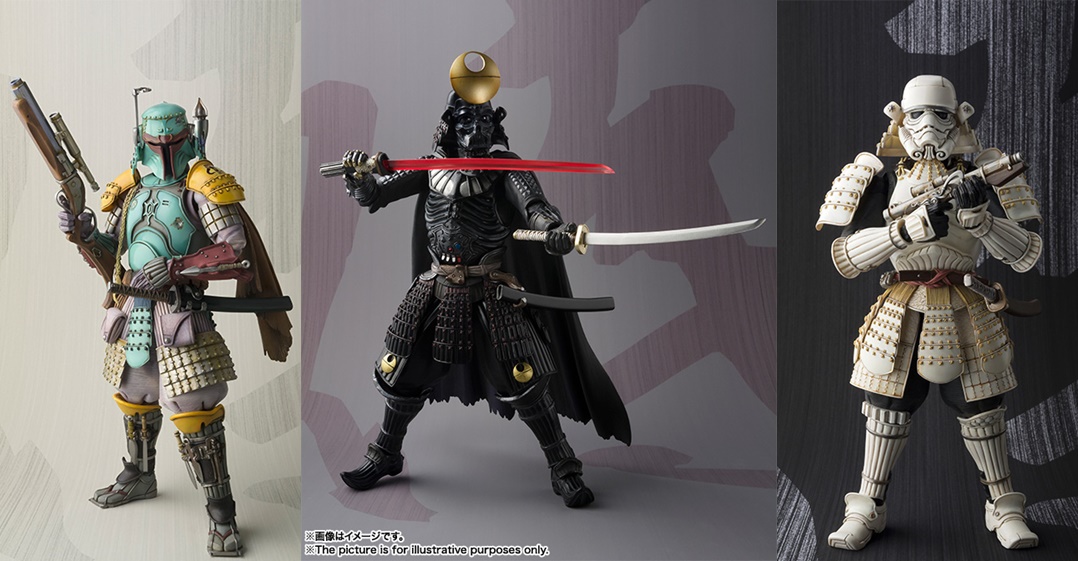 These fantastic figures represent Star Wars as distilled to its original concept: Samurai in space! Skillfully crafted by Takayuki Takeya, Darth Masamune is covered in burnished black armor, the helmet seal and subtle detailing on his breastplate signaling him to be a Bushido warrior of the highest order. With several stormtrooper variations and even a Boba Fett version available in Bandai's Star Wars Movie Realization series, there's no better way to pay homage to this legendary saga's source material.

Japanese Star Wars Toys
Tomica Star Wars Star Cars: Tsum Tsum Series

Now the whimsical "kawaii" of Tsum Tsum comes to Star Wars—with wheels! Applying the same dedication to craftsmanship as with their Metakore Star Wars figure collection, Tomica's Star Wars Star Cars Tsum Tsum series proves that cuddliness and coolness can indeed coexist. And because it's Tsum Tsum, each and every car is stackable (of course).

Star Wars Space Opera Figures: Takara Tomy Pop n' Step Series


Pop n' Step is especially known for its colorful parade of dancing Disney characters.
With the Star Wars Space Opera series, you can gleefully relive your John Williams favorites again and again—this time accompanied by the galactic denizen of your choice! The lineup, which includes stormtroopers, R2-D2, and so many more, feature different soundtracks depending on whether each character dances solo or in unison. Put them all together and stage a comical Imperial march with toe-tapping troopers, or make a memorable cantina scene all of your own!
Star Wars Gacha Galaxy Gashapon Collection


The Star Wars Gacha Galaxy features miniature merch like keychains, carabiners, stickers and even figures, each rendered in incredible detail despite their toy-capsule size. The "Star Wars Can," which includes several figures in one small plastic container, is a definite standout in the collection.

Star Wars Pop-up Pirate: Darth Vader and BB-8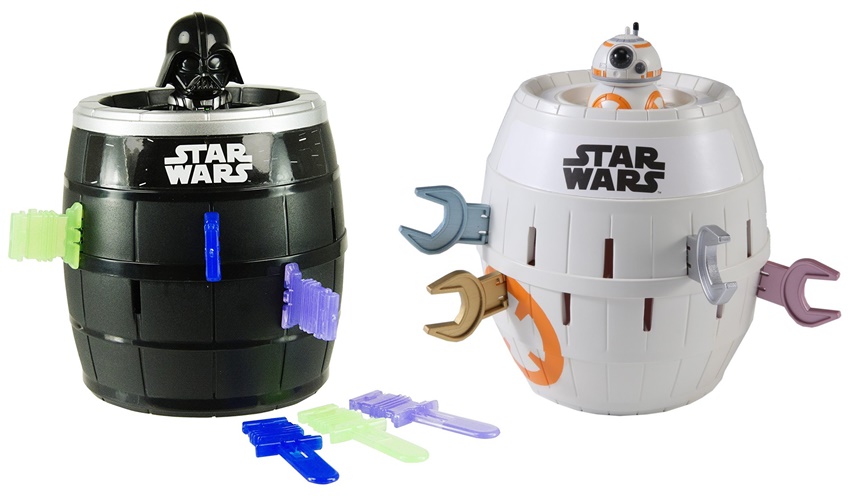 After first introducing the original spring-loaded "Pop-up Pirate" game in 1975, Tomy is back in full force bringing us Star Wars character versions featuring the galaxy's most menacing Sith lord, Darth Vader, and our new favorite droid, BB-8. Vader's Pop-up Pirate features sound effects that alternate between his iconic breathing and the swoosh of a lightsaber each time you or a fellow player risks sticking a blade inside.

Star Wars Food Gadgets
Star Wars Boiled Egg Shapers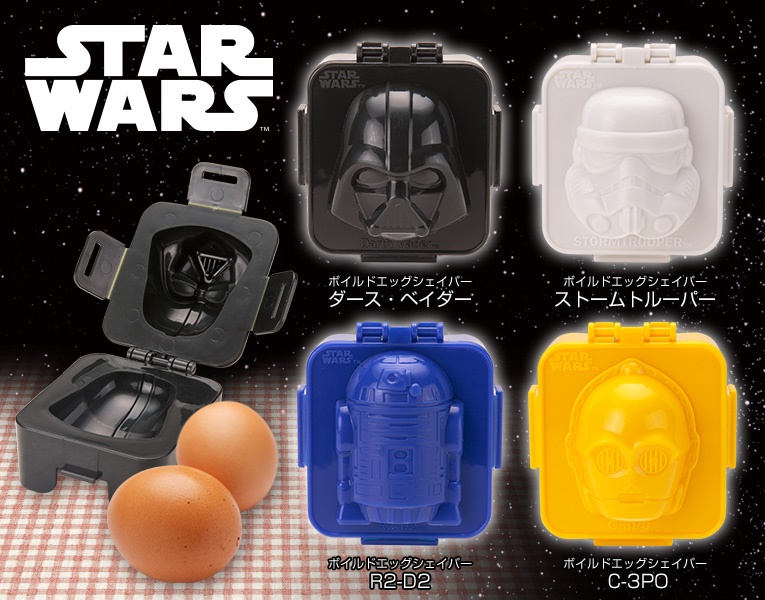 Young Luke Skywalker gazed out at the twin suns of Tatooine and wondered if there was something more; as an avid Star Wars collector, you may be asking yourself the same question. For those boring boiled eggs you eat for breakfast, there are Star Wars Boiled Egg Shapers! Simply insert a hard-boiled egg into a mold of Vader, R2-D2, C-3PO or a stormtrooper while it's still hot, and then soak the mold in cool water for 10 minutes for a truly egg-ceptional taste of Star Wars.

Star Wars Sandwich Shapers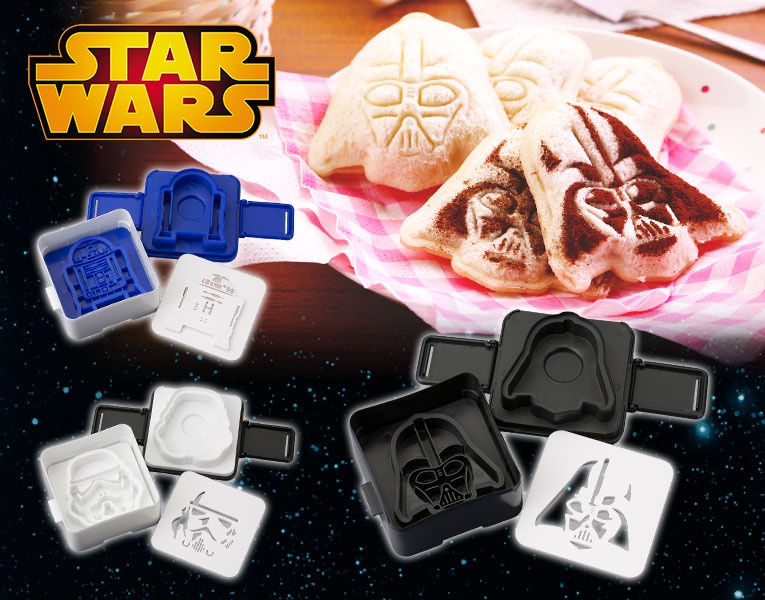 If you have ever felt like eating a Star Wars sandwich, you need look no further than these Star Wars Sandwich Shapers. Simply cut off your bread crusts with the shaper and place your sandwich into a special box that will instantly turn innocent lunch bread into one of several iconic characters. A final dusting of powder over the box's built-in stencil adds the final details, creating edible Star Wars art that is almost too good to eat!

Kylo Ren Light-up Chopsticks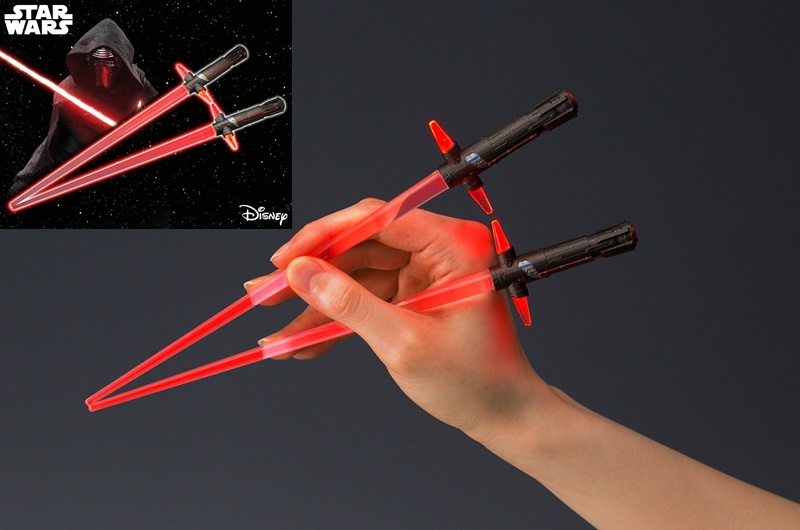 Kylo Ren stopped a blaster shot in midair, which means he could probably handle chopsticks. Can you? These new Kylo Ren light-up chopsticks courtesy of Kotobukiya glow a menacing crimson and feature Kylo Ren's signature guard and grip, perhaps for providing more leverage should the Force fail you while eating. The blades can be removed for easy cleaning, but best of all, you don't have to grow your own lightsaber crystals as batteries are included.

Star Wars Craft Kits
Star Wars Paper Theater


No matter how many times you've seen Star Wars, there's a good bet that you've never experienced it like this! Star Wars Paper Theater allows you to glimpse into the original trilogy's most iconic moments, each frozen in a beautifully layered 3-D pop-up craft kit that is perfect for displaying. Layer each scene using a cutter and some glue; once you see the finished result, you'll be glad that Yoda taught you the ways of patience! Share with young padawans aged 15 or older.

Star Wars Metal Puzzles by Tenyo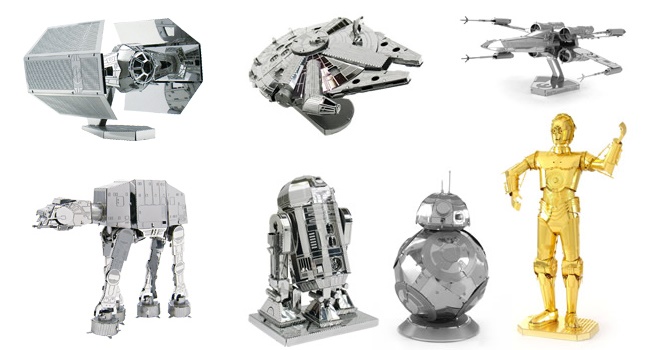 Tenyo's amazing, patented thin Star Wars metal puzzles bring the far, far away galaxy to shining life, allowing fans to build their own super-detailed replicas of the Millennium Falcon, X-Wings, AT-ATs, or even Darth Vader's deadly TIE Fighter. There are even sets for all three iconic Star Wars droids!

How to Buy Japanese Star Wars Merchandise
With each new Star Wars theatrical release, Japan is sure to come out with more amazing merchandise that any serious collector would place a heavy bounty on. If flying to Tokyo in your X-Wing is out of the question, try FROM JAPAN's proxy and shopping service, which can help you get Star Wars limited edition collectibles straight from Japan to your door.