What is FJ Fashion?
FJ Fashion is the fashion section of FROM JAPAN, a proxy shopping service that gets items from Japan to customers anywhere in the world. We work with well-known Japanese retailers (like our recently added new shops) to make the thousands of item listings you see on our site available to our customers while providing a seamless shopping experience.
In addition to gaining access to new Japan-exclusive items, a big portion of FJ Fashion is also dedicated to ready-to-ship secondhand items from the biggest fashion names in the world. If you're looking for a reliable way to get secondhand fashion, FJ Fashion is a great online resource for that. Our website's features make it convenient to find what you're looking for, plus having a dedicated Customer Service team means you'll get any support you need for every step of the way!
Is it worth it to import secondhand fashion from Japan?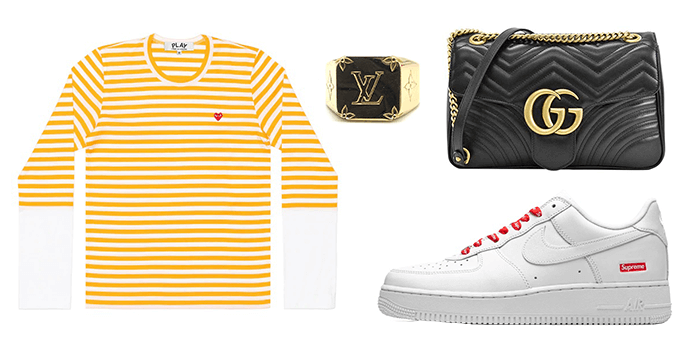 The short answer is: Yes! Japan has several characteristics that can make a difference to the secondhand fashion buyer, namely: lower prices, good condition of items, access to a wide variety of brands, and reliability of secondhand stores. We'll be diving in deeper to each of these reasons, so read on below!
Cheaper prices in Japan due to the weak yen
One of the unique factors that makes Japan appealing as a source for secondhand fashion is related to cheaper price.
Compared to other currencies such as the dollar, euro, or pound, the conversion into Japanese yen means that items come out cheaper than what you might find in other countries. And although the difference in price isn't immensely huge, it still matters if you're trying to get things for their lower price values and will save you money overall.
Japanese secondhand stores are reliable and honest
In Japan, when a store is unreliable or provides bad quality items or services, people are quick to lose interest and will find it hard to trust that same store again.
This becomes even more important when it comes to secondhand stores because customers need to have a high level of trust that they won't be getting any fake or bad quality items. So in order to stay competitive in the secondhand business, stores in Japan have adapted to provide a reliable and honest service.
Secondhand items are in good condition and well taken care of
In connection to the previous reason, Japanese secondhand stores in general have to rely on a rigorous system of checking the quality of all the items that go through their store.
For the stores partnered with FJ Fashion in particular, you get a double guarantee because not only are they trusted stores in Japan, but all of the items included in FJ Fashion have been authenticated to make it very unlikely for our customers to come across fake goods.
Access to both international and Japanese fashion brands
Thanks to the popularity of fashion brands like Louis Vuitton, Gucci, Balenciaga, and Supreme in Japan, the secondhand stores that we're partnered with carry products from both international brands and from Japanese brands such as Comme des Garcons, BAPE, and Visvim. In some cases, you can even find items from these brands' more recently released collections — in great condition too.
We've included handy search buttons for some of the most popular brands included on our website, including images of what type of items you can find. If you want to take a look at what else we have for these brands, you can get started by clicking below.
Gucci
Louis Vuitton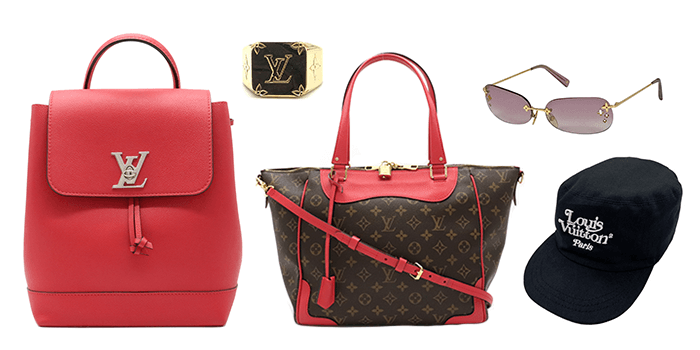 Balenciaga
Comme des Garcons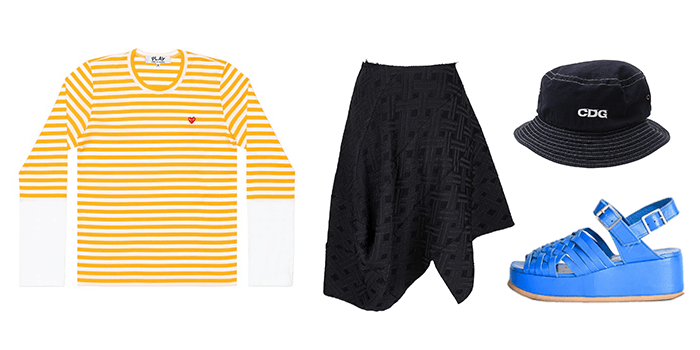 Supreme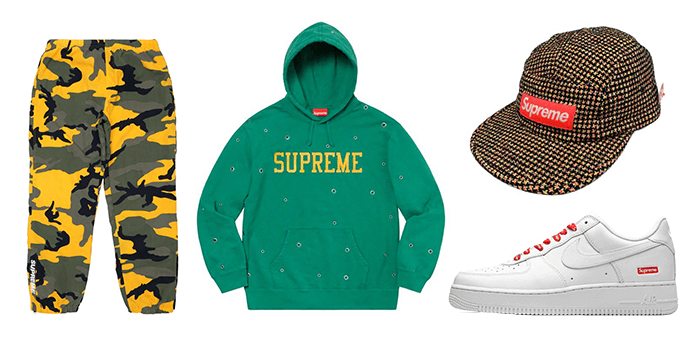 How do I use FJ Fashion to get secondhand fashion items?
If you're new to our site, we'll get you oriented on how you can go from browsing fashion item listings to getting these items to your doorstep. Purchasing through FJ Fashion is quite easy thanks to our site's features, so with the help of this step-by-step guide, soon you'll get your hands on some great secondhand fashion!
Step 1: Find the item you want to purchase from the FJ Fashion homepage.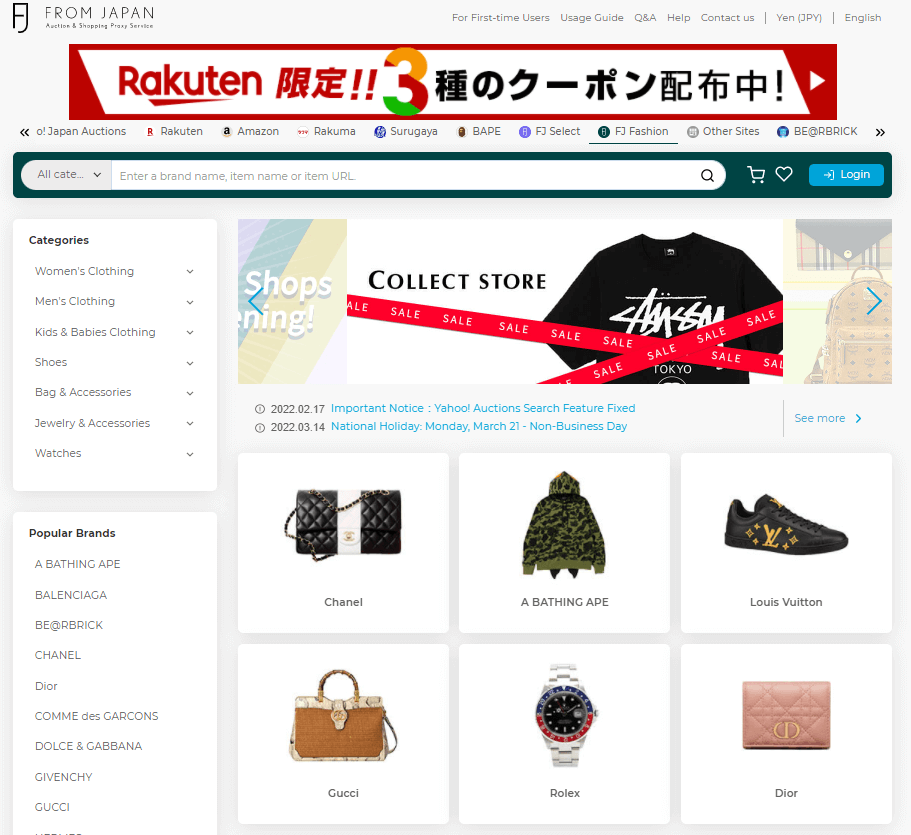 There are a few ways you can navigate the FJ Fashion site to search for an item that's right for you. Towards the top half of the site, you will see six brands we've featured due to their popularity. If you're interested in them, simply click the brand you've got your eye on, and you'll be taken to the search results for that specific brand.
If you'd like to get a further idea of what brands we carry, you can also take a look at the left hand side where the Popular Brands section is. They're listed in alphabetical order, so same as before, simply click on the brand name and you'll be taken to its search results.
If the brand you're looking for isn't in either of the previous methods above, you can also just type the brand name into our search bar and you'll get item listings that way too.
Refine your search to make things more convenient!
One of the unique and most convenient things about our site is that it's easy to refine your search. We'll show you how using Louis Vuitton as an example.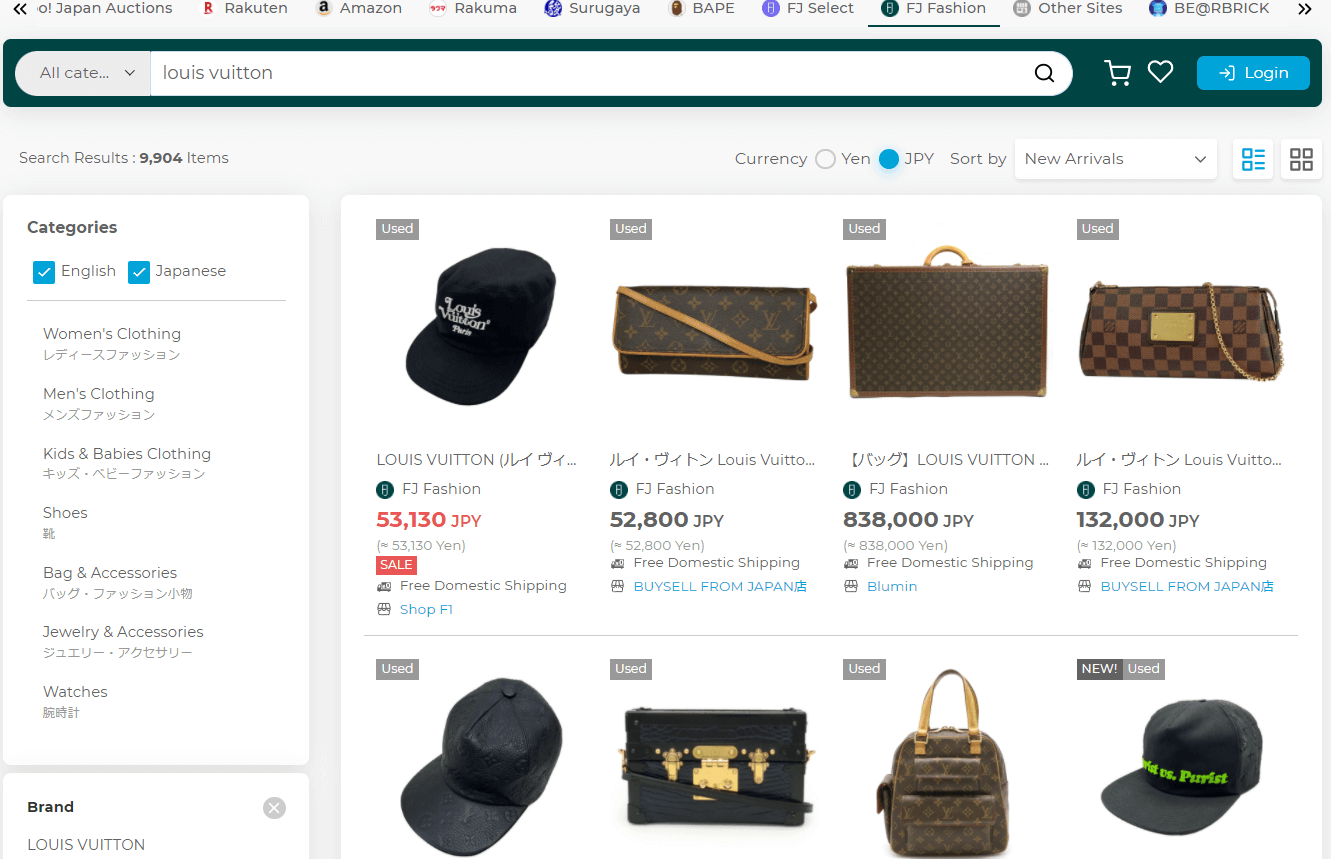 Above, you have a screenshot of what the FJ Fashion site looks like after you've searched for a brand name. The part we'll focus on is the left-hand side, where you'll find for Categories, Brand, Condition, Color, Price, Sale, and Domestic Shipping.
Since Louis Vuitton bags are very popular, let's refine our search to see what bags we can find. To do this, click on the "Bag & Accessories (バッグ・ファッション小物)" category. Since this also includes accessories, we can refine our search even further so only bags will show up.
But wait! We can refine our search even further with different types of bags. In the image below, you can see the first level of categories on the left, the second level of refined categories in the middle, and the last level of bag categories on the right. Let's pick out a simple but elegant Louis Vuitton handbag as our example for the next step.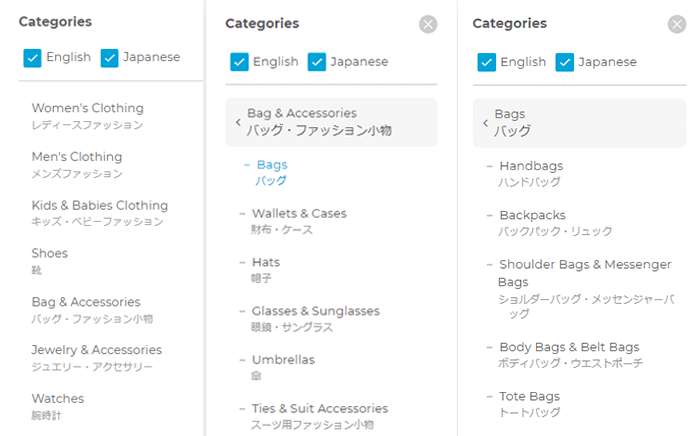 Step 2: Check the Details of Your Item.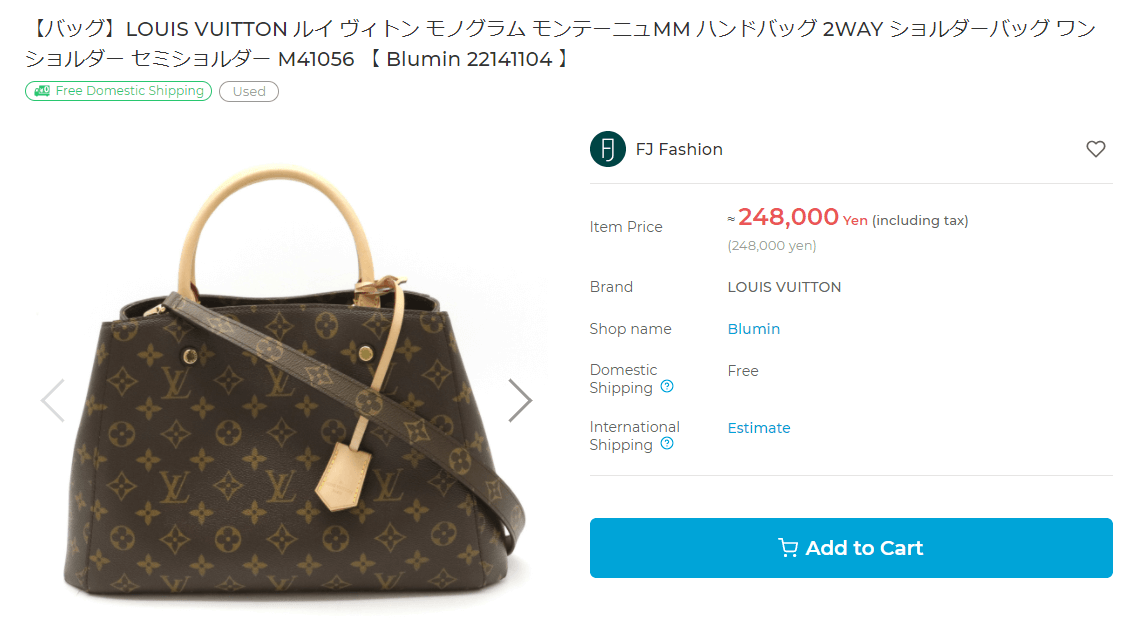 Clicking on an item listing will take you a page that looks like the one we included above. Some of the first things you'll see are images of the product (this often includes images taken from multiple angles, so you can also see the inside of bags or the condition of the straps or accessories attached to them) and its price.
When you scroll down a bit further, you'll be greeted by a text box that you'll see in Japanese. In order to automatically translate it to English, click the drop down button and look for 英語 (English). Once you've done that, you can read more detailed information about the product such as its size, any included items, and most importantly, notes about its condition.
In some cases, you might come across a warning at the bottom of the page that looks like this:

Sometimes, the product name might include some keywords detected by our system for items that can't be shipped within Japan or abroad. However, there are instances when the item material doesn't actually include the prohibited item but is just a part of the item's name. You can use the automatic translation method we mentioned earlier to check this, but if you'd like to get a clearer confirmation, you can also contact our Customer Service team anytime.
Step 3: Add the Items to Your Cart and Pay for Charge 1.
Once you've gone over the item listing and are happy with what you're about to buy, click on the Add to Cart button and you will be prompted to pay for Charge 1.
Step 4: Items Arrive at Our Distribution Center for Shipment Instructions
Next, your items will be sent to our Distrubution Center. Once they've arrived, we will contact you for shipment instructions to get the item to your destination. If you'd like to purchase multiple items at different times, they can be stored in our warehouse for up to 45 days for free, so you can then choose to have them all shipped to you together and save on your shipping fee.
Step 5: Pay for Charge 2.
Once we've confirmed your shipping instructions, you'll be sent a Charge 2 invoice which contains the details for domestic and international shipping charges, as well as the fee for our Product Protection Plan.
Step 6: Shipping.
After the Charge 2 payment, your items are prepared for dispatch. We dispatch all items within two working days to ensure that you receive your items speedily.
Step 7: Arrival.
All that's left is the arrival of your items from FJ Fashion! We make sure that your items are carefully packaged to make the anticipation and finally, the opening of your new items even more pleasant.
---
To learn more about FROM JAPAN and our services, you can visit our Usage Guide for more information. Happy shopping!