There's no better way to celebrate the season of new beginnings than with fresh fandom merch! From chart-topping releases to highly anticipated series additions, we're showcasing 10 of the most popular anime figures of Spring 2018.
Good Smile Company – Your Name 1/8-scale Taki Tachibana & Mitsuha Miyamizu Figures (March 2018)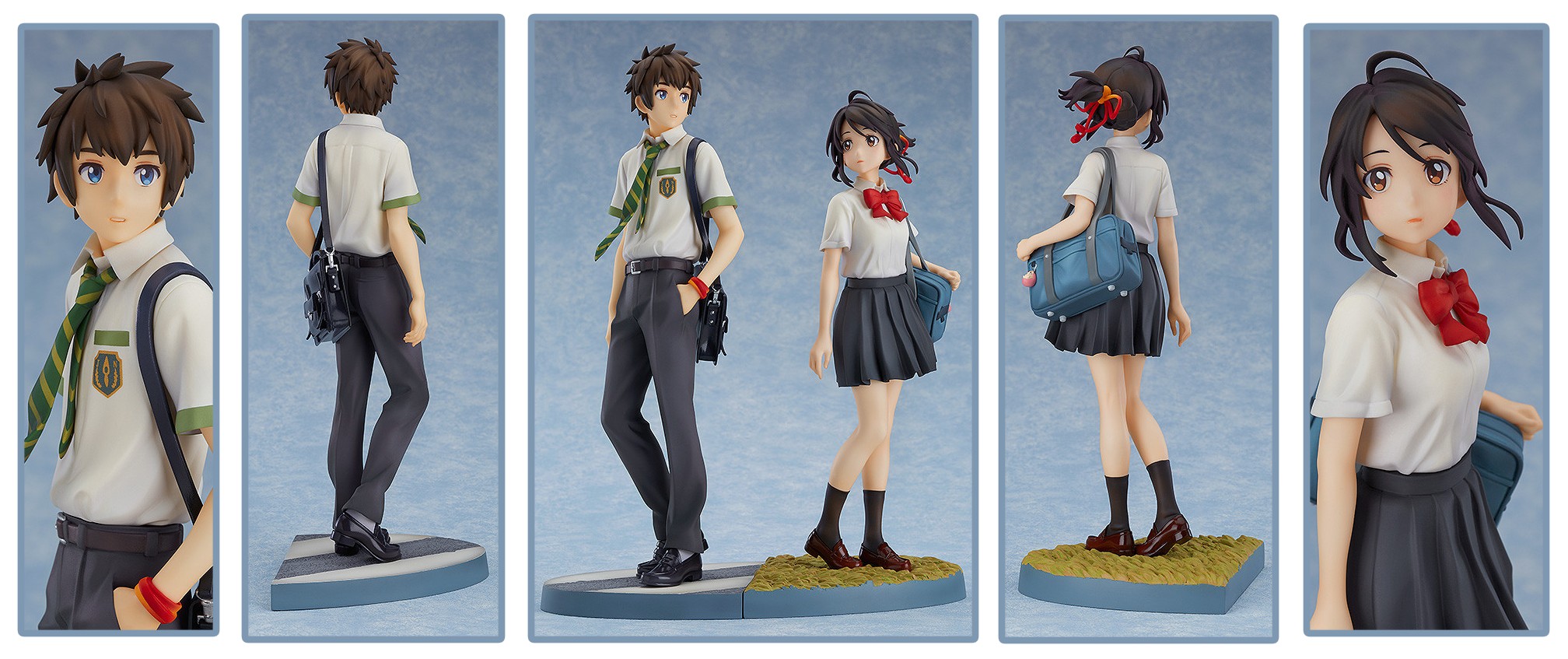 Your Name broke major box office records in Japan, and now you can bring a piece of the groundbreaking film into your figure collection. Sold separately, these 1/8-scale figures of Taki Tachibana and Mitsuha Miyamizu recreate the movie's most iconic image. The hero and heroine stand a world apart, gazing longingly past each other's invisible presence amidst a softly blowing breeze. A connectable base brings these faraway friends closer with textured terrain that reflects their polar-opposite lifestyles.
Square Enix – Bring Arts: NieR: Automata 2B & Machine Lifeform Set (March 2018)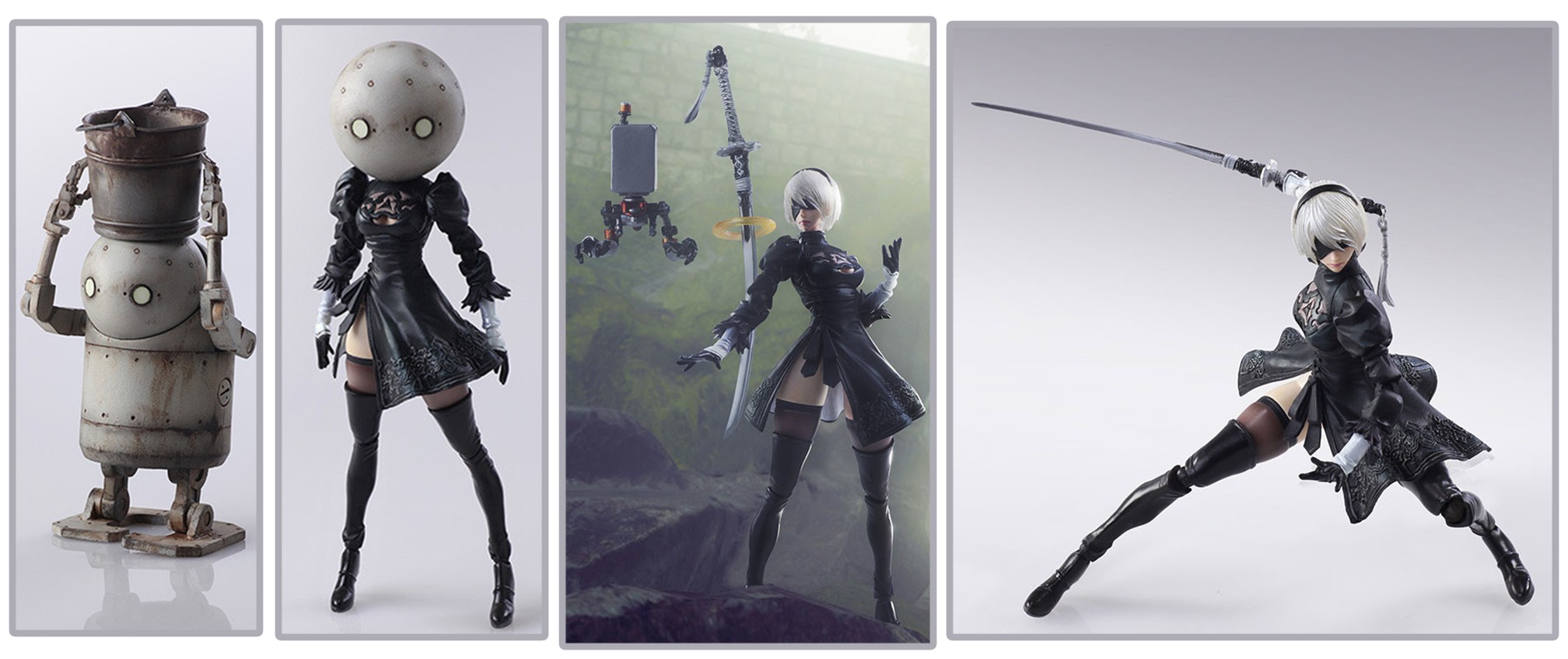 Square Enix's Bring Arts figure series distills the fierce finesse of YoRHa No. 2 Type B into an articulated replica of palm-sized power. Delicate details like the embroidered patterns on her velvety dress and her translucent locks bring the game-rendered CG model to life. Deploy her into your collection alongside her survival essentials: Pod support system, razor-edged katana, and removable military visor. No matter how you choose to display her, this battle android is more than a match for any Machine Lifeform, which is also included with articulation and realistic weathering to capture the harsh world of NieR: Automata.
MegaHouse – G.E.M.: Code Geass 1/8-scale Lelouch & Suzaku Set (March 2018)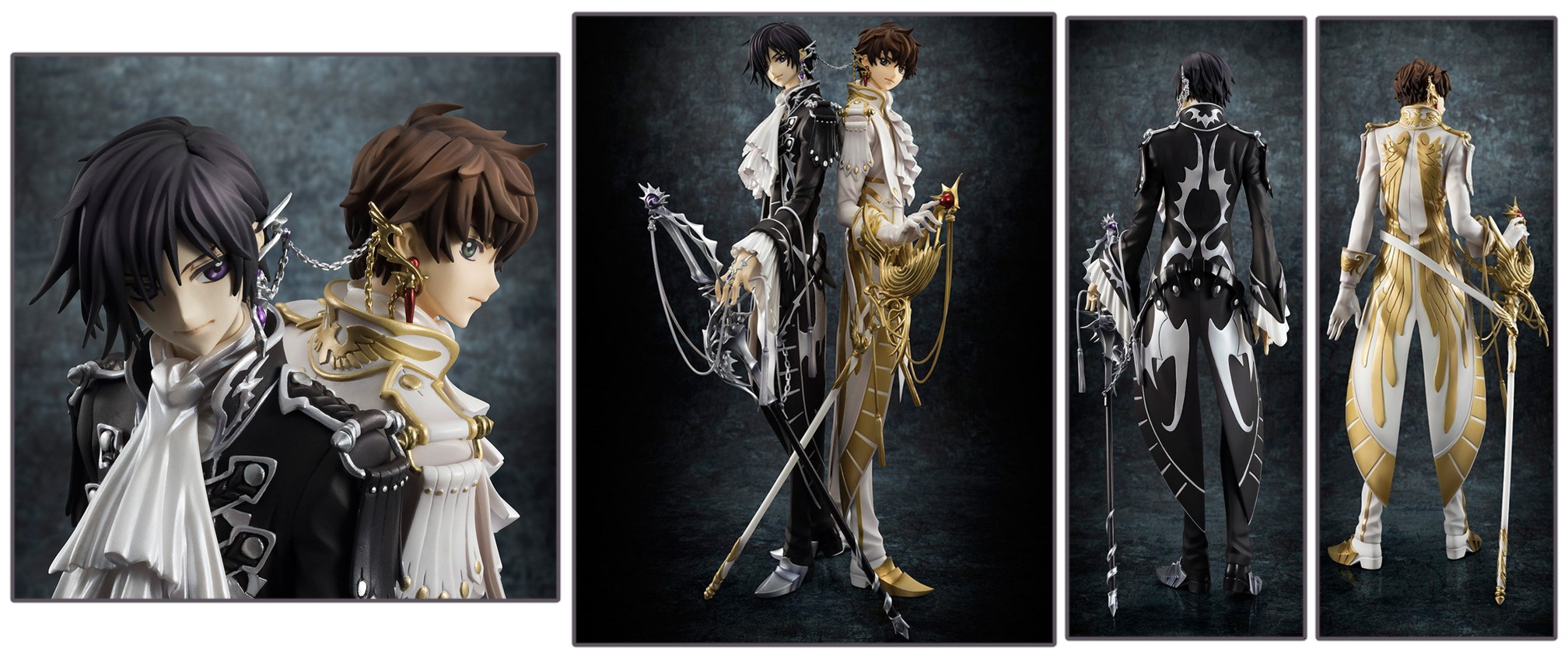 As lavishly detailed as they are symbolically rich, MegaHouse's Lelouch and Suzaku are sold as a set—which is only proper considering how fate inexplicably binds these former friends together throughout Code Geass. At 1/8 scale, these premium figures make for an extravagant display from any angle, with ornaments, ruffles, and regalness emanating from their lithe forms and impeccable postures.
Kotobukiya – ARTFX J: Pokémon Figure Series 1/8-scale Hilda Figure (March 2018)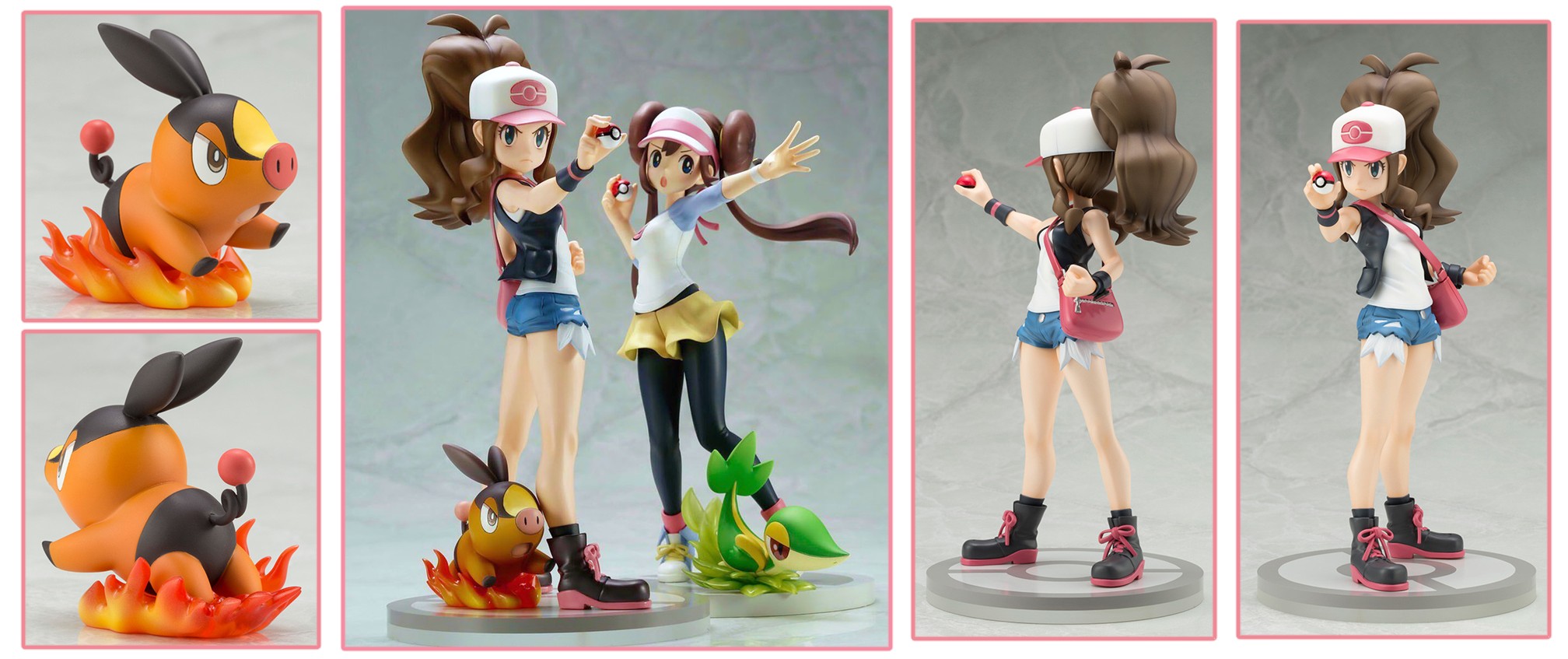 As the fifth entry in the ARTFX J Pokémon Figure series, Hilda seems determined to confront challengers in Nuvema Town and beyond with the help of her fiery Tepig. At 21.5 cm (8.5 in) tall, Hilda looks great teamed up with or dueling against other 1/8-scale Pokémasters-in-training. Her ensemble is faithfully replicated from hat to heel, staying true to Hitoshi Ariga's original illustration. Standing determined upon a Pokéball base, the heroine of Pokémon Black and White is a worthy catch for any fan's collection.
Alter – Love Live! School Idol Festival 1/7-scale Hanayo Koizumi "Sangatsu Hen Ver." Figure (March 2018)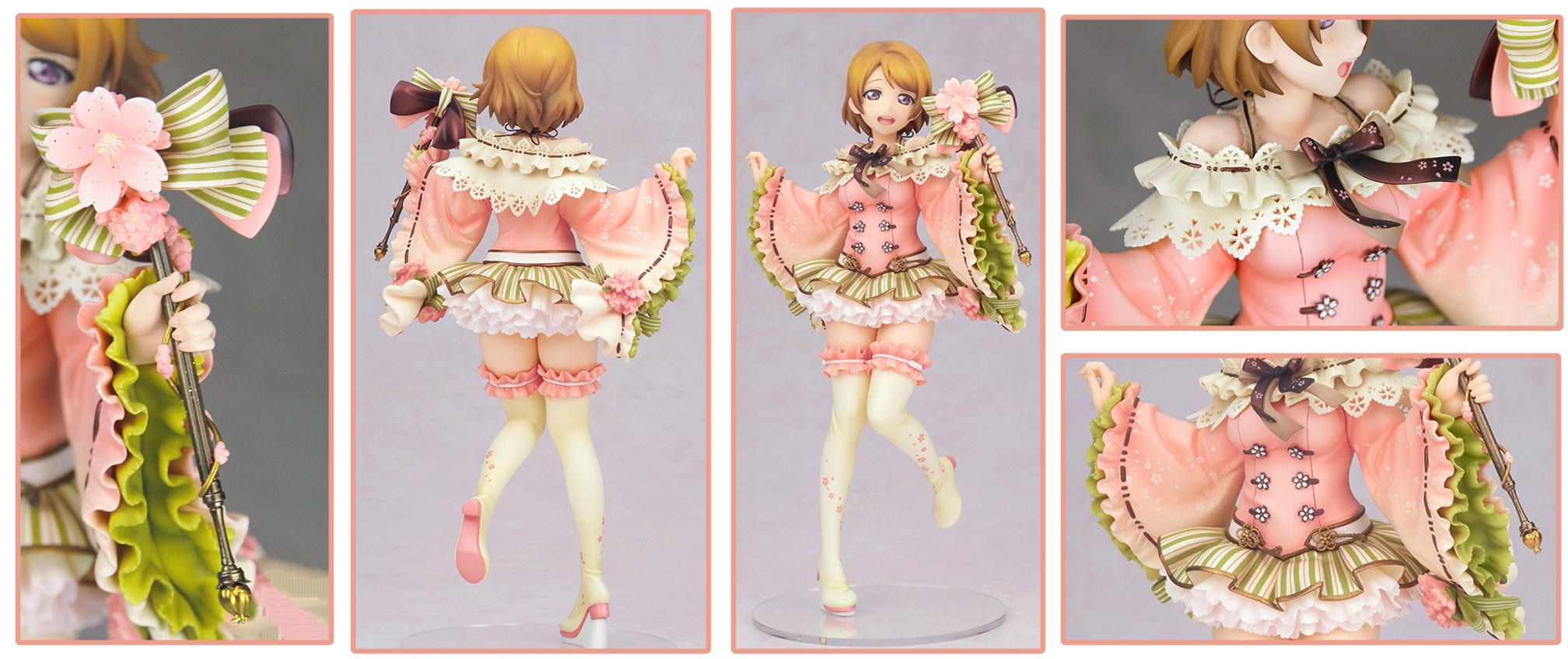 Radiating with pure enchantment, Alter's 1/7-scale statuette of Hanayo Koizumi pays homage to Printemps' most artistic idol. Hanayo-chan's soft eyes beam with an innocent joy matched only by the pastel radiance of her spring-themed dress. Her idol outfit features a delicate medley of sakura blossom buttons, flower lace collars, resplendent ruffles, and a magical wand fit for a fairy-tale princess.
Phat Company – No Game No Life 1/7-scale Shiro Figure (March 2018 Re-release)
Returning by popular demand, Phat Company's Shiro statuette replicates Yuu Kamiya's original artwork of the intellectual game master. Shiro's delicate, multi-hued hair gives her a childish, whimsical allure, but the miniature earth cradled in her hands reveals her true ambitions. At 1/7 scale, this complex statue condenses the story of No Game No Life into a single, highly detailed collector's piece that includes chibi figures of Sora, Izuna, Jibril, Steph, and the coveted Imanity throne.
Orange Rouge – Touken Ranbu Online 1/8-scale Mikazuki Munechika "Awakened ver." Figure (April 2018)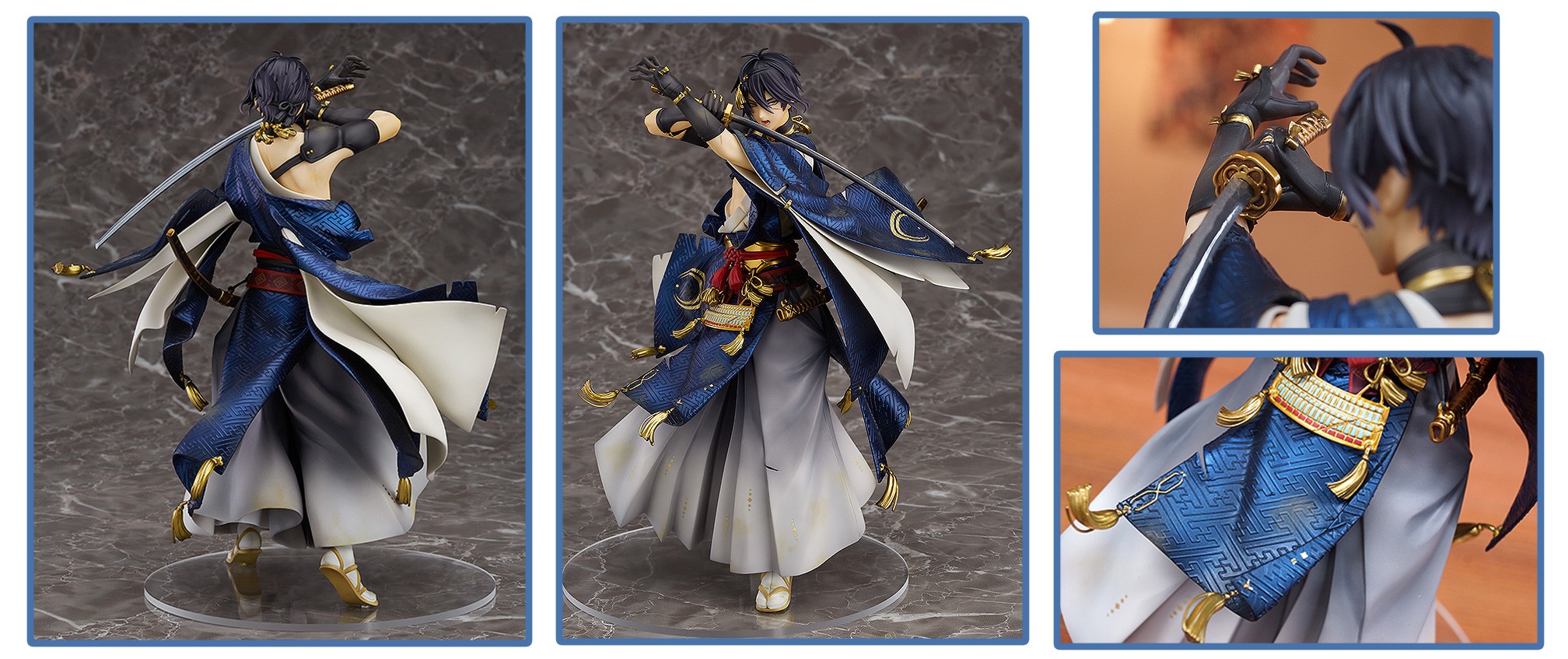 Orange Rouge holds nothing back in crafting a collectible worthy of the Five Great Swords' most beautiful swordsman—Mikazuki Munechika. At 1/8 scale, every millimeter of his battle-worn body contrasts with his powerful stance, signaling the onslaught of his dangerous Awakened state. Mikazuki's glimmering garb is carefully preserved with the geometric weave of his steel-blue kimono and the individual strands of his golden tassels frozen in time. The result is an
impressive figure whose every detail cuts with the sharpness of a katana.
Aniplex – Fate/Grand Order 1/7-scale Jeanne d'Arc, 2nd Ascension Figure (April 2018)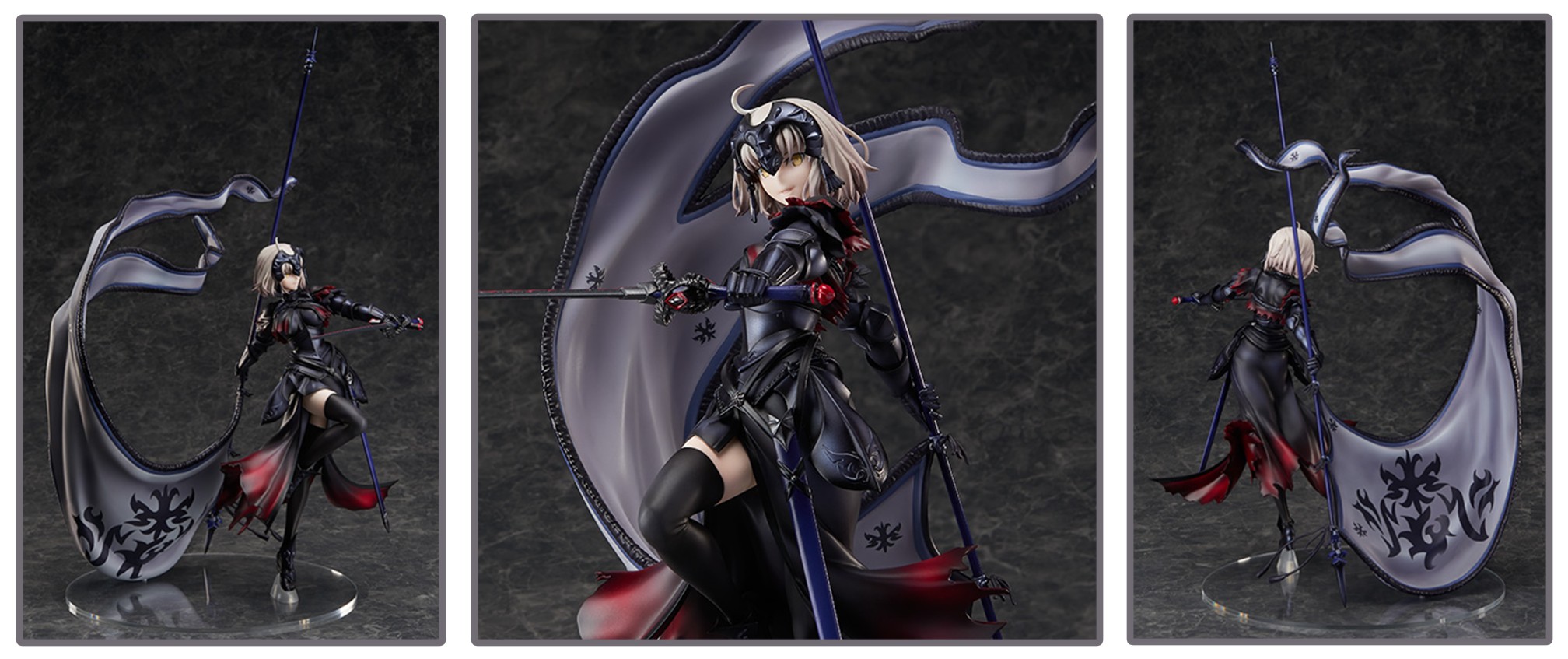 The saintly Jeanne d'Arc embraces her darkest ambitions in this 1/7-scale masterpiece by Aniplex. Rendered from her appearance in Fate/Grand Order, the Witch of Vengeance brandishes her Noble Phantasm, the blade La Grondement Du Haine, while inverting her once cherished banner in an act of malevolence. The crimson accents of her dark armor paired with an arrogant smile give her an aura of ruthlessness, as though she's ready to lay conquest to your figure collection.
Stronger – 1/8-scale Len and Rin Kagamine "Hanairogoromo Ver." Figures (May 2018)

Idol twins Len and Rin Kagamine are finally joining Vocaloid's hanami party with a pair of 1/8-scale Hanairogoromo figures. Inspired by the breathtaking artwork of popular artist Fuji Chiko, the two statuettes precisely imitate the rich patterns and colors of their original illustrations, imbuing time-honored Japanese tradition into two of Vocaloid's most popular characters. Though sold separately, the twins can be displayed together using a special connector—these singing siblings are inseparable, after all!
Good Smile Company – Nendoroid: Yuri Katsuki "Casual Ver." Figure (May 2018)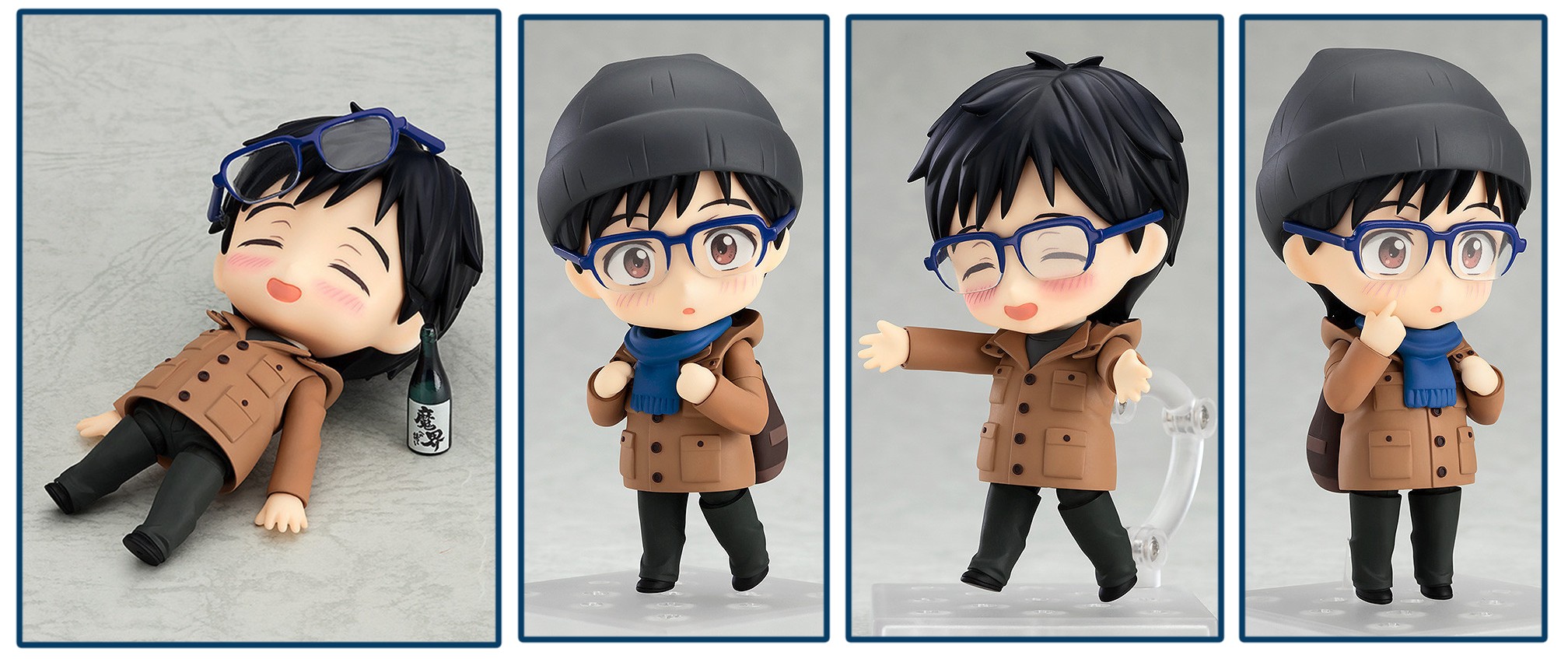 Last summer, we spotlighted Yuri Katsuki's figure skating Nendoroid. But for Yuri lovers, there is now the perfect Nendoroid for capturing your favorite off-the-rink moments too—Good Smile Company's Yuri Casual Clothes figure. Bundle him up for Russia's winter chills and beyond with a variety of accessories and face plates, including an homage to one of the anime's most inebriated moments.
The Best Place to Find Spring 2018 Anime Figures
For these top-tier spring 2018 anime figures and other otaku must-haves from your favorite fandoms, browse FROM JAPAN—your one-stop shop for in-demand Japanese merchandise!
And don't forget to check out our picks for 2017/2018's best winter anime figures!