The latest Pokemon Merch from Japan
Almost 30 years since the original game Pocket Monsters Red and Green kicked off what would become a worldwide franchise, Pokemon still manages to keep things fresh with frequent new releases for its millions of fans.
Since we're at the halfway point of 2022, it's good to take a look at what new Pokemon merch has been released this year to stay up-to-date. So without further ado, let's get into our 5 most favorite Pokemon merch from 2022!
Our Top 5 Pokemon Merch for 2022
Listed in no particular order.
My Rentorar's Story (Luxray)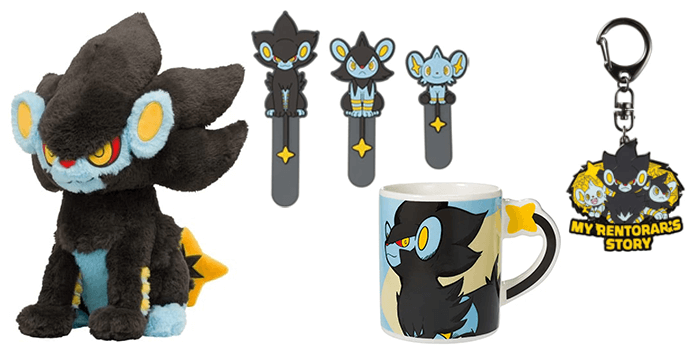 In Japanese, Luxray is known as Rentorar (レントラー), so as you can probably tell, the My Rentorar's Story collection of merch revolves around Luxray and its previous forms, such as Shinx. Each of Luxray's forms get different types of merch under this collection, such as plushies, mugs, pouches, and other accessories.
In the image above, we've included the type of Luxray merch you can expect to find on our site!
Pokemon Trainer Mascot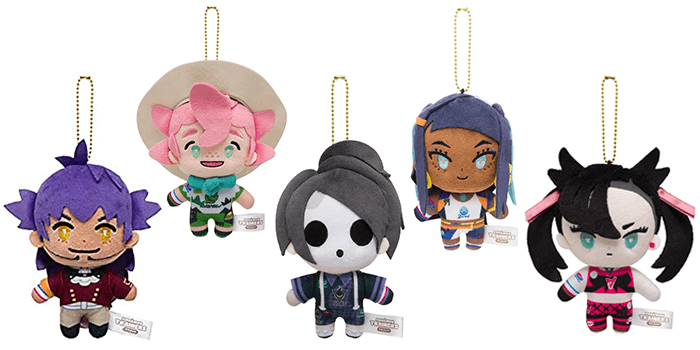 For the Pokemon Trainer Mascot Collection, we have adorable plushie keychain versions of the Pokemon Gym Leaders that were featured in Pokemon Sword and Shield, such as Milo, Leon, Allister, and Nessa just to name a few. So if you have a favorite Gym Leader from the game, you'll find a plushie of them here!
pokémon time Collection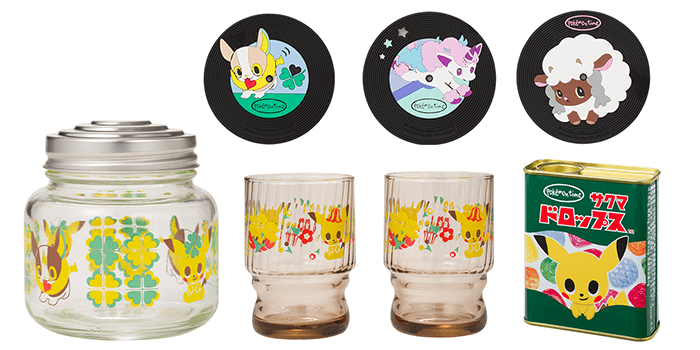 The pokémon time Collection is a series that was made in collaboration with the Japanese design team, play set products. For this series, they reimagined the designs of popular Pokemon characters, giving them that extra cute, retro-style touch.
The 2022 lineup includes play set products' reworking of Galar region Pokemon from Sword and Shield, like the adorable Yamper and Galarian Ponyta.
Pokemon Smile Collection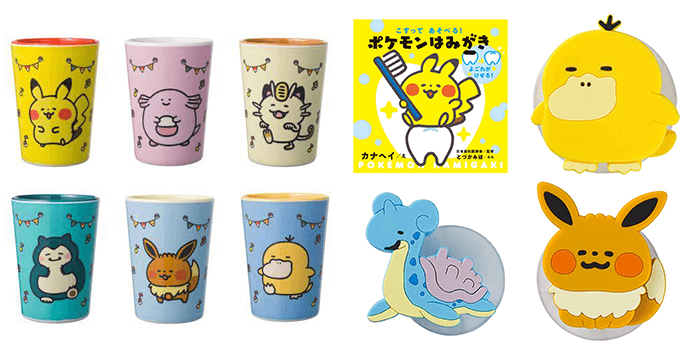 Similar to the previous series, the Pokemon Smile Collection also features a character design reimagining of some of our favorite Pokemon, like Pikachu, Chansey, Meowth, Snorlax, Eevee, and Psyduck. All the items here have a central theme: you can use when you're brushing your teeth!
With toothbrush cups and stands included, this series was made to help encourage Japanese kids to enjoy their toothbrushing time, but there's no reason you can't use it yourself too!
Pochama's (Piplup's) Daily Life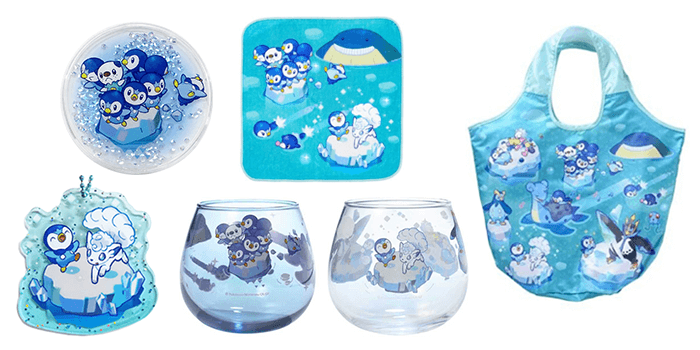 Last but not the least, we have the Pochama's Daily Life! Piplup is known as Pochama in Japan, and this series depicts the cute blue Pokemon interacting with its other Pokemon friends. There's enough variety of items included in this collection — from glass cups and tote bags to keychains and small metal containers — to make Piplup a part of your daily life.
How can I buy Pokémon Merch from Japan?
If you're new to our site, we've prepared an easy-to-follow guide so you can familiarize yourself with how you can order Pokémon Merch and get it shipped to you straight from Japan!
Step 1: Find the item you want to purchase through our useful search engine.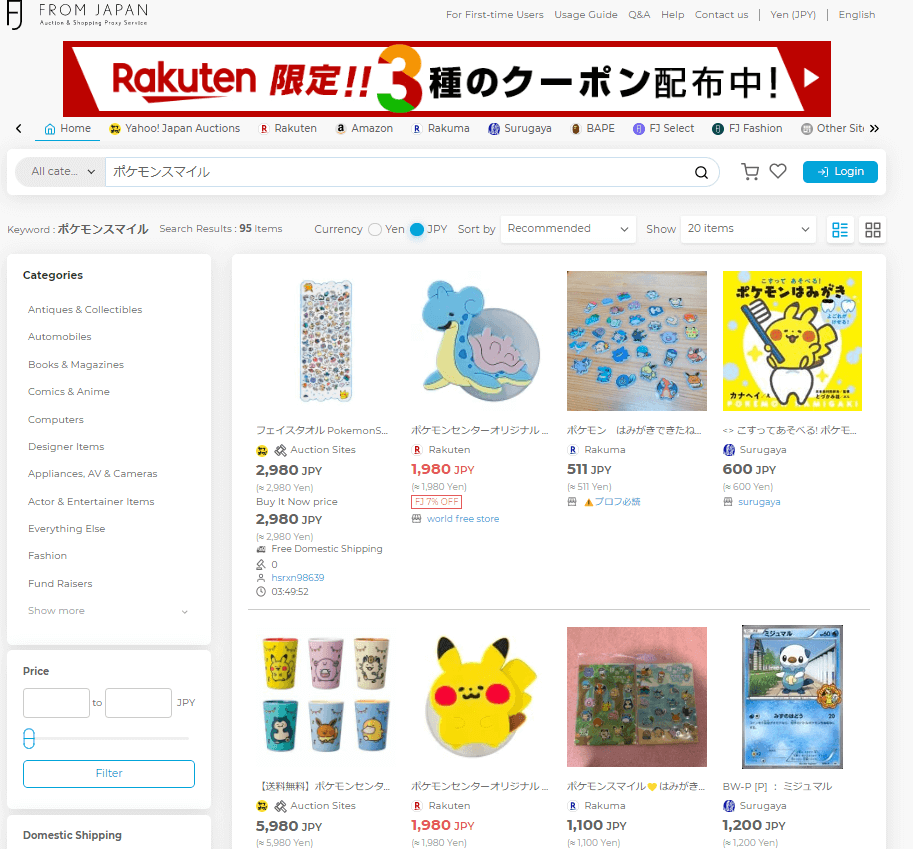 FROM JAPAN has a built in search engine that shows you various products from different Japanese websites with one click of a button!
To search for any of the merchandise we mentioned, simply click the "Search for…" buttons we've included below each item section above. It'll take you to the search results for that item and we've already put in the correct item name for you too!
On the other hand, if you want to see what other Pokemon merch is out there, you can click on either of the buttons below for a wider range of search results. Once you decided on your items, it's time to proceed to the next step!
Step 2: Check the Details of Your Item.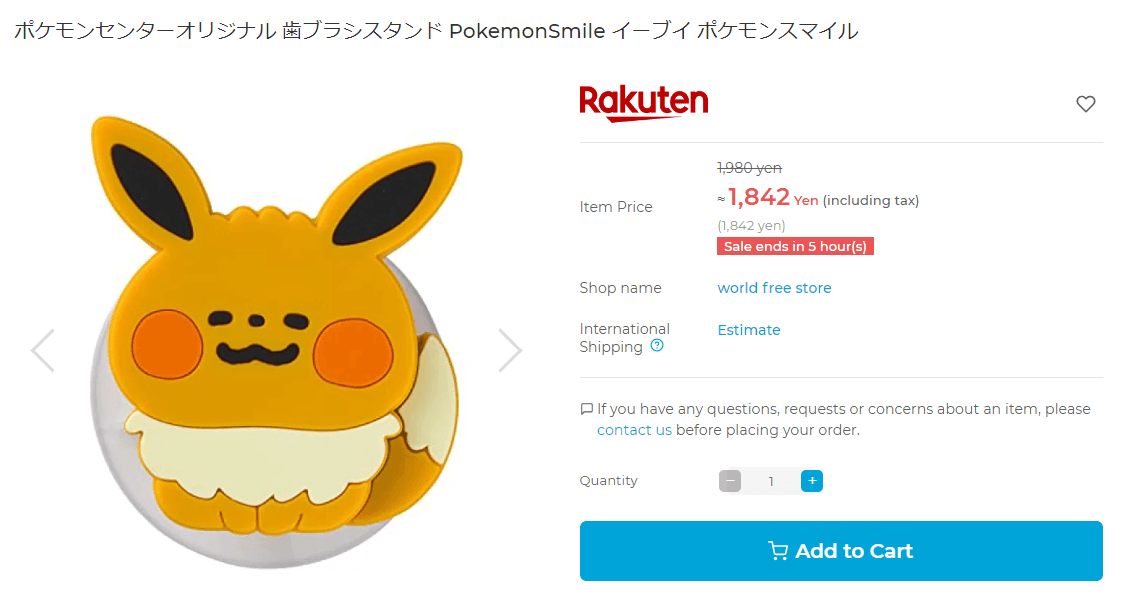 On this page, you'll find details such as the price in Japanese yen, the item condition, and an estimate of how much international shipping will cost. However, do take note that for the actual cost, you will get that information from our Customer Service Team after placing an order.
Next, if you scroll down, you'll see a box that says Description. Click on the drop-down button then click 英語 to get an automatic English translation that has more information about the item.
Step 3: Add the Items to Your Cart and Pay for Charge 1.
After confirming that everything looks good, click on the Add to Cart button and you'll be prompted to pay for Charge 1. If you're unsure about what Charge 1 means, you can learn about this and more from our Usage Guide page.
Step 4: Items Arrive at Our Distribution Center for Shipment Instructions
Next, your items will be sent to our Distribution Center and upon arrival, we will contact you for to ask for your preferred shipping instructions.
If you have other things you have your eye on, you can order them separately and have them stored in our warehouse for up to 45 days for free! This gives you the option to save on your shipping fee if you have them shipped together.
Step 5: Pay for Charge 2.
Once we've confirmed your shipping instructions, you'll be sent a Charge 2 invoice which contains the details for domestic and international shipping charges, as well as the fee for our Product Protection Plan.
Step 6: Shipping.
After the Charge 2 payment, your items are prepared for dispatch. We dispatch all items within two working days to ensure that you receive your items speedily.
Step 7: Arrival.
And that's it! You have Pokemon merchandise bought straight from Japan. We hope you enjoyed your shopping experience with us!