2021 has been a great year for anime lovers. The final season of Attack on Titan, a new Demon Slayer movie, reboots of both Digimon and Shaman King, and more have kept otakus ecstatic. But even in the midst of all these big-name releases, there's one anime that stands above: My Hero Academia. Even casual anime fans know about the Hero phenomenon. Since 2016, the series has gripped the world, capitalizing on the 2010s' resurgence of anime as well as the Marvel-fueled superhero craze. Its intriguing concept about a world of superheroes attracted fans from all backgrounds and its cast of lovable characters kept them engaged. My Hero Academia is easily one of the best shonen anime in recent memory, and season 5 of the show is one of the most anticipated releases of 2021. To celebrate the tremendous season 5 drop this year, many new merchandise lines have dropped featuring Izuku Midoriya and his crew. Here's a list of the four best Japanese-exclusive MHA merch lines that you need to get for season 5, plus we'll tell you how to get from anywhere in the world.
My Hero Academia Nendoroid Figures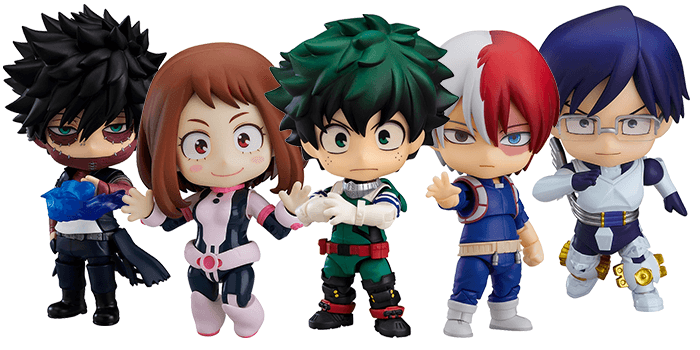 Nendoroids are one of the most iconic Japanese collectibles out there. These figures feature chibi-fied versions of your favorite characters from anime, manga, and games. Nendoroid is one of the signature lines from the world-famous Japanese merch company, Good Smile. Like a more detailed and faithful Funko Pop, a Nendoroid will fit perfectly in any collection shelf, on your desk, or wherever else you want to place it. Good Smile has sold MHA figures for a few years now, but with season five coming, they've issued out new models of favorites like Midoriya and Bakugo, as well as characters who are new to the Nendoroid treatment like Dabi and Iida. Keep an eye on these as new figures, like Himiko Toga, are still yet to drop!
My Hero Academia figma Figures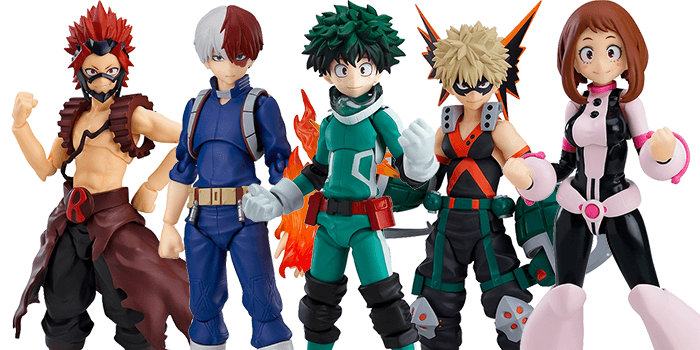 Figmas are another signature figure line by Good Smile Company. Unlike Nendoroids, though, figmas are meant to be totally faithful to the characters as they are in the anime. These figures are super popular for being affordable without sacrificing quality. You're sure to find at least a handful of figmas in any notable collection. Good Smile sells figma figures of Midoriya, Bakugo, Uraraka, Todoroki, and rising favorite Kirishima. They're each posed to display the triumphant attitude that we've all come to love them for. Adorn any space with one (or more) of these and you'll instantly brighten it up.
My Hero Academia Ichiban Kuji Collections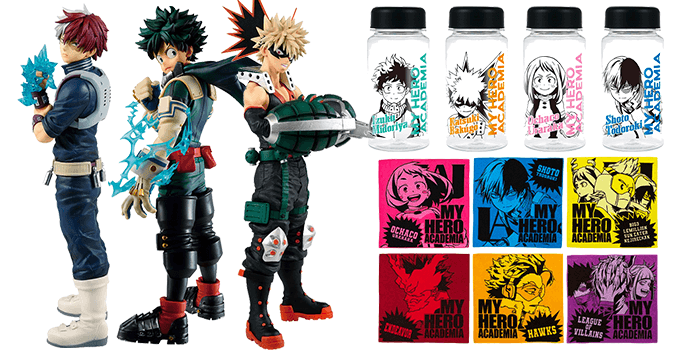 Like Good Smile, Banpresto is another collectible company popular among otakus. One of their most popular promotions is Ichiban Kuji — a lottery drawing to win new and rare merch. The lottery itself is for Japanese residents only, but don't worry, you can still buy these products later through FROM JAPAN, which we'll discuss more at the end of the article. Ichiban Kuji merch can include figures, rubber charms, signature boards, and towels among more options. To prepare for season 5, there's a new Ichiban Kuji line of figures featuring the favorites Uraraka, Midoriya, Bakugo, and Todoroki plus a surprise appearance of the underrated Shinso. The exciting, dynamic poses of these figures set them apart from the rest, and that's true for previous MHA Ichiban Kuji releases too.
My Hero Academia Tomonui Plushies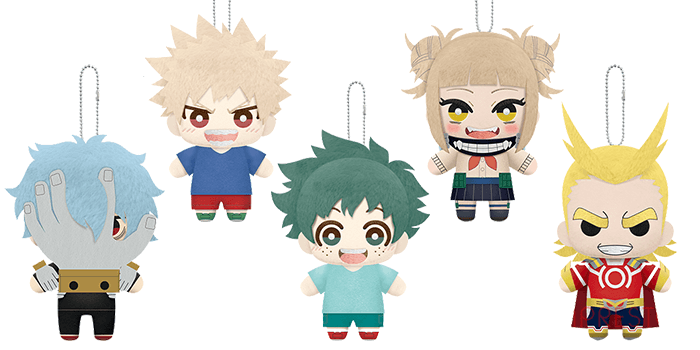 Here's another Banpresto trademark product, but for those who want something a little different. Tomonui plushies are cute, tiny, stuffed versions of all the characters you love. You can chain these to your keys, your phone, or any other portable item so you can always carry around a token of your favorite anime, game, or manga. Not only are these great for your own enjoyment, you'll surely strike up some fun conversation with people when you whip one of these out. New Tomonui releases feature the protagonists plus some more Class 1-A members, established heroes like All Might, and members of the League of Villains too. This is perfect for those who like to have their collections with them on the go.
Shop My Hero Academia Merch with FROM JAPAN!
Since these products are all Japan-limited, they can be tough to find outside of the country at a reasonable price. Thankfully, FROM JAPAN has you covered. FROM JAPAN is a proxy shopping and bidding site that allows you to buy Japan-exclusive products straight from the source. You can easily find all these products and more without having to worry about sketchy eBay resellers. Just search or browse through the marketplace like you would any other online platform! FROM JAPAN is the absolute best place to get authentic Japanese goods, from figures to plushes to even food and drinks. To get shopping, visit the FROM JAPAN website and start your superhero shopping today!