One of the most popular sports anime of our time, Haikyuu!! left fans hanging with a last-second cliff-hanger during its third season finale. The fourth season's release date is still up in the air, but that's no reason for you to call a "time out!"—get in the team spirit with Haikyuu!! merchandise fit for an MVP!
Haikyuu!! Figures
If you're a Haikyuu!! fan who loves to daydream about the best scenes from the series, then surround yourself with mini versions of all your favorite athletes in the comfort of your home with these two Haikyuu!! figure collections.
Banpresto DXF Figures

The Haikyuu!! Banpresto DXF line offers a roster of over 20 characters (and a few variants, too) and is ideal for collectors who like static, proportional models. Standing roughly 7 inches (18 centimeters) tall, these figures are large enough for fine details but small enough to fit into even the most cramped collection. Each character design is full of personality, from quiet genius Kenma to confident libero Nishinoya.
Nendoroid Figures

Fans who love to squee over their kawaii "volleyboy" husbandos will find a lot to swoon over with Nendoroid's Haikyuu!! figures. These chibi-fied cuties are customizable with alternative expressions and plenty of court props, making them ideal for re-creating your favorite moments from the anime. The Nendoroid line currently boasts 11 unique characters, two casual variants for Hinata and Kageyama, and three upcoming releases in 2017 (Daichi, Tadashi, and Ushijima).
Haikyuu!! Ita Bag Accessories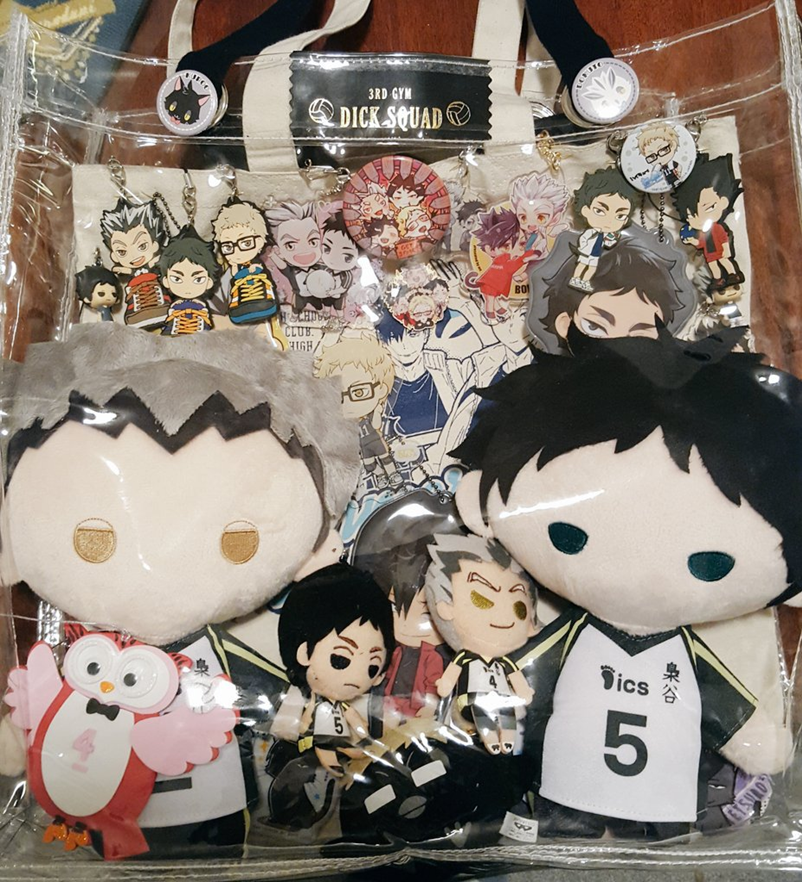 Ita bag literally means "painful bag," because the bag—buried under a ton of fandom goodies—can be so over the top that it's almost painful to look at! They are a symbol of fandom passion that you can carry everywhere you go, convincing onlookers that you're the ultimate fan. Ready to make a Haikyuu!! ita bag of your own? Here's what you'll need.
Haikyuu!! Bags

You can begin your labor of love with any bag you like, but we recommend choosing one inspired by the Haikyuu!! series. Haikyuu!! bags are designed around team colors, logos, and slogans, making them the perfect way to kick off your "ita" game.
Haikyuu!! Key Chains & Charms

In Haikyuu!!, a good luck charm can give athletes an advantage on the court, and these Haikyuu!! key chains and charms are sure to give your ita bag an edge over others, too! Rubber 2D keychains are perfect for clustering together, while plastic 3D keychains make the characters recognizable from any angle.
Haikyuu!! Button Badges

Haikyuu!! button badges come in all shapes and sizes—ideal for filling in empty spaces on your bag. Button badges also ensure a one-of-a-kind ita bag, since there are many unique illustrations by Japanese fan artists available in addition to official character merch.
Haikyuu!! Plushies

Haikyuu!! plushies are probably the largest decorations you'll put on your bag. They're often more difficult to find than button badges and key chains, making them something of a trophy item. Many Haikyuu!! plushies feature the characters transformed into their team's animal mascots, which allows for even more ita bag possibilities.
Haikyuu!! Cosplay Apparel
With Haikyuu!! cosplay, you can get into the team spirit with other fans at your next Con. Here are three cosplay essentials to step up your game.
Haikyuu!! Jackets & Jerseys
No matter which team you're on, your Haikyuu!! uniform is crucial to your cosplay, because it helps others easily identify the school, character, and position you represent. Can't decide which team to join? Here's a helpful guide.
Karasuno Jackets & Jerseys

The ultimate underdog team, Karasuno's playing style evolves on the court to help them out-match their more powerful and experienced opponents. Like a flock of crows, Karasuno utilizes teamwork and flexibility. Many of Haikyuu!!'s fan-favorite characters sport a Karasuno jacket and jersey, making these a popular cosplay choice.
Aoba Johsai Jackets & Jerseys

Led by fangirl heartthrob Oikawa, Aoba Johsai is comprised of a team of star players. Wearing an Aoba Johsai uniform is sure to let other Haikyuu!! cosplayers know that you're among the best the prefecture has to offer.
Nekoma Jackets & Jerseys

Considered to be Karasuno's top rival since the famous "Battle at the Garbage Dump," the players of Nekoma create "connections" between each other to help them take their skills to the next level. With a Nekoma jacket and jersey, you're sure to attract a lot of attention—especially from the Karasuno cosplayers.
Fukurodani Jackets & Jerseys

Known as the "Owls," the Fukurodani team is renowned for its ace athlete Bokuto, who is among the top in the nation. Showing up at a Con in a Fukurodani uniform lets everyone know that while you may be laid-back, beneath your friendly nature hides a highly competitive spirit.
Haikyuu!! Wigs

In Haikyuu!!, unique hairstyles and colors make it easy to keep track of players darting around the court. At a Con, having the right wig can also make it much easier for fans to recognize your character. Specially designed Haikyuu!! wigs are available for nearly all team members; and while most wigs require basic cutting and styling, they're typically designed with the necessary dimensions in mind.
Haikyuu!! Volleyballs

The volleyballs in Haikyuu!! are based on two real-life Japanese brands—Mikasa (blue, yellow, and black) and Molten (green, red, and white). Whichever design you choose, these volleyballs bring a touch of authenticity to your cosplay, look great in photoshoots, and may even instigate an unofficial tournament between Haikyuu!! cosplayers at a Con.
Where to Buy Haikyuu!! Merchandise
Just as Haikyuu!! fans can expect a breathtaking playoff from their favorite volleyball teams, you can expect great deals on a variety of Japan-exclusive Haikyuu!! merchandise at FROM JAPAN. If you see something you love—spike it! There are plenty of Haikyuu!! fans on the court who are ready to steal your "set-point" merchandise, so score it now before it's gone!