The ultimate icon of "kawaii", Hello Kitty, is turning 45 this year! The first products depicting Kitty White (Hello Kitty's full name) were released by Sanrio in 1974, and she has been a worldwide cultural phenomenon ever since. Join us in celebrating the little white cat's anniversary as we explore her origins and showcase some of the best Japan-exclusive merch released in honor of Hello Kitty's 45th anniversary – enjoy!
History of Hello Kitty – 45 years of Kawaii
Hello Kitty was first created in 1974 by the Japanese designer Yuko Shimizu, who was an employee of Sanrio at the time. After her debut, Hello Kitty was an instant success and the little white cat is credited with increasing Sanrio's profits sevenfold in her first four years of release.
Originally Hello Kitty was solely marketed towards children, but during the 1990s, she became popular with teenagers and adults who fondly remember their Hello Kitty toys from their childhood. Hello Kitty also gained celebrity fans around this time including the likes of Mariah Carey and Avril Lavinge, the latter even writing a whole song dedicated to the white cat! In May 2008, Hello Kitty took on diplomatic duties as she was appointed the Japanese tourism ambassador in both China and Hong Kong.
Although her popularity peaked in the late 1990s, Hello Kitty remains a Japanese cultural icon and one of Sanrio's most popular properties. As of 2019, Hello Kitty has amassed $80 billion in lifetime retail sales, making her the second highest-grossing franchise of all time.
Hello Kitty 45th Anniversary Limited-Edition Items
I Love Hello Kitty 45th Anniversary Collection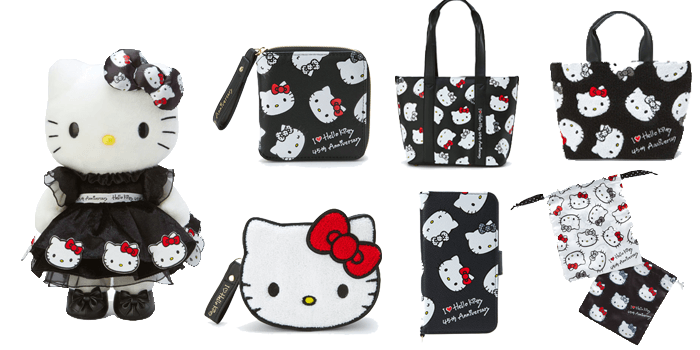 Proclaim your adoration for Hello Kitty with this special "I love Hello Kitty" collection. The line features plushies, bags, pouches, and a variety of other lifestyle goods with a monochromatic theme, adding a touch of elegance to the kawaii character. If you're looking for the perfect compromise between cuteness and sophistication, then look no further than the I Love Hello Kitty 45th Anniversary Collection!
Hello Kitty Memorial Doll Plushies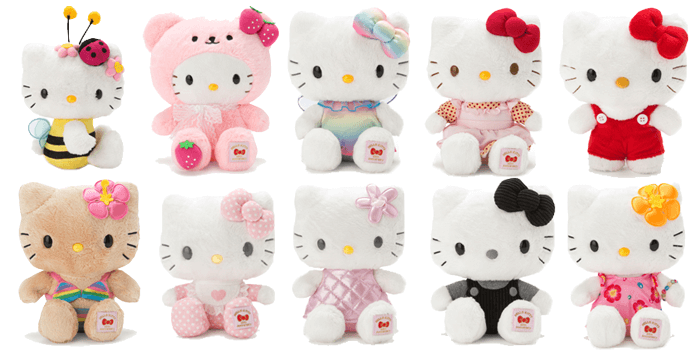 To celebrate 45 years of Hello Kitty, Sanrio released 10 adorable plushies that recreate some of Kitty's most iconic looks over the years. From Hello Kitty in her classic red romper to a sun-kissed beach babe version of the cat, you can see the evolution of the kawaii icon before your very eyes in this super-cute plushie collection!
Hello Kitty 45th Anniversary 80s and 90s Collections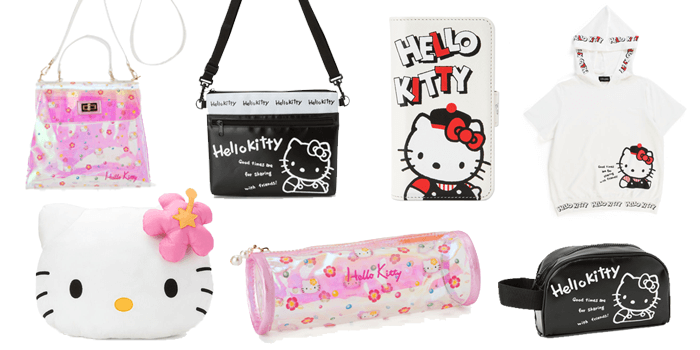 Sanrio takes a trip down memory lane for this landmark anniversary with these two fabulous collections showcasing Kitty in 80s and 90s style! The 80s-inspired collection features a pouch, a parker, a phone case, and a bag all with monotone designs that were popular during the decade. The 90s-inspired collection sees Hello Kitty swapping her signature pink bow for a hibiscus on a transparent bag, pencil case, and a cushion.
Hello Kitty 45th Anniversary Dream Tomica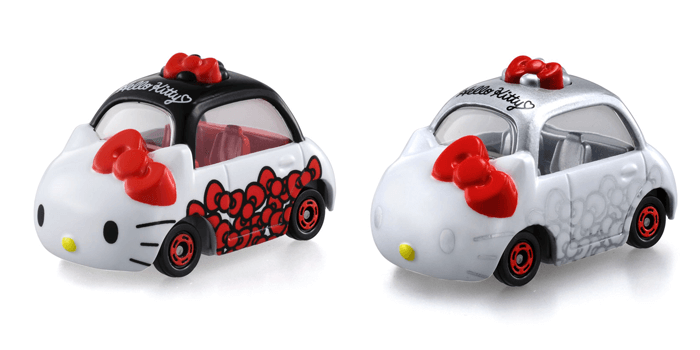 Beep beep, Hello Kitty coming through! Takara Tomy is also joining in with the 45th-anniversary celebrations with this limited-edition Dream Tomica. The toy car has a Hello Kitty-shaped hood and is available in black and silver color variations. With its clean and simple design, this Hello Kitty 45th Anniversary Dream Tomica is the perfect addition to any HK fan's collection!
Hello Kitty 45th Anniversary Steiff Teddy Bear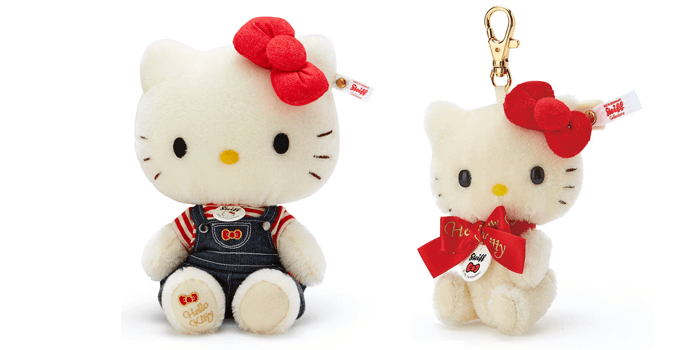 Steiff, the world's premier teddy bear manufacturer, has collaborated with Sanrio to release a highly limited Hello Kitty plushie and keyring to celebrate 45 years of the iconic character. Handmade with the highest quality materials in Germany, this teddy bear by Steiff is a wonderful homage to the queen of kawaii on her 45th anniversary.
Licca Stylish Doll Collection Hello Kitty 45th Anniversary Style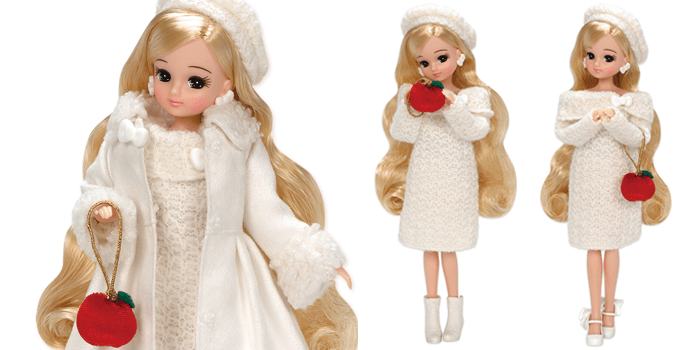 In commemoration of this landmark event, two icons of Japanese kawaii culture, Licca-chan and Hello Kitty, teamed up to release this gorgeous limited-edition collaboration. Part of the Licca Stylish Doll collection, this Hello Kitty 45th Anniversary doll subtly evokes the world's most famous kitty with a beautiful white coat and an apple-shaped handbag.
Celebrate 45 years of Hello Kitty with limited-edition goodies!
Want to join in with the 45th-anniversary celebrations with some Japan-exclusive Hello Kitty merch? Then look no further than FROM JAPAN! The proxy shopping and buying service FROM JAPAN can help you find rare and exclusive Hello Kitty goodies and have them shipped straight to your door. Celebrate Hello Kitty and more kawaii friends with FROM JAPAN!