The latest video game installment of the Pokemon franchise is just around the corner with the release of Pokemon Let's Go Pikachu! and Pokemon Let's Go Eevee! on the Nintendo Switch on November 16. Returning to the Kanto region first seen in Pokemon Red and Blue, the game promises to be a joy for those new to the Pokemon world and hardcore Poke-fans alike. The Pokemon Center has been releasing many product lines featuring Pikachu and Eevee in the run-up to the release, and they don't disappoint with their cuteness! To celebrate the game's release, we have collected some of our favorite collections featuring the furry friends. Enjoy!
Pikachu and Eevee Jewell Collection
If you are a fan of pastels colors and sweet motifs, then the Pikachu and Eevee Jewell collection is for you! The line features personal care products such as mirrors, makeup, and hand creams, all adorned with beautiful illustrations of Pikachu and Eevee. Whether you feel in need of pampering or want to add to your beauty collection, the Pikachu and Eevee Jewell line is perfect for those who want to treat themselves.
Pikachu Outbreak Yokohama 2018: Science is Amazing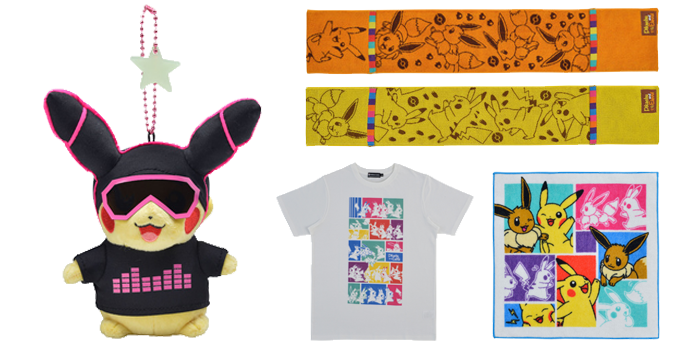 Since 2014, a horde of dancing Pikachus descends on the bay of Yokohama city every August to spread the joy of Pokemon. 2018's theme was "Science is Amazing" with DJ Pikachus dancing to techno beats. This year was also a little different, as the first ever Eevee Outbreak occurred with dozens of jiving Eevees joining Pikachu in parading around Yokohama. Limited edition merchandise from this year's Outbreak was released alongside the event, so you can add DJ Pikachu to your Poke-collection!
Fan of Pikachu & Eevee Collection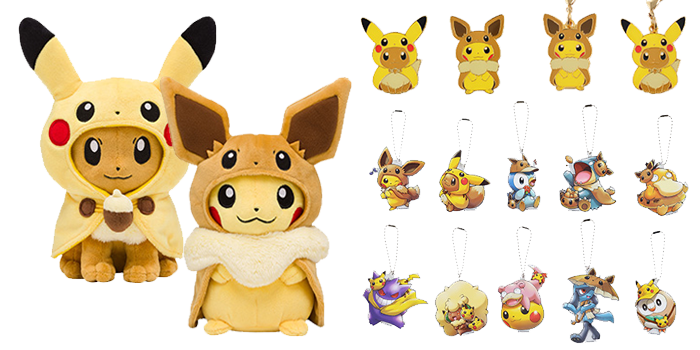 Pikachu and Eevee have not only human fans, but also those of a Pokemon variety! While predominantly features Pikachu and Eevee dressed as each other, a variety of other Poke-friends are showing off their dedication to Pikachu and Eevee by wearing costumes inspired by the pair. Human-sized versions of the Pikachu and Eevee hoodies are also available, so you too can become a member of the (un)official Pikachu and Eevee fan club!
Saiko Soda Collection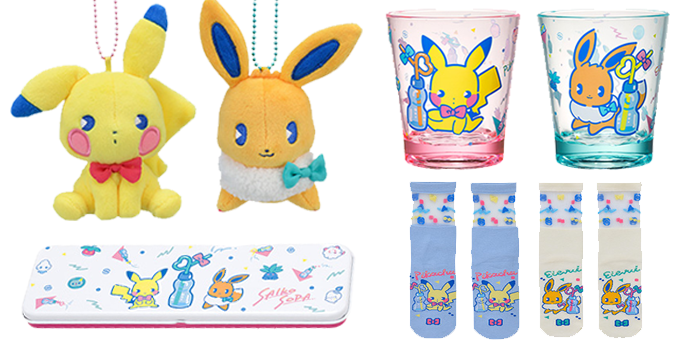 The Saiko Soda collection was eagerly awaited due to its 80s-tastic reimagining of Pikachu and Eevee. This cheerful and stylish series is a collaboration between the Pokemon Center and F*Koari, a Japanese graphic designer, whose work takes inspiration from the 80s shoujo anime aesthetic. The retro illustrations of Pikachu and Eevee grace a variety of lifestyle and fashion goods including t-shirts, phone cases, stationery, and even earrings. Stylishly show off your love of Pikachu and Eevee with Saiko Soda!
ITS' DEMO Pokemon Collection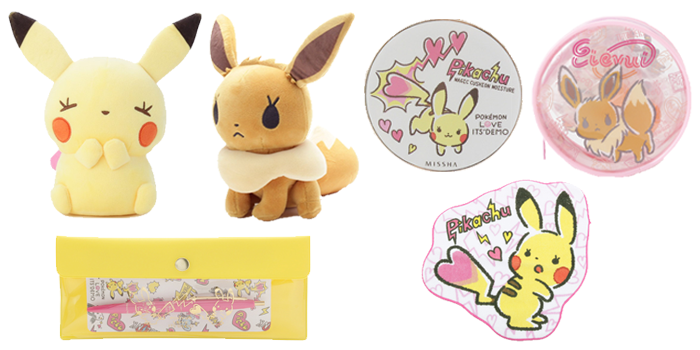 While the Pokemon featured are not limited to Pikachu and Eevee, this exclusive collaboration with popular Japanese lifestyle store ITS' DEMO was just too cute not to mention! The collaboration features home and fashion products such as slippers, cosmetics, bento boxes and much more with dreamy illustrations of Pikachu and Eevee. We love the attention to detail in all of ITS' DEMO's Pokemon items, especially Pikachu's heart-shaped tail.
FROM JAPAN Pokemon YouTube Videos
Did you know we also create Pokemon-themed videos on our official FROM JAPAN YouTube channel? Check out the unboxing videos above to see Viktorija and Haley uncover some awesome Pokemon goodies!
Where to Buy Pikachu and Eevee Merchandise
If you want to represent your allegiance with #TeamPikachu or #TeamEevee (or both!), then the proxy service FROM JAPAN has you covered. We can help you find rare and sought-out Pokemon straight from Japan and deliver them straight to your door, so you don't need to "travel across the land, searching far and wide" for all the best Pikachu and Eevee goodies!