As we enter spring, mother nature is starting to show us her true beauty once again. Millions of trees are turning green and countless flowers are blooming into all shades of majestic colors in many places across the world. Temperatures are also starting to get warmer, which makes it the perfect season to spend some time surrounded by the beauty of nature.
If you're a fan of Pokemon, you might be wondering what the various Pokemon are doing during the turn of the seasons. Are they also enjoying what nature has to offer, just like we are? Which of the Pokemon would be playing among the trees and flowers? How do they like to spend their time when they're out and about in nature?
Luckily, Japanese toy maker Re-ment has created a lineup of toys that can answer all of these Pokemon-related questions. Simply titled, "Pokemon Forest," each product in this collectible toy series shows us a variety of Pokemon in their cute, carefree states as they take the time to have fun and hang out with their friends by a very pretty tree.
Pokemon Forest 4 – Petal Dance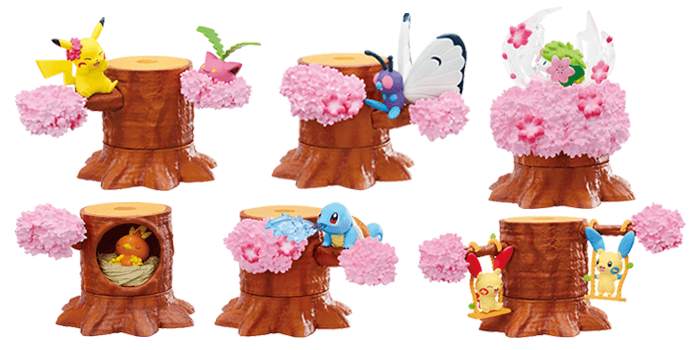 The first toy from the Pokemon Forest series that we're introducing today, appropriately, is one that shows a symbol that is widely associated with spring in Japan. It is none other than the bright pink cherry blossom or sakura tree.
This toy is actually the fourth product in the Pokemon Forest collection. The name of the toy is "Petal Dance," which is a lovely way of describing what happens in this season. There are 8 different Pokemon included in the set. Pikachu, Hoppip, Butterfree, Shaymin Land Form, Torchic, Squirtle, and the plus and minus duo, Plusle and Minun. You can see each Pokemon's cheerfulness shine through as they're shown in playful poses around the tree.
Like the other toys in the Pokemon Forest collection, all 6 pieces can be stacked on top of one another to form a neatly assembled tree. Each Pokemon can also be removed from the main piece, so you can have your favorite Pokemon out of the bunch sitting right next to you.
Pokemon Forest 5 – Glowing Red Afternoon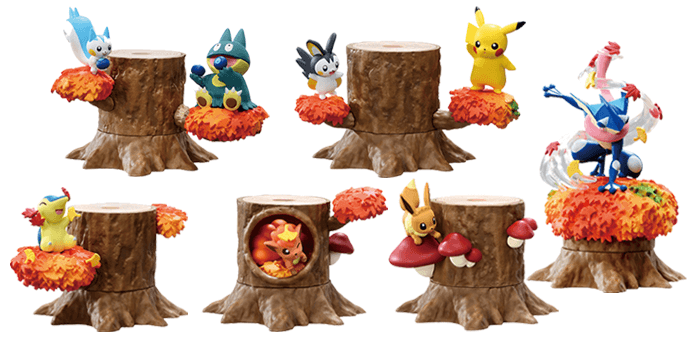 For the next item in the collection, we go to another season that's just as beautiful as the previous one: fall. During this season, the leaves turn into a lovely variety of warm colors, and the 5th Pokemon Forest item is named to reflect that. It's called "Glowing Red Afternoon," and the Pokemon featured here are all ready for some fun in the fall.
"Glowing Red Afternoon" has a total of 8 Pokemon. Of course, the ever-popular Pikachu is one of the stars of this set, but we also see an interesting mixture of other Pokemon that consists of Pachirisu, Munchlax, Emolga, Greninja, Cyndaquil, Vulpix, and Eevee.
The option that Re-ment's toy series provides us with, of having trees with different designs inspired by the changing of the seasons, means that you can even choose to match the current season with your Pokemon Forest display! That's definitely a fun way to get into the spirit of things, while also having a beautifully designed toy that you can play with or show off to other Pokemon fans.
Pokemon Forest 6 – A Place of Radiant Mystery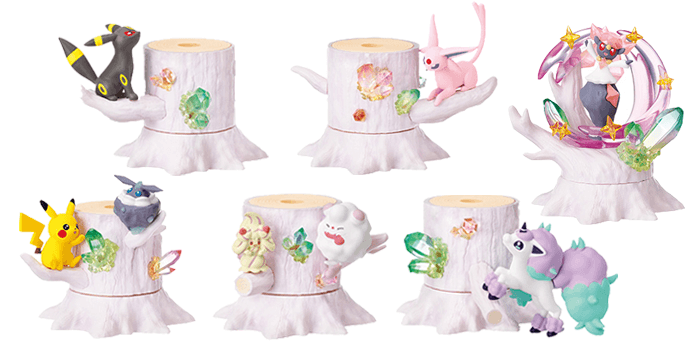 Last, but definitely not the least, is the version of the Pokemon Forest collection that features a tree that isn't like anything we might find in our world. The name of this toy translates to "A Place of Radiant Mystery." Here, we see an adorable group of Pokemon enjoying the beauty of a mystical tree filled with many shiny gemstones.
Most of the Pokemon that make an appearance in this set even match the light colors of the tree, and together they form a satisfying color combination that is very pleasing to look at. Just like the other two products we introduced from the collection, there is also a total of eight different Pokemon in the lineup for "A Place of Radiant Mystery," and they are: Umbreon, Espeon, Diancie, Pikachu, Carbink, Alchemie, Swirlix, and the rare Galarian Ponyta.
This mystical set is perfect for those who are a fan of any of these Pokemon, or for those who simply want to display their love of the Pokemon series by adding a shiny new piece to their collection.
Catch 'em all with FROM JAPAN!
Even if it might be impossible catching Pokemon roaming around in nature in our world, what isn't impossible is getting any Pokemon merchandise your heart desires. FROM JAPAN is your gateway to thousands of Pokemon items you can have delivered to you straight from Japan. From cute plushies, figures, and toys like the Pokemon Forest Collection, to other things like Japan-exclusive clothing and everyday-use items – FROM JAPAN will help you catch 'em all!