Japan's most famous sextuplets, the Matsuno family, first tumbled onto television screens in 1966. Fifty years later, the brightly-colored brothers brought new fans to their family reunion for the 2015 reboot titled Osomatsu-san, in which the siblings' silliness matured alongside the title characters. If your latest matsu men marathon has you craving a little more brotherly mischief and mayhem to mix up the mundane, you're in luck. The NEETs have a world of merchandise to their name, so read on for our list of 11 Osomatsu-san collectibles no fan should forego!
Osomatsu-san Apparel
Osomatsu-san Hoodies

Available in all six colors and sporting the memorable matsu pine symbol, Osomatsu-san Hoodies are cool-weather wear that no fan's closet should be without. Whether you're collaborating on cosplay with five friends or shopping for cozy clothes to laze around your chabudai table, you're sure to find a hoodie in your favorite hue. To avoid low-quality fabric and overseas knockoffs, purchase your pocketed sweater straight from retailers in the brothers' homeland, Japan.
Osomatsu-san Mask Head Caps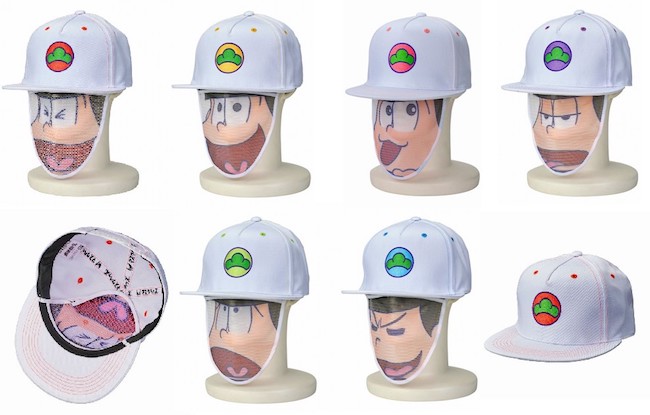 In Osomatsu-san, unique facial expressions make it easier to keep track of which sextuplet is getting into on-screen shenanigans. Bandai's funny but fashionable Mask Head Caps capture the color coding and characteristics of each brother as plain as… well… their faces! Soft, see-through polyester provides plenty of comfort as you parade around wearing the face of your favorite character while masking your true identity. For more formal festivities, simply fold the mesh mask inside the hat and see if passersby can identify your interests by the telltale emblem on your cap.
ACOS Matsuno Brothers Shobu-Fuku Suit

This highly accurate replica of the Matsuno Brothers Shobu-Fuku Suit crafted by Japan's "one-stop cosplay shop" ACOS will ensure you enter your next cosplay event in style. Comprised of a blue jacket complete with large buttons, grey slacks, and a navy blue tie, all this cosplay needs is five friends to match for a weekend of convention capers in costume.
Osomatsu-san Figures
Last year, Good Smile Company's Osomatsu Nendoroid made our list of hottest summer figure releases. Whether you prefer chibi proportions or dioramas, there's no better way to get all your favorite fictional brothers together than with a figurine family reunion in the comfort of your home.
Osomatsu-san Diorama Figure

Orange Rouge's Osomatsu-san Diorama figure is as full of dynamic detail and personality as the sextuplets themselves. Bursting from the base in a rainbow of colorful chaos, each brother is poised in a panorama of their trademark expressions and postures, making this piece a treat for the eyes from any angle. This delightful diorama based on the original illustration by character designer Naoyuki Asano will have you pressing the replay button on "Hanamaru Pippi wa Yoiko Dake" all day long.
Osomatsu-san Figma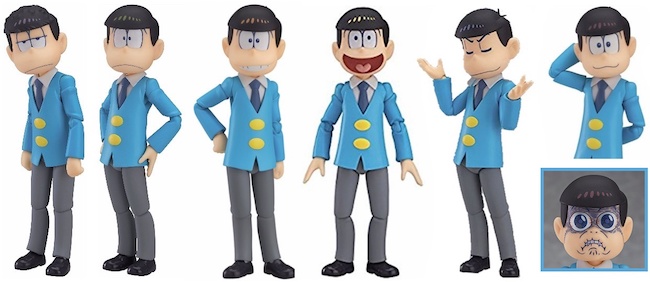 Good Smile Company's Osomatsu-san figma collection is figurative proof that character proportion need not be sacrificed for posability. Thanks to flexible plastic and over 16 points of articulation, these scaled action figures are capable of nearly any feat that their anime counterparts can pull off. Extra expressions can be exchanged to bring out the brothers' swoon-worthy, goofy, and lazy sides, and fans are certain to appreciate the inclusion of Todomatsu's infamous "totty" face.
Osomatsu-san Koedarize Mini Figures Vol.2

Takara Tomy's Osomatsu-san Koedarize Mini Figures Vol. 2 series transforms the namesake NEETs into chibi cuties with oversized heads and simplified—but no less wonderfully bizarre—facial expressions, including Ichimatsu's cat-affinity form. The distinctive look capitalizes on Koedarize's three-piece design, which allows the hair, head, and body to separate in order to switch between the two facial expressions printed on opposite sides of the head piece.
Osomatsu-san World Collectible Figures

Osomatsu-san feels right at home among Banpresto's aptly named World Collectible Figures—a series of six-centimeter collectibles reserved for world-famous franchises. Forgoing the chibi designs often found in smaller figures, these tiny takes on the siblings boast stunning variety—from classy chess pieces to summer swimwear. The recently released kimono collection features 24 designs, outfitting the standard sextuplet figures with a much-needed wardrobe upgrade; simply choose your preferred apparel and swap out any brother's interchangeable upper and lower body parts.
Osomatsu-san Palmate Mini Figures

With Megahouse's Osomatsu-san Palmate Mini Figures, you can literally hold the sextuplet stars and their ESP cat in the palm of your hand while enjoying their range of reactions. Not only can you scoop up all six brothers in one set, rather than purchasing them separately, but the collection also includes their favorite tea table and a backdrop display to recreate the original Showa era feel of the show.
Other Fun Osomatsu-san Merch
Zombiematsu Christmas Special Plush

Not even Christmas can keep the brothers' boredom at bay, resulting in a hodgepodge of holiday horrors as they deck themselves out, Halloween-style. Inspired by episode 11 of Osomatsu-san, these 35-centimeter (13-inch) Zombiematsu Christmas Special Plush exclusively haunted game centers in Japan last year. Fortunately, you can find the ghastly ghouls skulking around auction sites nowadays—just craving the chance to join you for a bite of Christmas brains.
Exrare Ichimatsu Slug Dakimakura

A playful parody of the popular Japanese hug pillows featuring anime heartthrobs, the Exrare Ichimatsu Slug Dakimakura is 70 centimeters (27 inches) of proof that the fourth sibling is most snuggly when he turns into purple mollusk of envy. Plush "fur" offers countless hours of slime-free slug hugs, making it perfect for snoozing alongside, cuddling with, or even lugging to an anime convention as a cosplay prop—just don't take it to your next barbeque social.
Osomatsu-san Nokkari Rubber Clips

Osomatsu-san Nokkari Rubber Clips combine cute faces and adorable derrieres into 12 rubber designs cleverly crafted to look like the characters are hanging over the edge of your documents, diary, or Osomatsu-san display. With posteriors this full of personality, you'll be charmed into clipping these unabashed brothers onto everything worth keeping together.
Where to Buy Osomatsu-san Merch?
The wide variety of Osomatsu-san merch may be hard to collect outside of Japan, but that's no reason to shout "sheeh!" With the help of a proxy service like FROM JAPAN, you can easily order these Osomatsu-san products and more and have them shipped from Japan to your doorstep without ever having to leave your couch!