Top 10 2021 Nendoroid Figures
The Nendoroid Dolls by Good Smile Company is a series of articulated "chibi" figures with the same Nendoroid heads but an alternate doll-like body. The body is highly articulated and allows for dressing in different outfits and parts as a palm-sized action figure. You can swap the head parts with any of the existing 1000+ Nendoroid figures to enjoy various cute and fun poses. Read on to check out our picks for the top ten Nendoroids released in 2021, and how to get them using FROM JAPAN – enjoy!
Nendoroid Hatsune Miku: Korin Kimono Ver.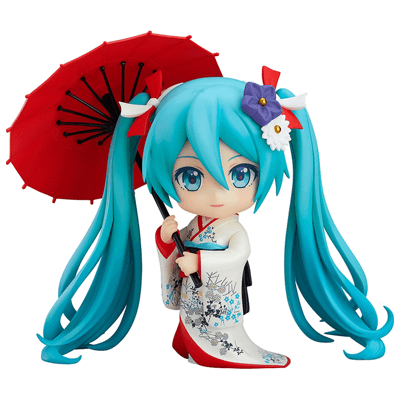 Standing at approximately 10 cm tall, this Nendoroid-style figure has been recreated in Nendoroid size based on the original illustration of her wearing the Korin Kimono by designer En Morikura.
Nendoroid Hatsune Miku comes with 3 faceplates with a standard expression, a plain smiling expression, and a smiling expression with closed eyes. She also comes with a Japanese umbrella and Chinese bellflower to compliment the kimono. Good Smile clarifies that part of the proceeds from the sale of this product will be channeled to the Kōrin Kimono Restoration Project. Summon her into your collections today!
Nendoroid Alter Ego/Passionlip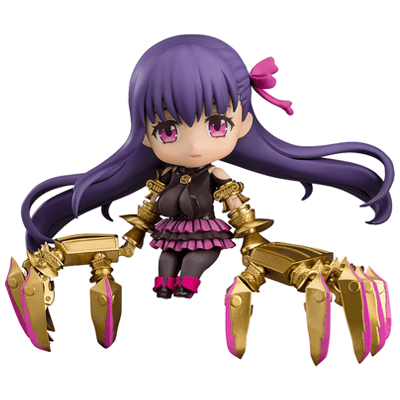 Nendoroid Alter Ego/Passionlip borrows its inspiration from the acclaimed smartphone game Fate/Grand Order. She comes with 3 faceplates, which include a sulking look when her cheeks are puffed out, an innocent standard expression, and a shy expression. She measures 3.9 inches and boasts an adorable articulated chibi form and curvy physique.
It also features two huge articulated arm parts that represent the swords of Goddess Durga. Other notable features that come with this Nendoroid include high-quality, eye-catching paintwork and sculpting. Be sure to add her to your collection!
Nendoroid Chika Fujiwara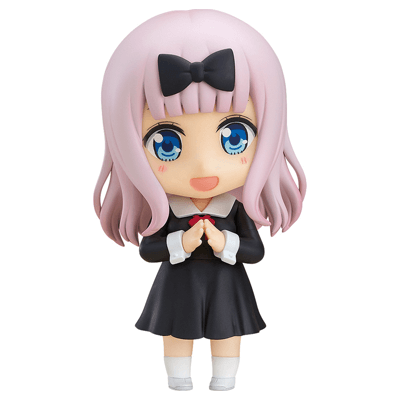 Nendoroid Chika Fujiwara comes from the popular anime series "Kaguya-sama: Love is War". Chika Fujiwara stands proud with her three face plates, which include a warm standard expression, an expressive crying expression, and a smiley expression conveying her moment of excitement.
Chika Fujiwara also comes with other optional parts, including the familiar Love Detective and a special hand part usually combined with Nendoroid Kaguya Shinomiya to show them holding hands. The product also offers several phrase plates for recreating various scenes from the student council classroom!
Nendoroid Chizuru Mizuhara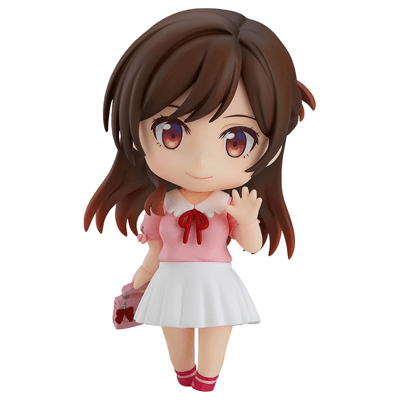 Nendoroid Chizuru Mizuhara comes from the acclaimed anime production "Rent-A-Girlfriend." she wows with her three face plates, including a blushing expression, a standard expression, and a bright, smiling expression. She measures 10 cm and comes with other additions, including a handbag and smartphone.
Nendoroid Joseph Joestar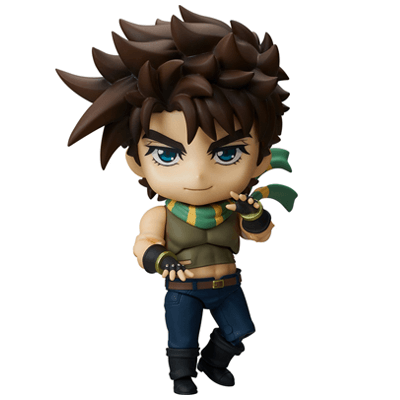 The famous anime series "JoJo's Bizarre Adventure" gifted us the amazing Nendoroid of Jonathan Joestar's grandson, Joseph Joestar!, wholly articulated to allow you to display him in various poses.
He boasts three face plates, including a standard expression, a combat expression, and an intrepid smiling expression revealing the quick-witted side of young Joseph. You will also have access to various optional parts, including a scarf, a bandana, a pair of clackers, and multiple interchangeable hand parts.
Nendoroid Stitch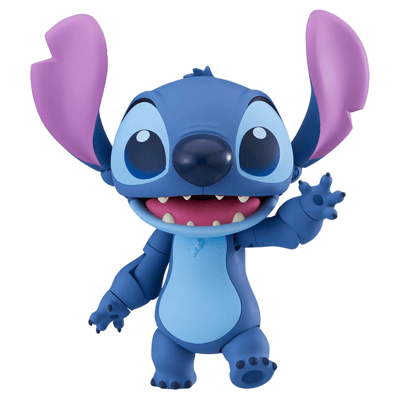 The Nendoroid Stitch comes from the popular animated film "Lilo & Stitch." Stitch comes with adorable three face plates, including an energetic standard expression, a cute chaotic expression, and a downcast expression.
You can use a set of add-ons, including the interchangeable articulated foot and hand parts, to create different and fun poses. Other optional parts that come with this product include a pair of sunglasses, Lilo's doll Scrump, a ukulele, and the picture book "The Ugly Duckling." Be sure to add him to your collection!
Nendoroid Sesshomaru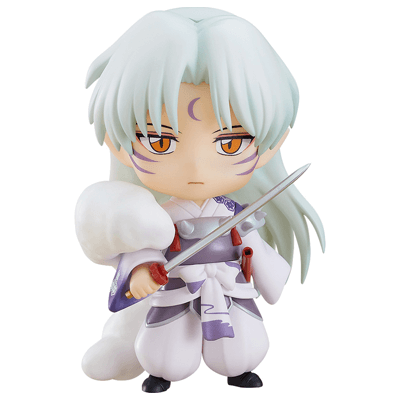 From Rumiko Takahashi's highly acclaimed manga series "Inuyasha" comes the Nendoroid Sesshomaru. He boasts three face plates, including a standard expression, a serious combat expression, and a sidelong glancing expression. It also comes with a green aura hand part that you can use to recreate Sesshomaru's deadly claw attacks.
If you are a fan of combat poses, you will find Sesshomaru's swords, Tenseiga, and Tokijin such beneficial. You will also love the sword Bakusaiga that comes with a special arm part for recreating specific memorable scenes from the series.
Nendoroid Itachi Uchiha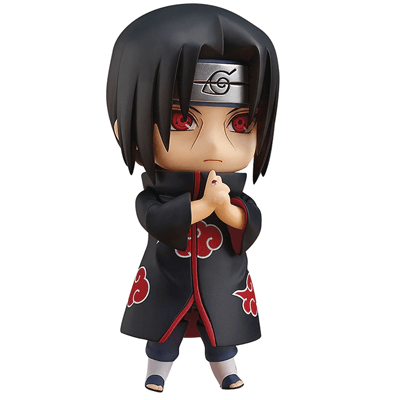 The wildly popular anime series "Naruto Shippuden" offers anime enthusiasts a rerelease of the Nendoroid of Itachi Uchiha. Itachi Uchiha struts the stage boldly with three face plates, including his standard calm and composed expression, a smiling expression, and a pained expression with an injured eye from too much use of Amaterasu.
Included are Amaterasu effect parts and an Akatsuki cloak that you can use to display him in the epic battle against his younger brother, Sasuke. Uchiha comes with a unique hand part for recreating memorable scenes from the series.
Nendoroid Satoru Gojo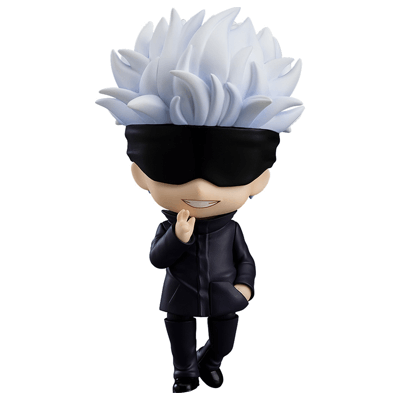 From the anime production "Jujutsu Kaisen" comes a Nendoroid of Satoru Gojo. Gojo has three face plates, including a serious expression, a standard expression, and an intense wide-eyed expression. Included are alternate hair parts to display with his eye mask off.
Ideally, you can create different versions of the figure by mixing and matching hair parts with his faceplates. Other optional parts that come with this product include sunglasses and a Kikufuku Mochi for creating several different scenes from the series. You can add him to your collection with Nendoroid Yuji Itadori and Nendoroid Megumi Fushiguro, which are both sold separately.
Nendoroid Moca Aoba: Stage Outfit Ver.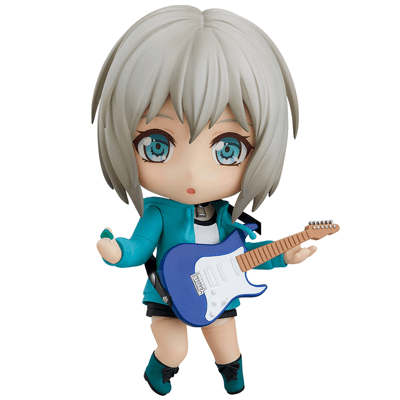 Nendoroid of the Afterglow guitarist, Moca Aoba, comes from the epic smartphone game "BanG Dream! Girls Band Party." She boasts three face plates, including an energetic, smiling expression, a dignified standard expression, and a more smug smiling expression. Also included is her guitar, which enables you to recreate memorable scenes from the game. You can display her with the other Nendoroids for greater fun!
How to buy Nendoroids with FROM JAPAN!
You can now conveniently make a purchase of your favorite Nendoroids figures using FROM JAPAN proxy services. FROM JAPAN is a proxy shopping/bidding service helping consumers from across the globe to buy items from Japan in the most affordable, secure, quick, and efficient manner. Buying your Nendoroids figures with the help of FROM JAPAN takes just a few steps:
Step 1: Shop your favorite Nendoroids figures online and add your item to the cart. Afterward, place your order. Ensure you confirm your order before moving to the next step.
Step 2: Get a quote from FROM JAPAN to confirm the product availability and prices.
Step 3: Once product availability is confirmed, pay your Charge 1 invoice.
Step 4: Once payment has been confirmed, FROM JAPAN will order the product from the shops and deliver it to a convenient warehouse waiting for shipment.
Step 5: FROM JAPAN will require you to verify the item details and choose the preferred shipping method and the address. You will pay the Charge 2 payment at this point.
Step 6: Once we receive your shipment instructions, all you have to do is wait for your item to arrive at your door!
If you have any questions about our service, please look over our Usage Guide or send a message to our Customer Service team.