Beyond the basics, a good watch is not only a fashion statement but also speaks to your character. There is no doubt the rise of awesome anime is taking over fashion design, including some of the most popular watch brands. If you need a timepiece that oozes craftsmanship, traditions, and precision, consider Seiko watch anime collaborations from a vast selection of Japanese options.
Seiko, the leading Japanese watch brand reputed for its impeccable artistry and reliable pieces, boasts a vast selection of anime watches ideal for all ardent watch lovers across the globe. Seiko's timepiece selections ranging from JoJo's Bizarre Adventure timepieces to Fate collections that will definitely wow your world!
Seiko 5 Sports JoJo's Bizarre Adventure Golden Wind Collaboration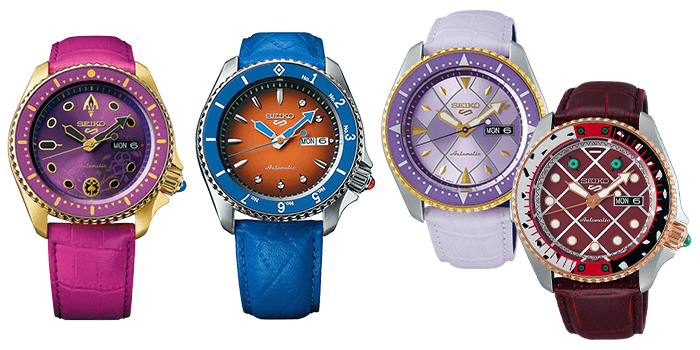 Seiko 5 Sports JoJo's Bizarre Adventure Golden Wind Collaboration Model men's watch is one of the most popular watches with avid anime collectors. The watch features a Japanese automatic movement, 4R36 caliber, and a stainless steel case of a round shape. There were a total of nine designs each inspired by JoJo's Bizarre Adventure Golden Wind characters. You could choose between Giorno Giovanna, Bruno Bucciarati, Leone Abbacchio, Guido Mista, Narancia Ghirga, Pannacotta Fugo, Trish Una, and Diavolo designs.
Amazingly, this watch is 100 m water-resistant and comes with other outstanding features, including a case dimension that is 42.5 mm in diameter and 13.4 mm in thickness. This watch is also designed to work with minimal or minor deviations in the magnetic field conditions. It also comes with a multicolor dial, featuring a hardlex glass and leather band. Above all, the piece's hands feature a luminous layer that glows in the dark.
Seiko 5 Sports Naruto and Boruto Watch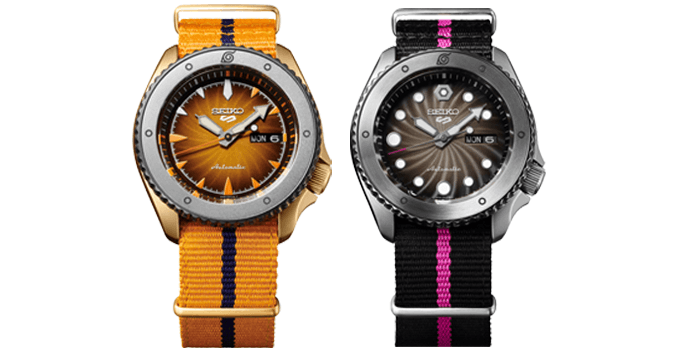 Naruto brand is arguably one of the biggest-selling manga series in history, boasting sales that cross 250 million copies globally. Seiko watch maker's teamed up with Naruto to develop the all-time popular Seiko 5 Sports Naruto and Boruto men's watch. The watch comes with exceptional features that include stainless steel, gold plated, hard coating case round in shape. The watch is designed to work with minimal or minor deviations in the conditions of the magnetic field. This timepiece was produced in limited quantity, and it is therefore unique, rare, and collectible.
Haikyuu!! x SEIKO Anime 5th anniversary Official Collaboration Watches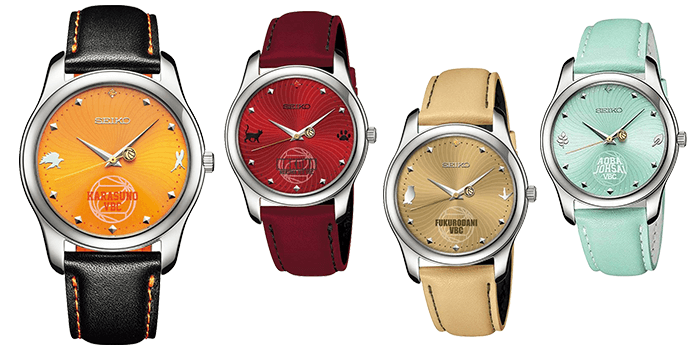 Haikyuu!! x SEIKO Anime 5th anniversary Official collaboration is the perfect accessory for an Anime Japan Tour. In 2019, the celebrated Japanese watchmaker teamed up to produce limited editions Haikyuu!! Inspired timepieces to celebrate the hit Haikyuu!! Anime's 5th anniversary. If you are an avid otaku and looking for an anime watch that carries an air of class, and sophistication these options are the best.
Seiko Japan Edition 2019 x One Piece 20th Anniversary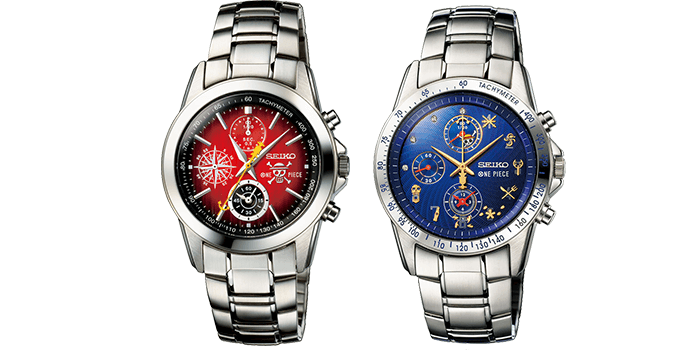 Seiko Japan Edition 2019 x One Piece 20th Anniversary is a commemorative piece designed to celebrate manga's 20th anniversary. It is a form of a customized Seiko watch made by Imperial Enterprise, known for producing other exceptional commemorative One Piece timepieces as well. It features an exceptional design based on Seiko's 7T92 chronograph movements and comes with a deep blue painted dial plate. The piece comes with a 20th-anniversary logo and an engraved edition number at the back. This watch is a limited edition as well, with only 5000 pieces made, and you may want to start making your orders now.
Fate Series Collections Collaboration Watches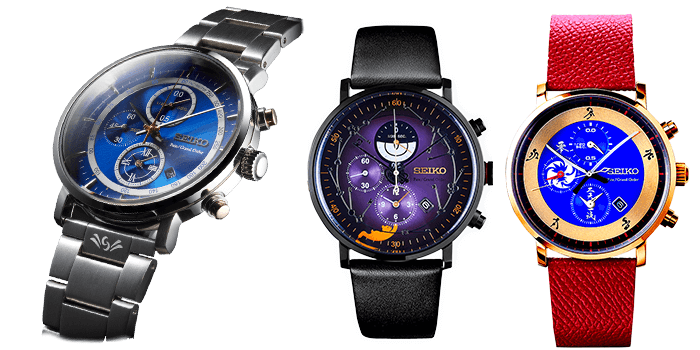 The Seiko fate collections collaboration watches is arguably one of the top brands for anime lovers worldwide. Currently, there are three models available for you; Saber, Mash, and Archer. The saber model is a quartz watch that features a blue dial and with chronograph function. It also comes with a unique Chrono hand shaped like a sword. The case's side has the words 'Altria Pendragon' and an emblem in the first link on the lugs. If you are looking for a piece that tells the world about your deep passion for anime and otaku, the Fate collections collaboration watches will do.
BanG Dream! × Seiko Collaboration Watches
You can also select from a vast list of the BanG Dream! Girls Band Party! Collaboration watches by Seiko. The watches released for the market on January 24th, 2020, are based on the musical group Poppin'Party, Afterglow, Pastel*Palettes, Roselia, and Hello Happy World. The unique collaboration watches borrows design elements from the five units. Wear your love for your best girls on your wrist with this amazing collaboration!
Trust FROM JAPAN with All Your Purchases
You can now buy any of the Seiko watch anime collaboration watches using FROM JAPAN proxy services. FROM JAPAN is a proxy shopping/bidding service that helps customers from around the world buy things from Japan across a broad range of categories. We help our customers across the globe to buy new and pre-owned watches from a range of Japanese online shopping and auction sites.
Buying with the help of FROM JAPAN is easy and convenient. All it takes is to follow the simple steps outlined below:
Copy and paste the URL of your item into FROM JAPAN's homepage.
Get a quote from JAPAN- You get a quote FROM JAPAN that confirms your item's most recent price and availability.
Pay Charge 1 – Once the watch's price and availability have been confirmed, pay for the price of the item.
FROM JAPAN will immediately order the watch and have it shipped to our warehouse.
FROM JAPAN will ask you to verify the item details and choose the preferred shipping method and the address. At this point, you need to pay for Charge 2.
Wait for your Seiko watch to arrive!
Before using FROM JAPAN we recommend that you also check out our Usage Guide to see more details about how to use our service and for our fee structure. If you have any more questions, don't hesitate to contact our Customer Service team. Happy Seiko shopping with FROM JAPAN!