What is gachapon?
You probably remember raiding your piggy bank to feed to a capsule toy machine to get a bouncy ball or a jawbreaker as a child, but Japan is something else when it comes to capsule toys! Japanese capsule toys can be anything from cute to downright bizarre – encapsulating everything we love about Japan.
Capsule toys are known by various names in Japan, with the most common term being "gachapon" which is a combination of the onomatopoeic sounds of the hand-cranking movement of the machine ("gacha") and the sound of the toy popping out ("pon"). Some people call them "gashapon", and sometimes even "gacha gacha." Capsule toys usually range from 200 to 400 yen, making them extremely affordable and a fun treat for children and adults alike. You can go gacha hunting throughout Japan, but otaku hotspots such as Akihabara and Nakano Broadway have specialist stores that are chock-a-block with capsule toy machines.
Almost all capsule toys are sold in sets, known as "full comp" (フルコンプ) in Japanese, with some collectors going the extra mile to obtain a complete set of their favorite toys. As capsule toys are dispensed randomly, you risk getting duplicates, making gachapon a frustrating endeavor for some. If you want to secure a certain prize, then you can find oodles of listings for capsule toys on Yahoo! Auctions Japan by successful players selling their gacha-loot.
Capsule Toy Brands
The very first capsule toy machine was imported to Japan in 1965 by the Japanese entrepreneur Ryuzo Shigeta, who is now known as the "Gacha Gacha Ojisan." In recent years capsule toys have exploded, with countless companies in the gacha biz, all offering a plethora of weird and wonderful capsule toys to collect. From the adorable to the downright kooky, there's something for everyone in the world of gachapon. Read on to see our picks for the best gachapon brands out there!
Bandai Gashapon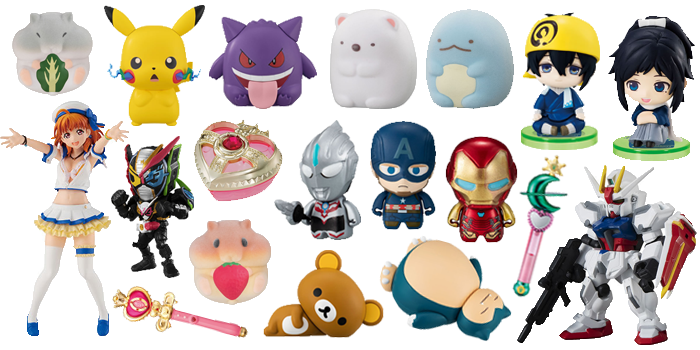 What better place to start our last than the capsule toy giant itself – Bandai's Gashapon! Bandai hopped onto the gacha bandwagon early on, releasing their first capsule toy collection way back in 1977. Gashapon is not just something for kids to spend their pocket money on as there are plenty of avid Gasha-collectors searching far and wide for the latest Sailor Moon, Gundam, Kamen Rider, and Ultraman Gashapon. Today Bandai releases around 30-40 new Gashapon collections each month, with popular lines selling out in days. Some of the most popular Gashapon lines include series such as Gasha Portraits, Capchara, and Collechara.
Epoch Capsule Collection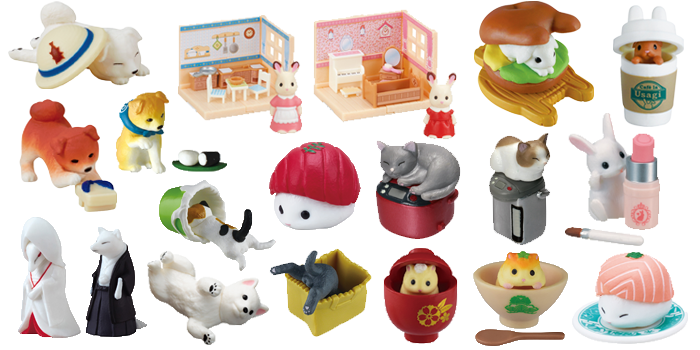 Capsule Collection is the Japanese toy company Epoch's line of capsule toys, featuring everything from a Kitsune wedding scene to sleepy cats resting on rice cookers. Capsule Collection also features gacha-exclusive of Epoch's beloved Sylvanian Families/Calico Critters series – purrfect for all you Sylvanian collectors out there. You can also check out our blog post featuring some of the cute Capsule Collection critters here!
Kitan Club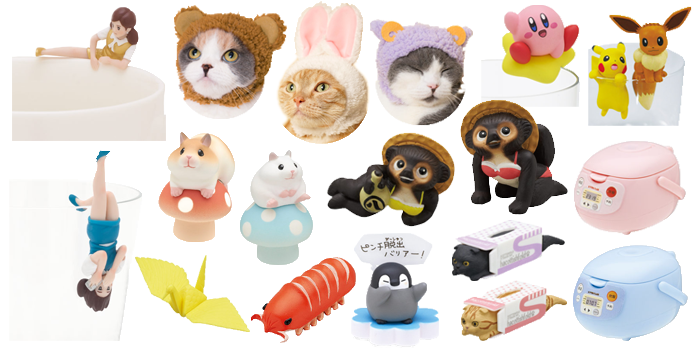 Kitan Club is one of Japan's quirkiest gachapon companies out there, always one-upping themselves when it comes to creating kooky capsule toys. The gacha company is the brain behind Cup no Fuchiko, the nimble OL who loves to cling to the side of cups. Fuchiko was so popular that the designers at Kitan Club brought out cup clinger-dedicated range known as Putitto, featuring a wide range of popular characters displaying acrobatic feats. And who says that gachapon are just for people? Kitan Club also has a line of adorable hats for kitties which you might have seen making the rounds on social media.
Takara Tomy Arts/T-Arts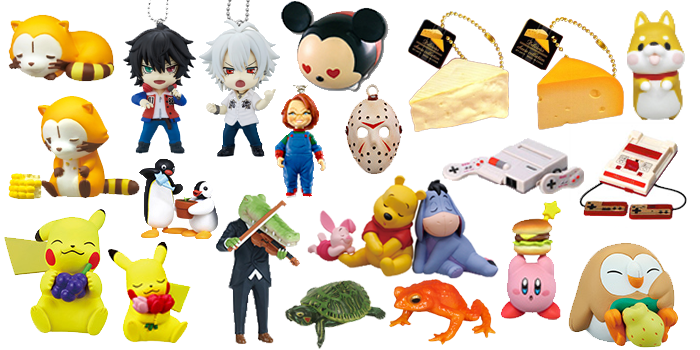 Every major Japanese toy company seems to have a stake in the gacha game, and Takara Tomy is no different. The toy behemoth releases a plethora of high-quality capsule toys under the Takara Tomy Arts (also known as T-Arts) name and includes gachapon featuring characters from the latest otaku craze, Disney favorites, classic horror movie monsters, and a whole host of weirdly creative original collections.
Panda no Ana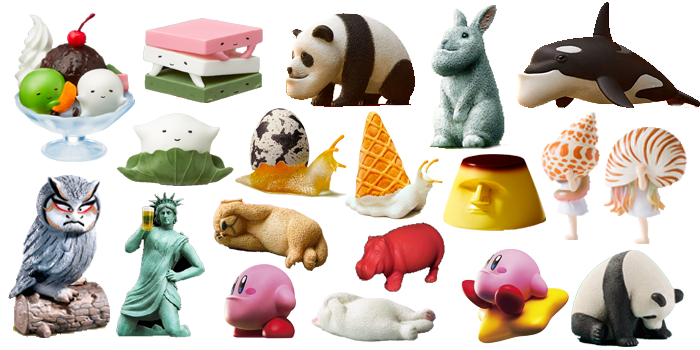 Panda no Ana is Takara Tomy Arts sub-brand of capsule toys, co-produced by Dentsu TEC. Panda no Ana is known for their whimsical takes on bizarre concepts such as animals with underbites, mochi ghosts, and Kabuki owls. Some of our favorite collections also feature snails that have random objects worn as shells, and the Statue of Liberty in a variety of compromising positions. You're sure to always be charmed and surprised by the capsule toys of Panda no Ana!
Qualia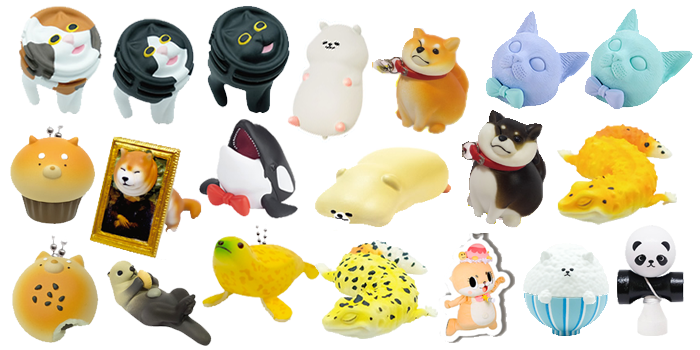 It seems like no idea is too weird or wacky at the capsule toy company Qualia, producing some of the most head-scratching gachapon designs we've ever seen. Not surprising, considering the president of the company was once an employee at Kitan Club. Our favorite gachapon collections from Qualia include weirdly wacky malformed cat-bottle cap hybrids, dogs reimagined as bread, and leopard geckos catching some Zs. If you want a piece of pocket-sized Japanese absurdity, look no further than Qualia's line up of capsule toys!
How to buy gachapon with FROM JAPAN
Have you been inspired to create your own collection of capsule toys after reading our article? Unfortunately many of the gachapon listed are exclusive to Japan, but that doesn't mean you can't join in with the capsule toy fun! FROM JAPAN's shopping and shipping service can help you find rare and popular gachapon collections and have them delivered straight to your door. Add to your capsule toy collection with FROM JAPAN!