Are you a Master Builder? Do you love to create? Is Japanese culture your ultimate passion? Then don't keep your inner otaku waiting a moment longer! Pick up one of Japan's mini-sized Nanoblock sets and bring your favorite characters and environments to life, one brick at a time!
Nanoblock vs. LEGO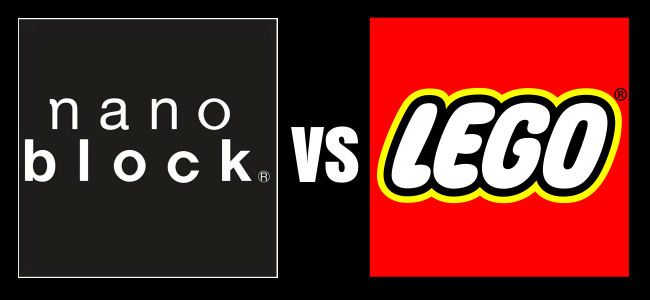 Not only are Nanoblocks less expensive, more colorful, and more "grown up" than LEGO Bricks, but Nanoblocks also take up much less space when assembled. Because each micro-sized block is about one-third the size of a LEGO brick, you can display three times as many creations on your shelf, at work, or in your school locker. But don't let their miniature size fool you! Nanoblock sculptures are highly detailed and many of them even feature articulated parts, making them sophisticated (and fun) collector's items—especially the Japanese-theme sets below!
Japanese Nanoblocks: Iconic Characters from Anime and Video Games
Pokemon Nanoblock Sets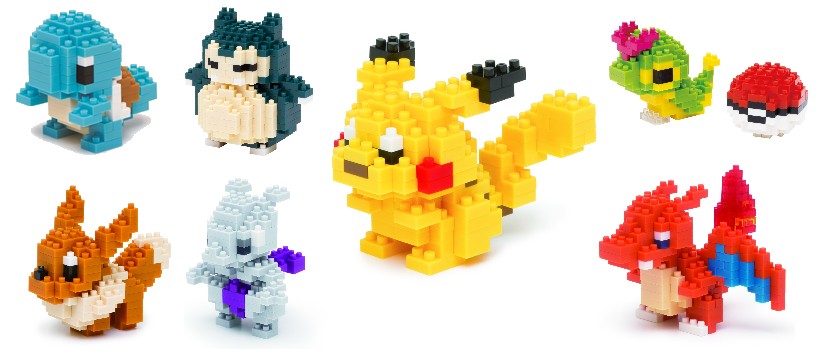 Gotta build 'em all! Whether you're on team Valor, Mystic, or Instinct, you can commemorate your level-5 rite of passage with a Nanoblock Pokemon of your choice. For something more "limited edition," don't miss out on the Pokemon 20th anniversary Nanoblock series, which features all four original starters in nostalgic gray scale.
Dragon Quest Nanoblock Sets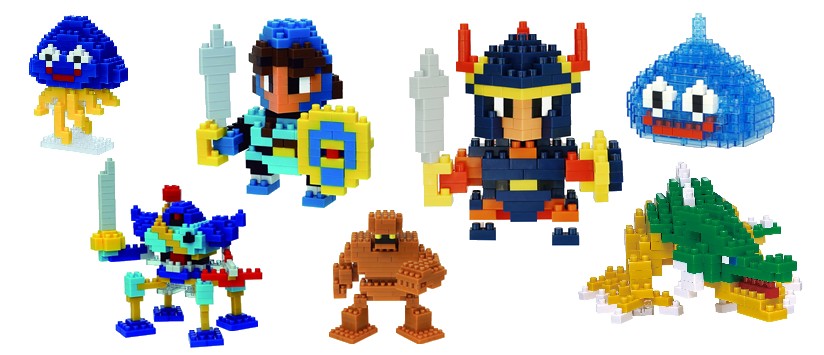 First released in 1986, the Dragon Quest series is synonymous with JRPG gaming. Recreate all of your favorite 8-bit moments with a slew of Dragon Quest Nanoblock armored heroes and sinister monsters, including the Dragon, Mummy, and the fan-favorite Slime. (Slime even comes in transparent blocks—how cool is that?)
Evangelion Nanoblock Set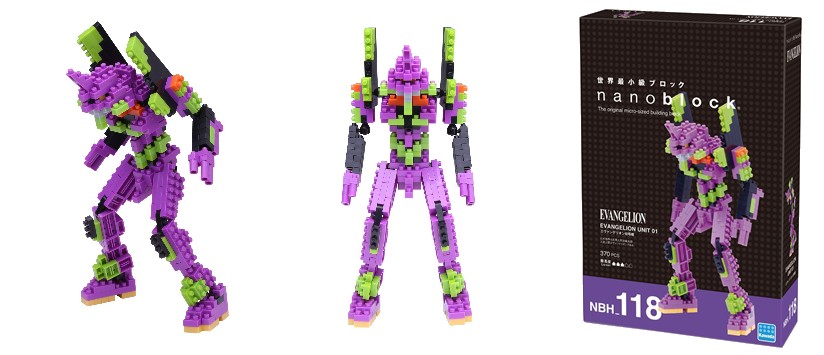 Capturing the sleek build of the famous Evangelion Unit-01, this articulated Nanoblock set is one any Evangelion fan would be proud to add to their collection. Whether posed in standby or Berserk Mode, its brilliant color scheme and detailed design make it a beautiful piece from any angle.
Hatsune Miku Nanoblock Set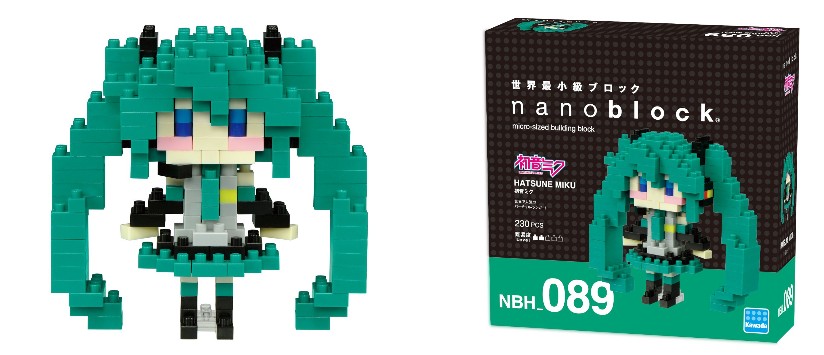 The Vocaloid pop idol is every bit as kawaii when she's pixelated! Hatsune Miku's Nanoblock set captures all her iconic details in one tiny design—from her pigtails and tie, to her headphones and neon skirt. Make her the star of your Nanoblock collection, and she'll win the cheers of all who see her!
Yokai Watch Nanoblock Sets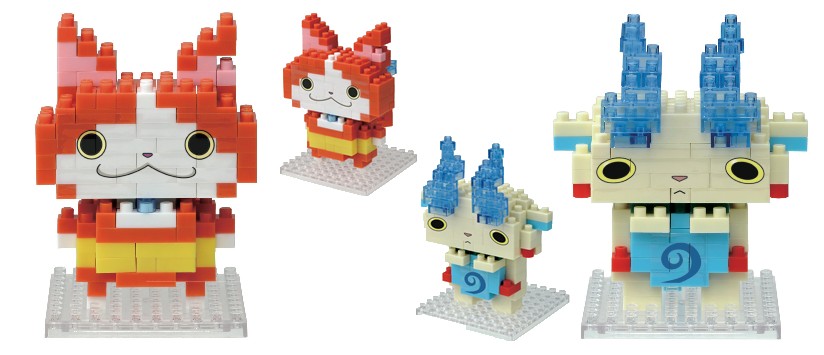 If you've already "caught 'em all" and you're looking for new monsters to hunt, then check out Yokai Watch—the new anime and gaming series that's taking Japan by storm. With adorable facial expressions and transparent blue fire highlighting their tails and eyebrows, both the Jibanyan and Komasan Nanoblocks are ready to guard your collection from any mischievous spirits that happen to be floating around.
Exclusive Tokyo Disneyland and DisneySea Nanoblock Sets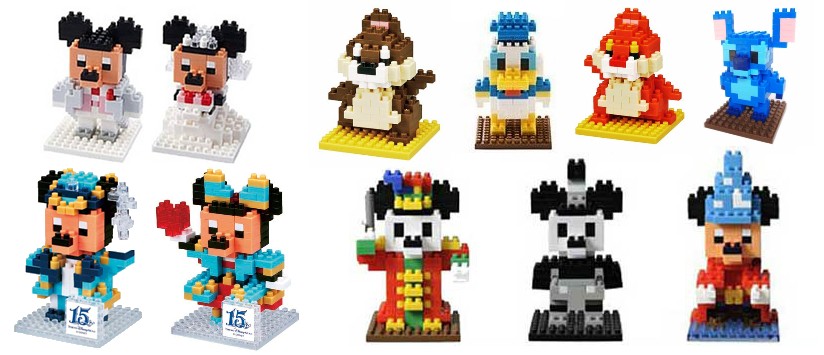 Whether you're a fan of Disney (or happened to stumble across Mickey and friends while playing Kingdom Hearts), there are many Nanoblock sets exclusive to Japan's Disneyland and DisneySea theme parks that you won't want to miss (many of them even celebrate the parks anniversaries!). Relive the most memorable Mickey moments with Steamboat Willie (in grayscale) and the Sorcerer's Apprentice Nanoblock sets. And don't miss out on the charming wedding set, featuring Mickey and his bride Minnie, both decked out in white formal wear.
Many other exclusive Disney sets and characters exist, so be sure to browse FROM JAPAN's complete collection!
nanoGauge Series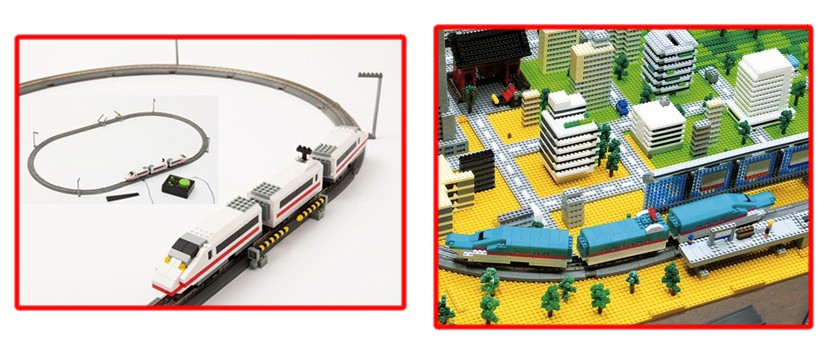 Train otakus can live the ultimate conductor's fantasy with the Nanoblock nanoGauge series—a line of expandable electronic trains based on real-life Japanese designs. Build a miniature city with Nanoblock models of your choice, then conduct a train right through the heart of it; a wired controller lets you adjust for speed and direction. Feel free to let your creativity soar and modify your trains, or even build one that's uniquely you from the rails up!
Nanoblock Advanced Hobby Series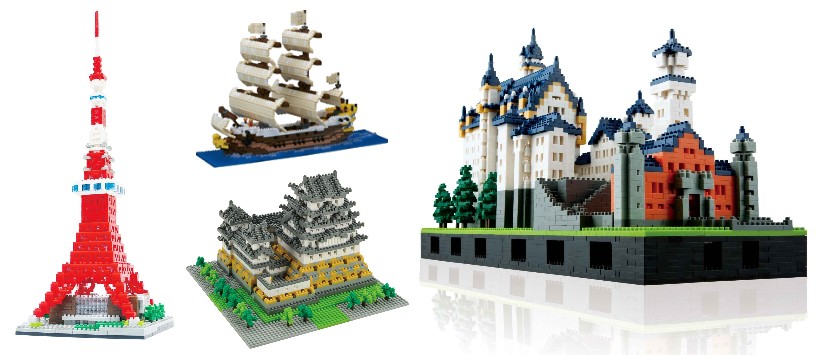 Warning: for Master Builders only! The Nanoblock Advanced Hobby series gives the LEGO Architecture series a run for its money, putting your skills to the test with intricate designs, over 2,000 individual pieces, and even LED lighting. This series primarily features notable landmarks, built on a much larger scale than the average Nanoblock set. The award-winning Neuschwanstein Castle Deluxe Edition set is the biggest challenge yet. Featuring 6,000 pieces and requiring 10 hours to complete, it's considered a rite of passage for Nanoblock aficionados to purchase and complete.
Nanoblock Sights to See Series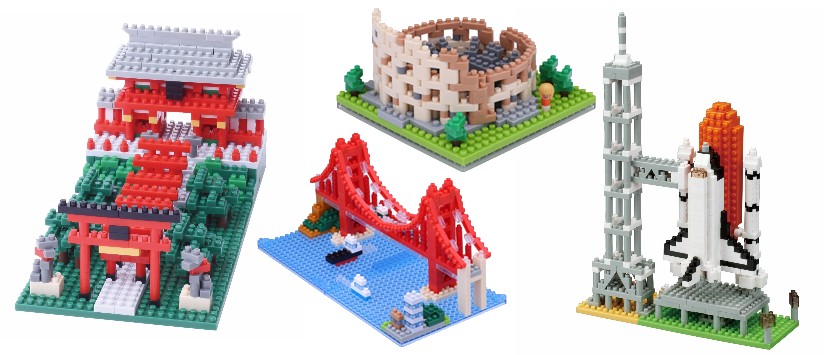 Ranging from 200 to 600 micro-blocks in size, the Nanoblock Sights to See series captures famous landmarks from around the world and renders them in miniature scale. From the Taj Mahal to the Moai statues of Easter Island, this line provides a world tour so hands-on, you'll forget you aren't actually on vacation.
Nanoblock Mini Collection Series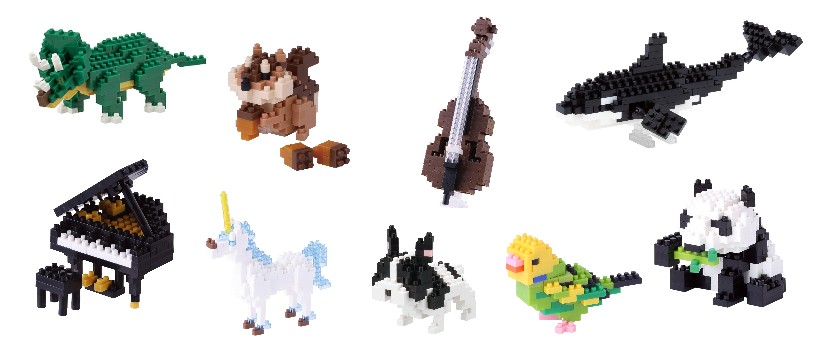 Perfect for Nanoblock newbies, Nanoblock Mini Collection series models each contain 60–100 blocks per set and fit snugly in the palm of your hand. Despite their small size, however, each set in this line varies in difficulty, so you're sure to find something perfect for your skill level, whether you're just starting out or looking for an early challenge. Animal otaku will find all their favorite furry, feathery, and finned friends (along with other models of musical instruments, dinosaurs, monsters, and holiday memorabilia).
Nanoblock Accessories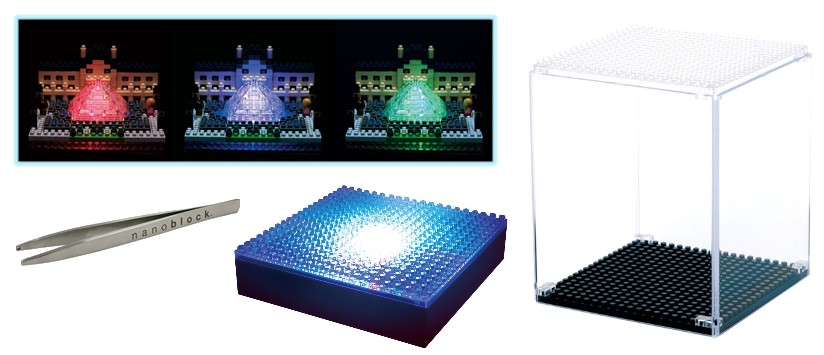 No matter the set, no matter the size, no matter your skill level, here are three accessories that will take your Nanoblock building and collecting experience up a notch.
Nanoblock Tweezers: Ideal for when you need to disassemble your creation or remove a misplaced brick, Nanoblock Tweezers can help you get a grip. Never risk breaking a nail (or your hard work) with these handy tweezers to help pry apart even the tiniest bricks.
Illuminating Display: Add a bit of color to your creation with a base of pulsating light! Battery powered and operated, the display base fades in and out of three alternating colors, giving any treasured piece a dramatic flair. We especially recommend it for sets with translucent pieces, such as the Dragon Quest Slime creature.
Collector's Case: Keep your prized creations protected from dust and dirt with a shiny display case. Link multiple cases together, horizontally or vertically, to fit almost any Nanoblock set. The cases can even connect to the illuminating display base.
Where to Buy Nanoblock Sets from Japan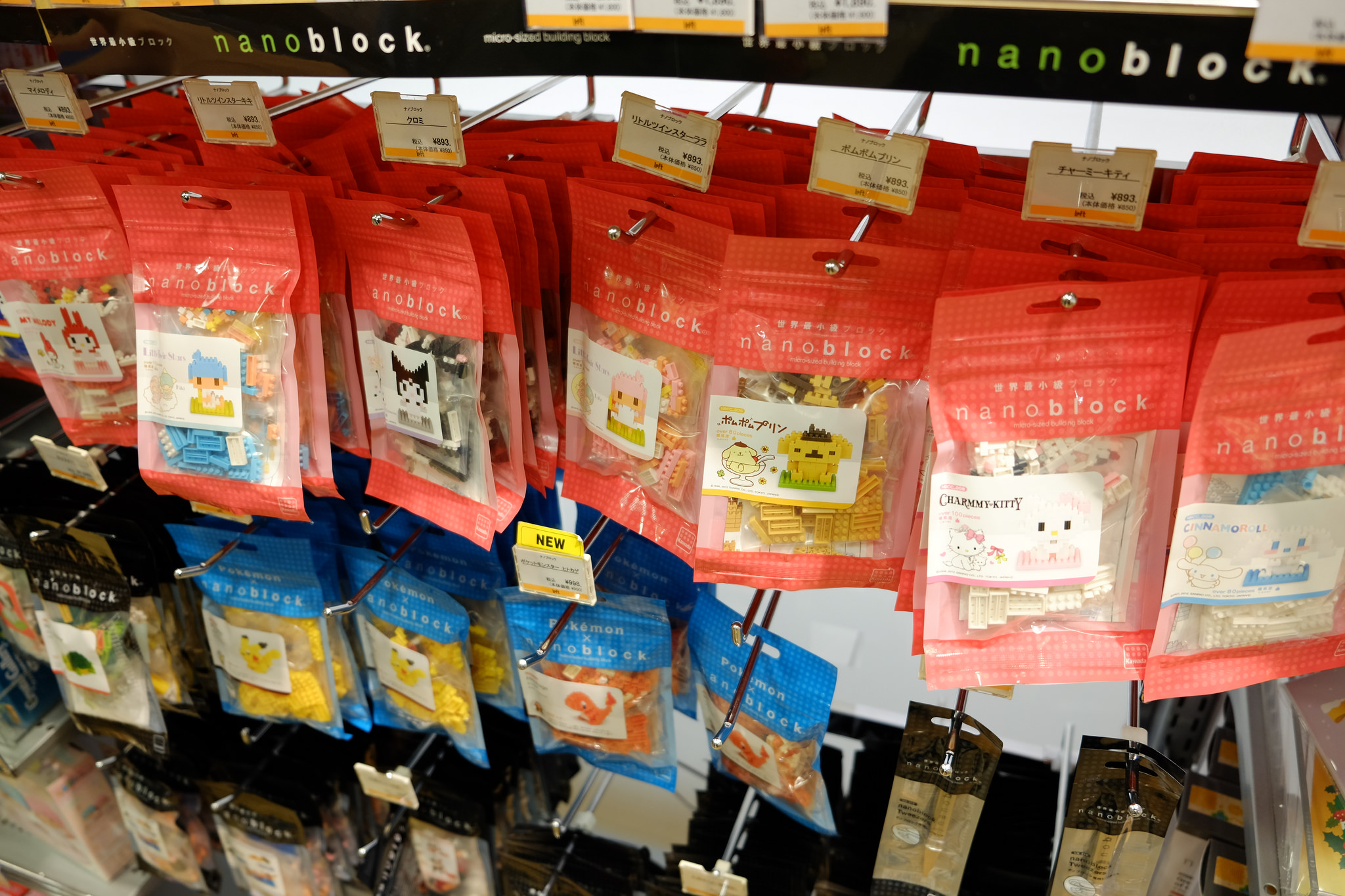 If you like LEGO Bricks, you'll love the challenge of Japan's compact Nanoblock sets—the only mini build-it-yourself brand that caters to all your otaku needs. For these awesome Nanoblock designs and more, shop at FROM JAPAN to start building your collection one micro-brick at a time!