There are some things that just hit different in Japan – convenience stores, stationery and of course, Starbucks! You won't find anything "basic" at Starbucks Japan (or "Sutaba", as it's known by locals), with the coffee shop bringing out unique and delicious beverages to reflect Japan's distinct seasons. Aside from Japan-limited drinks like cherry blossom-flavored frappuccinos and black sesame lattes, the tumblers and drinkware from Starbucks Japan are also sought-after by all the Starbucks addicts out there!
How to buy from Starbucks Japan
Unfortunately, these widely popular tumbler collections are exclusive to Starbucks cafes in Japan and their Japanese online store, which means you're going to need a little extra help when it comes to getting your hands on that Starbucks Japan Sakura tumbler collection! But fear not – ordering from Japanese online stores like Starbucks Japan is easy when you use a Japanese proxy shopping service like FROM JAPAN! Read on to find out how easy it is to get your hands on Japan-exclusive tumblers from Starbucks Japan with FROM JAPAN!
Step 1. Go to Starbucks Japan's official online store.
The first step is simple – go to the official online store for Starbucks Japan.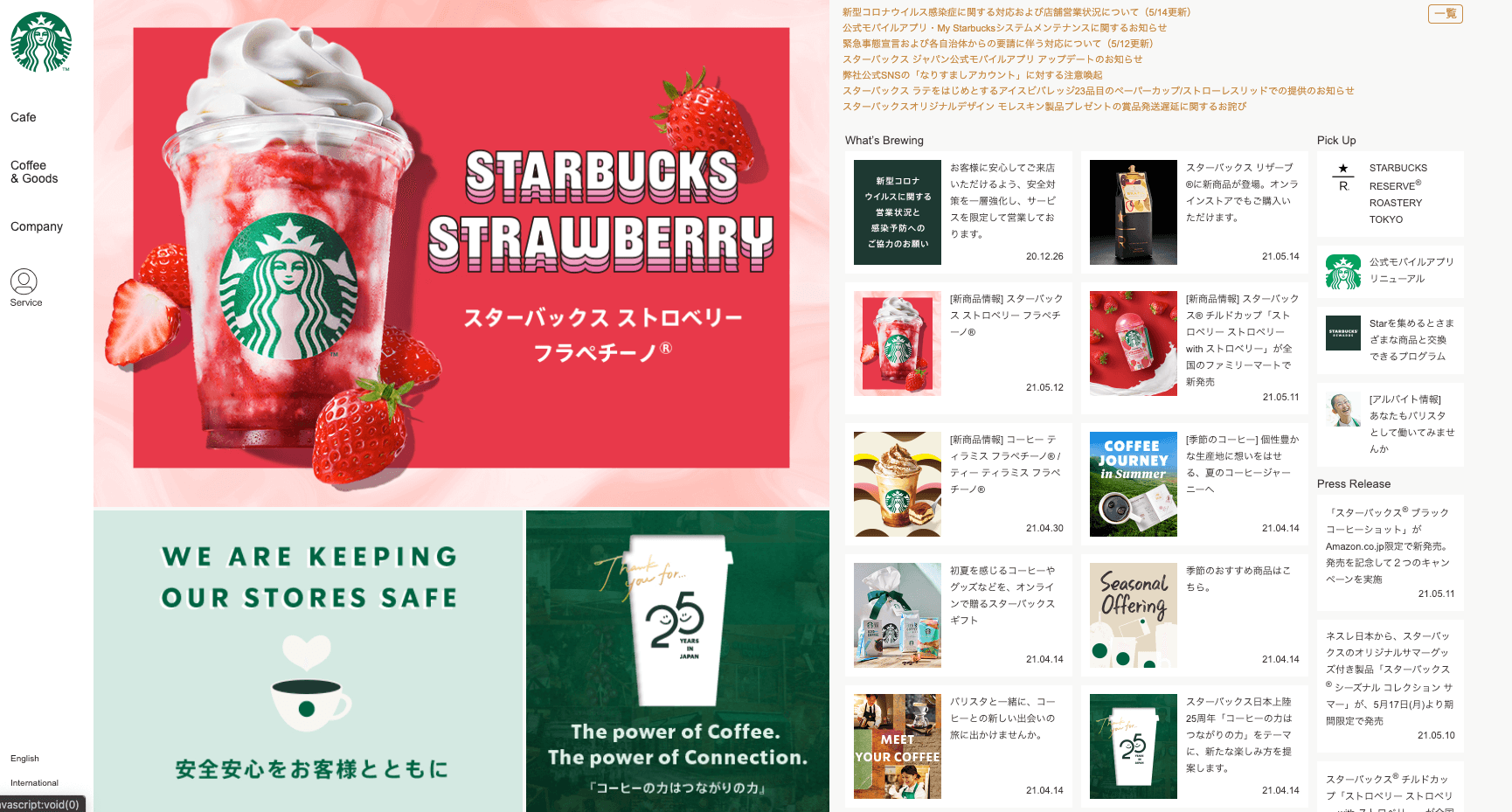 Step 2. Get searching!
The homepage will greet you with all the latest information about the latest drinks, store policies, and more. But we want to find where all of those adorable Japan-exclusive tumblrs are hiding! Those of you who are eagle-eyed have probably already spotted that "Coffee & Goods" heading on the menu on the left-hand side. Clicking on this will bring up the menu pictured below: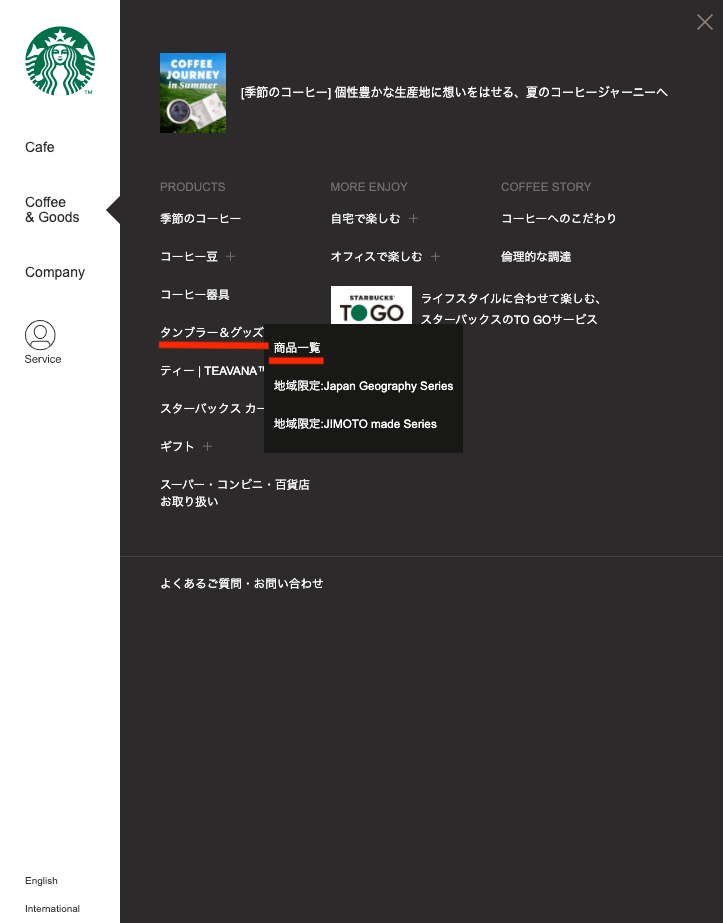 Here you want to click on タンブラー&グッズ which translates as "tumblers and goods." Clicking this will bring up another menu, where you want to select the 商品一覧 heading which translates to "all items". This will bring you to the below page.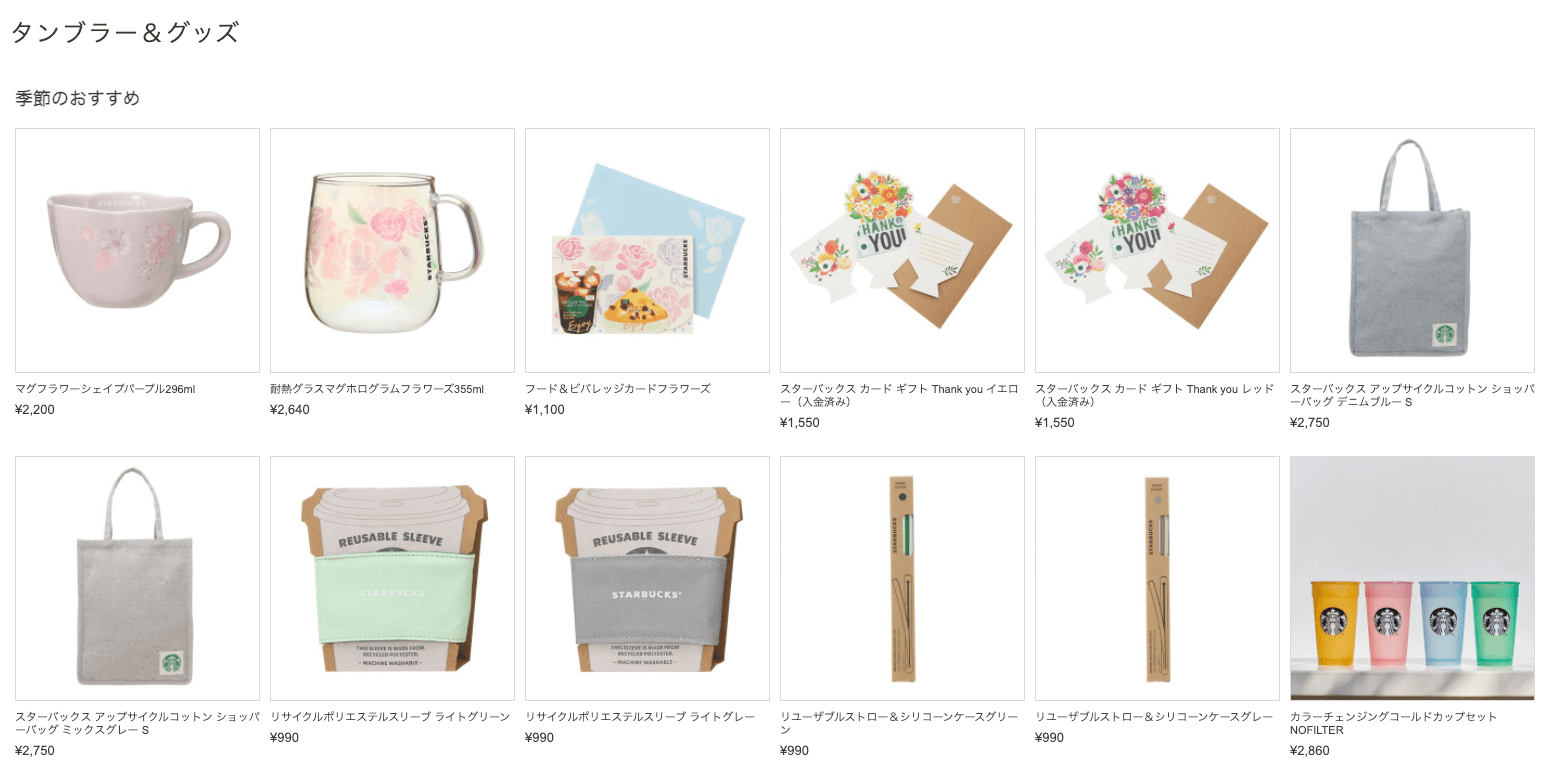 Step 3. Check the details of the item.
Before making your Starbucks order with FROM JAPAN, we strongly recommend that you check the item page to confirm the details of the item before you buy. When checking the price, it's important to note that all of the prices on Starbucks site include a 10% consumption tax rate (as of May 2021.)
If an item is in stock you will see a circle mark ("○") to the right of オンラインストアの在庫 which translate to "online store stock". You will also see the button that displays the text カートに入れる which means "add to cart." If an item is out of stock you will see a cross mark ("×") instead of a circle and the button will read "再入荷お知らせ" ("Notify me when restocked".)
If you have any questions about a particular item, please contact our multilingual Customer Service team who will be happy to answer any questions you may have.
Step 4. Create an account with FROM JAPAN and copy and paste the URL of the item page into FROM JAPAN's search bar.
Once you've doubled-checked (and triple-checked!) all of the details of your item, it's time to make your Starbucks Japan order. All you need to do is copy and paste the URL of the item's page into FROM JAPAN's search bar like the picture below:

Step 5. Hit search and complete the order form.
Once you've hit search, it will take you to our price quote request form where you fill in the details of your order. You can see what a completed form looks like below: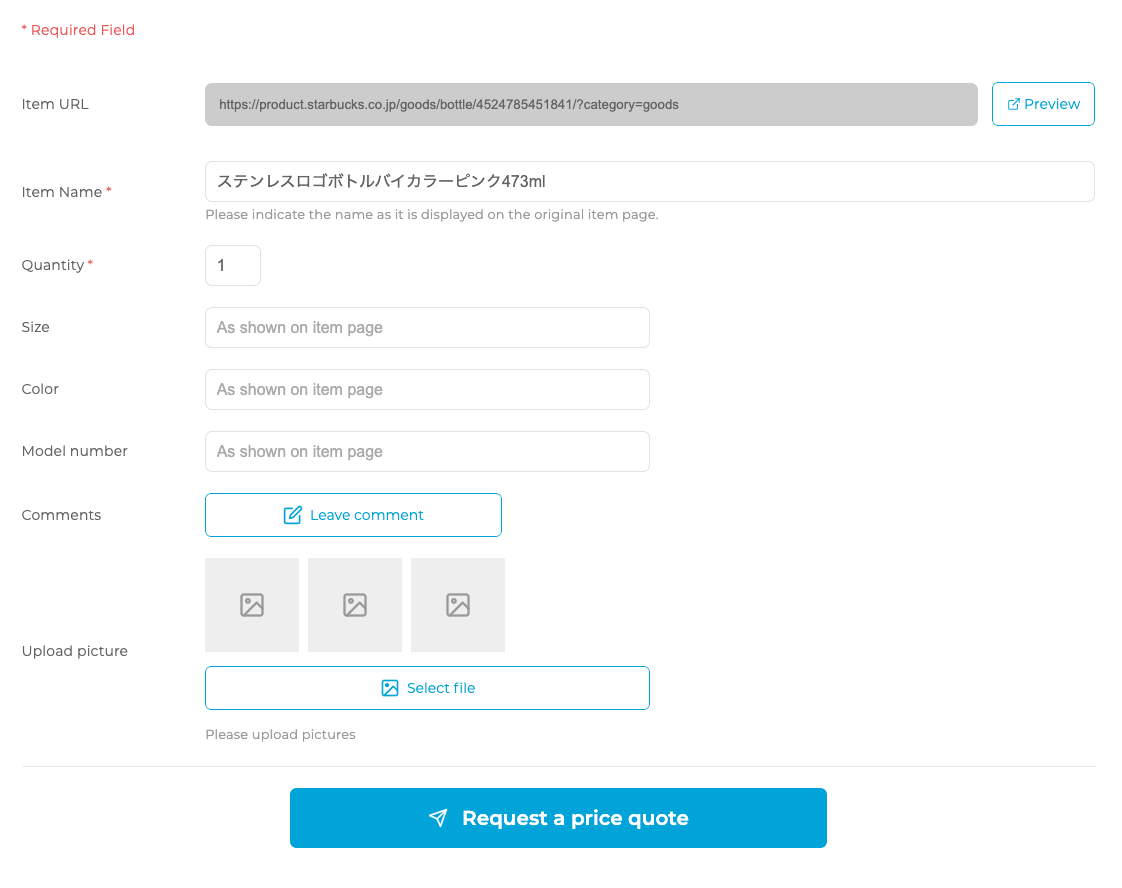 You will need to copy and paste the item name exactly as it appears on Starbucks' site and provide the desired quantity of the item.
Please make sure to double-check all the details before sending your order to us. Once we've received your price quote request, our Shopping Staff will send an invoice for the cost of the item. If you are planning to buy multiple items from Starbucks Japan, then you will need to make a separate price quote request for each unique item.
After all your invoices have arrived for your items and Charge 1 has been paid, your items will be shipped to our distribution center. Once we receive the items, we will wait for your instructions regarding shipment. After you've notified us about your shipment instructions, we will send Charge 2, which includes the international and domestic shipping fees, as well as the fee for our Product Protection Plan.
Step 6. Wait for your Starbucks Japan order to arrive!
And then all you have to do is just have to wait for your Starbucks goodies to arrive at your door! Check out our usage guide for more details about our process and fee structures. If you have any further questions on how to use our service, our Customer Service team will be happy to help. Happy Starbucks Japan shopping with FROM JAPAN!