What is Disk Union?
Disk Union is a chain of Japanese music stores known for being one of the best places in the world for finding rare vinyl records and discovering underground artists. The chain is famous for its wide selection of vinyl, but the chain also deals with a plethora of music-related items including CDs, DVDs, Blu-rays, and band merchandise.
Disk Union began as a classical record store in Tokyo's Ochanomizu district, but now carries vinyl and CDs spanning a wide variety of genres like citypop, jazz (including rare Blue Note releases), hip-hop, indie, classic rock, techno, dance, and more! The chain has over 50 stores across Japan, with inventories that will make any Discogs user shed tears of joy. Disk Union also operates an online store with a wide array of vinyl and CDs, from the latest releases to hard-to-find classics.
Unfortunately, Disk Union does not offer international shipping and does not accept any non-Japanese payment method. But that doesn't mean you have to give up on your Disk Union shopping! Ordering from Disk Union is simple thanks to FROM JAPAN's proxy shopping and bidding service – read on to find out more. Enjoy!
How to buy from Disk Union with FROM JAPAN:
Step 1. Go to Disk Union's official website and click the online shop tab.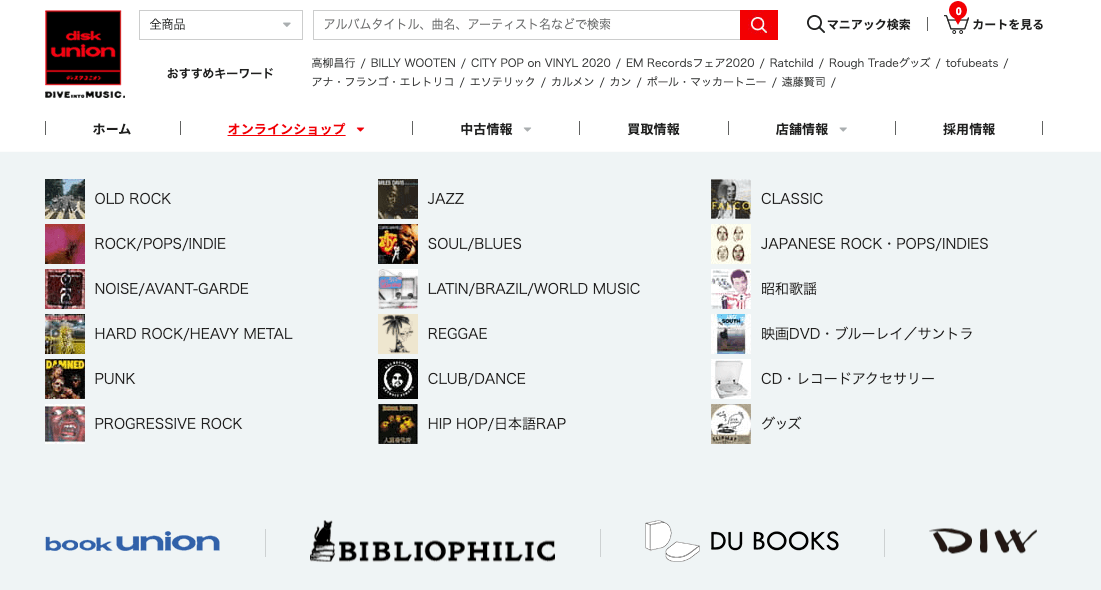 Disk Union's official website does not have a dedicated landing page for their online shop, so you will need to click on the オンラインショップ (online shop) tab to access the shopping section of their site. Clicking on the tab will bring up a drop-down menu of genres and from there we can start our hunt for musical gems!
Step 2. Get searching!
You will be able to search for a lot of Western musicians and bands in English by using the search bar at the top of the page, but if you're looking for a Japanese artist, then we recommend you search for their name in Japanese.
Most of the genres on Disk Union's online shop are in English, but the four Japanese categories translate as follows:
昭和歌謡 – Showa Era (1926-1989) music. Helpful for if you're looking for City Pop!

映画DVD・ブルーレイ/サントラ – DVDs, Blu-rays, and film soundtracks.

CD・レコードアクセサリー – CD and record accessories and storage.

グッズ – Band and music merchandise, including Disk Union merch.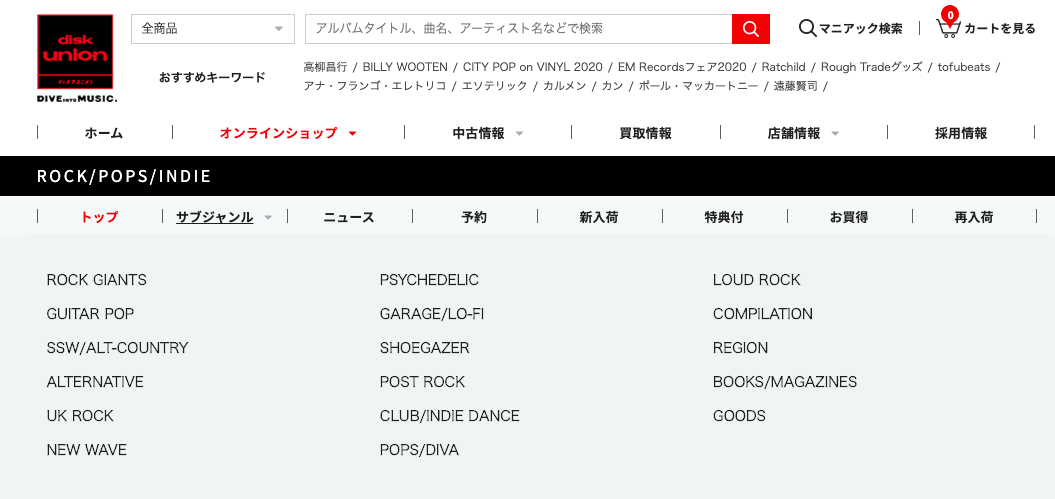 By clicking on a genre, you will be directed to its dedicated landing page where you can browse for music. By selecting the サブジャンル (sub-genre) tab, you will be able to search through sub-genres. These subcategories are usually in English, making it easy to navigate even if you don't understand Japanese.
If any Japanese does appear, then you can run Disk Union through Google Translate to get a basic understanding of the page.
Step 3. Check and confirm the item details.
Once you've found something you want to buy, it's time to check the item details.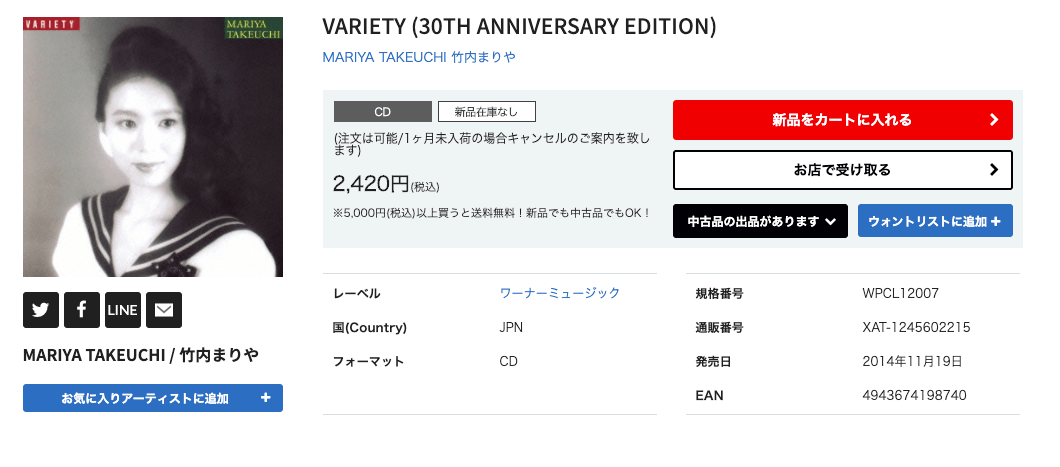 Here you can see the price of the CD is 2,420 yen (including tax.) The product page also clearly lists that this particular listing is for a CD, near the top of the page in a grey box, and by the フォーマット (format) heading. You can also find information about the music label (レーベル), country of pressing, date of release (発売日), and other useful information on the product page.
Another important thing to check is whether or not the product you are purchasing will be new or used. Next to the grey box indicating the format, you can see a white box that reads 新品在庫なし which translates as "no new (unused) stock." This means that if you want to purchase an item with this heading, you must buy it used. Listings that do have a new version of the item will be marked 新品在庫あり. By scrolling down, past the item description and track listing, you will come to the used item listings of the album, as shown below.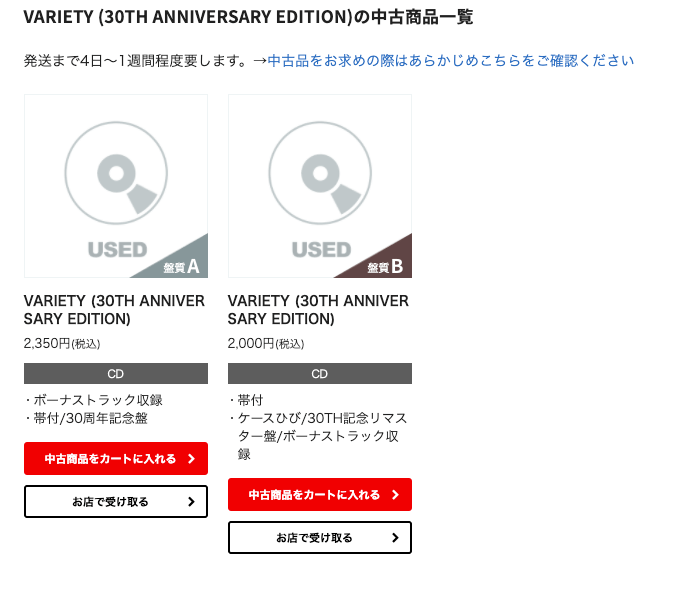 In the case that there is stock of both new and used items, please leave a comment on our price quote request form stating which you would like to purchase, including the price of the item. If you have any specific questions about a particular item, please contact our multilingual Customer Service team.
Step 4. Create an account with FROM JAPAN and copy and paste the item page URL into FROM JAPAN's search bar.
Once you've checked all the item details, it's time to add it to your FROM JAPAN order! All you need to do is copy and paste the URL of the item page into FROM JAPAN's search bar like in the picture below:

Step 5. Hit search and complete the price quote request form.
After hitting enter, you will be taken to our price quote request form where you can fill out the details of your order. Here's an example of a completed form: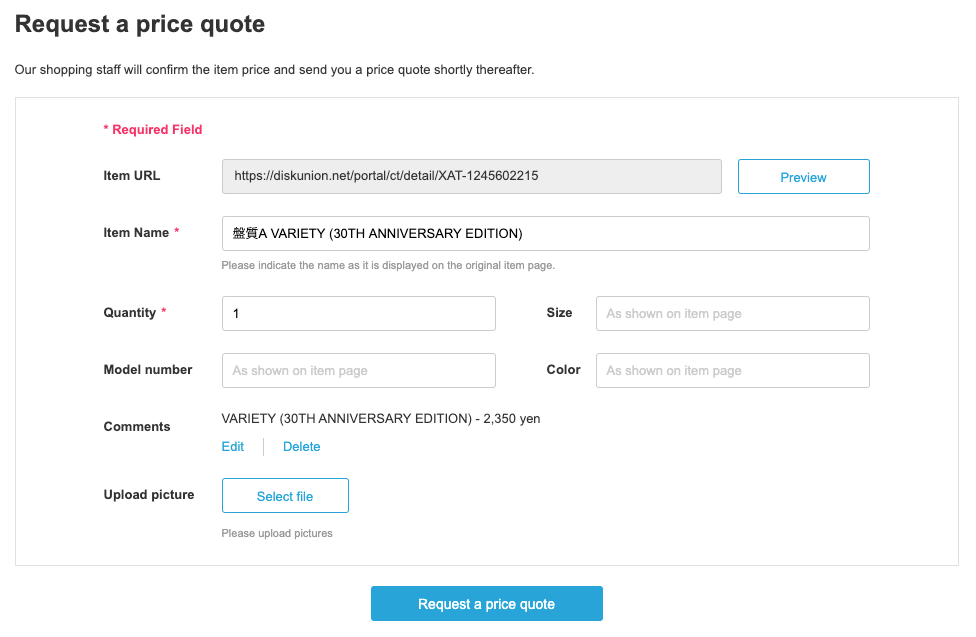 You should write the item name exactly as it appears on the site and provide the desired quantity of the item. Please note that in the case of used items, there is usually only one unit in stock at any given time. You can also leave us a comment with any extra information you would like us to know in the comment field. This is also where you'll specify if you want to buy the item new or used. Don't forget to double-check all of the item details before sending it to us!
After we process your price quote request form, you will be required to pay Charge 1 and our shopping staff will order your items. Once all of your items have arrived at our distribution center, we will wait for your shipment instructions regarding what items you would like to be shipped together and your preferred shipping method. At this point, you will be required to pay for Charge 2. The Charge 2 invoice includes international and domestic shipping fees, as well as the purchasing plan. Disk Union charges a flat fee of 440 yen for shipping, with free shipping for all orders over 5,000 yen.
And then all you have to do is wait for your musical goodies to arrive! Before buying from Disk Union with FROM JAPAN we recommend that you check out our usage guide for more details about our process and fee structure. If you have any more questions about how to use our service, get in contact with our Customer Service team. Happy shopping on Disk Union!