How to buy Japanese Retro games from Book Off Online
Many of us have fond memories of sitting around the living room, with our eyes glued to the TV screen and a cartridge of Super Mario 64 or Legend of Zelda popped into a console. This is how a lot of people started their gaming journeys, and it's completely understandable to want to return to that nostalgia.
In fact, some Japanese retro games have been making headlines recently. Some people have been buying mint condition sealed copies of games at really high price points, with one selling for $870,000 and another selling for $1.5 million.
Although it might not be possible for all of us to spend that much money, this does make it the perfect time to get yourself a piece of nostalgia since more and more sellers are coming out to sell their gaming treasures. If you're convinced, we'll show you how to get these retro video games straight from Japan with the country's biggest second-hand hobby store: Book Off!
Step 1. Go to the games section of Book Off Online website.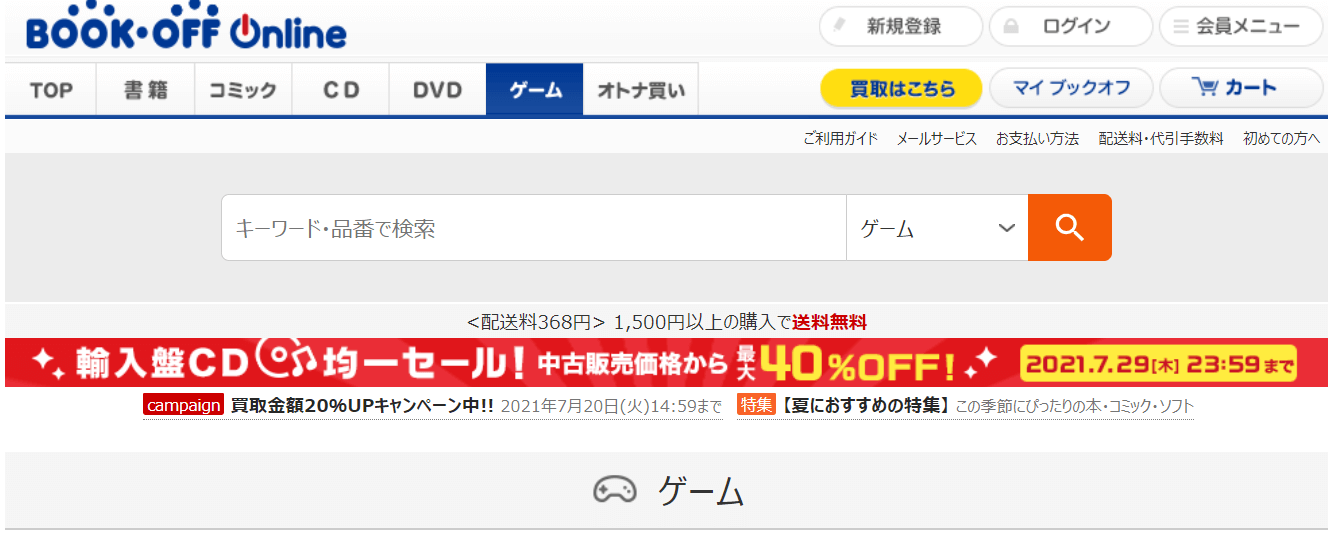 Since Book Off deals with items in different categories, you should go to the games section of Book Off Online to find the retro games.
Step 2. Get searching!
Once you're there, you'll see more recent games so to get to the retro games, scroll down and find レトロゲーム (Retro Games). This portion is showing the most popular games for different retro consoles: セガサターン is Sega Saturn, スーパーファミコン is Super Famicom / Super NES, ゲームキューブ is Gamecube, and GBA is Game Boy Advance.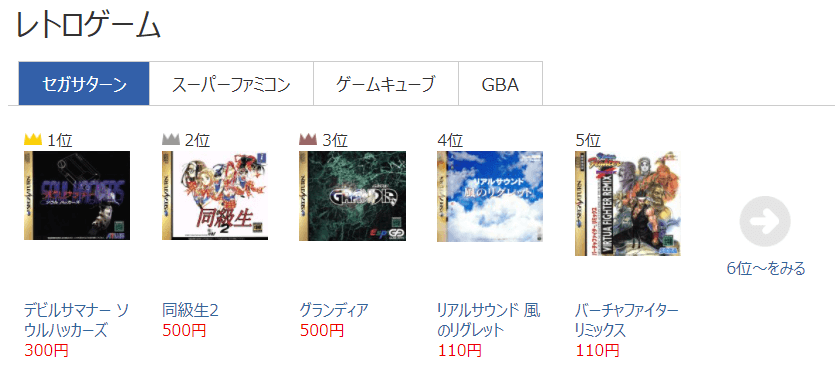 To browse the full list, you can use these Japanese console names as reference and scroll back up to ジャンルでさがす (Search by genre). Here, you must click the name of the console you want to find games for. This lists all of the consoles they have games for, including modern ones. So if you want games for retro consoles we didn't mention, you can search for its Japanese name online and find it here.
You can also purchase retro consoles from Japan if you wish. The 本体 category lists gaming devices they have, and the ゲーム機 tab is for consoles. You can also click on ゲーム機 under the genre list to find all consoles for sale. 【箱説なし】 in front of the console name means that the console does not come with a box or manual.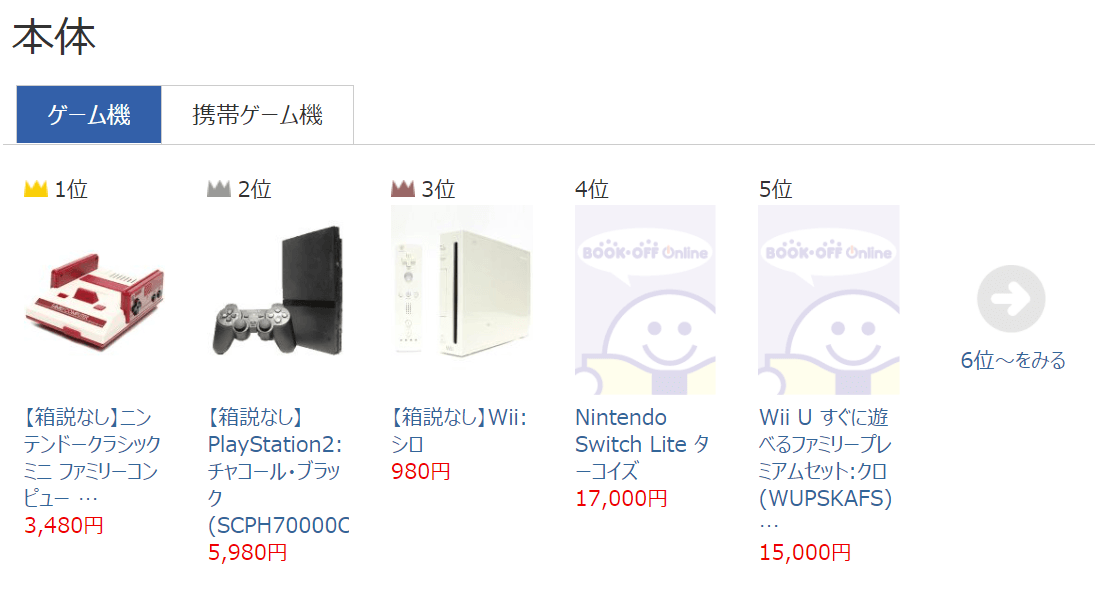 Once you click on the category you want to explore, you will see a list like this. This pictured list is for Super Famicom games.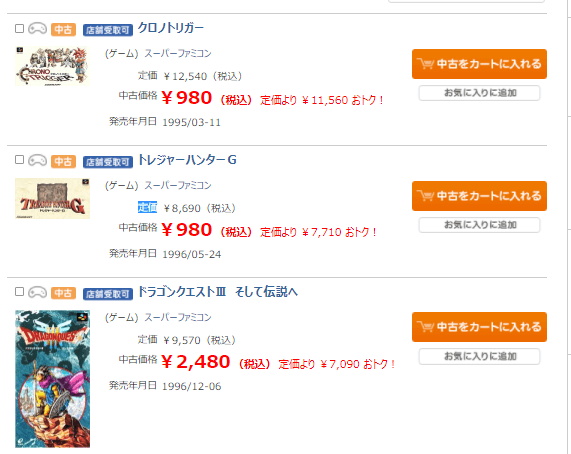 Feel free to scroll around. You will see the game cover art so even if you can't read Japanese, you should be able to recognize them easily. You will also notice two prices listed: 定価 and 中古価格. 定価 is the regular price, but since these are retro second-hand games, the price you'll be paying is under 中古価格.
Step 3. Check out the item details.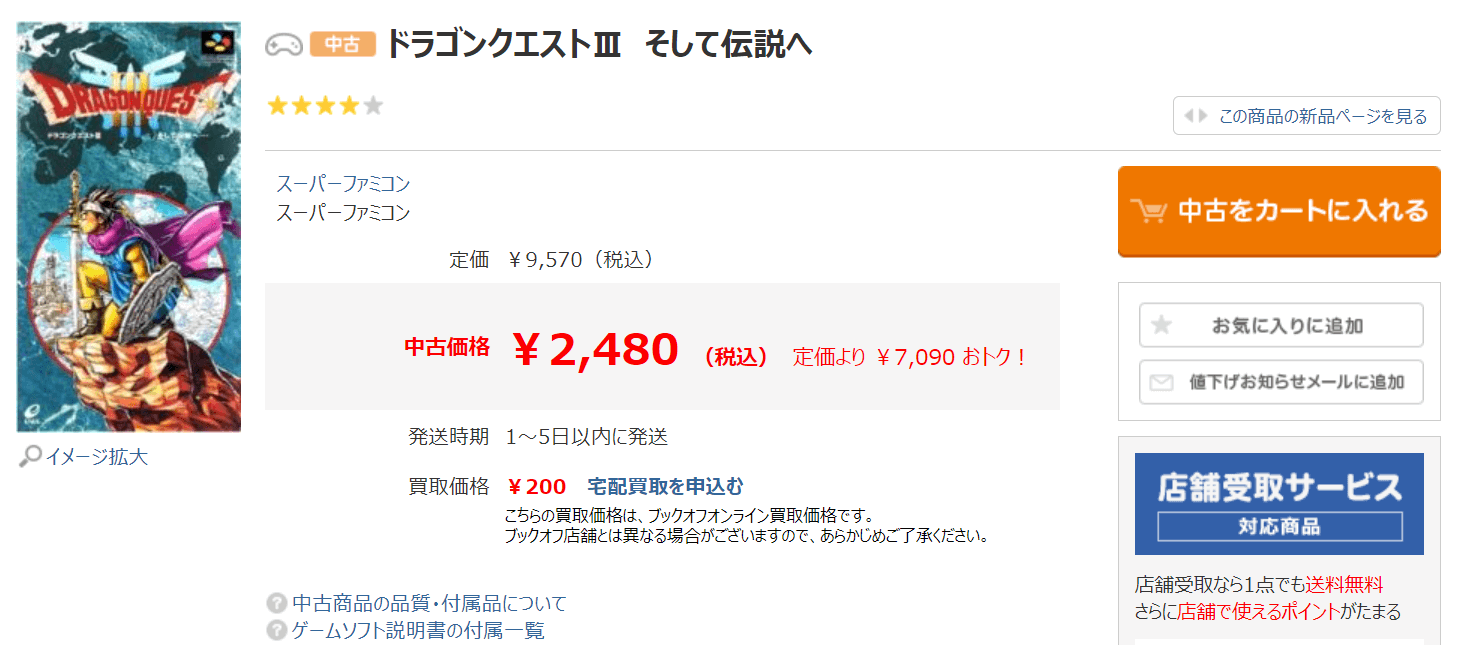 Let's check out this Dragon Quest III game. If you're ever in doubt that you're looking at the game that you want, you can copy-and-paste the game's title from this page and search for the English title.
As we've mentioned, the price will be listed as 中古価格, and here, it's highlighted to make it easier to see. The good thing is that since Book Off is trusted in Japan for the quality of second-hand items that they sell, you get extra assurance that you're getting a copy that they've tested and that works.
Step 4. Create an account with FROM JAPAN and then copy and paste the URL of the item page into FROM JAPAN's search bar.
Once you know which games you want to get, it's time to place your order! All you need to do is copy the URL of the item from Book Off Online and paste it into FROM JAPAN's search bar.

Step 5. Hit search and complete the order form.
Clicking on the search button will take you to our price quote request form where you will have to fill in the details of your order. Below is an example of a completed form.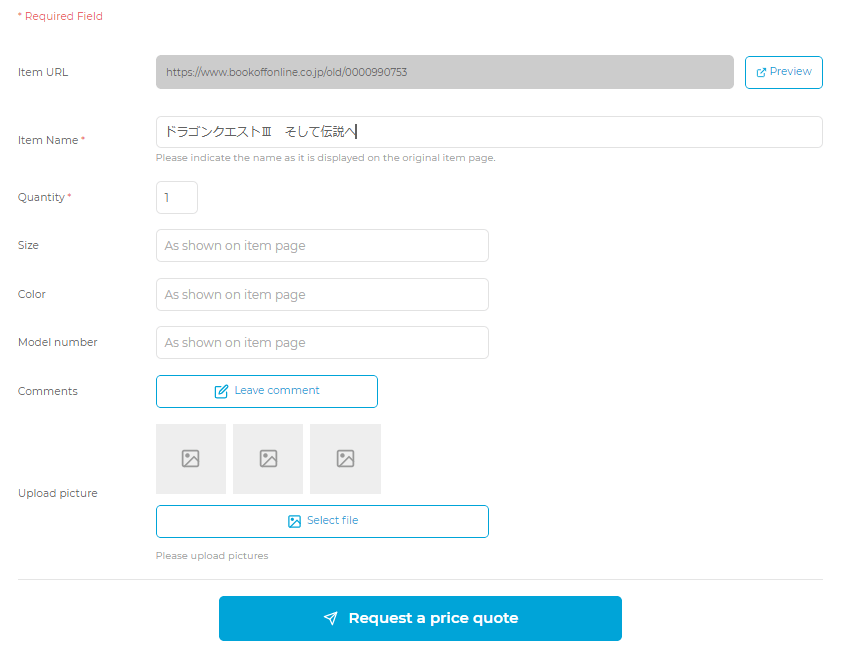 You need to fill in the Japanese name of the item exactly as it appears on the site. Since these items are second-hand and listed as individual items, you need to put "1" as the quantity. You can also choose to upload images of the game cover art if you wish to do so.
Lastly, you can leave us a comment if there's any extra information you wish for us to know. Don't forget to double-check all the details before sending it to us!
Once we've processed your price quote request, our Shopping Team will send an invoice with the cost breakdown of the item. If you are planning to buy multiple items, you will need to request a separate price quote for each individual item.
After you have received all invoices and Charge 1 has been paid, your items will be shipped to our distribution center. Once all your items have arrived at our warehouse, you can choose which items you would like shipped together and select your preferred shipping method. At this point you will be sent to the Charge 2 payment page. Charge 2 includes international and domestic shipping fees, as well as the fee for our Product Protection Plan.
Step 6. Wait for your retro Japanese games to arrive!
Now that you've placed your order, all that's left is to wait for it to arrive!
In the meantime, you can check out our usage guide for more information about our process. If you have any more questions on how to use our service, our Customer Service team will be more than happy to help. Enjoy your retro game shopping with FROM JAPAN!