Buying Pokemon Cards from Japan
Are you an avid Pokemon Card collector looking to add to your collection? Are you thinking of buying Pokemon Cards from Japan but are worried about where to find them or if you'll need to know Japanese?
If you are, then you've come to the right place. In this article, we'll show you how easy it is to get Pokemon Cards from Japan — even when you're looking for a specific card that you just can't find elsewhere. Read on to find out more on how you can buy Pokemon Cards from Japan from anywhere in the world!
Step-by-Step Guide on Buying Pokemon Cards from Japan
Step 1: Find the Japanese name for the Pokemon Card you're looking for.
To start with, we'll show you how to find specific Pokemon cards.
Pokemon usually have different names in Japanese and English, so if you want a specific Pokemon, trainer, or item card, we need to find out what their Japanese name is. Luckily, there's a simple way to do that! Take a look at this Japanese website that lists Pokemon cards with their images.
Once you've spotted cards you'd like to get, click on its image, and a pop up window should show up. Take note of the name that appears at the top of the window (we've put a blue box around the name in our example below).
After that, it's as simple as copy-and-pasting the name into One Map by FROM JAPAN's search bar! Below you can see a few of the results we get by pasting in the Japanese Pokemon card name.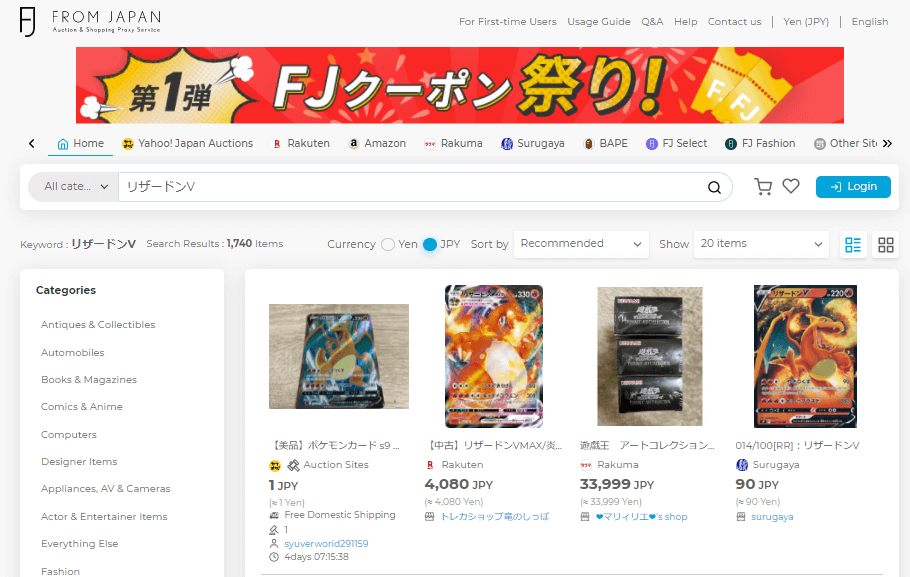 "But what if I want to find specific packs or sets of Pokemon cards?" I hear you ask. Well, that's possible to get from Japan too.
In this case, you just need to go to the webpage for Pokemon Card sets and do a slightly different process from what we mentioned earlier. If you've found the set you're looking for, its Japanese name will be the portion inside the 「」 symbols. We've put a blue box in the image below to show you what we mean.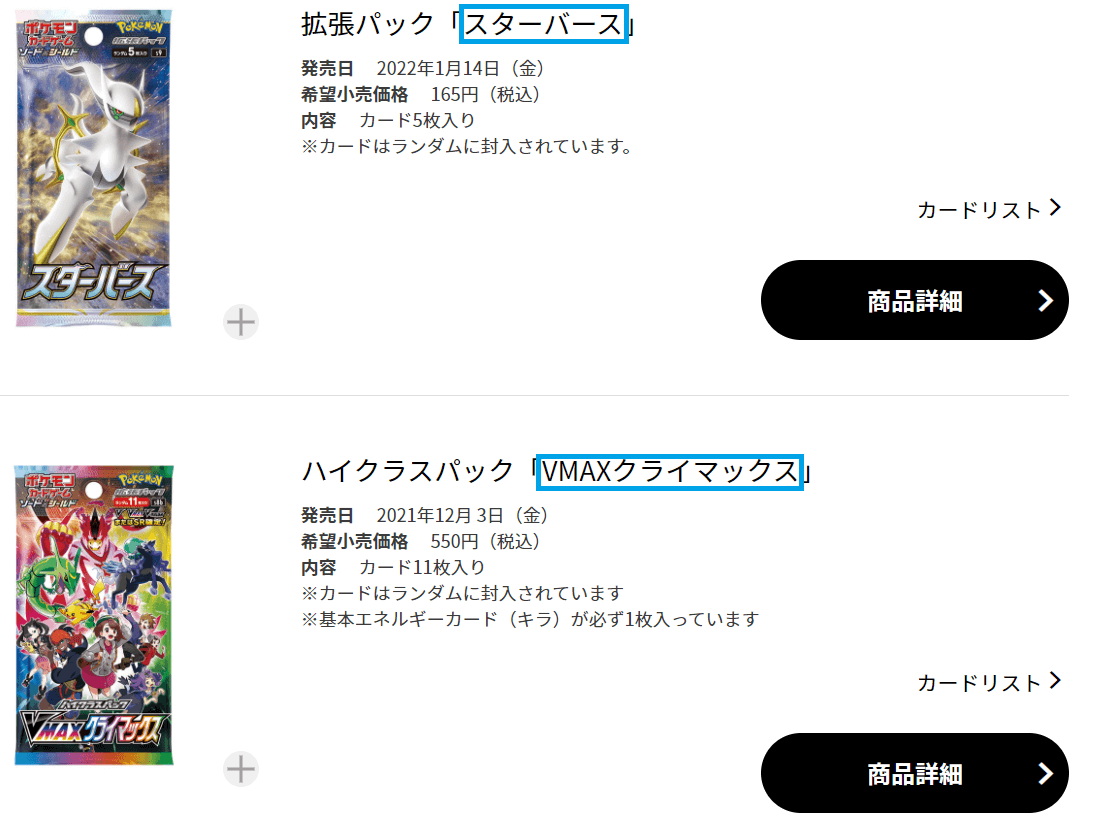 Copy and paste the Japanese name without 「」 into One Map by FROM JAPAN's search bar. Then you'll get results like in our example below.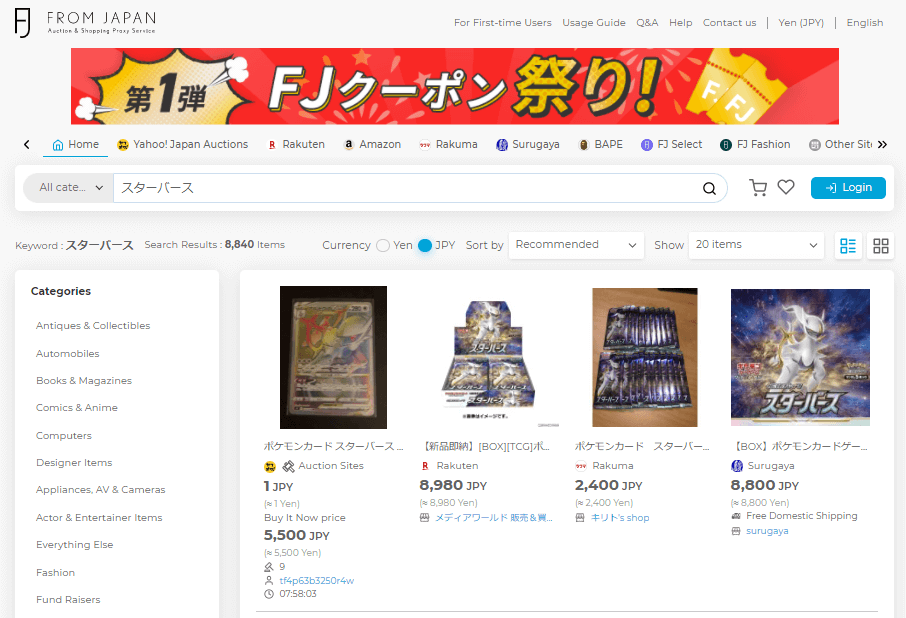 For sets that have been announced for pre-orders or have been posted before release date, you can check when it will be available in Japan next to 発売日 on the Pokemon Card website. Then once that date comes, you can find and purchase it through FROM JAPAN.
Step 2: Ordering your Pokemon Cards from Japan.
Once you've found what you're looking for, it's just a matter of placing your order.
One Map by FROM JAPAN is a proxy service that orders and delivers Japan-exclusive and Japanese limited edition items to anywhere in the world, so if you're an avid Pokemon Card collector who doesn't want to miss out on the latest releases, then our services will make sure of that for you. If you're new to our site, we recommend going through our Usage Guide to learn more about FROM JAPAN.
In this example, let's get ourselves the Pokemon Card expansion pack: Pokemon Trading Card Game Sword & Shield Expansion Pack Starverse, or simply スターバース in Japanese as we saw earlier. We've clicked on one of the search results that shows up when we searched for that on the FROM JAPAN search bar, and we're taken to a page that looks like the image below: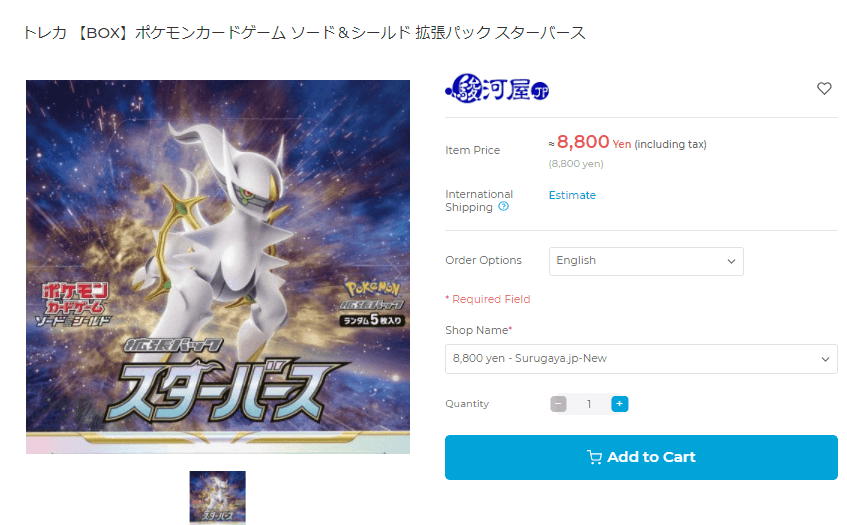 Depending on the search result you've clicked on (when it comes to Pokemon Cards, our search bar will give you listings from the Japanese sites Surugaya, Rakuten, Rakuma, and Yahoo! Auctions), the product page might look a bit different.
In this example, for Surugaya, you can click on the first drop down button next to Order Options to find a list of languages. Here, we've chosen English, so the next drop down button under Shop Name changes into English as well. By default, the info for Shop Name will be under Surugaya, so if the price and product info there looks correct to you, we can stick with that for our purchase.
Lastly, towards the bottom half of the product page you will see another drop down button inside a box. The text inside the box is the product description. Click on the drop down button and find 英語 for a Google Translated version in English.
Step 3: Add Items to Your Cart and Pay for Charge 1.
Once you're happy with the card or card set you're going to get, add it to your cart and pay for Charge 1. If you currently don't have a FROM JAPAN account, you will be prompted to create one at this step.
Step 4: Items Arrive at Our Distribution Center for Shipment Instructions
After Charge 1 is settled, your items will be delivered to our distribution center, and once it arrives, our Customer Service team will get in touch with you to confirm your shipment instructions. Items can be stored for free in our warehouse for up to 45 days, which is handy for ordering multiple items!
Step 5: Pay for Charge 2.
After receiving your shipment instructions, we will calculate the shipping fees and send you a Charge 2 invoice.
Step 6: Shipping.
Shipments are dispatched within 2 business days, excluding peak seasons and holidays so you can rest assured your orders will be sent out to you quickly.
Step 7: Arrival.
All that's left is the arrival of the new Pokemon Cards you can add to your collection! You now have a reliable method of making sure you don't miss out on any other Pokemon Card releases once they're out in Japan. If you're interested to see what other Pokemon items you can get using FROM JAPAN, we've included links for them at the end of this article.
We hope you found this guide helpful and we hope you enjoy your shopping!