Why buy Supreme from Japan?
The American skateboarding lifestyle brand Supreme has lots of fans in Japan. In addition to the style of Supreme products being similar to what you'd see in youthful areas like Shibuya in Tokyo, there's also the added appeal of foreign products being deemed as "cool" or "stylish" in the eyes of some Japanese people.
So it comes as no surprise that you'll find lots of shops and individuals selling a wide array of items from this iconic brand. But due to Supreme's intense popularity combined with the prices of their products, it's understandable that some fashion-savvy fans are turning to second-hand markets to get their hands on anything Supreme.
If you're one of those fans looking to get a good quality second-hand Supreme item, then buying them from Japan might just be the solution for you. In this article, we'll introduce a way to get second-hand Supreme products from Japan that's reliable and hassle-free.
How to buy Second-hand Supreme from Japan
1. Find the item you want to buy.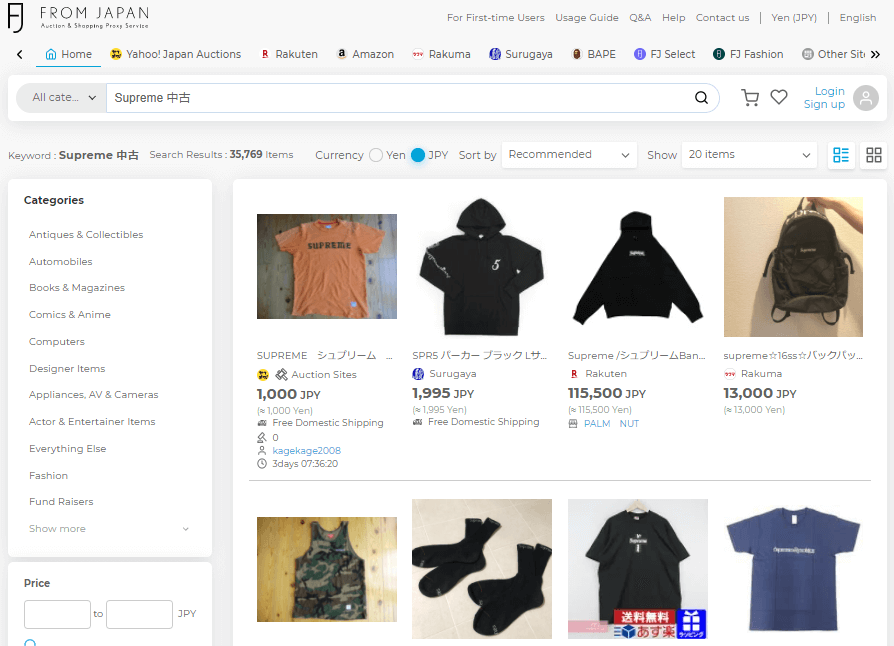 If you're searching for items without a specific product in mind, the best search term to get you started is by putting in "Supreme 中古" into FROM JAPAN's search bar. 中古 means "second-hand" in Japanese, so this will give you a very general range of second-hand Supreme products.
One thing to take note of is that this can also give you results for other products that aren't by Supreme but have the word 'Supreme' in their product name. So as with online shopping everywhere else, you'll have to properly look at things like the photo and product listing name (which we recommend you use a translation tool for) to get a better idea if this is the item you want.
You can also refine your search on the Categories panel on the left hand side to make things easier. Supreme products will fall under "Designer Items" or "Fashion".
2. Check the details of your item.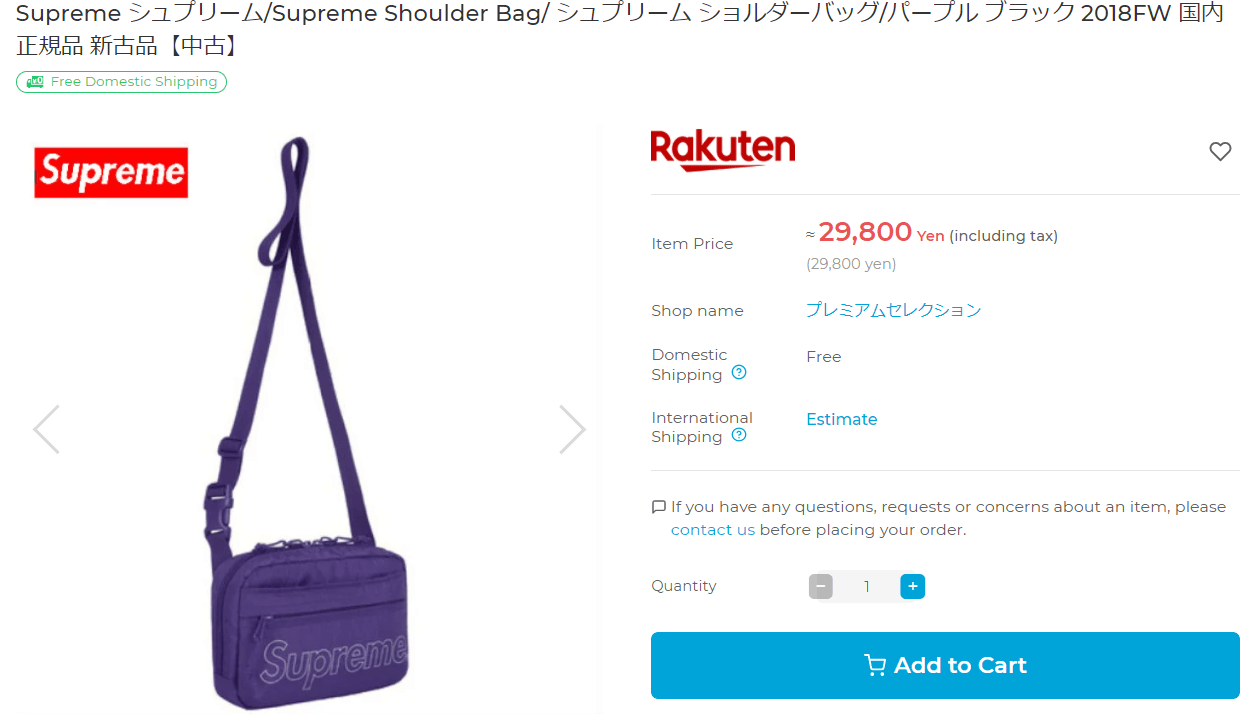 Once you pick the item/s you want to buy, you might be greeted with different methods of how you'll buy the item. It can fall under "Auction" or "Shopping", so please take a look at our Usage Guide to familiarize yourself with how it all works.
Since you'll be getting things second-hand, there will be some differences such as if the item is used or unused, if it comes with the original packaging or not, among others. Although items listed in second-hand Japanese sites are generally reliable and in good quality, it's also a good idea to make sure you know what you're purchasing by going through the product page.
3. Add items to your cart and pay for Charge 1.
Once you feel confident with your purchase, add the item/s to your shopping cart and pay for Charge 1.
4. Items arrive at our distribution center ready for shipment instructions.
When your items have arrived at our distribution center, our Customer Service team will ask for your shipment instructions. Items can be stored for free in our warehouse for up to 45 days, which you can take advantage of if you're ordering multiple items from us!
5. Pay for Charge 2.
After receiving your shipment instructions, we will calculate the shipping fees and send you a Charge 2 invoice.
6. Shipping.
Shipments are dispatched within 2 business days, excluding peak seasons and holidays so you can rest assured knowing you will receive your items speedily.
7. Arrival.
You just snagged yourself some awesome Supreme items from Japan, so now all that's left is to show them off!
So there you have it! You have everything you need to get Supreme products directly from Japan. We hope you enjoy your shopping!