Johnny & Associates were relatively late in getting in on the e-commerce biz, with the official Johnny's online shop opening in 2019. The store is a one-stop-shop for all things Johnny's, selling a variety of idol-related merch including photos, CDs, DVDs, concert books, and more! If you're looking to make a shrine to your Johnny's best boys, you don't need to go much further than the talent agency's official online store.
Unfortunately the official Johnny's online store does not ship outside of Japan and does not accept non-Japanese payment methods. But that doesn't mean you have to give up on your Johnny's dreams just yet! By using a proxy shopping service like FROM JAPAN, you can get your hands on all manner of items that would otherwise be impossible to buy. Read on to see how easy it is to order from the Johnny's online store. Enjoy!
How to buy from the official Johnny's Online Store with FROM JAPAN
Step 1. Go to the official website of the Johnny's Online Store.
The first thing you'll see when you visit the Johnny's online store is a large banner and the news section of the site. Please be aware that the site closes for maintenance every day (yes, every day) from 2 AM to 5 AM JST.
Step 2. Get searching!
Now it's time to search for your best boys! If you have a particular group, member, or item in mind you can start your shopping by using the handy search bar located underneath the "Information" section.
By scrolling further down the page you can start searching by the site's curated list of groups and individual members.
You can start searching by product category (商品カテゴリー) by clicking on the "menu" heading on the top left of the site. The categories translate as follows:
写真 – Photos.
CD/映像 – CD and Video. You can find DVDs, Blu-rays, and music CDs in this section.

ライブ写真集 – Concert photo-books.

フォトBook 2019 – 2019-edition photo albums for storing photos.

あすかな購買部 – Ascana School Shop. This category features merch for the virtual idol group Ascana.
Step 3. Check and confirm the item details.
Once you've found something you would like to buy, it's time to check the details of the item. Please note that there is a purchase limit of five of the same photo and one unit of an individual item per customer. The Johnny's online store will treat FROM JAPAN as a single customer. There is also a limit of 200 photos per single order. If the purchase limit on a certain item has already been reached, we will cancel the order and refund in full.
Step 4. Create an account with FROM JAPAN and copy and paste the item page URL into FROM JAPAN's search bar.
Once you've confirmed the details of the item, it's time to add it to your FROM JAPAN order! All you need to do is copy and paste the URL of the item page into FROM JAPAN's search bar like in the picture below:

Step 5. Hit search and complete the price quote request form.
After hitting enter, you will be taken to our price quote request form where you can fill out the details of your order. Here's an example of a completed form: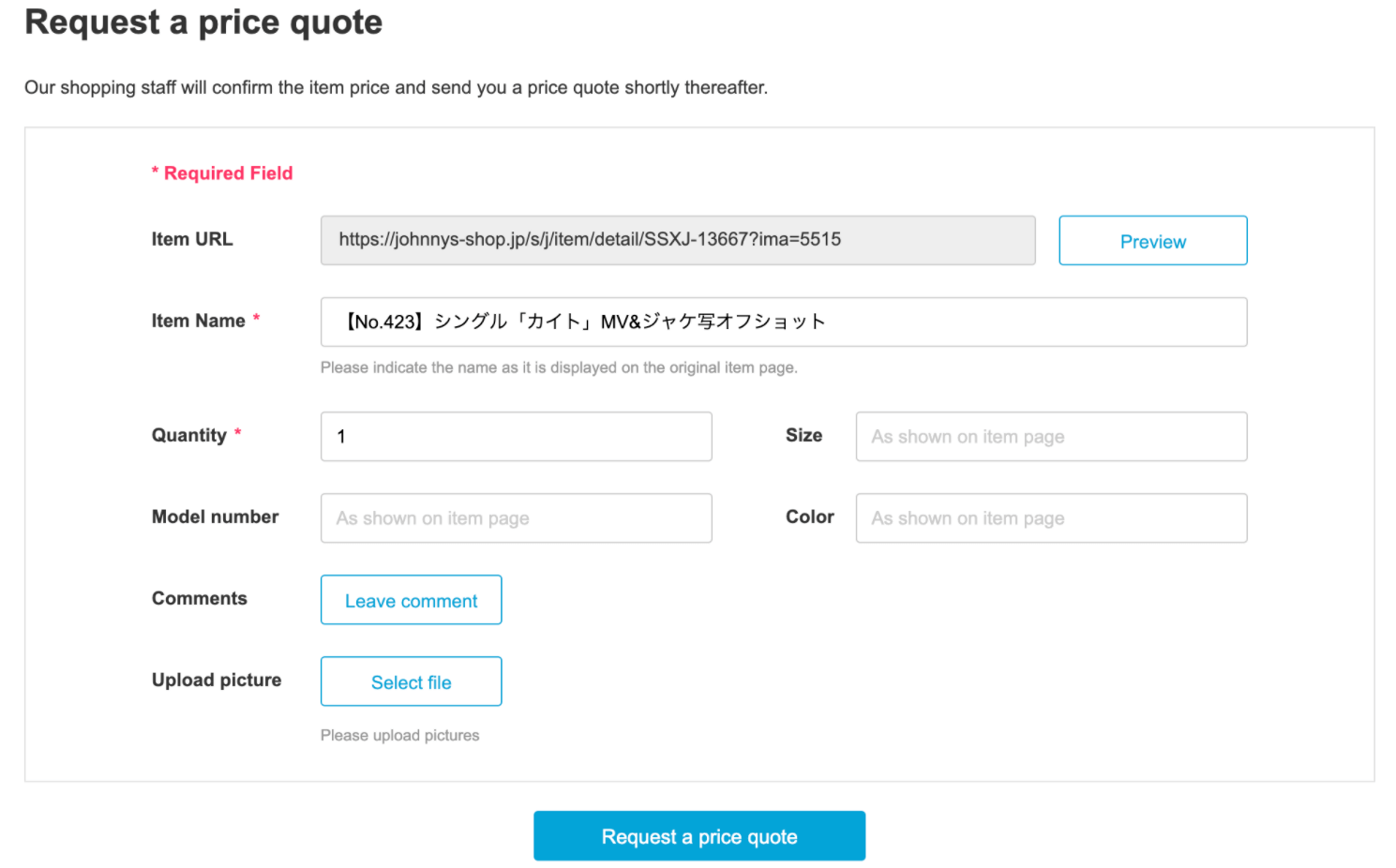 Ideally, you should write the item name exactly as it appears on the site and provide the desired quantity of the item. However since it is not possible to right click or highlight text on the website, if you can't read or write Japanese please write the general name of the product and specify the product number in the comment field. You can find the product number next to the kanji 品番 underneath the product name.
Don't forget to double-check all of the item details before submitting the price quote form to us!
After we process your price quote request form, you will be required to pay Charge 1 and our shopping staff will order your items. Once all of your items have arrived at our distribution center, we will wait for your shipment instructions regarding what items you would like to be shipped together and your preferred shipping method. At this point, you will be required to pay for Charge 2. The Charge 2 invoice includes international and domestic shipping fees, as well as any other fees associated with your order.
And then all you have to do is wait for your musical goodies to arrive! Before buying from the official Johnny's Online Store with FROM JAPAN we recommend that you check out our usage guide for more details about our process and fee structure. If you have any more questions about how to use our service, get in contact with our Customer Service team. Happy Johnny's shopping!