What is Yahoo! Auctions Japan?
Yahoo! Auctions (often abbreviated to Yafuoku or Y!A) is Japan's most popular auction site, with millions of items being bought and sold every day. With both companies and individuals selling their wares, the variety available on Yahoo! Auctions is unbeatable. If you are looking for rare Japanese second-hand items or want a second chance on a release you missed, Yahoo! Auctions is the place for you! From popular streetwear like BAPE and Supreme to otaku goodies, Yahoo! Auctions has tons of great items for great prices.
Unfortunately, these auctions are difficult to access for foreign would-be shoppers. A Japanese address and payment method are required to be able to participate in the auctions. To make things even more challenging, the entire Yahoo Auction's website is in Japanese and many sellers cannot communicate in English. But that's where FROM JAPAN comes in! Read on to see how easy it is to purchase from Yahoo! Auctions with FROM JAPAN's proxy auction service.
Yahoo Auctions FAQ
Can Yahoo Auctions Japan ship to my country?
Most sellers on Yahoo! Auctions do not ship overseas. This means that you will need to use a proxy-bidding service like FROM JAPAN, who will bid on your behalf and have your items shipped straight to your door.
Does Yahoo Auctions accept foreign credit cards or PayPal?
You cannot register or use any foreign payment methods to register on Yahoo! Auctions, including PayPal. But fortunately, FROM JAPAN accepts payment from most foreign credit cards and PayPal, meaning you can easily bid and purchase without a Japanese payment method.
Is there an English version of Yahoo Auctions Japan?
There is currently no English-language infrastructure on Yahoo Auctions Japan. This, coupled with the sellers' general lack of English ability, creates some hurdles for non-Japanese customers who want to use Yahoo! Auctions Japan. Luckily, if you use FROM JAPAN's Yahoo! Auctions page, you can browse and make bids in English! Our Customer Service team can also help you with any Japanese-language questions you may have.
How to use FROM JAPAN to order from Yahoo Auctions Japan
The best thing about using FROM JAPAN to place bids on Yahoo! Auctions is that you don't even need to visit the site! You can search and make real-time bids on Yahoo! Auctions directly from our site.
On this page, you can start your search either by using the search bar or by browsing through the categories on the left-hand side. Entering Japanese search terms will yield the most results, but if you aren't too confident with your Japanese skills, you don't need to worry! With FROM JAPAN's find it for me request form, our Customer Service team can help you the get items you are looking for.
Once you've found the item you want to buy, click through to see the listing in full.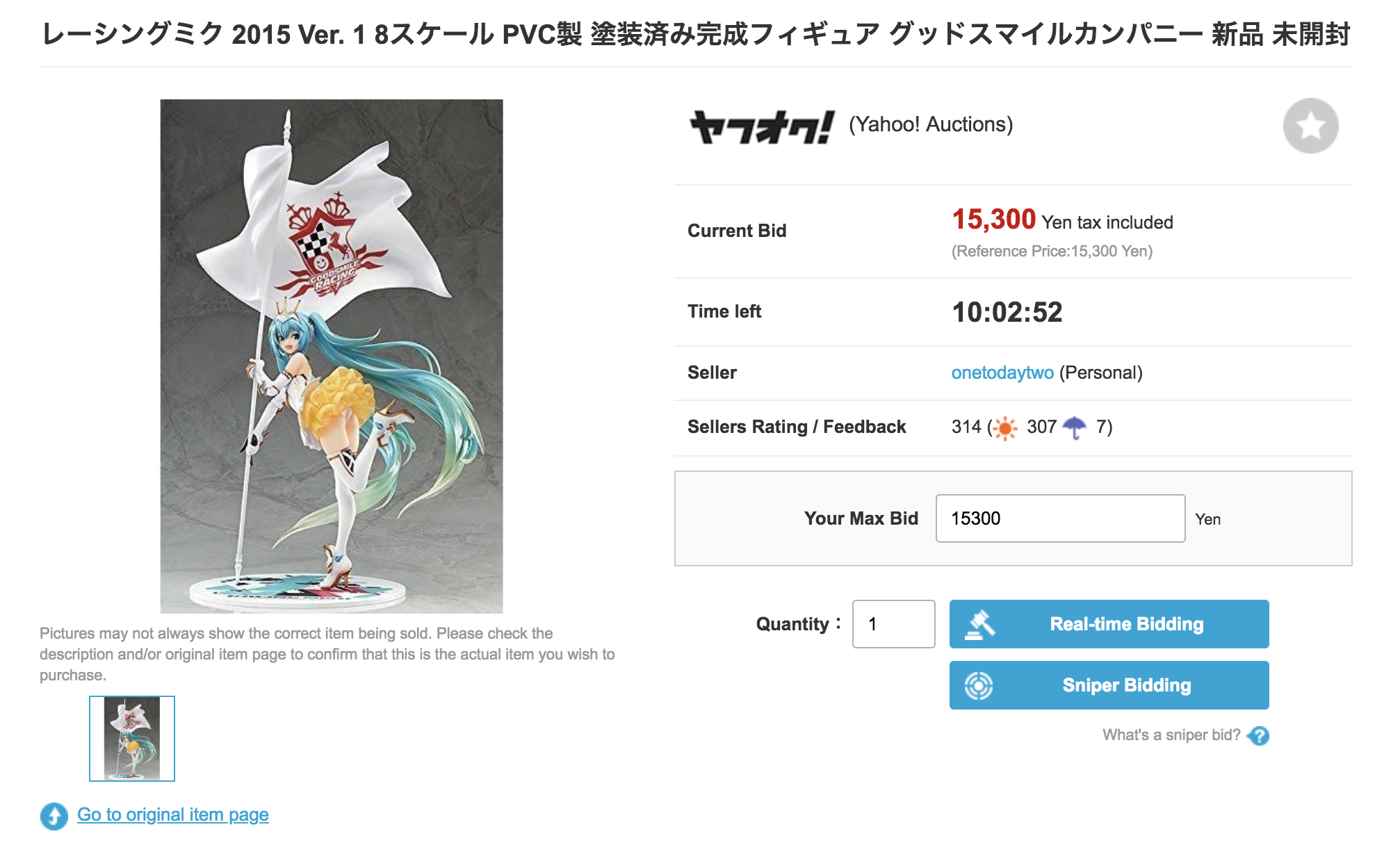 Here you can make a real-time bid or a sniper bid by entering your maximum bid amount. In the case of real-time bidding, your bid will automatically be placed at the time you make the bid. With sniper bidding, our shopping team will place your maximum bid in the last ten minutes of the auction. If an item has a Buy it Now option (即決価格) the auction will end with you as the winner.
Please note that just placing a bid doesn't automatically mean you will be able to purchase the item. You may be outbid or the seller might choose to end the auction early. We will let you know if you have won the auction as soon as the listing ends!
Caution: All bids made on Yahoo Auctions are final. That means once you bid on an item, you cannot cancel the bid. If you win the listing, then you must pay for the item.
Another thing to check on this page is the seller's rating/feedback.

There is always a risk when you buy from a second-hand seller, so always check feedback before going through with any purchase. We can't stress this enough! Our Customer Service team are happy to help if you have any questions about a seller's feedback.
Under the auction's listing, you can see all of the details under the "Item Information" heading.
You can see how many bids have been placed, the start and end time of the listing, as well as more information about shipping fees and estimated arrival date. The item's original information is also listed in full underneath this section, so we urge you to check this for any information the seller might list about an item's condition. Again, if you have any specific questions about a particular listing then please ask our Customer Service team. Now you're ready to bid on Yahoo! Auctions Japan— happy bidding!