Updated on December 2022 — Enjoy!
What is BAPE?
A Bathing Ape, also known as BAPE, is one of Japan's most iconic and established luxury streetwear brands. BAPE has its beginnings in 1993, where founder Nigo set up his first store in the trendy Ura-Harajuku neighborhood of Shibuya, with fellow Japanese streetwear heavyweight Jun Takahashi of Undercover. Since then, BAPE has been a whirlwind success, boasting many celebrity fans including Pharrell Williams who co-owns Nigo's other fashion line, Billionaire Boys Club.
This popularity has to lead to BAPE opening stores in fashion capitals like London, Los Angeles, and New York City but true Bapeheads know that buying from the official Japanese BAPE online store and stockists means that you have access to a plethora of Japan-exclusives and weekly BAPE drops! However, the official BAPE Japan online store is only available to those with a Japanese address and payment method.
But that's where One Map by FROM JAPAN comes in! Our proxy shopping service is highly trusted and recommended by BAPE fans for helping them cop the latest BAPE releases. Read on to find out how to get access to limited-edition, authentic BAPE using FROM JAPAN!
How to buy official BAPE items from Japan
If you want to purchase all sorts of BAPE items from Japan in one convenient place, then our proxy shopping service is your best bet. We have brand new items sourced directly from the official BAPE store here in Japan, but you also have the option to look through secondhand items for any rare BAPE pieces that have already sold out through their site.
First, we'll teach you the way to get items from the official BAPE Store via our shopping service.
Thanks to our special BAPE page, this step is easy! Simply visit the page, and there, you will see different apparel categories you can browse through, and even categories based on BAPE's signature Camo series, Shark series, or the Camo Shark series. It's never been easier!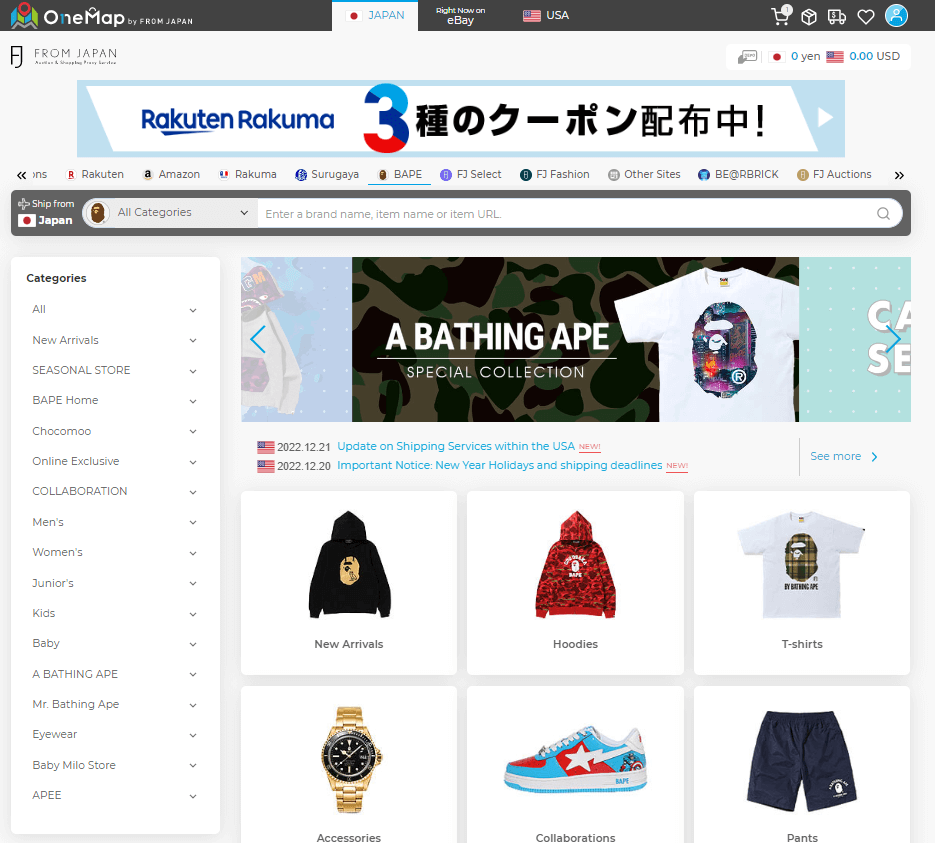 What's the benefit of purchasing BAPE items from us versus going through BAPE's website? For one, the Japanese BAPE website can have some limitations of where they ship to (some items unavailable for international shipping) so if you shop through us, the items go to our Japanese website and we then send out the items to you — with no limits on the country we send it to!
The other benefit is that we have a free 45-day consolidation service, so this is a great option for when you want to buy items from other streetwear brands, or just other items in general. You can order them at your own pace and then choose to have them stored in our warehouse for up to 45 days before they are packed together and delivered all at the same time to you.
How to buy secondhand BAPE items from Japan
If you're in the market for secondhand and possibly rare BAPE items, we also got you covered. You can find dozens of secondhand BAPE items on our site under our Rakuma page (a popular online Japanese flea market) or under our Yahoo! Auctions page (Japan's biggest online auction site).
Clicking on the buttons below will take you to the BAPE search results page for either Rakuma or Yahoo! Auctions. If you're ever overwhelmed by how many search results there are, don't forget that on the lefthand site of the page, you can filter via Categories.
No matter how you bought your BAPE, the next steps are the same. Once you have paid for the cost of the items, we will wait for them to arrive at our distribution center. Once we receive the items, we will wait for your instructions regarding shipment. We can also consolidate several orders free of charge for international shipping. After you've notified us about your shipment instructions, we will send an invoice for international and domestic shipping and the plan fee.
Then all you have to do is just have to wait until the items come to your door! Check out our usage guide for more details about our process and fee structures. If you have any further questions on how to use our service, our Customer Service team will be happy to help.
Unlike other proxy shopping services, FROM JAPAN charges per order, not per item, meaning that you won't have to worry about fees stacking up when you're on your BAPE-shopping spree. We hope you enjoy copping the latest BAPE with One Map by FROM JAPAN!