Few pastimes sharpen the mind like a good puzzle, and few countries craft puzzles like Japan. Over the centuries, Japan has mastered the art of piecing together entertaining puzzles in deceptively simple designs. Whether you desire to hone your problem-solving skills or seek a challenge to test your intelligence, check out our list of 10 Japanese puzzles that will have you scratching your head for hours of frustrating fun!
Japanese Wood Puzzles
Traditional Yosegi Puzzle Box

For over a century and a half, traditional Yosegi Puzzle Boxes have riddled the minds and captured the hearts of their perplexed owners. Yet today, only a small number of third-generation Japanese craftsmen are still proficient in mastering the kaleidoscopic marquetry and complex hidden joinery these mysterious novelty boxes are famous for. How do you solve this deceivingly simple puzzle and reveal whatever treasure may lie hidden within? By sliding and shifting each side's seamless panels in a precise series of up to 125 sequential steps.
Search for Traditional Yosegi Puzzle Box
Ki-Gu-Mi Wooden Puzzle Art
Available in more models than you can shake a stick at, Ki-Gu-Mi's series of Wooden Puzzle Art is not only beautiful to display, but quite often functional as well. Each kid-friendly puzzle comes flat-packed in plywood sheets for easy shipping; simply punch out the pre-cut pieces and connect them together—no glue required. From a violin that doubles as a stand for smartphones to Ferris wheel and merry-go-round music boxes, there's a world of wooden wonder just waiting to be brought to life, piece by piece.
Search for Ki-Gu-Mi Wooden Puzzle Art
Japanese Metal Puzzles
Hanayama Huzzle Metal Puzzles
These palm-size Hanayama Huzzle Metal Puzzles feature over 70 interlocking designs that look all too easy at first glance. As beautifully crafted as they are cognitively complex, each brain-bender is ranked according to one of six difficulty levels that may stump even the most seasoned puzzle solver.
Search for Hanayama Huzzle Metal Puzzles
Tenyo Metallic 3-D Puzzles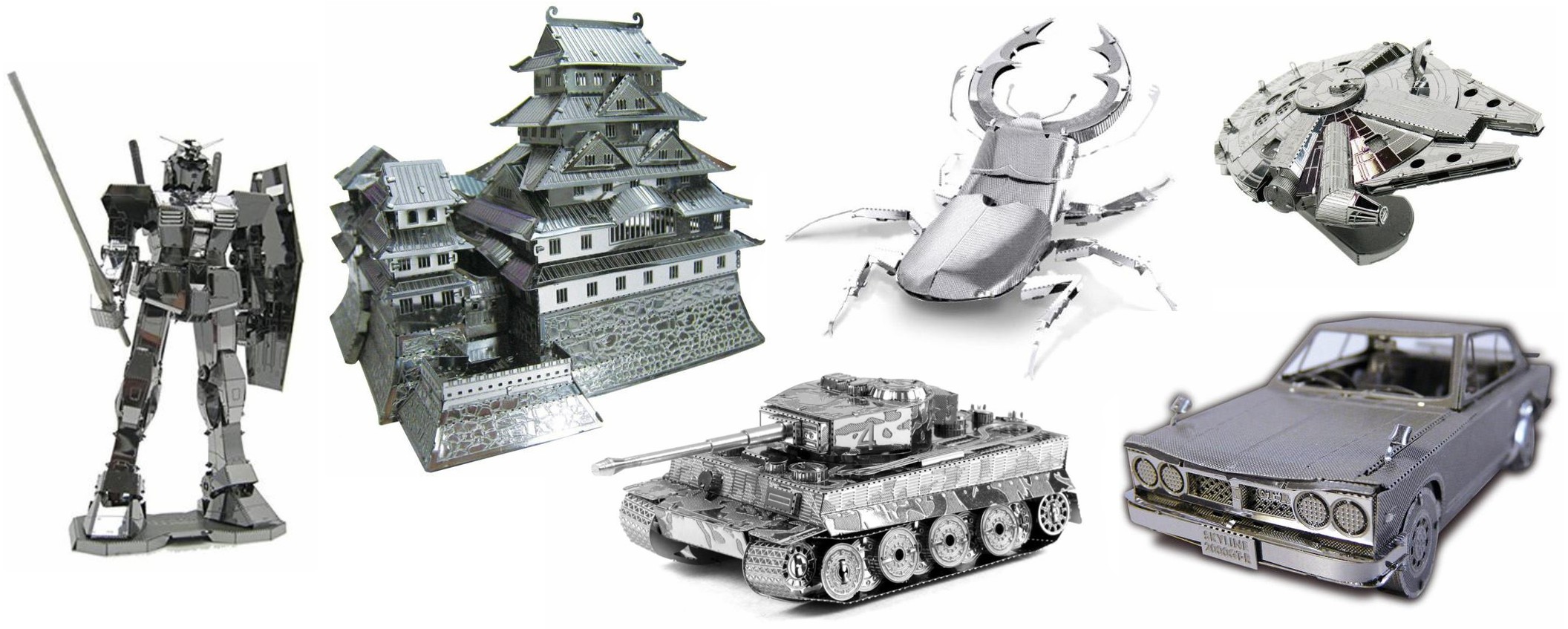 With dozens of detailed sculptures and character collaborations to choose from—including traditional Japanese landmarks, vehicles, animals, and famous fandom icons—Tenyo's Metallic 3-D Models are a steal for teens and adults with a penchant for puzzles. Each miniature comes packaged with laser-cut parts that can easily be punched out from metal sheets and folded together with your fingers or a pair of tweezers.
Search for Tenyo Metallic 3-D Puzzles
Japanese Combination Puzzles
Meiji Chocolate Puzzles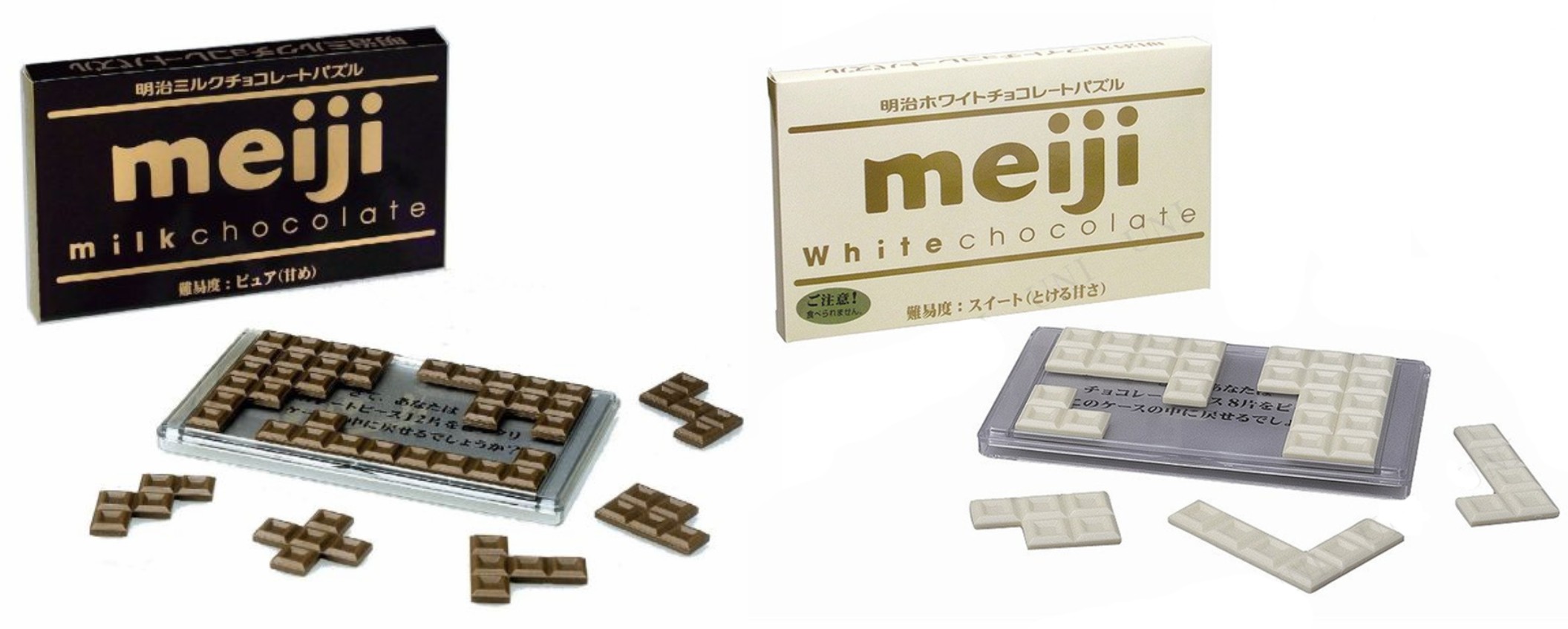 Problem-solvers with a sweet tooth will want to sink their teeth into these Meiji Chocolate Puzzles (not made with actual chocolate, of course). Broken into Tetris-like shapes that can be reassembled in many unique ways (easy white chocolate with 7,764 solutions; intermediate black chocolate with one not-so-easy solution; difficult milk chocolate with 2,339 solutions), these chocolate bar puzzles let you chew over the easiest way to get every piece back into the rectangular frame. And if your mouth is left watering for more, give the bonus challenges displayed on the back of the box a taste test!
Search for Meiji Chocolate Puzzles
Neko Nabe Cat Puzzle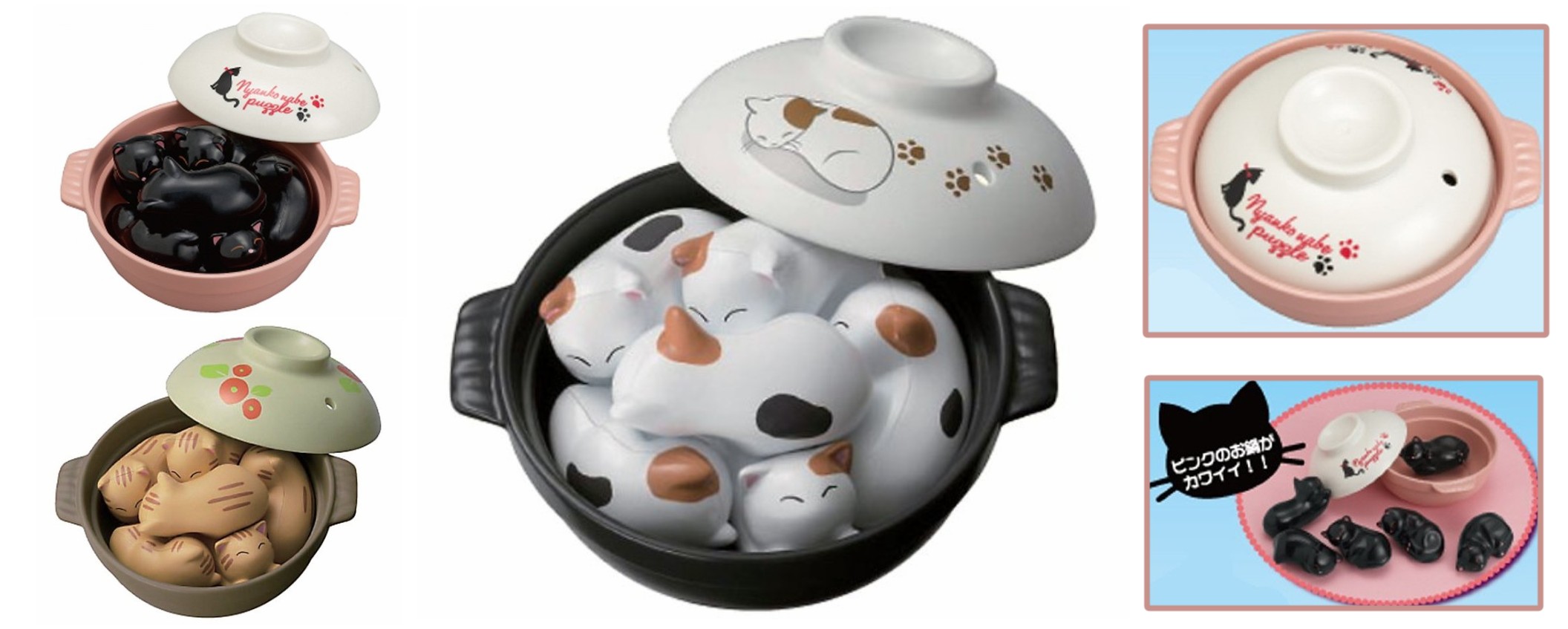 In 2014, the "neko nabe" (or "napping cat in a pot") craze went viral on Japanese social media. Many feline-flavored memes have since taken its place, but the release of the Neko Nabe Cat Puzzle makes certain this one internet trend will always be cooked to purr-fection. Available in tabby, black, and calico kitties, this game challenges players to fit the entire litter into the pot for a kawaii catnap while still being able to close the lid.
Search for Neko Nabe Cat Puzzle
MegaHouse Star Wars 3-D Rubik's Cube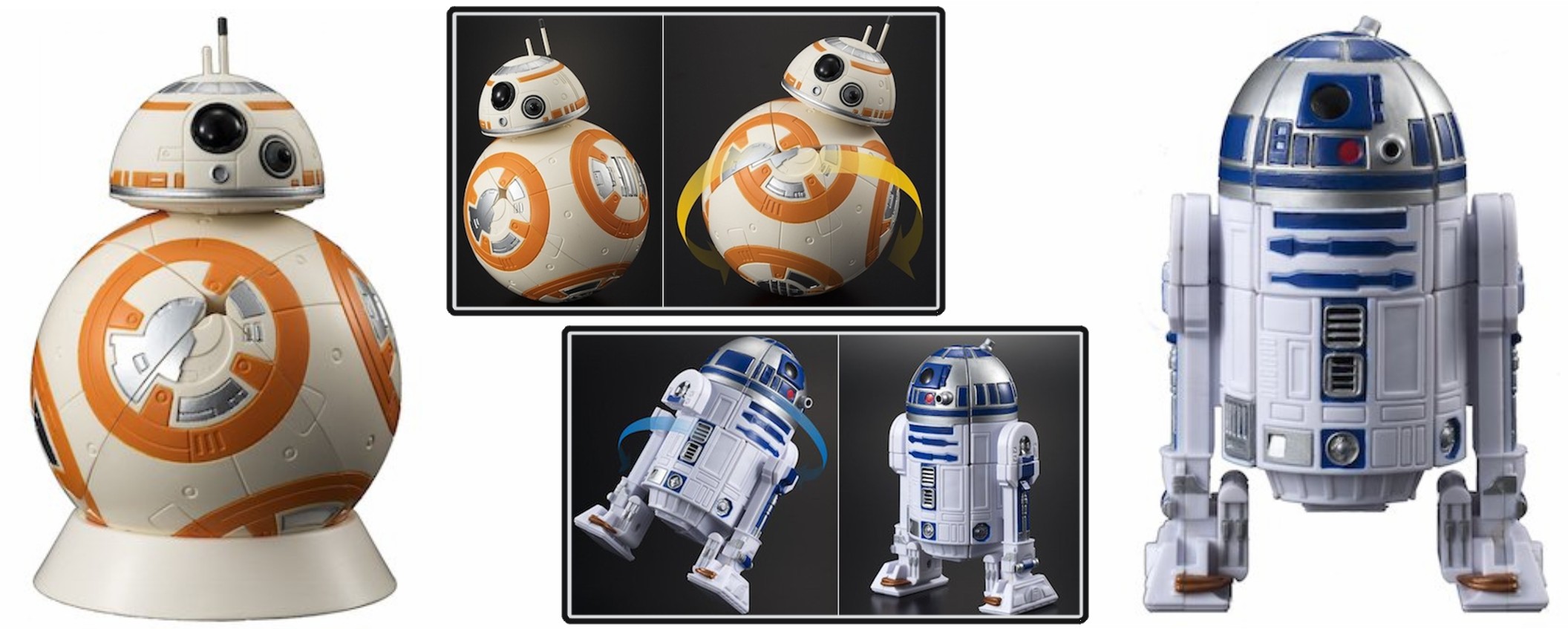 These Japan-exclusive Star Wars 3-D Rubik's Cubes are the droids you're looking for! Manufactured by Megahouse under the Rubik's Cube family of combination puzzles, BB-8 and R2-D2 are the perfect pastime for Jedi of all ranks. Swivel, twist, and line up the movable parts of your favorite astromechs for hours of intense mind-training exercise. Then, display these Lucasfilm-licensed creations on your desk or shelf as proof that you've mastered the ways of the Force.
Search for MegaHouse Star Wars 3-D Rubik's Cube
More Japanese 3-D Model Puzzles
Beverly Crystal Puzzles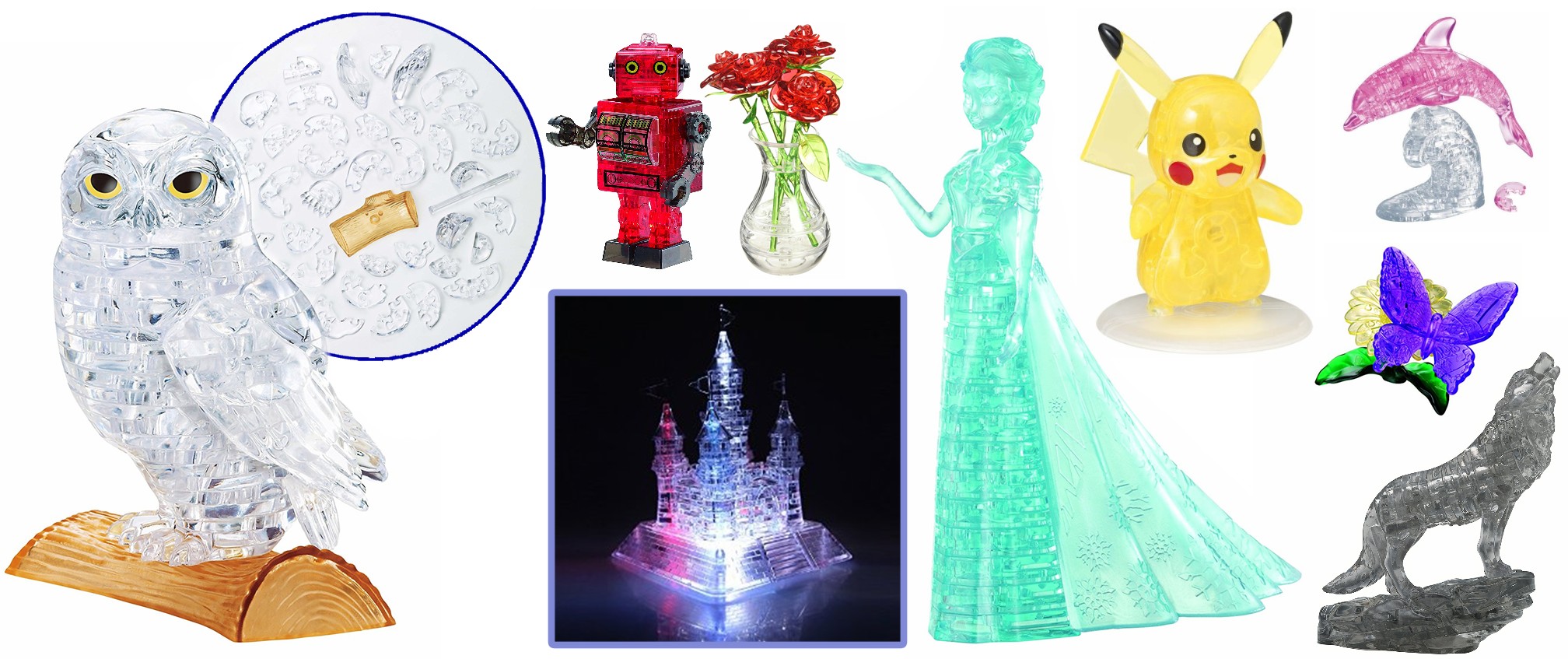 If you're a puzzle master ready to take your skills to the next dimension, Beverly's Crystal Puzzles will not only give your brain a workout with over 60 designs, but also will reward you with a transparent 3-D figurine for all your hard-earned effort. Interlock all of the dazzling PVC pieces to crystallize Pikachu, Disney princesses, wild animals, floral arrangements, majestic castles, and more, and make your magnum opus shimmer and shine with a Beverly gradient-colored LED base.
Search for Beverly Crystal Puzzles
Aoshima 4-D Vision Puzzle Series

Whether you have an affinity for anatomy or a desire to dissect, Aoshima's 4-D Vision Puzzle Series provides a hands-on hobby for studying animals, body systems, and even extinct dinosaurs. Make no bones about it—these biological puzzles are as informative as they are fun to build.
Search for Aoshima 4-D Vision Puzzle Series
Yakiniku Puzzle

The next time you're craving Japanese barbecue, break out this Yakiniku Puzzle to appreciate the biology behind all those juicy cuts of meat. Not only are there 37 pieces to put together, but most are temperature sensitive, letting you "cook" your steak to a savory brown color with the touch of a finger. This cute rubber cow—complete with an adorable gyutan tongue—is the perfect gift for epicurean enthusiasts, and an ideal time sink for long restaurant waits.
The Best Place to Find Japanese Brain Puzzles
You don't have to rack your brain to get your hands on these mind-bendingly fun Japanese puzzles. With FROM JAPAN, you can easily browse listings from the country's biggest online shops and auction sites and have hard-to-find Japanese products shipped right to your door!
And if you're looking for more toys and puzzles that are fun for all ages, be sure to branch out with our list of wooden toys that can help your child's imagination take root.