Packing a lunch every morning—whether it's for your beloved spouse, children, or yourself—can be a total drag. Heck, even with all the time in the world, you think packing lunches is still a pain. Well, you're not alone. Lucky for you, we've compiled a list of handy bento gizmos and gadgets to make your mornings easier—oh, and also, you'll be able to make insanely cool-looking bento lunches with half the usual effort. Sounds great, right?
What is a Bento Box?
A bento box is a box-shaped container specifically made to hold takeout meals, such as onigiris. There are various types of bento boxes ranging from daily-use plastic containers to beautifully handcrafted and lacquered wooden bento boxes. Get a sturdy (aka microwave- and dishwasher-safe) plastic bento box for your everyday bento lunch.
Handy Bento Tools
What should I pack for lunch today…? Stop wasting your time thinking about what to pack, and just let these bento tools do all the work. Even if you're not much of a cook, these gadgets will make you look like a master chef.
Shokupanda Sandwich Mold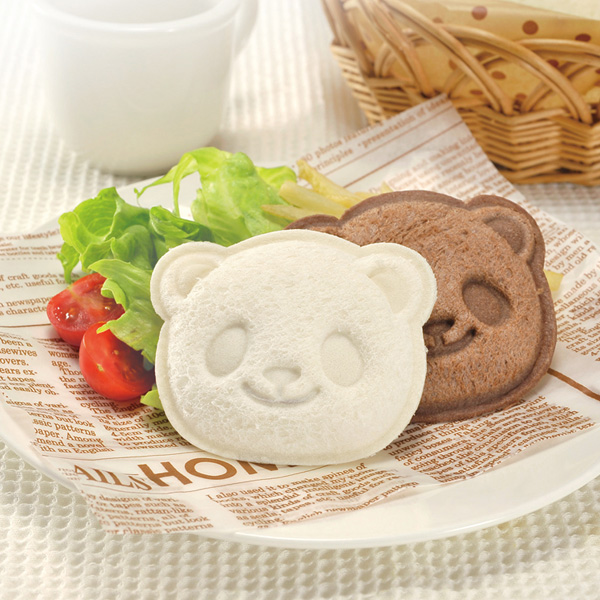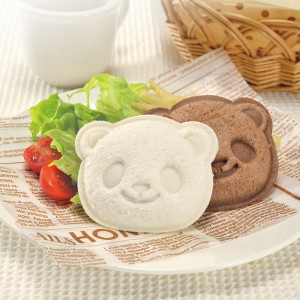 A play on word of 'shokupan' (sliced bread) and 'panda', the Shokupanda will change your sandwich game, once and for all. All you have to do is press down the panda face stamp onto the top slice of bread to make an imprint, then slather on jam (or whatever your choice of topping) onto the bottom slice. Stack up the slices and cut out the panda face using the cutter, and now you have bites of cuteness ready to be packed.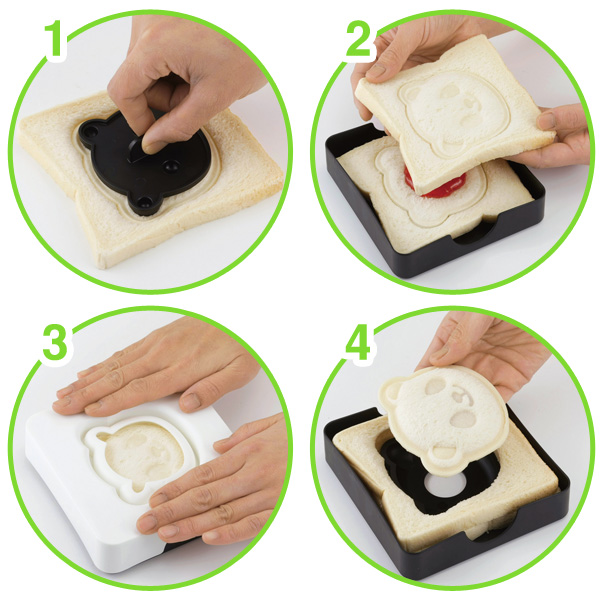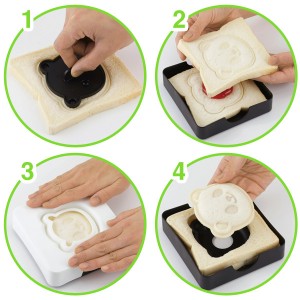 Food Cutters for your Bento
Is your bento looking a little monotone and dull? Let these shape cutters help you transform your boring bento into a work of art. Just press one of the food cutters down onto a slice of your food of choice (e.g. carrots, cheeses, and etc.) to cut out little hearts and flowers. It's a great tool to own if you're in need of some final details.
Edible Bento Dividers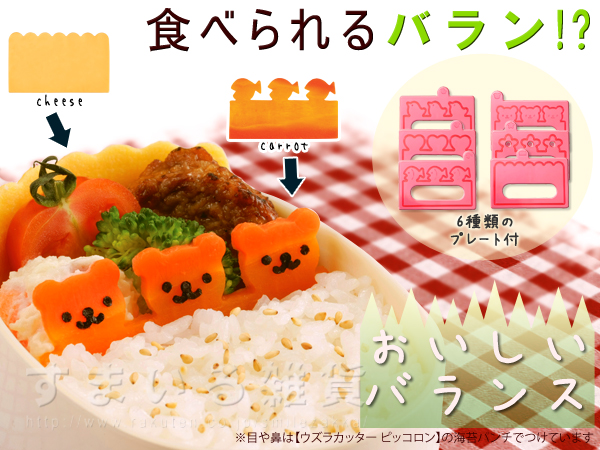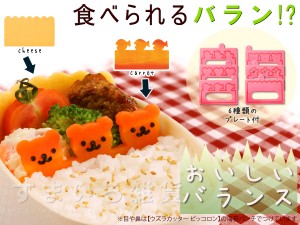 Have you ever opened your bento box after carrying it in your bag, only to find your packed items all mixed up on one side of the tupperware? Well, now you can keep all your items separated with these edible food-partition cutters. Use your favorite ham, cheese or vegetable to cut out bear-, fish-, bird-shaped dividers. Just slide them between your rice and side dishes to keep items in their designated places.
Make everything super KAWAII with Seaweed Cutters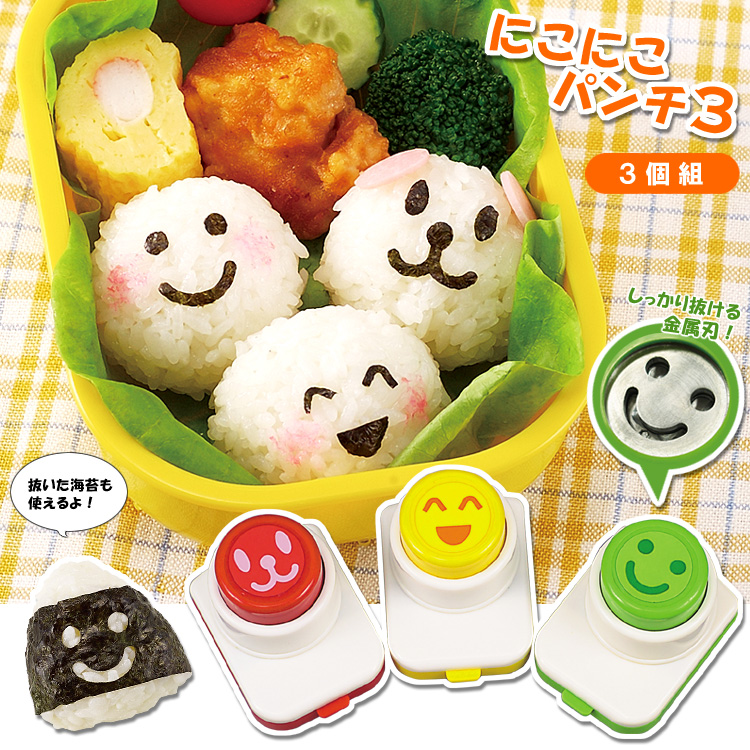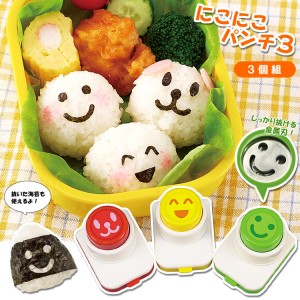 Make your rice balls less, er, plain … by adding faces to them! Why? Because you can. The Seaweed Puncher will allow you to cut faces out of sheets of nori. All you have to do is punch a few smiley faces out and place them on your delicious onigiri. The happy-face onigiris are guaranteed to make you smile.
Nigitte Mite Mite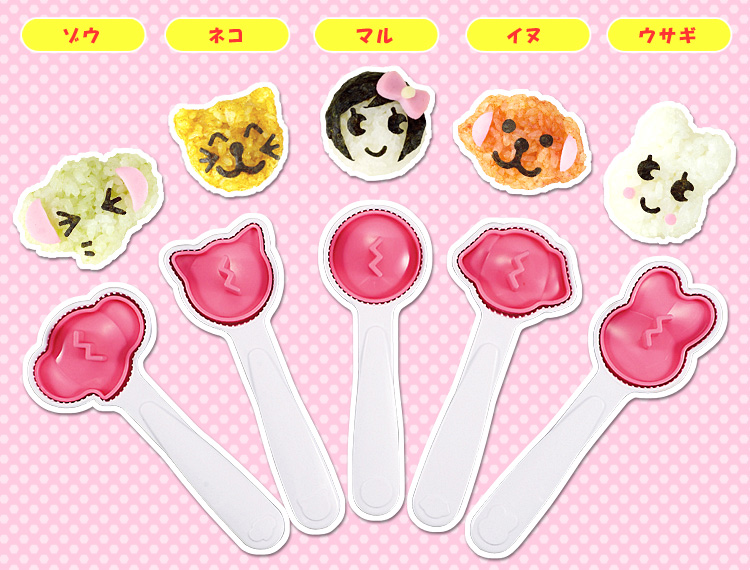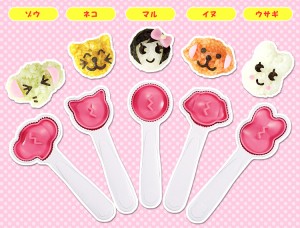 Circular, triangular, elliptical … well, that's about it for onigiri shapes—if you don't own the Nigitte Mite Mite molds. This tool will mold your onigiri into cars, buses, airplanes, hearts and more in just a few simple steps: 1) put some cooked rice into the compartment, 2) press down with the lid to shape your rice balls, and 3) gently push out the molded rice balls. If your child is going through a fussy-eater phase, this element of surprise might get him/her to eat.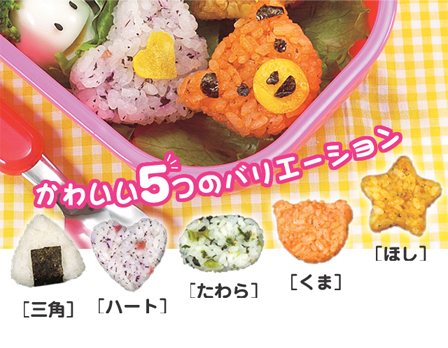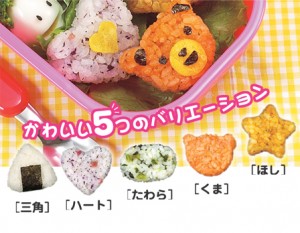 Sausage Cutter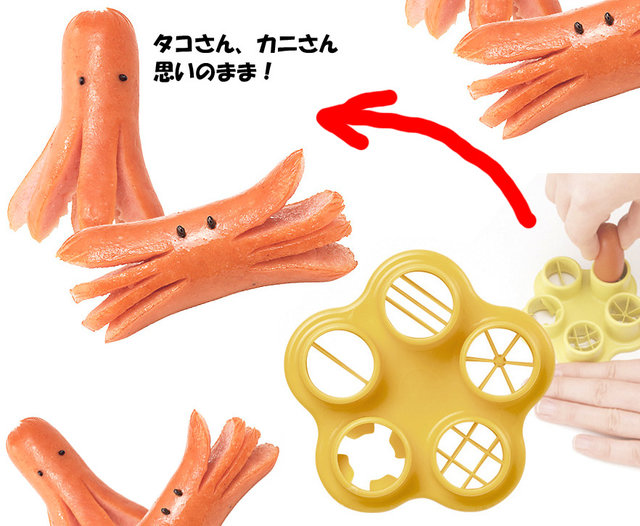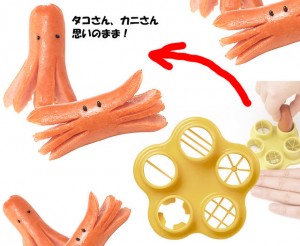 With this apparatus, even sausages can make your bento more appealing. Just take a skinless or thin-skinned sausage and press it onto this sausage cutting tool, before tossing it onto the frying pan. You'll have sausages shaped like an octopus, a crab, and a sunflower in seconds.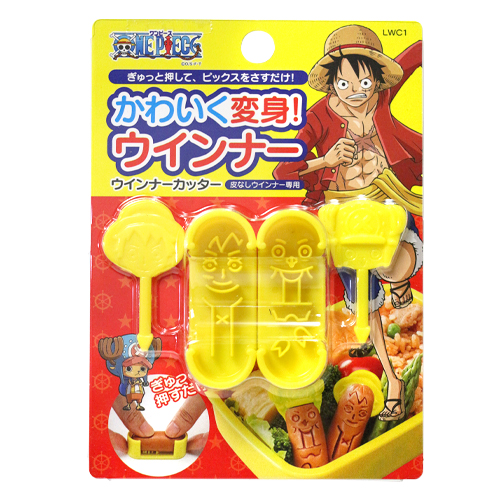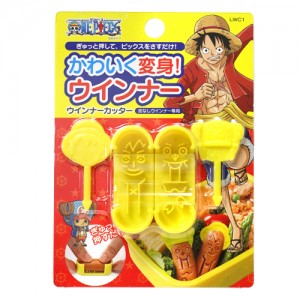 For Anime lovers, you can also find sausage cutters from your favorite series. Check out the One Piece sausage cutter above!
Hard Boiled Egg Shaper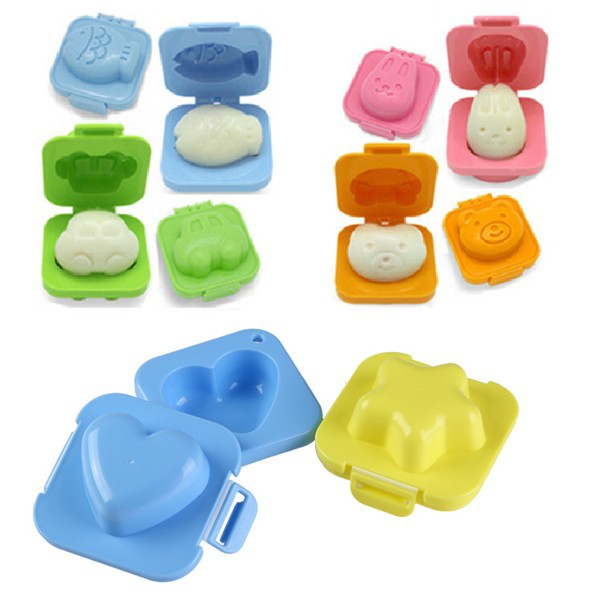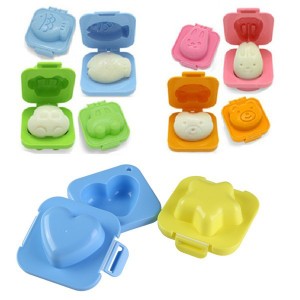 If you don't even have a few seconds to spare in the mornings, this is your tool. Just let some hard boiled eggs cook on the stove while you get ready for work. Once the eggs are firm, just peel and plop them into these cute animal molds. You'll have cutesy rabbit- or bear-shaped eggs in no time.
Must-Have Bento Accessories
If you've used a few of the tools to make your bento funky, but feel like something's missing, maybe consider using these fun accessories.
Character Fork Picks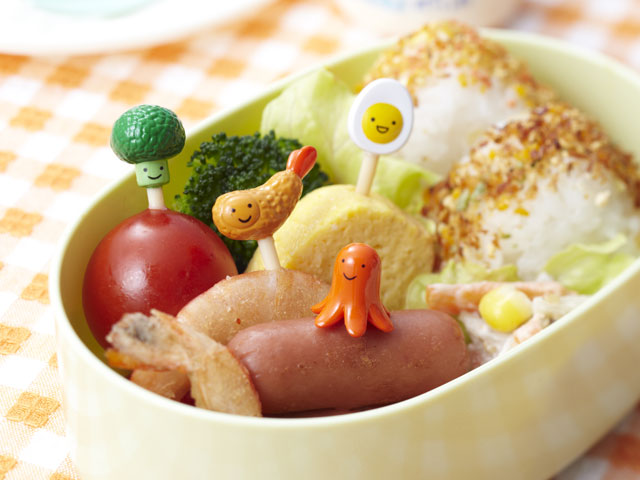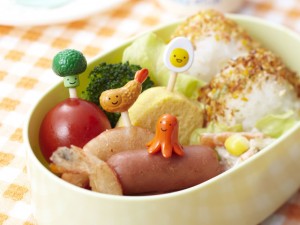 Ditch the wooden toothpicks for these reusable plastic picks. Perfect for picking up sausages, vegetables and whatever else a toothpick can pick up, these picks are eco-friendly and adorable. Available in various shapes, sizes and colors, these picks will instantaneously add character and color to your bento. Look at how cute these Rilakkuma food picks are below!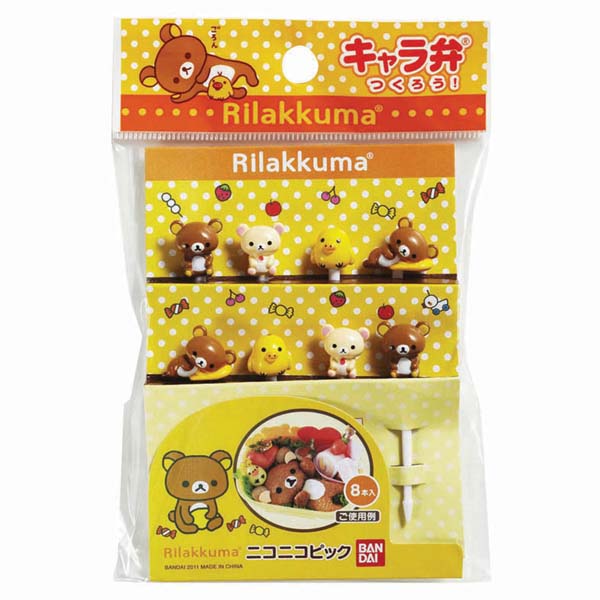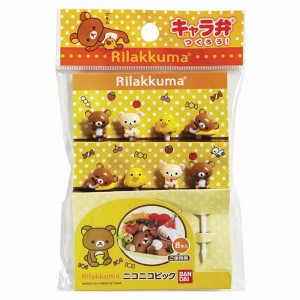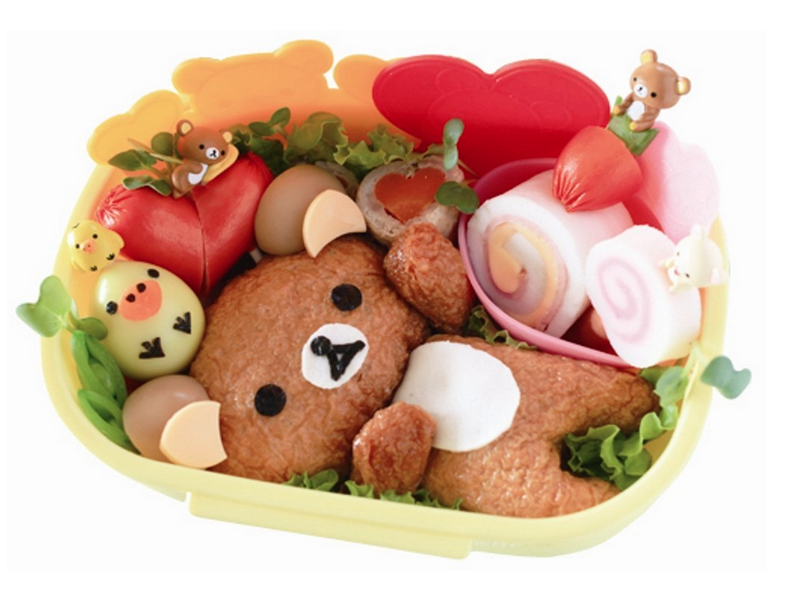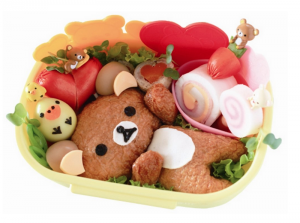 Silicon Cups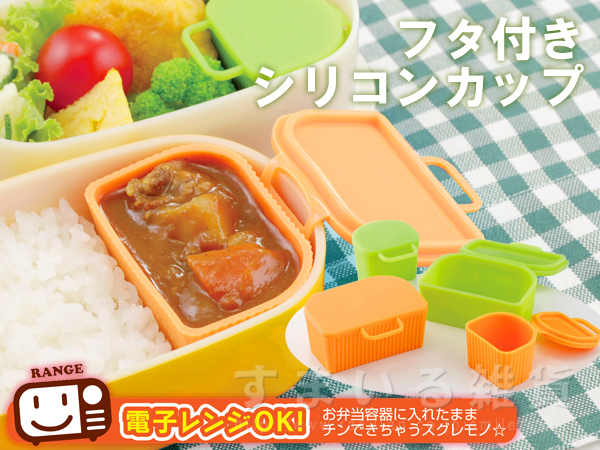 These reusable and environmentally friendly silicone cups are perfect for bento items that may contain sauce or juice, like pieces of fruit. These colorful cups will keep your bento looking organized while preventing rice or sandwiches from getting soggy.
Mini Sauce Bottles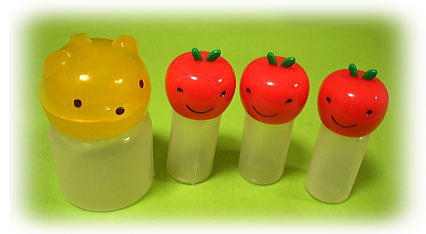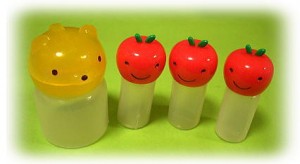 If you're bringing a salad but don't want your lettuce to get wilted and soggy from the dressing, just bring the dressing with you separately. These reusable, leak-proof plastic bottles are perfect for holding single portions of salad dressing and soy sauce. Hello, crispy lettuce!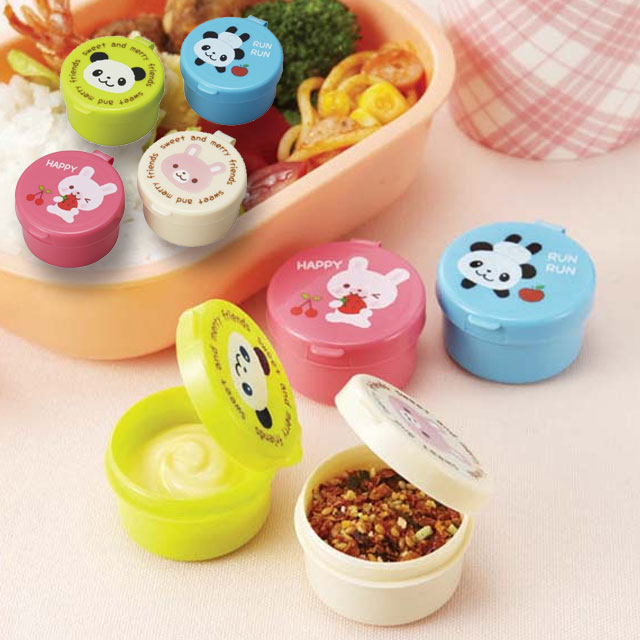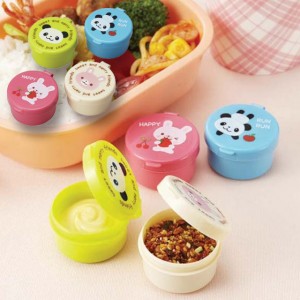 Bento Kits
If all of this information is overwhelming and you don't know where to start, or if you're a bento-making novice, consider purchasing one of the bento kits. Containing onigiri molds, shape cutters, cute character picks, and nori punches, you'll have all the tools you need to create your very own Hello Kitty or Pokemon bento. Each kit comes with recipe cards and a user's manual with pictures, so all you have to do is follow the simple steps. Once you get the hang of using the tools in the kit, you can expand your repertoire by purchasing some new bento tools.
No more Excuses!
Now that we've introduced all these new tools, you have no reason to pack boring lunches. Enjoy making lunch with Japanese bento box accessories and tools!