Have you ever wondered what's in Japan's water to make sushi rice look mouth-watering good? That same water can also clean an amazingly dirty gyūdon bowl; but the true secret ingredient to either of these is not the water, it's the Japanese appliances. People from nearby Asian countries fly to Japan just to get their hands on the country's rice cookers and compact dishwashers and if they can't take it with them by plane, they're sure to use a buying service like FROM JAPAN to get them.
The Low-Down on Japanese Rice Cookers
These popular souvenirs bring the art of cooking rice to a level rarely tasted by foreigners. The hottest selling rice cookers come from the trusted, well-known brand Zojirushi, which each year dominates the top three models of all rice cookers available in Japan. Panasonic and Tiger brand machines are also quite popular and provide steady competition to Zojirushi.
When it comes to cooking elements in rice cookers the three heavy hitters are:
Micro-Computer
Induction Heating (IH)
Natural gas
Of the three, the micro-computer type is almost always the most affordable, while IH comes in at a higher, but moderate price range. Gas cookers, the least popular for home use due to limited functions and a high price tag, almost always receive an excellent customer satisfaction rating. As a whole, rice cookers typically run between $50–1500 USD (though some can be found priced much higher); and because the number of capabilities Japanese rice cookers offer these days continues to grow—making pizza, bread, hamburgers, and even alcohol—means that customers are always looking to buy the next great cooker.
An important factor to consider when buying a cooker is whether or not it includes advanced features. Microchip technology found inside rice cookers now can control the cooking environment within to obtain cooking perfection by changing the length of time the grains cook as well as the temperature inside the cooking bowl. The machine automatically knows when to switch from cooking to warming, which means no longer worrying about uncooked or burnt rice.
FROMJAPAN'S Top Picks for Best Japanese Rice Cookers
Zojirushi Rice Cooker NP-NI10 IH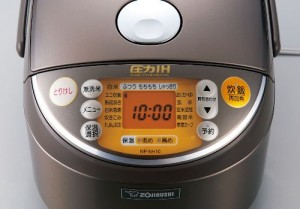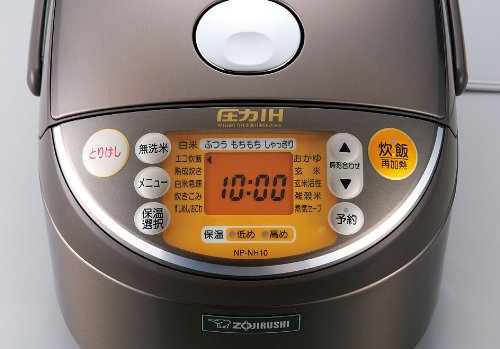 For quality, customer satisfaction, and price, our number one pick is the Zojirushi NP-NI10 IH Pressure Rice Cooker Warmer with a 1-liter capacity. This machine uses top of the line IH pressure cooking and what is called AI (Artificial Intelligence) logic technology for cooking ideal rice. This ensures the grain has the same consistency in summer or winter as humidity and room temperatures dramatically change.

Panasonic Rice Cooker SR-SPX104 IH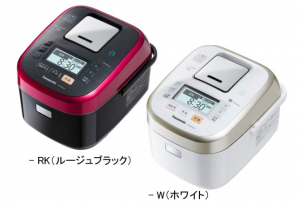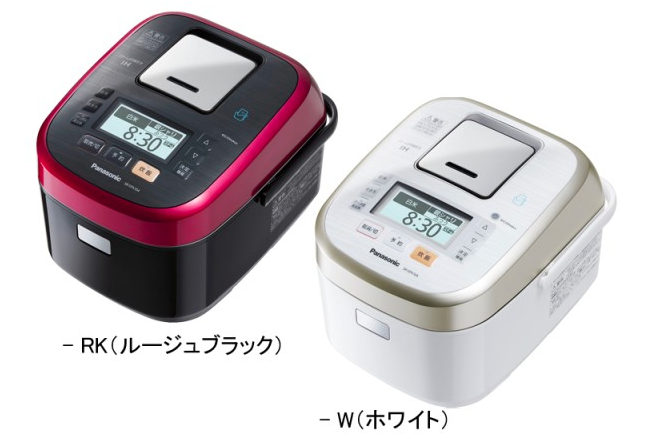 Up second is the Panasonic SR-SPX104 IH Steam Pressure IH with a 1-liter capacity and a multitude of eco-cooking course modes. Eco-cooking courses conveniently prepare rice for curry, sticky sushi rice, porridge and gruel. It also has a user-friendly, easy-to-read LCD display and a lid-to-bottom IH cooking process invented by Panasonic. The new models come in Rouge-Black and White.
Tiger Rice Cooker JBU-A55-W


Finally coming in third is the Tiger JBU-A550-W Micom (micro-computer) Cooker Warmer with a 3-cup capacity. This machine is just right for a bachelor or couple living together. It is equipped with a mini tray and recipe book which details how to cook rice side dishes. Small portions of chicken and vegetables will fit in the mini tray allowing simultaneous cooking. This small rice cooker also has other functions for making stew, soup and cake.
Why Consider a Japanese Dishwasher?
At one time it was common in Japan to wash dishes right away by hand, but these days, younger generations are gravitating toward dishwashers instead of washing the "old fashioned" way. And like most Japanese technology, once the country gets on board the industry booms with top-of-the-line models that can compete with the best from any country.
FROMJAPAN'S Top Picks for the Best Japanese Dishwashers
Panasonic Dishwasher NP-45MD6S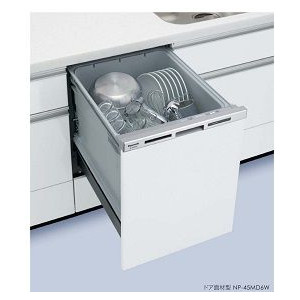 The best-selling dishwashers on the market are from Panasonic and the number one brand is the NP-45MD6S built-in washer with a retail price of around $1,300 USD. It has a deep file cabinet-style design with four color options to choose from to help you color coordinate with your home decor. It is approximately a six-person capacity machine and its deep design accommodates long items, too. Similar to Panasonic's rice cookers, the company's dishwashers are loaded with efficient patented technology. The ECONAVI clever dirt sensor detects the number of loaded dishes as well as the level of dirtiness to adjust the amount of water and electricity necessary, saving precious time and money.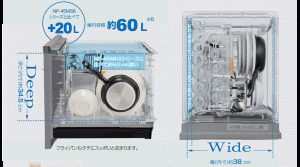 Another feature called Planet Arm consists of three nozzles, one arm moving slowly with high pressure water, able to reach tall beer glasses. The remaining two arms contain fast moving nozzles and are placed in the center of the washer. These high-density, powerful, combination nozzles can wash different types and shapes of dishes extremely well, removing tough, caked-on grease and sanitizing dishes by killing bacteria.
Rinnai Dishwasher RKWR-F402C-SV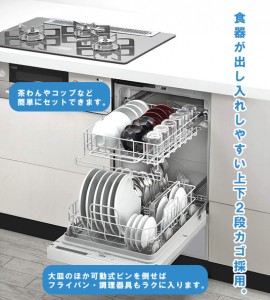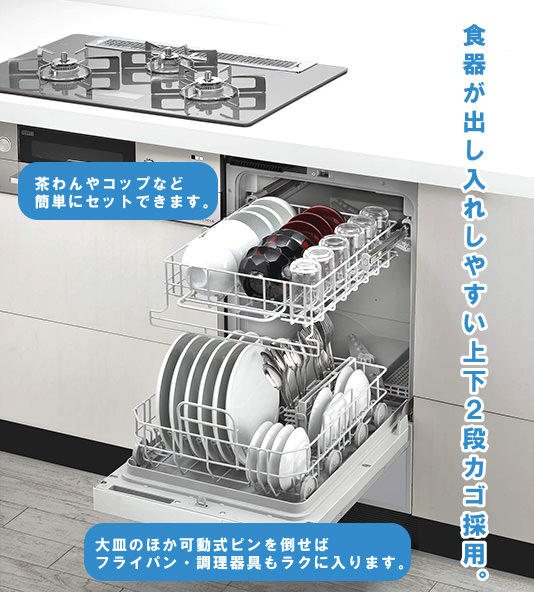 Number two on our list is the Rinnai RKWR-F402C-SV built-in dishwasher which sells for around $1500 USD. Rinnai dishwashers are the first in the world to operate using only baking soda, which creates an all-natural alternative to common detergent soaps. This one also has self-bacteria removal and deodorization functions. High temperature steam cleans small particles, strong stains, and dirt, while killing bacteria. Its nozzle system called a tower washer contains regular spinning parts on the bottom and two layers of nozzles on the top. Heavy-duty stains and grime can easily be wiped out with this machine.
Panasonic Dishwasher NP-TME2-W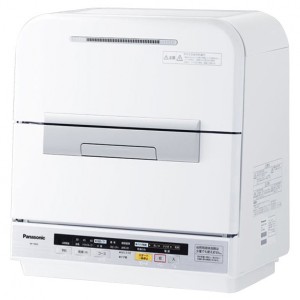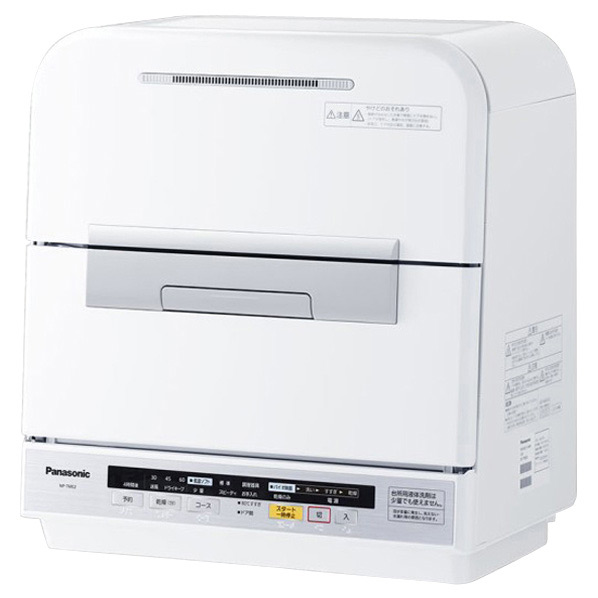 Third, is the Panasonic NP-TME2-W countertop dishwasher, which is more affordably priced by Japanese standards at $550 USD. Front-open types have Bio Power technology and low temperature settings which do not cause heating problems when washing plastic dishes. You can also put bowls and dishes into this washer with ease. According to some customer reviews, newer versions are slightly narrower inside and harder to place dishes into, thus we recommend the model listed here, which can still be purchased online. Those who have a small-sized kitchen will likely prefer a countertop dishwasher like this one, which takes less space and is more affordable than the costlier built-in type.
While Japan is somewhat new to the dishwasher market, name brands like Panasonic have positioned themselves as leaders in appliance technology. When it comes time to buy a dishwasher, consider the affordable option of shipping one from Japan!