There is a world of Japanese paper craft ready to be discovered! From DIY miniatures, to mechanical toys and shadowboxes, these models require only patience and a handful of inexpensive crafting tools. Best of all, there are so many unique kits to choose from that there's something ideal for every paper craft enthusiast. Narrowing down which kit to begin with might be tricky, so here's a list of 10 popular Japanese paper craft series to help get you started.
Popular Character Paper Craft Kits from Japan
Studio Ghibli Paper Craft Kits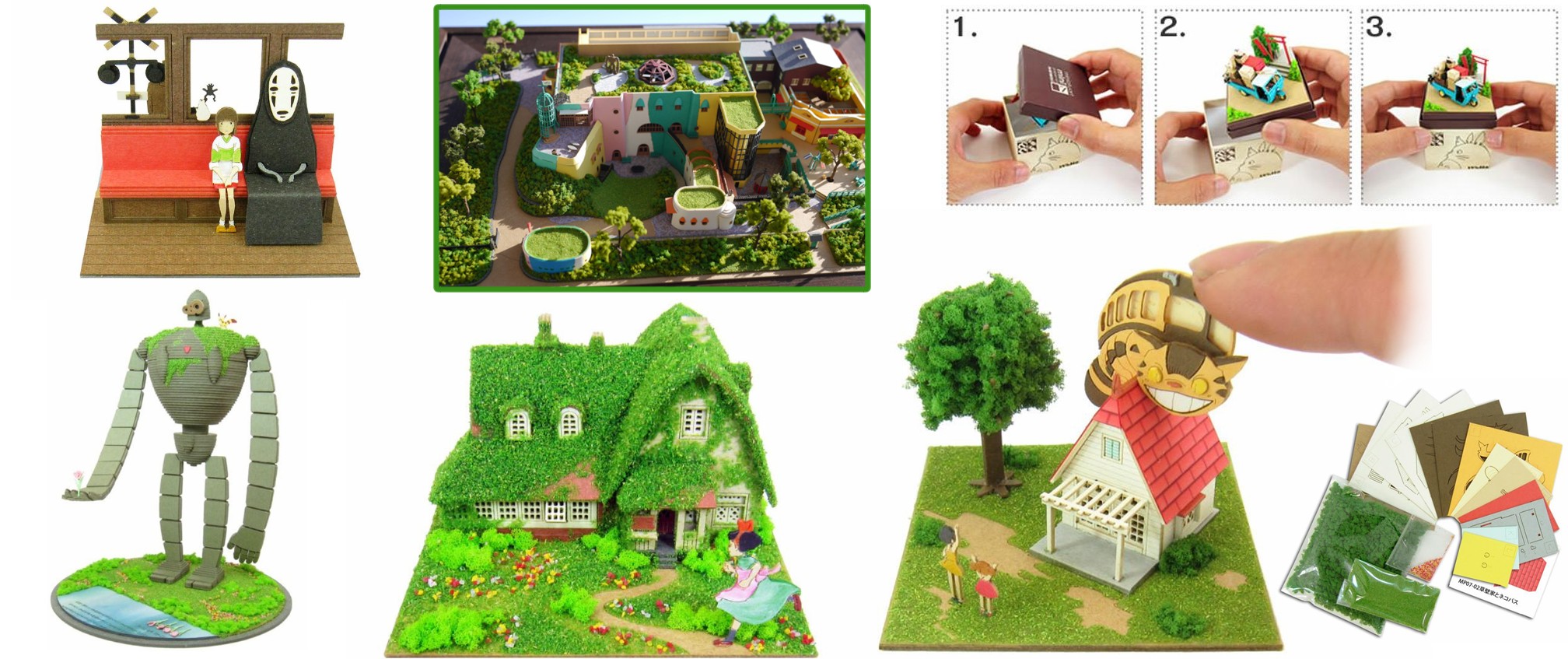 Hold the award-winning artistry of Studio Ghibli in the palm of your hand with Sankei Miniatuart's Studio Ghibli Paper Craft Series. Ideal for anime fans ages 12 and up, each laser-cut kit uses simple glue-together assembly to recreate your favorite animated scenes. From a 1/150th-scale model of Kiki's idyllic cottage to a hard-to-find replica of the Ghibli Museum in Mitaka, Tokyo, there are over 50 charming kits packed with diminutive details. Each diorama is sold in a cubic box that doubles as a display stand once completed. (You can check out more amazing Studio Ghibli collectibles here!)
Ensky Paper Theater DIY Paper Craft Kits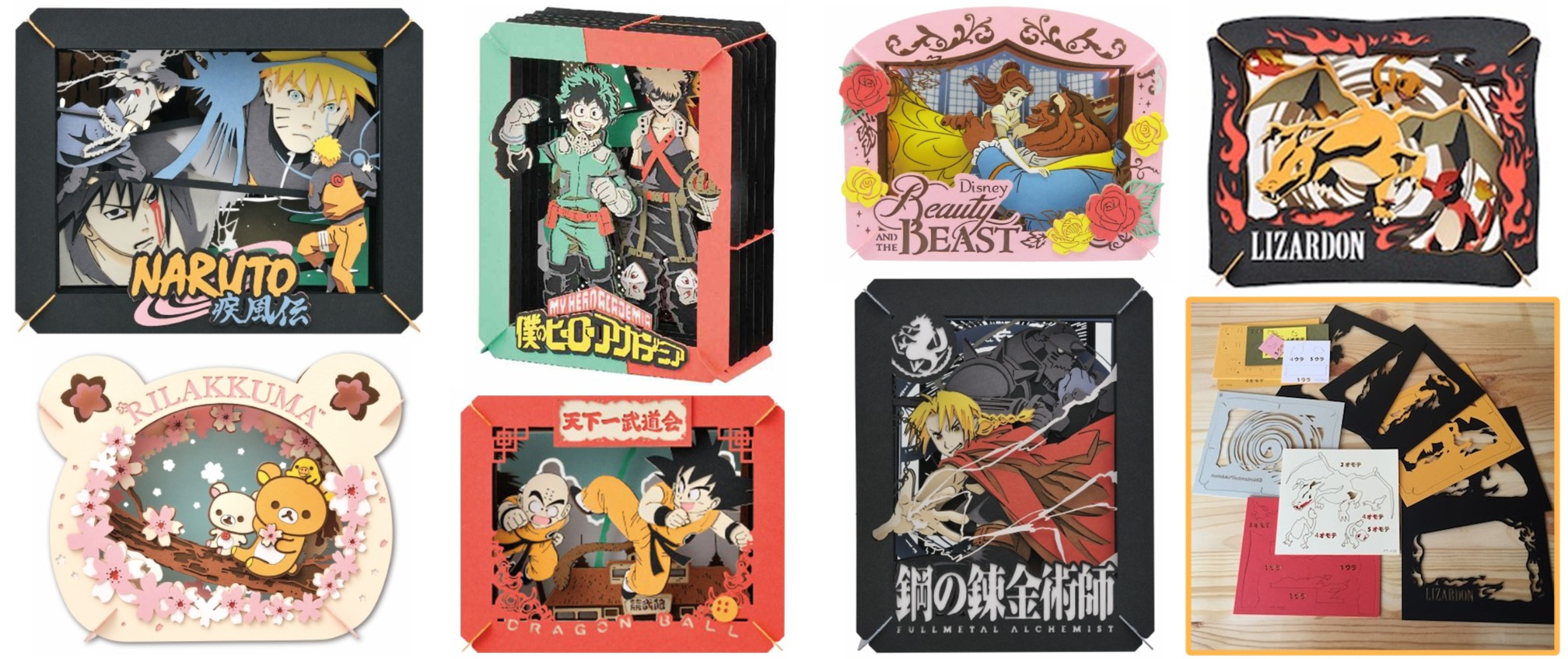 Ensky Paper Theater DIY Paper Craft Kits offer a portal-like view of iconic scenes and characters from anime, Disney, Star Wars, Sanrio, and more. Each dramatic diorama contains six layers of 3D depth that pulls the viewer's eye into the action. Puzzle aficionados and fandom collectors alike will appreciate the intricate cut-and-glue assembly, resulting in a 100mm (4in) display piece you can set on your shelf or desk for passersby to geek out about.
Piperoid Character Paper Craft Kits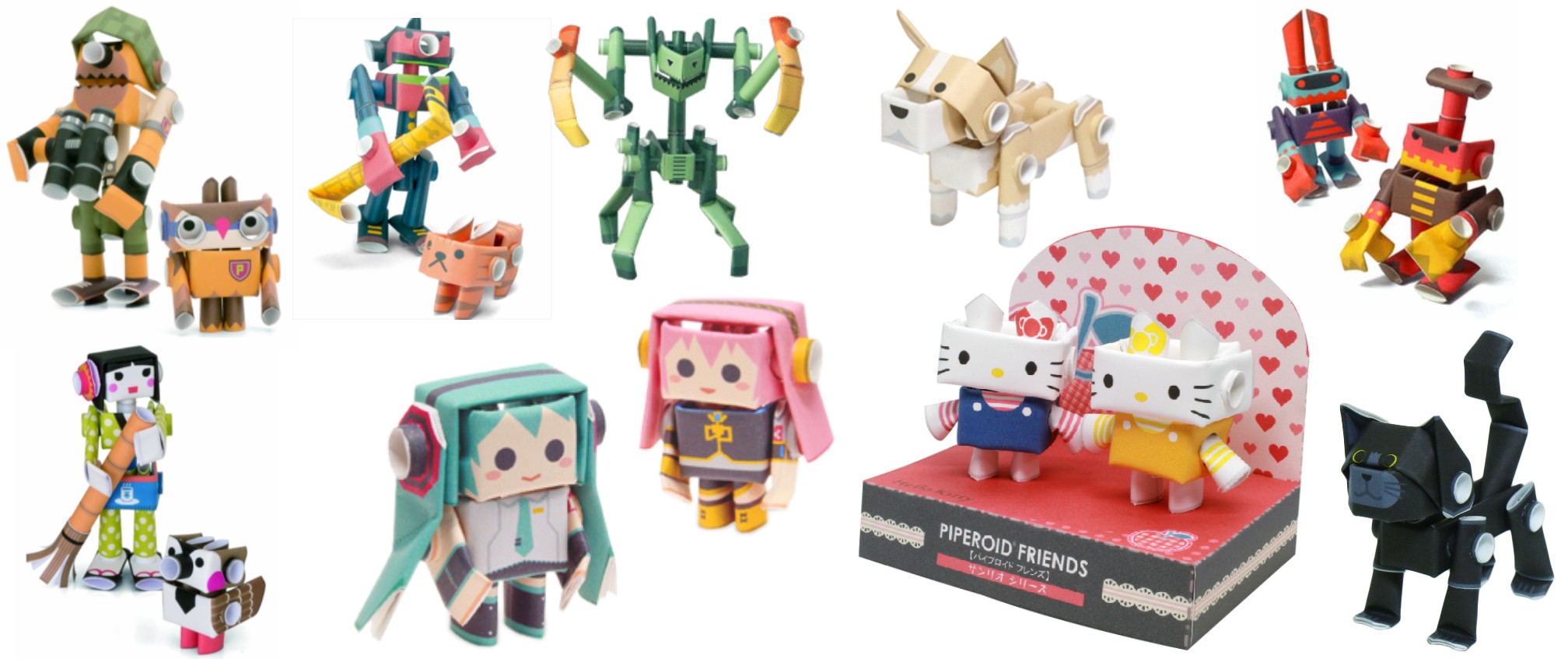 Winner of two coveted Good Design Awards, Piperoid Character Paper Craft Kits nurture lifelong creativity. Each polygonal partner pack comes deconstructed as a collection of paper "pipes." With a few cuts and creases, recognizable pop culture pairs, palm-sized pooches, and quirky original Piperoid characters will appear before your peepers. More than just pop art projects, many of the characters get their vibrant colors from kimono dye, mixing a bit of traditional Japanese culture into each articulated collectible.
Paper Craft Scenes, Architecture & Vehicles
Terada Mokei Architectural Model Accessories Series
Create abstract modern art with Terada Mokei's Architectural Model Accessories Series, which transforms 1/100th-scale silhouettes into minimalist moments from fairy tales, history, sports, holidays, and everyday life. Educational, cerebral, and (most importantly) recreational, this series features simple models with foldable poses for a versatile, scene-setting experience. Most kits are available in black, white, and color variants and feature animals and people microscopic enough to fit comfortably on a small coin.
Sankei 1/150th-Scale Nostalgic Georama Series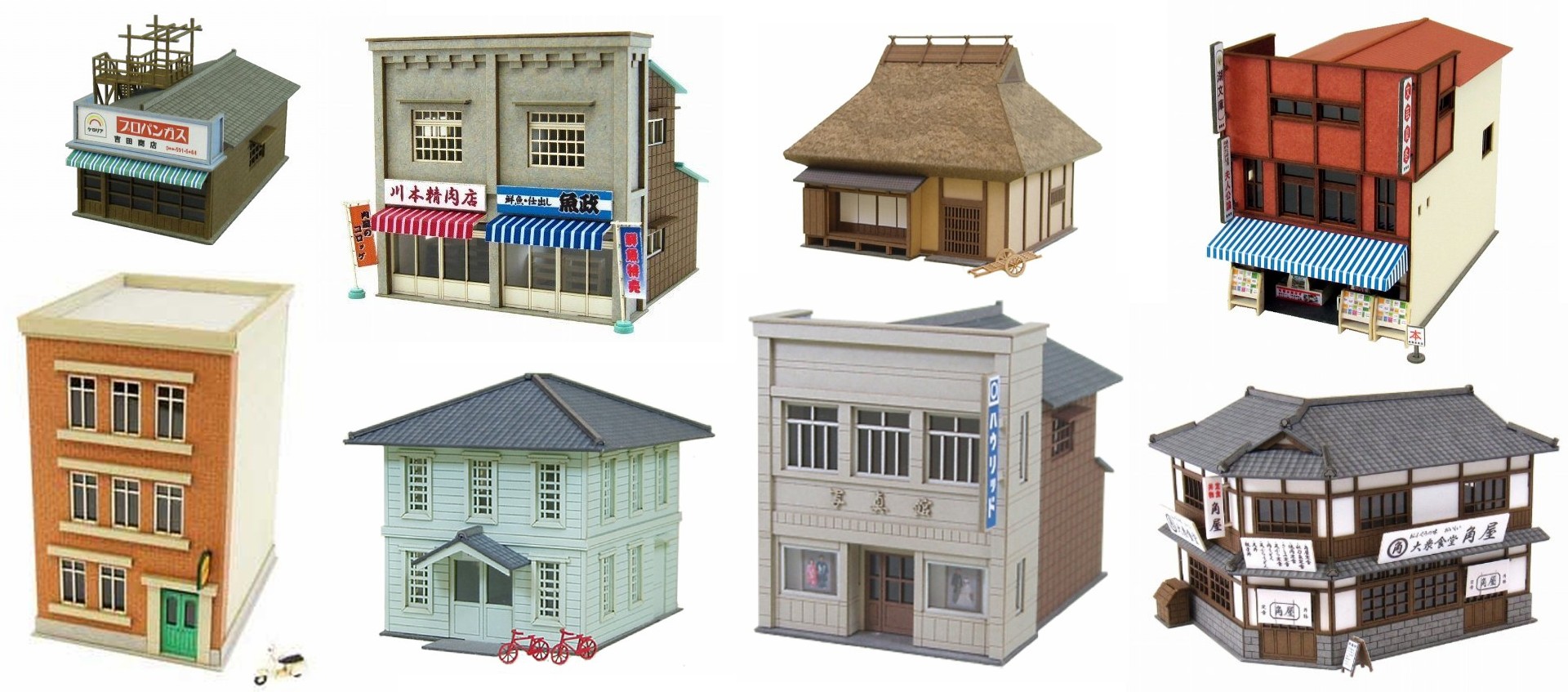 The aptly named Sankei Nostalgic Georama Series captures the mystique of Japan's Showa Era in paper craft time capsules. Senkei's renown as a creator of museum miniatures is evident in every pre-colored piece, which adds lifelike texture and a semblance of homey habitation to buildings, shops, and houses. Though it might be hard to believe these detailed models are crafted from paper alone, it's cathartically easy to create your own scaled-down replica of an idyllic Japanese side street with just a little folding and a few dabs of glue.
Kawada Paper Nano Paper Craft Kits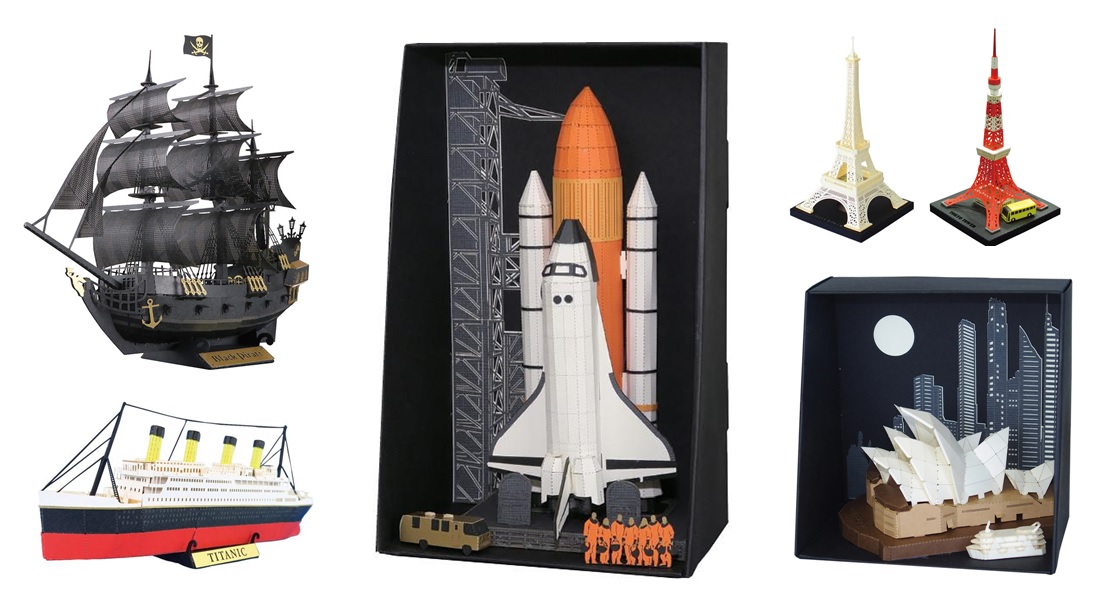 From the makers of Japan's tiny building bricks Nanoblock comes a selection of over 40 small-scale paper craft reproductions highlighting some of the world's most awe-inspiring modern engineering feats. From UNESCO World Heritage Monuments to titanic ships and shuttlecraft, Paper Nano Kits provide hours of challenging fun with their highly detailed pieces, satisfying assembly, and artistic presentation.
UPLIFT Paper Craft Vehicle Series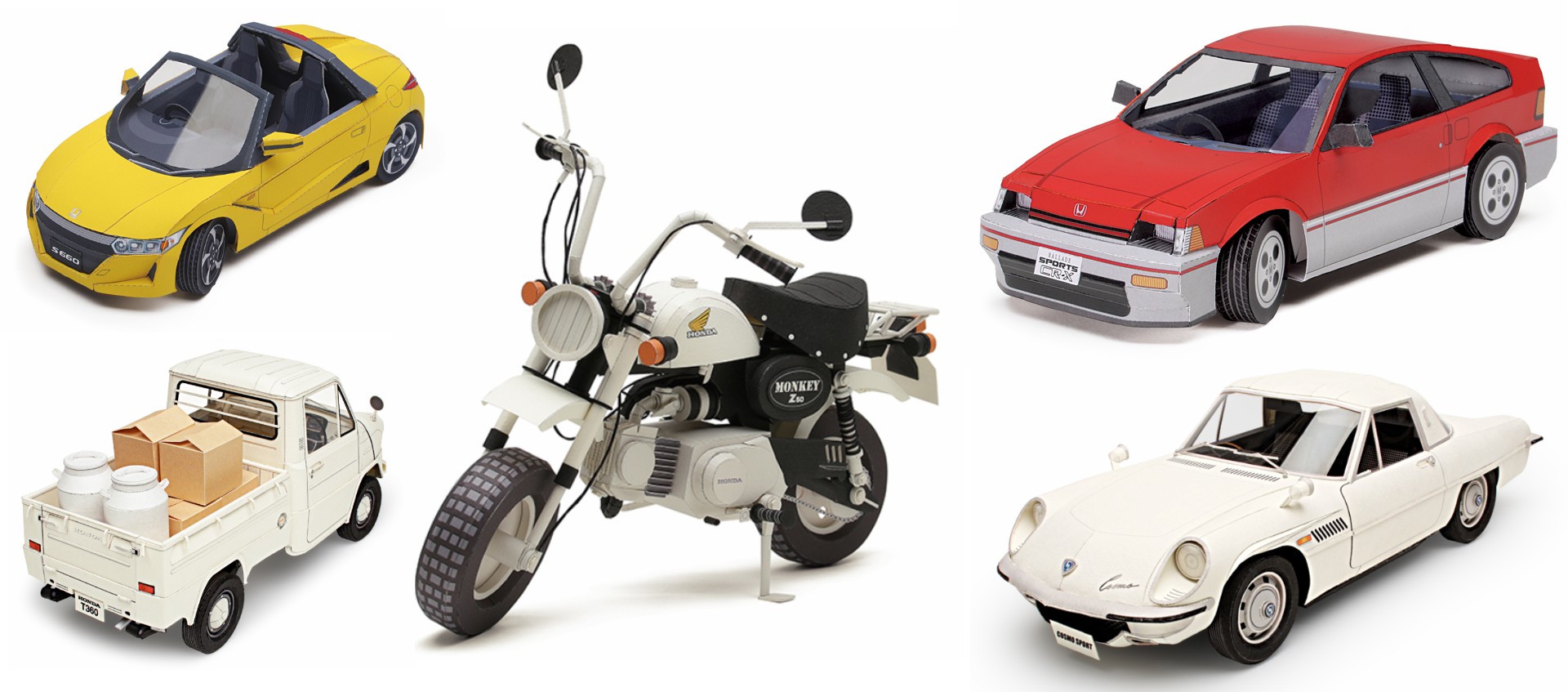 The UPLIFT Paper Craft Vehicle Series transforms hallmarks of automobile evolution into a line of elaborate paper craft kits. Divided into two main series, the UPLIFT Model line is dedicated to classic cars from the rockin' '50s to the sporty '90s in 1/12th scale, while the UPLIFT Model Mini line uses colored paper to rev up more recent vehicular designs in 1/32nd scale. Transparent windshields and intricate interiors give these cars a "fresh off the assembly line" look as impressive as any plastic model.
Movable Paper Craft Kits
Bandai Self-Assembly Vending Machines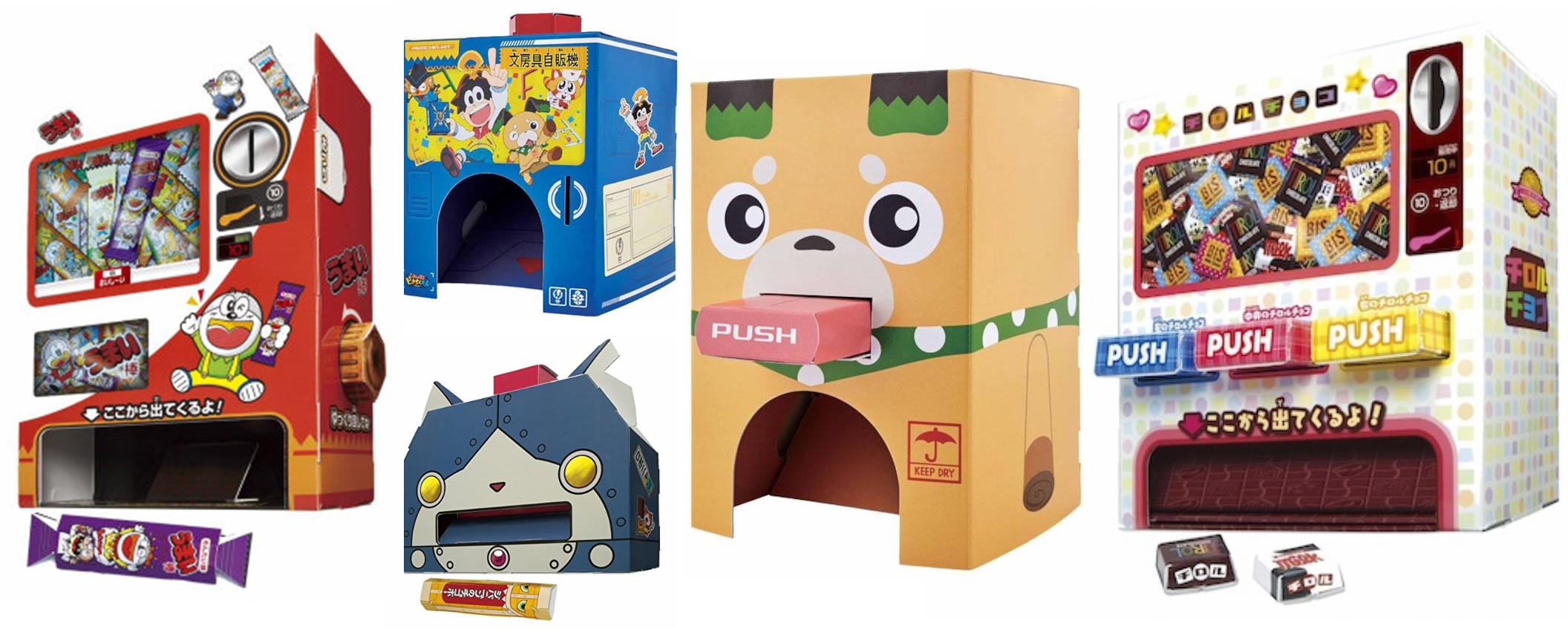 Bandai's series of Self-Assembly Vending Machines are yet another addition to Japan's amazing collection of DIY candy kits and toys! Best of all, these kid-friendly dispensers actually work! Simply fold along the dotted lines, personalize with stickers, load up your favorite candies (or other small prizes), and press or turn the button for instant sweet tooth satisfaction! Ideal for confectioners ages six and up, no batteries, scissors, or glue are required — just a craving for Japan's perennial vending machine obsession.
Paper Engineering Kamikara Paper Craft Kits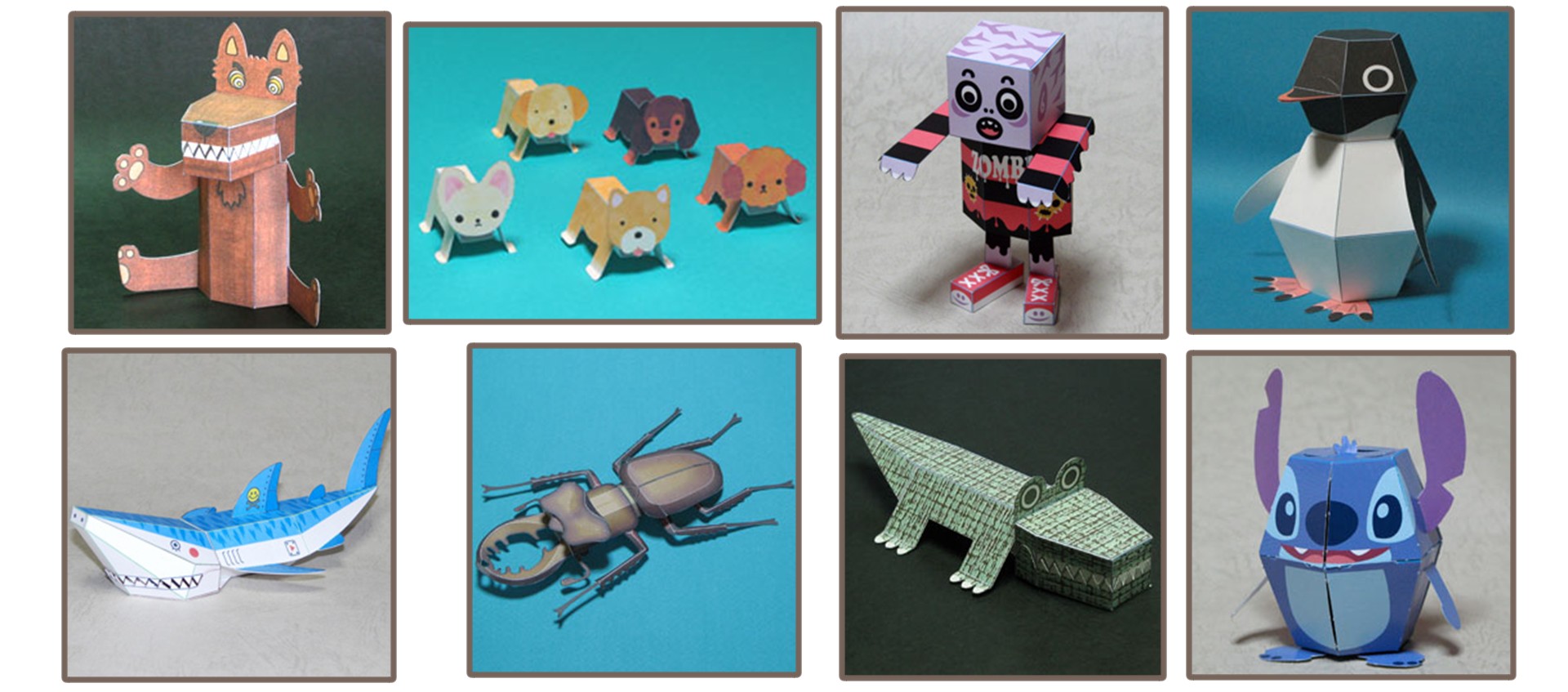 Kamikara Paper Craft Kits combine 17th century automaton techniques with the enduring tradition of origami. Each animal and character pops, rolls, transforms, and flexes in delightfully unexpected ways — from a wolf that lifts off its mask to reveal the proverbial sheep, to an armadillo that curls up in a ball when "startled." Parents will have a blast completing these mechanical "magic trick" critters alongside their wide-eyed children.
Shubunsha Karakuri Paper Craft Kits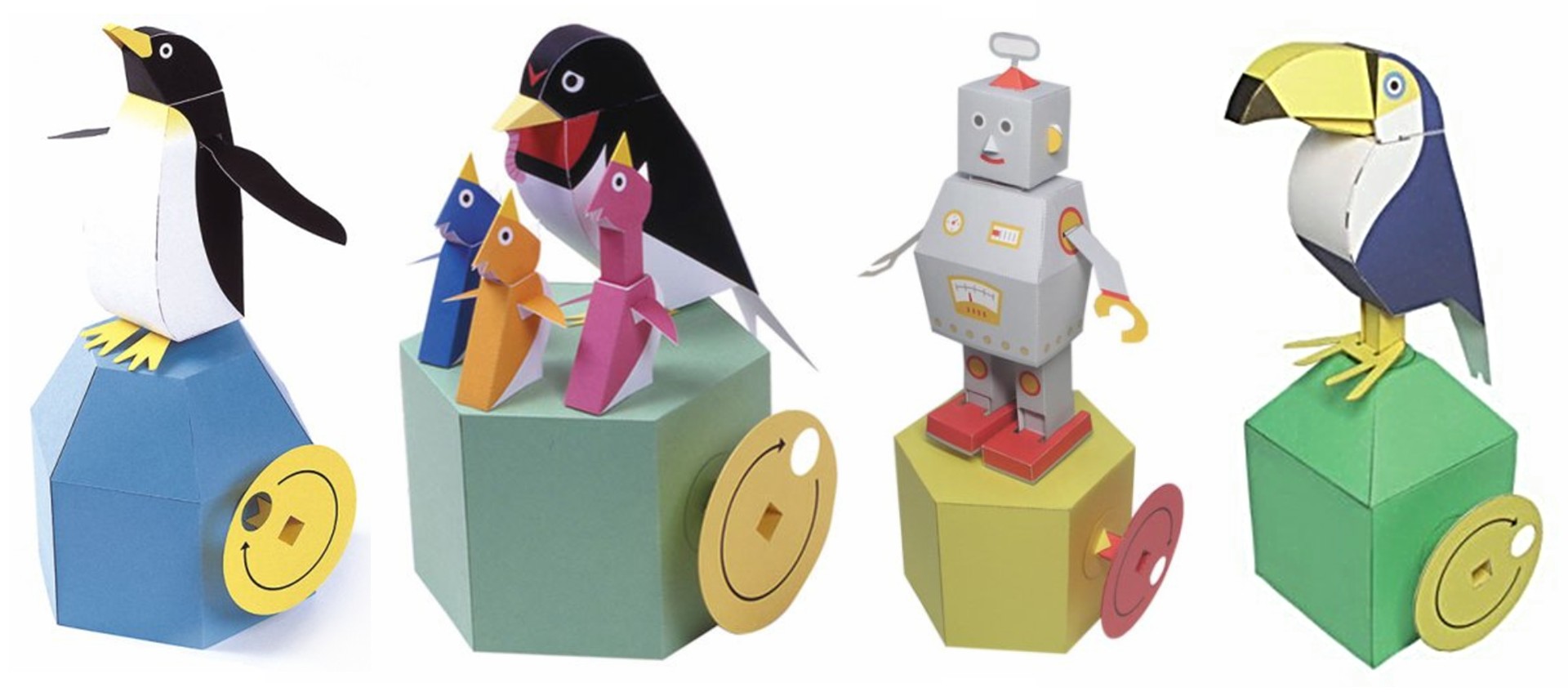 After piecing these models together and decorating them with stickers, Shubunsha Karakuri Paper Craft Kits whirl into life with music box-like finesse. Simply insert your finger or the end of a pencil into the built-in side wheel, spin, and enjoy watching your mechanical automaton walk, hop, swim, and even play peekaboo.
Essential Paper Craft Tools to Help Get You Started
Before you begin making these kits, it's important to make sure you have the right equipment. Here are the tools we suggest having on hand to help make your paper craft stress free.
Cutting Mat: This is used as a protective base on which to safely cut and detach paper craft pieces.
Utility Knife: A scalpel-like blade works best, but any type of utility knife will likely be more effective than scissors when you're trying to make precise cuts and trim edges.
Bone Folder: This is used to mark score lines on the paper, which will make folding easier and provide a cleaner crease.
Ruler or Straight Edge: This helps with marking score lines.
Tweezers: This helps with handling pieces that are too tiny for fingertips to manage. We recommend tweezers with pointed tips for best results.
Glue: Low-temperature hot glue or super glue works best.
Where to Buy Japanese Paper Craft Kits?
Whether you're expanding your model collection or making your first foray into the peaceful pastime of paper craft, there are miniature worlds of creativity, construction, and curiosity awaiting you (and your children too!). Search FROM JAPAN to have these featured kits and more shipped from Japan to your doorstep.
And for even more folding fun, be sure to check out our guide to choosing Japanese origami paper.