Most people from outside of Asia don't think of green tea as a flavor they want in a snack. But those of you who have basked in the delight of creamy, sweet, slightly bitter green tea desserts have probably already been converted to the green side of the snack universe. There are many kinds of green tea snacks: from chocolate to cookies to ice cream and traditional Japanese wagashi sweets.
The legendary green tea Kit-Kat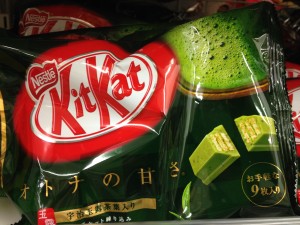 Standing proud on top of the stack of green tea flavored snacks is the mighty Green Tea Kit-Kat. The original Kit-Kat is an undeniably American candy, but it became popular in the Japanese market, perhaps in part due to its name which sounds like "Kitto Katsu" or "you'll definitely win!" in Japanese. The Green Tea Kit-Kat redefines the very essence of Kit-Kat by replacing the chocolate envelope around the crunchy biscuit with a layer of green tea coating. Now the Japanese Green Tea Kit-Kats are a highly desirable item being specially imported to be sold on the American market. They are surprisingly sweet and creamy, and one can see why they have "won" the hearts of Japanese and foreigners alike. There are also Uji Matcha Kit Kat's, which have a slightly stronger and bitterer taste than the original Green Tea Kit-Kat's.
Everyone's Favorite green tea Pocky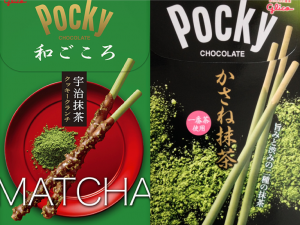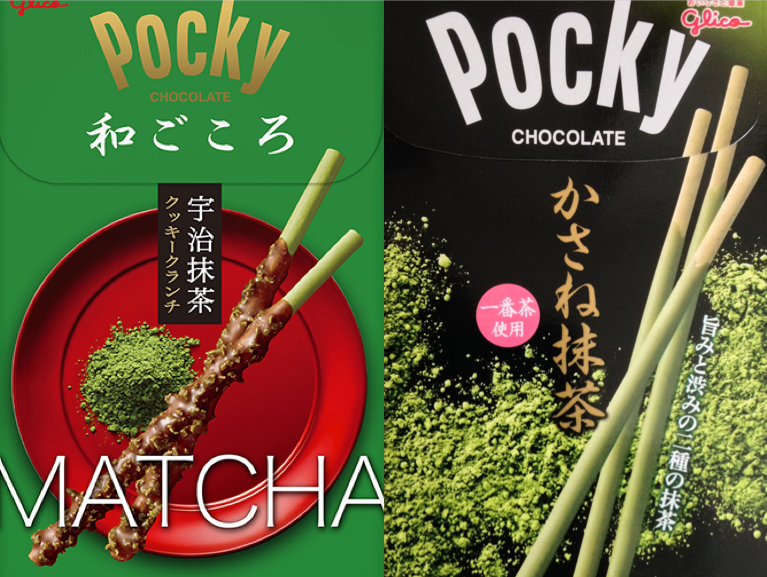 Next up on our proverbial snack pile is the widely popular Green Tea Pocky. Pocky is another snack whose fame has spread around the world. It is the perfect mix of crispy biscuit and creamy frosting.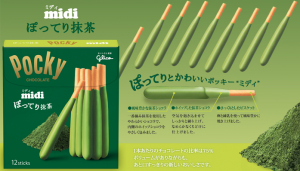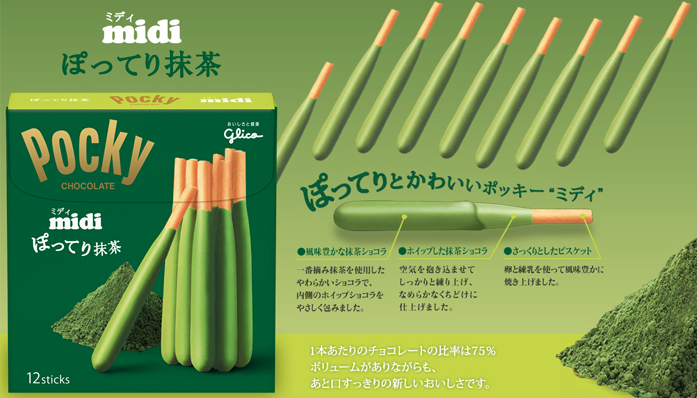 Like Oreos, there are many ways of eating them. Frosting side first, stick side first, one at a time, or my personal favorite, rapidly chomping several sticks at a time like a frenzied rabbit. There is also a midi-version, Pocky's shorter and stockier but totally lovable brother, which has two layers of green tea flavor.
Of course you must try the green tea Oreos too!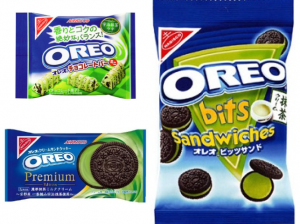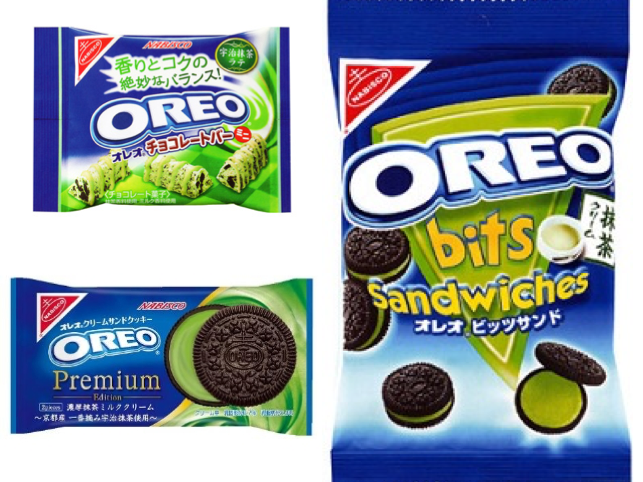 Speaking of Oreos, the world of green tea snacks has you covered there too. Convenience stores and Daisos often stock matcha-latte-flavored Oreo Bits Sandwiches. These have a mild flavor with just the right amount of matcha bitterness to counteract the sweet chocolate Oreo biscuit. A green Oreo might seem downright sacrilegious to the average American Oreo fan, but definitely don't knock these until you've tried them! Oreos in Japan also have other unique flavors, such as Lemon Ice.
The green tea Meltykiss may even be better than the real thing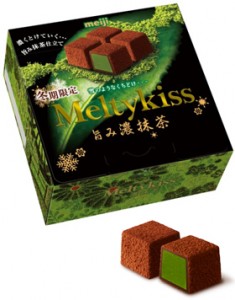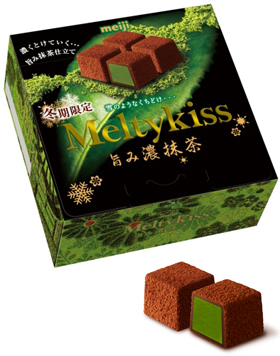 Next up is Meiji MeltyKiss, a slightly-erotic sounding yet widely popular brand of truffle-like chocolates with a soft filling. The flavor is described as "koi" or deep matcha with a bittersweet cocoa coating. The flavors are strong and the chocolates actually do seem to melt in your mouth. They are quite good quality for their price point as well! The Matcha MeltyKiss flavor can be hard to find, however.
Kinoko no Yama and Takenoko no Sato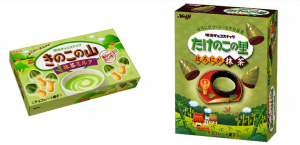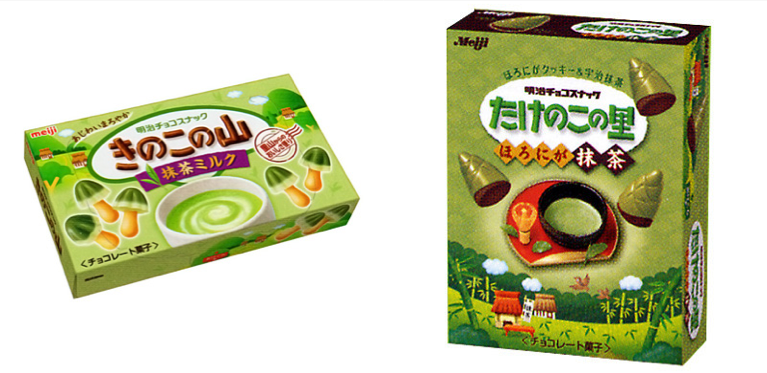 Takenoko no Sato means the Village of Bamboo Shoots. These sweets take on the namesake of their shapes: the chocolates are shaped like the tip of a bamboo shoot. These are the cousin products of Kinoko no Yama, or Mushroom Mountain.  Even when the names are in Japanese and not Engrish, Japanese chocolate names are pretty….creative. The texture is somewhere between a biscuit and a cake-texture and the top is dipped in matcha cream. These are pretty rare, and seem to be sold only in the Kansai area.
The infamous Green Tea Collon…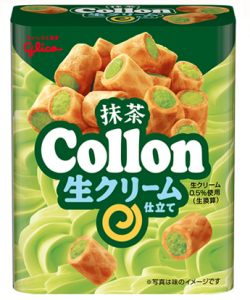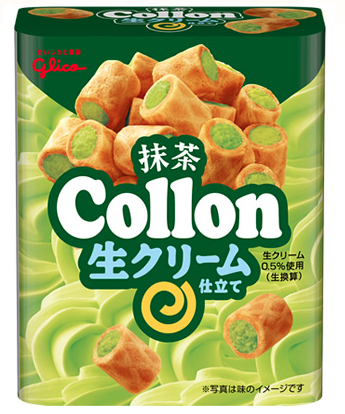 Next we have the suspiciously named "Collon" cookies. While not a very appetizing name, if you can get over the unsavory implications of bodily functions, the cookies are actually quite tasty. They are light and crispy and filled with green tea cream. The bite-sized shapes are perfect for popping into your mouth without distracting you from your latest anime episode.
We're all for the green tea Alfort!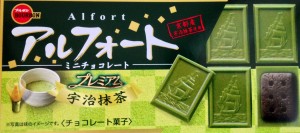 Alfort Matcha Cookies are small short-bread like cookies topped with matcha cream. They have a chocolate cookie base and a rather potent green tea flavor, the kind of green tea that Westerners sometimes complain tastes like grass. Well, of course, matcha is literally ground tea leaves, so it's not surprising that it tastes pretty earthy! The flavor is Uji matcha, from a city near Kyoto famous for its high-quality green tea. The chocolate cookie could be a bit more chocolate-y in my opinion. These are for the die-hard matcha fan rather than the casual green tea dabbler. If you do love matcha though, these are exquisite and inexpensive treats!
Get fancy with Lotte's green tea On Chocola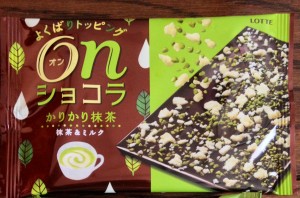 For another high-class matcha chocolate treat, try the On Chocola from Lotte. This is a chocolate bar with green tea and milk flavored crunchy chips. The chocolate base and matcha bits are both slightly bitter, but the bitterness is moderated by the sweet milky bits. The chocolate has a light and crispy texture with distinct chocolate and matcha flavors.
Green tea galbo mini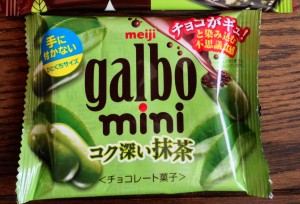 Galbo Mini are another chocolate available from Meiji. What makes these stand out is the outside coating is matcha, while the inside is a crunchy chocolate filling! Their lumpy green bean shapes are not the prettiest sweets in Japan (the land of pretty sweets) but the taste and texture of the crunchy chocolate is pretty good!
Haagen-Dazs green tea flavored ice-cream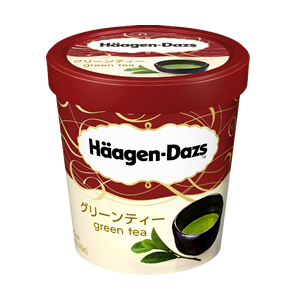 The classic of green tea sweets, Haagen Dazs Green Tea Ice Cream is a favorite of Americans and Japanese alike. It has a creamy texture with a light matcha flavor. It is made with real green tea and other simple ingredients. When you combine the cool sweetness of the ice cream with the slight bitterness of the matcha, it is quite simply the most refreshing thing imaginable! Perfect for a Japanese summer day, when you arrive home drenched in sweat and still need to cool off after a shower, or after a delicious meal of sushi. Or anytime really – just not for breakfast, you'll get a stomachache! (I may have tried this once in my study abroad days…)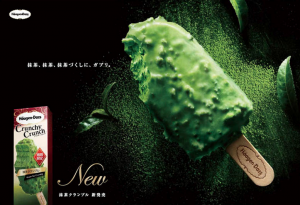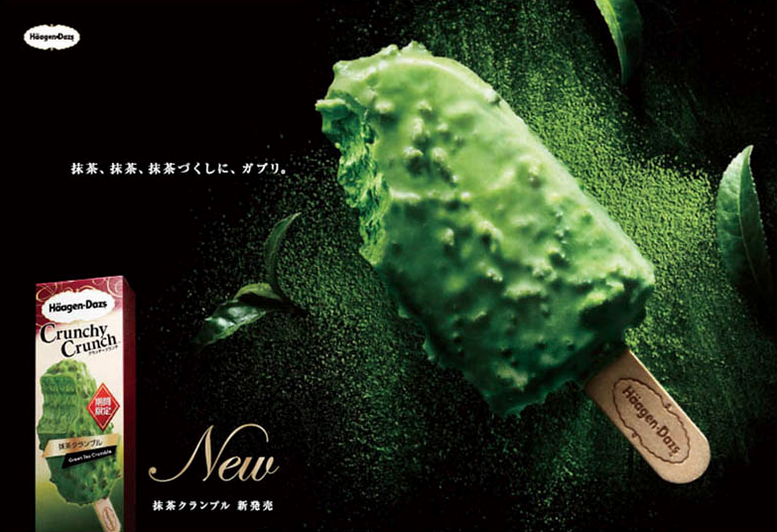 Haagen Dazs' most recent 2015 Spring product!
What do you think of green tea sweets? Do you think they are the perfect marriage of bitter matcha with sweet chocolate or cookies? Or do you think matcha should be reserved for the tea ceremony and kept out of the junk food aisle? If you haven't tried any green tea sweets, try a few and see which ones suit you! Crunchy or soft, sweet or bitter, cookie or chocolate, the world of green tea flavor awaits!