Japanese Strawberry Cheesecake Kit Kat Review
Japan is well-known for its unique take on the classic Kit Kat, with the country coming up with some truly unique flavors. Green Tea Matcha Kit Kats may be the most famous of the Japan-exclusive bunch, but there are plenty of other Japanese Kit Kats that will definitely tantalize taste buds of all the adventurous candy-eaters out there.
In order to explore this world beyond the green tea Kit Kat, we got our hands on a box of Japan-exclusive Strawberry Cheesecake Kit Kats and gave them the taste test. Read on if you want to see whether or not the taste of a Strawberry Cheesecake can be distilled into a single mini-sized Kit Kat!
Japanese Strawberry Cheesecake Kit Kat
The Japanese Strawberry Cheesecake Kit Kats are inspired by Yokohama, the capital of Kanagawa Prefecture and the second largest city in Japan. For a time, these Kit Kats could only be bought in Yokohama, but they have since been made available nation-wide in Japan.
Yokohama is famous for its take on Western-styled sweets due to its history as one of Japan's most prominent port cities following the end of Japan's isolation period. Yokohama has put its very own take on the classic dessert, with Japanese cheesecake becoming completely distinct from its original Western counterpart.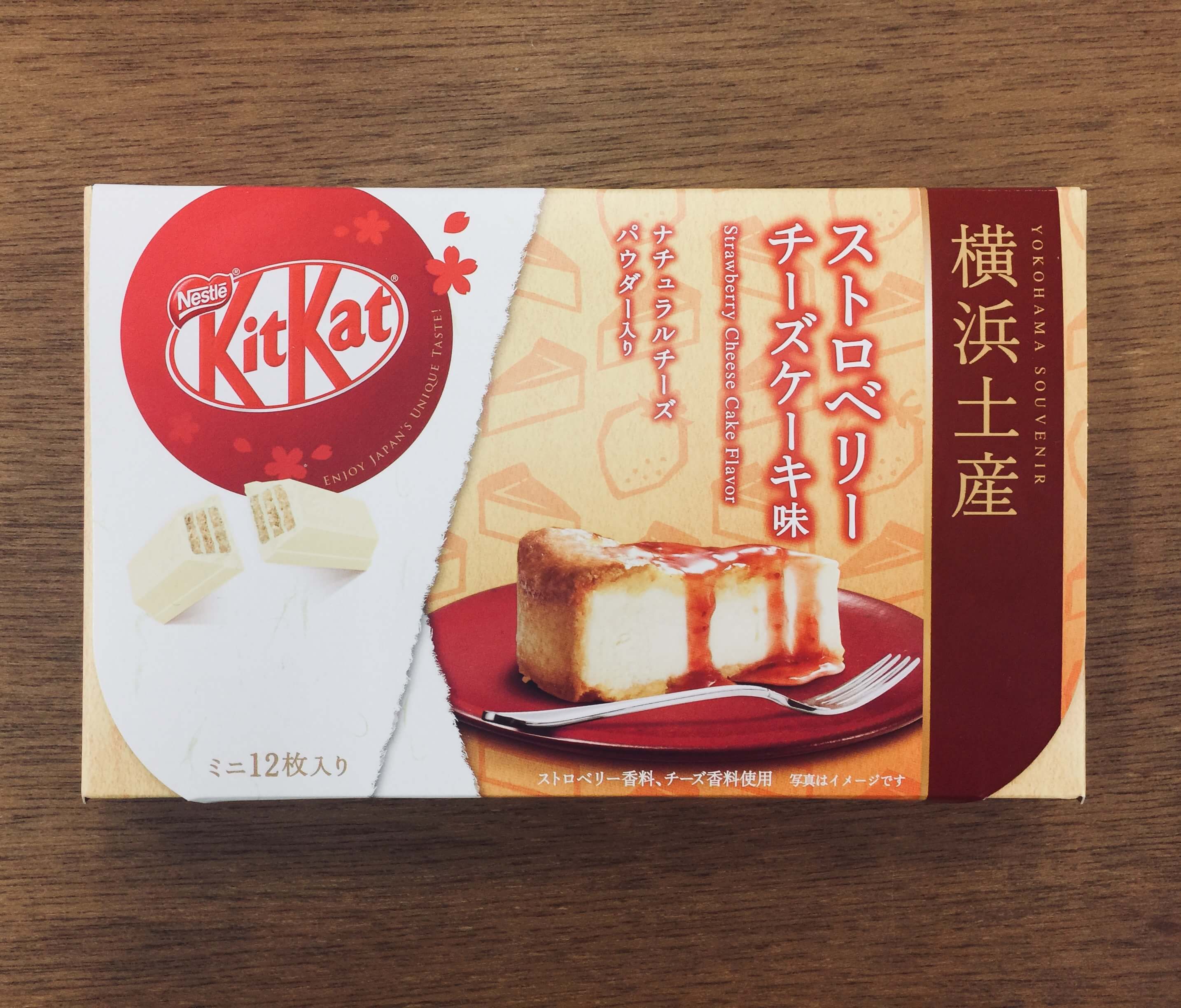 The box set of Kit Kats holds 12 mini-sized bars of the snack, with a delightfully delicious-looking cheesecake on the front.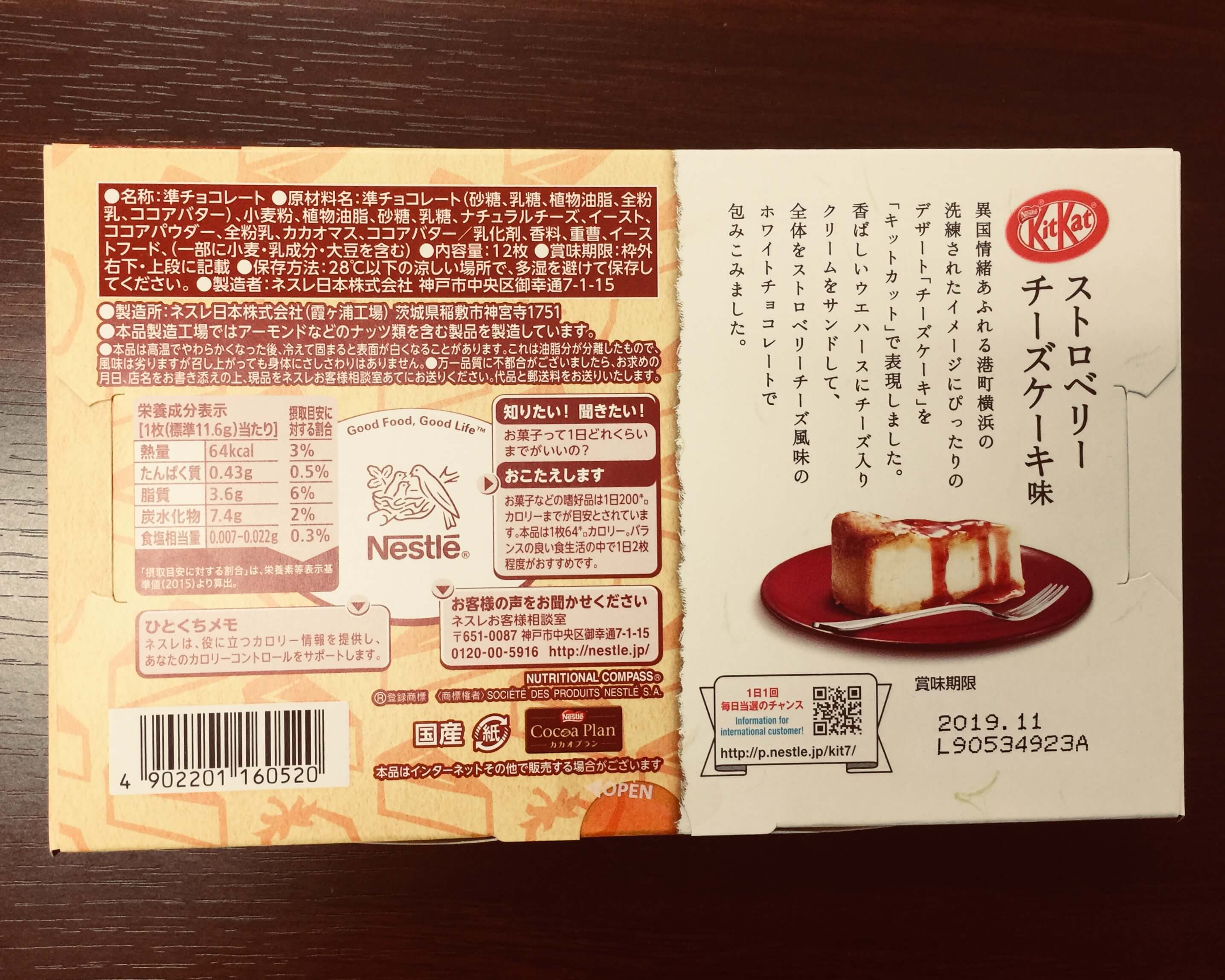 The back of the packaging lists the usual – ingredients, nutritional information, and all that jazz. The Japanese text describes the Kit Kat in detail and also mentions Yokohama's long history of Western sweets.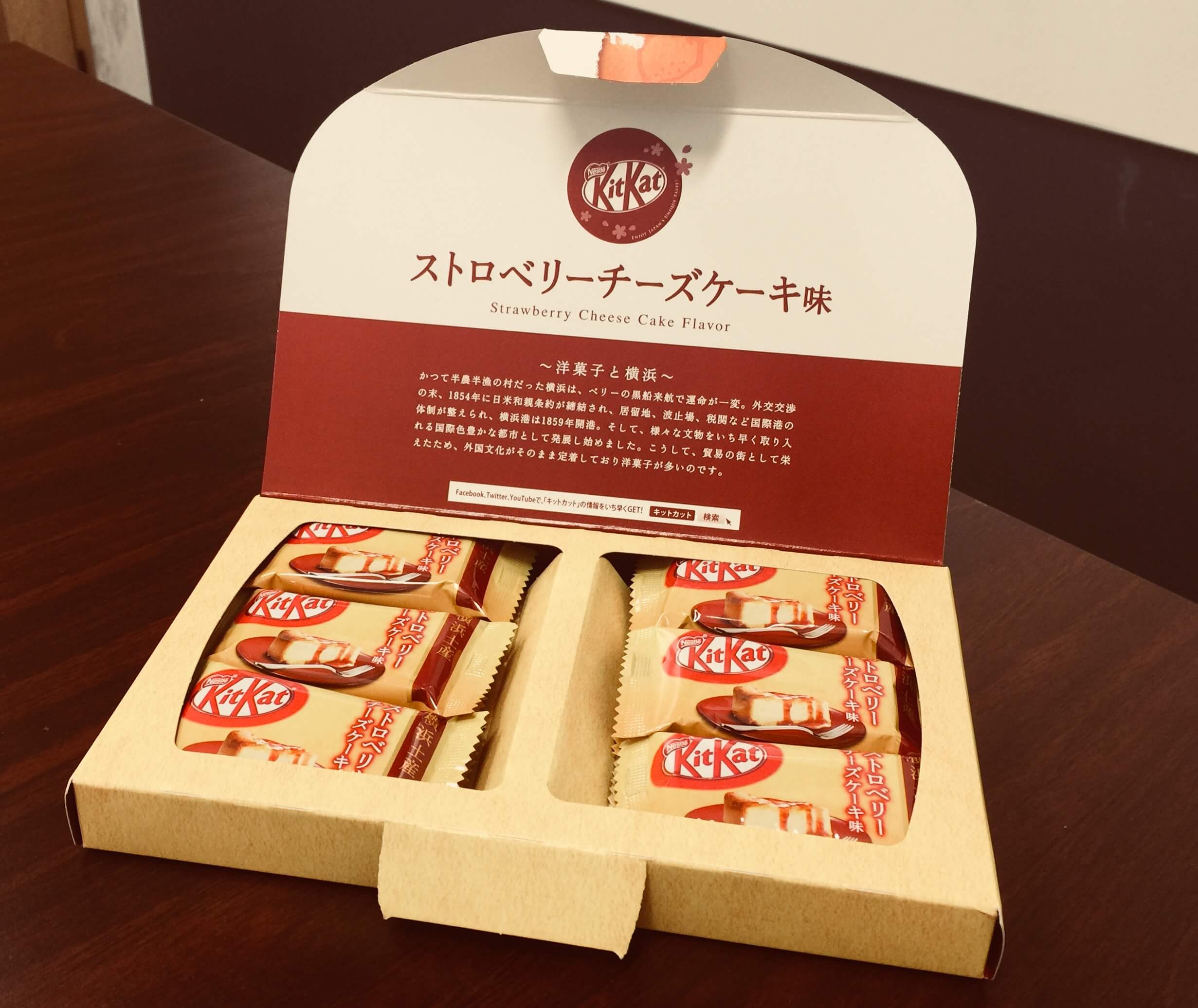 The Kit Kats are neatly packed in the box, typical of Japanese-style "omiyage" (souvenir) sweets. Japanese people tend to prefer this sort of elaborate packaging with individually wrapped bars as it's easier to share with coworkers or family members after your travels!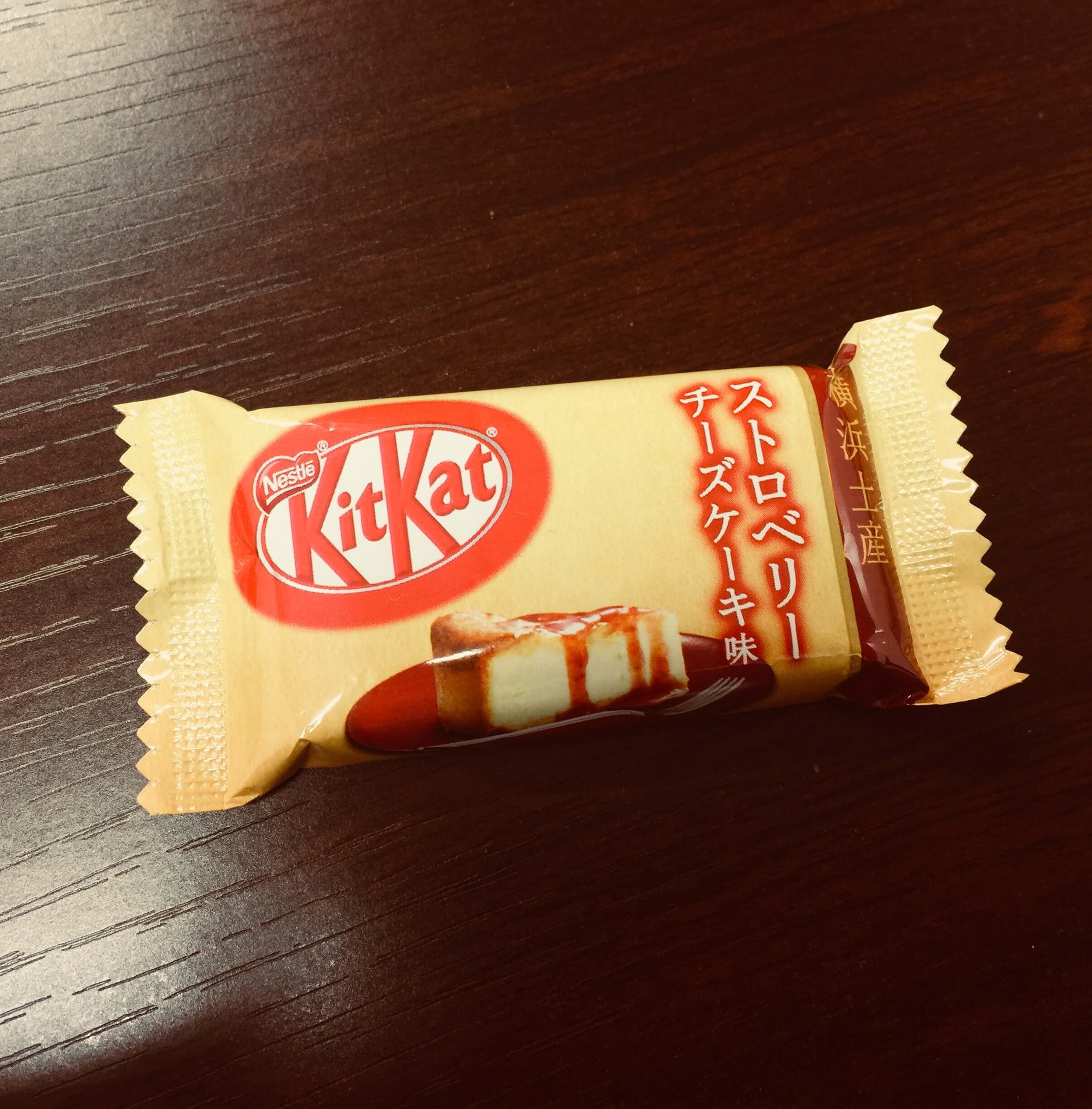 The Strawberry Cheesecake Kit Kats are all mini-sized and only 64 calories a pop, making them perfect for a light snack! The cheesecake looks delicious on the wrapper, but how does the Kit Kat version stack up?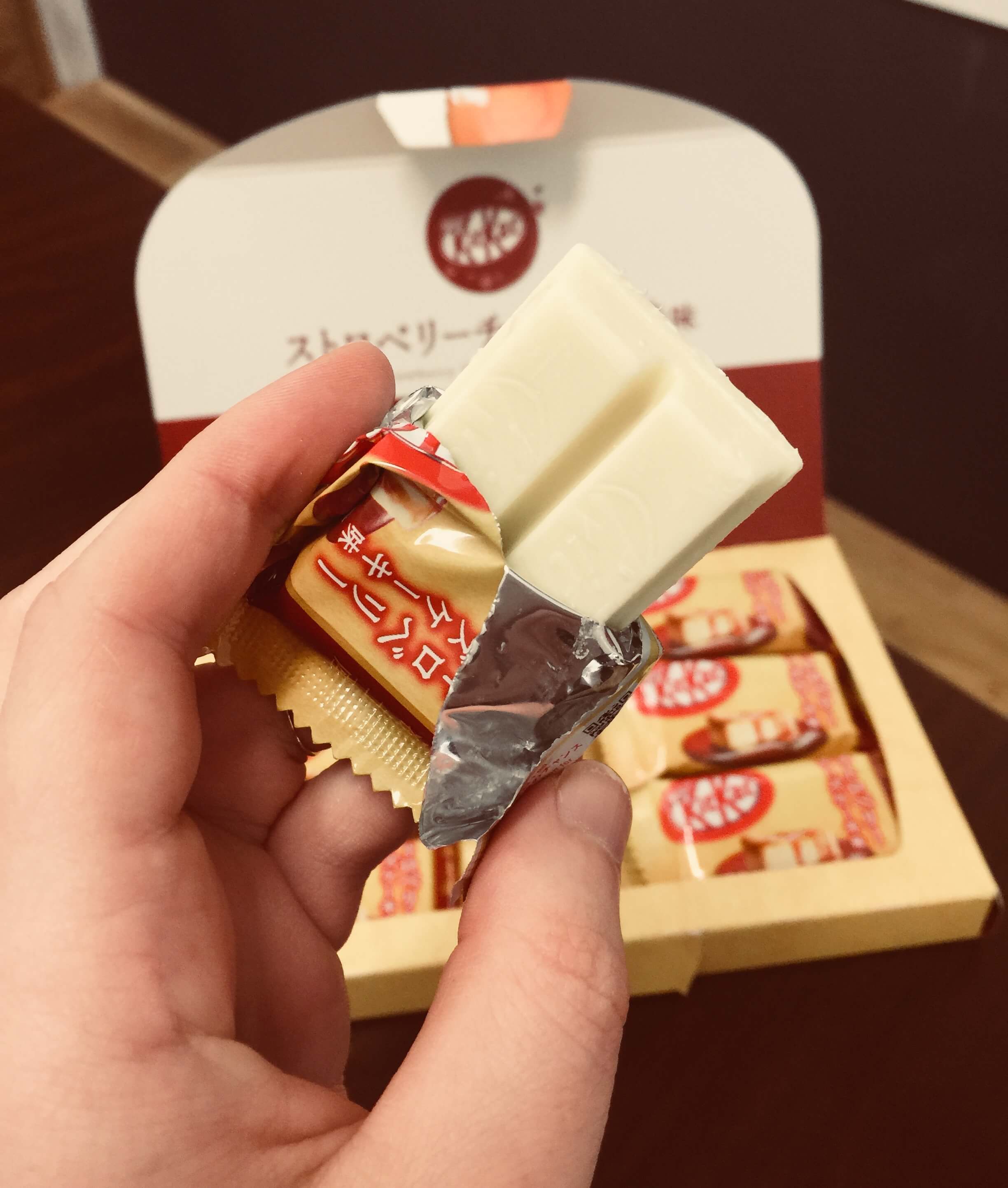 Maybe not as impressive as a slice of Strawberry Cheesecake, but it looks pretty appetizing nonetheless! The Kit Kat uses white chocolate instead of milk chocolate to replicate the intense sweetness of Japanese cheesecake. Opening the Kit Kat also releases a distinct scent of strawberries, as sweet as the white chocolate it is covered in.
Japanese Strawberry Cheesecake Kit Kat Taste Test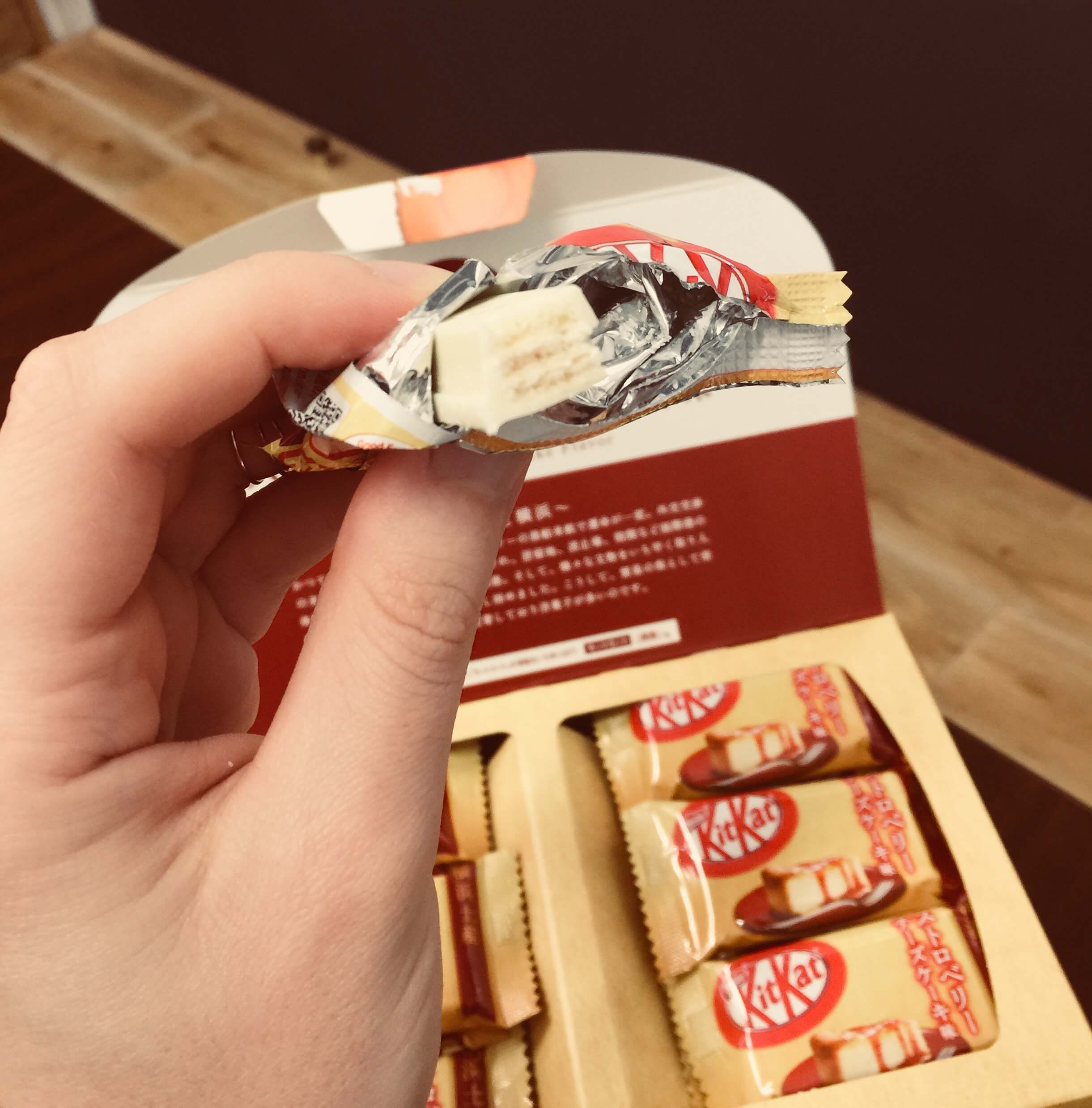 As expected, the Strawberry Cheesecake Kit Kat is incredibly sweet, with the tart taste of strawberry complementing the white chocolate mixture perfectly. The chocolate is smooth and velvety, offsetting the robust crunch of the wafer biscuit. They may not taste exactly like a slice of Strawberry Cheesecake, but if you have a sweet tooth and love a touch of strawberry in your chocolates, you can't really go wrong with these Japan-exclusive Kit Kats!
Overall Opinion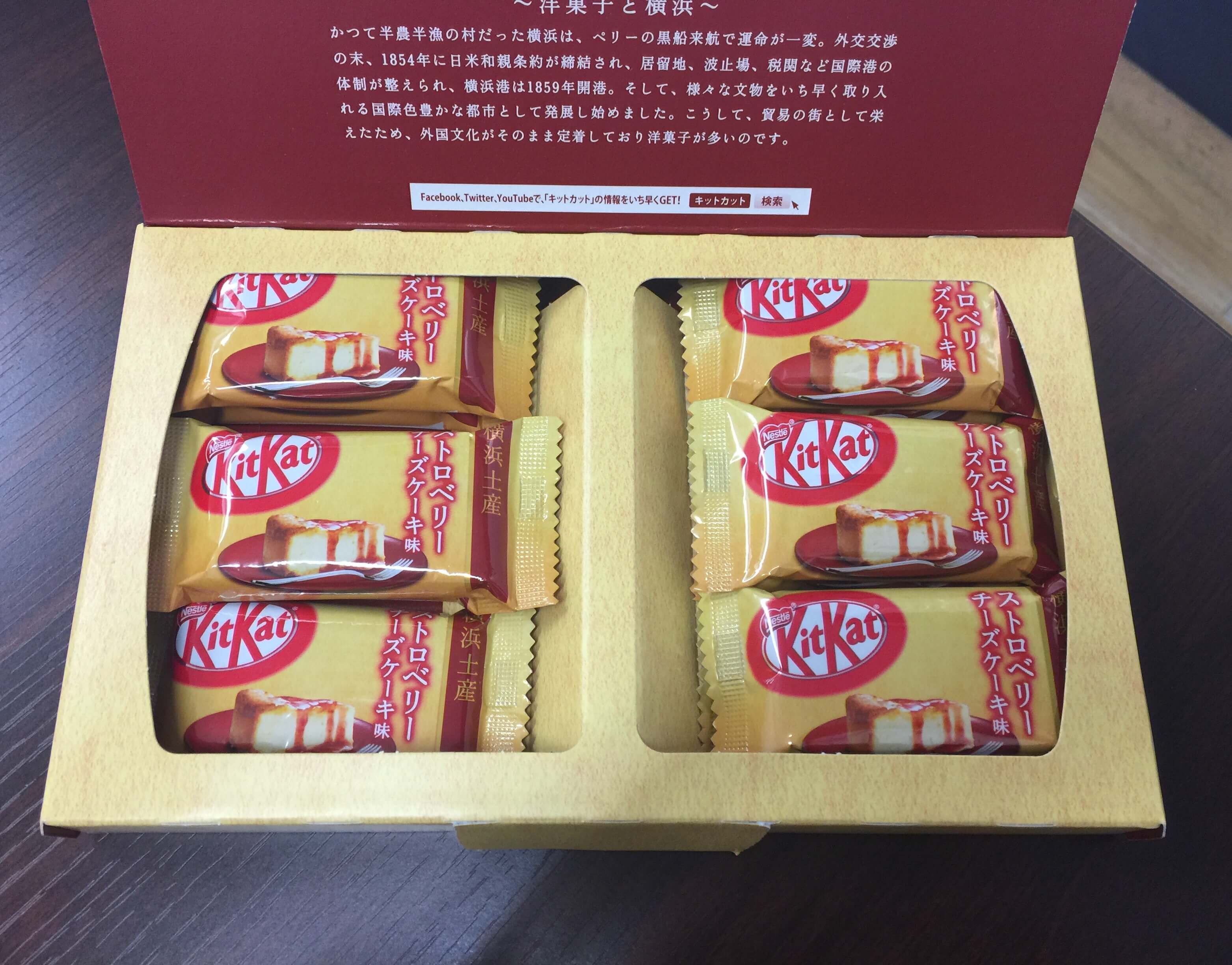 With its use of familiar flavors, the Strawberry Cheesecake Kit Kats are probably more palatable to a Western palate compared to other Japan-exclusive flavors such as matcha and red bean paste. If you're a fan of Japanese snacks or want a fun gift to share with your friends and family, then you won't be disappointed with Strawberry Cheesecake Kit Kats!
Buy Japanese Kit Kats and more crazy Japanese candy with FROM JAPAN
Want to taste the strawberry cheesecake Kit Kats for yourself? Or want to try some other crazy Japanese candy? Then look no further than the shopping and bidding service FROM JAPAN. Sign up with FROM JAPAN and get searching for Japanese snacks and sweets today!