These weirdly wonderful Japanese beauty gadgets just might be the magic formula for your nightly beauty routine. Whether you're looking for a safer alternative to surgery or willing to try a treatment unlike any you've experienced before, the 7 Japanese beauty products below are innovative oddities you'll absolutely want to try for yourself.
7 Weird Japanese Beauty Gadgets for a Youthful Look
What's the secret to beautiful, youthful skin? For many Japanese women, it might be the specially formulated cleansers and exfoliators that Japan is famous for developing; others may prefer the simple morning ritual of a Japanese designer face pack—but maybe the best kept beauty secrets in Japan are a little more unexpected.
The Facial-Lift-At-Once Face Trainer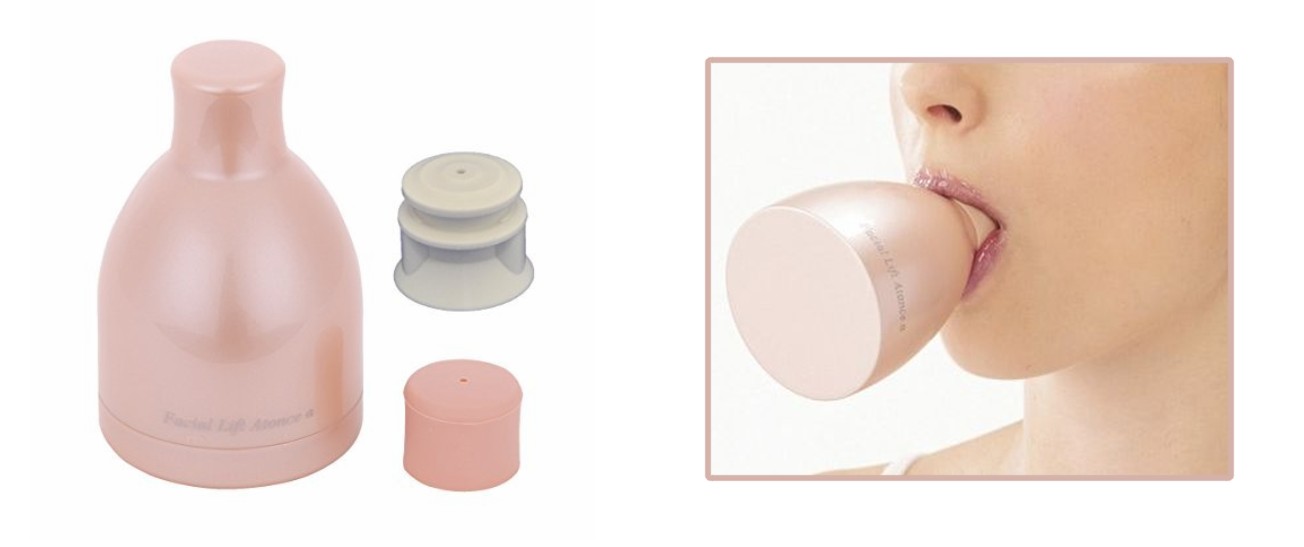 There's no need to spend a fortune on face lift surgery when you can naturally tighten up your cheeks, chin, lips, mouth, and even nose at a fraction of the price. The original Face Trainer sold so many units in Japan that an updated, waterproofed version (the Facial-Lift-At-Once Face Trainer Alpha) was eventually released, so you can now complete your beauty routine while relaxing in the bath or shower. Simply put the nub between your lips (without using your teeth) and adjust the Face Trainer to your desired pulse-intensity for a 3-minute workout. With daily practice, you'll not only build up strength, but you may also look and feel younger as a result.
The Hana Tsun Nose Straightener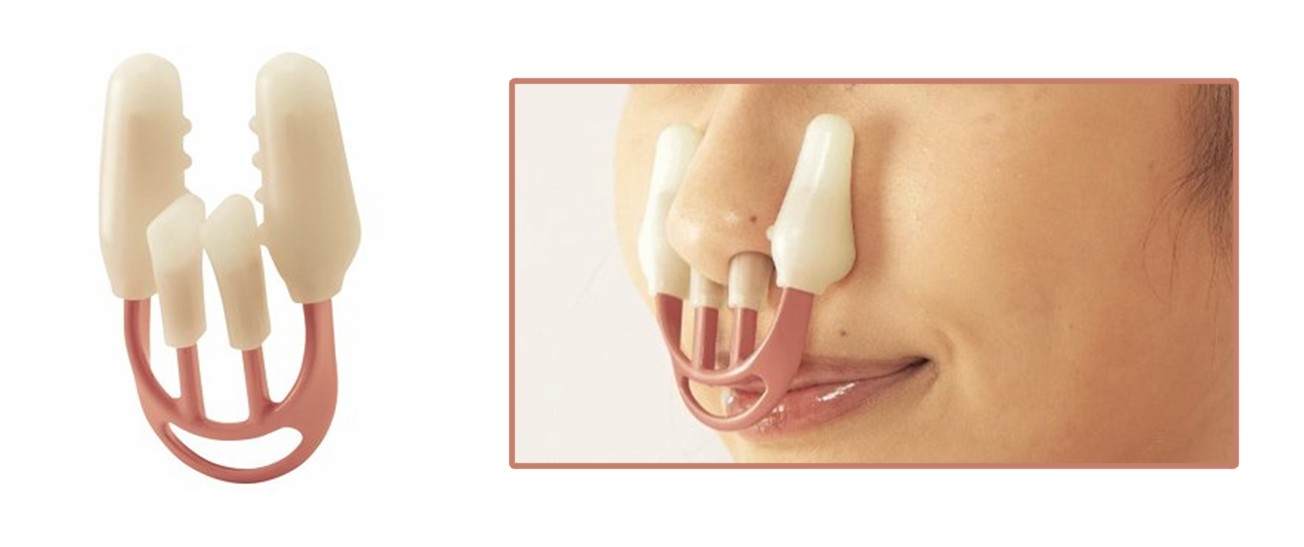 If there's one part of your face that literally sticks out, it's your nose, and you may be a little self-conscious about it. True to its name, Hana Tsun ("nose perk-up") is a straightening device that gently clips to your nostrils, gradually supporting and pressing your nose into a more elegant, defined shape. As a much less expensive and painless alternative to rhinoplasty, the manufacturer of the Hana Tsun claims it can help you achieve the perfect profile in as little as 20 minutes a day—just clip it on during your downtime to seamlessly work this new beauty treatment into your routine.

The Faretch Binare Eyelid Trainer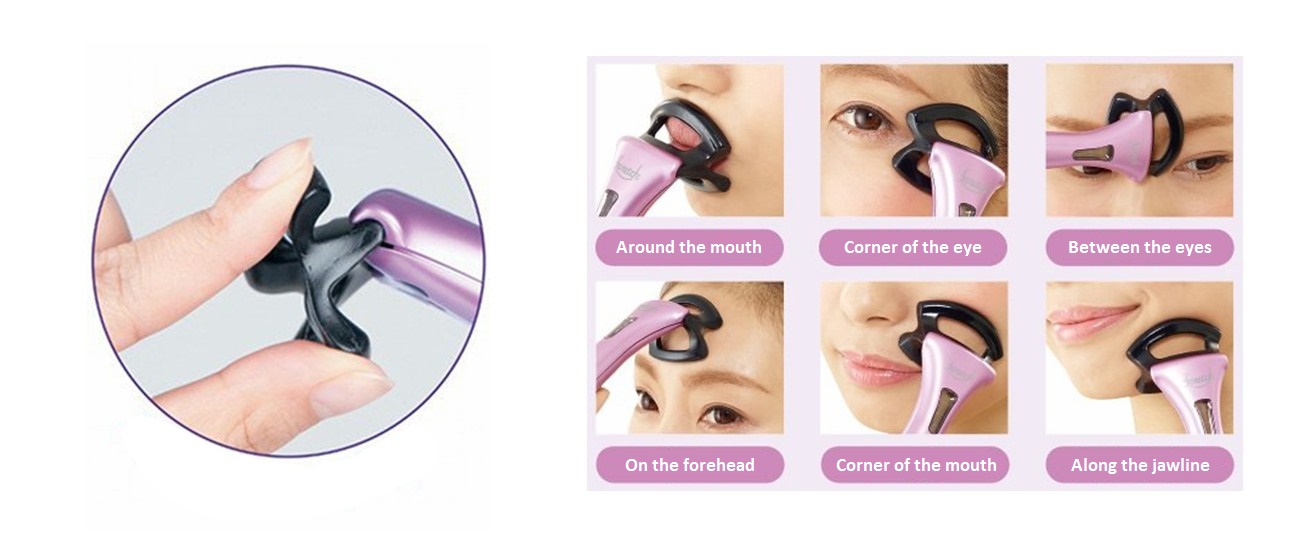 "Faretch" is a combination of the words "face" and "stretch," and at 11,000 micro-vibrations per minute, this little gadget takes its job seriously. Created from the combined efforts of Japanese beauty gadget maker, Glim, and the Binare Clinic in northern Japan, the Faretch Binare Eyelid Trainer is specially crafted to tighten wrinkles, even in the most stubborn places. Despite its name, this gadget is gentle enough to use anywhere on your face, from your chin to your forehead. Get the anti-aging, relaxing treatment your face deserves in as little as 1-minute a day.

The Face Slimmer Exercise Mouthpiece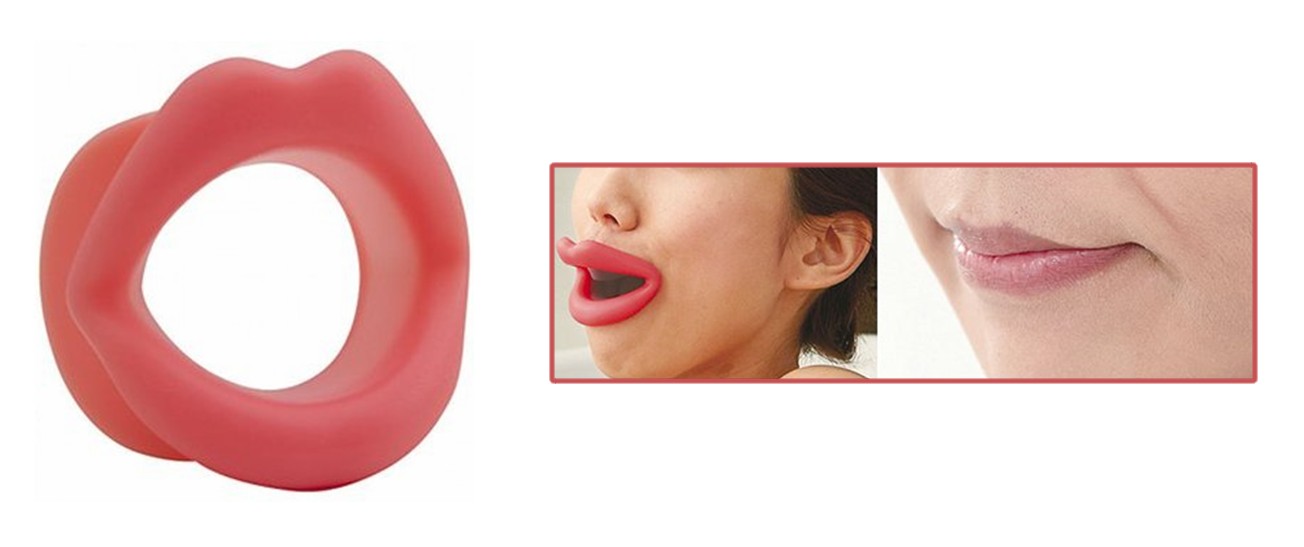 The first time you try on the Face Slimmer Exercise Mouthpiece, you might feel a little silly—but the results are serious business. Just put the rubber mold in your mouth like a pair of "duck face" lips, and then repeat vowel sounds for about 3-minutes a session. The manufacturer Glim claims the workout routine is designed to enhance the muscles responsible for your 12 core facial expressions, and ultimately slim your face, erase wrinkles around your eyes and mouth, and provide a daily "lift" to sagging skin and tired muscles.

The OMNI Beauty Eye Care: Eye Slack Haruka Device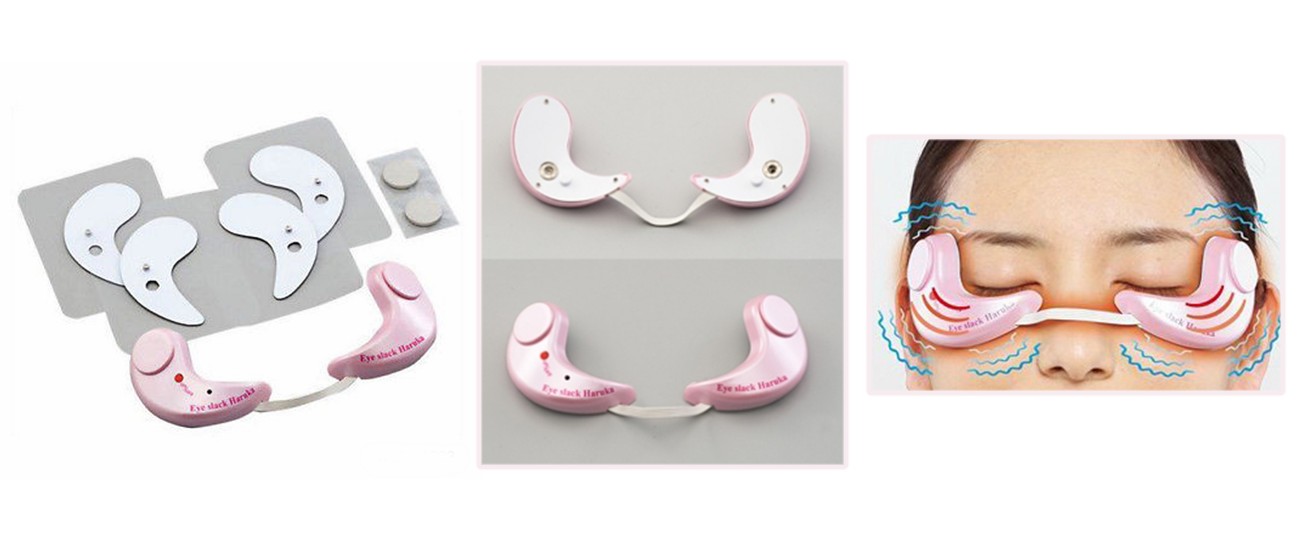 Do you wake up in the morning with dark circles and sagging eyes? Do you have skin sensitivity that makes your eyes swell? Are you simply wanting to ward off early wrinkles? Whatever the case, you may not need to turn to expensive eye creams for a more youthful complexion. The OMNI Beauty Eye Care: Eye Slack Haruka Device is designed to combine thermal vibrations with gentle warmth to smooth out blemishes and naturally increase circulation for healthier skin. Since the gadget is wireless, you don't have to worry about any unwanted cords resting against your face while you relax for a comfortable 3 minutes of pampering.

The Lifting Shaper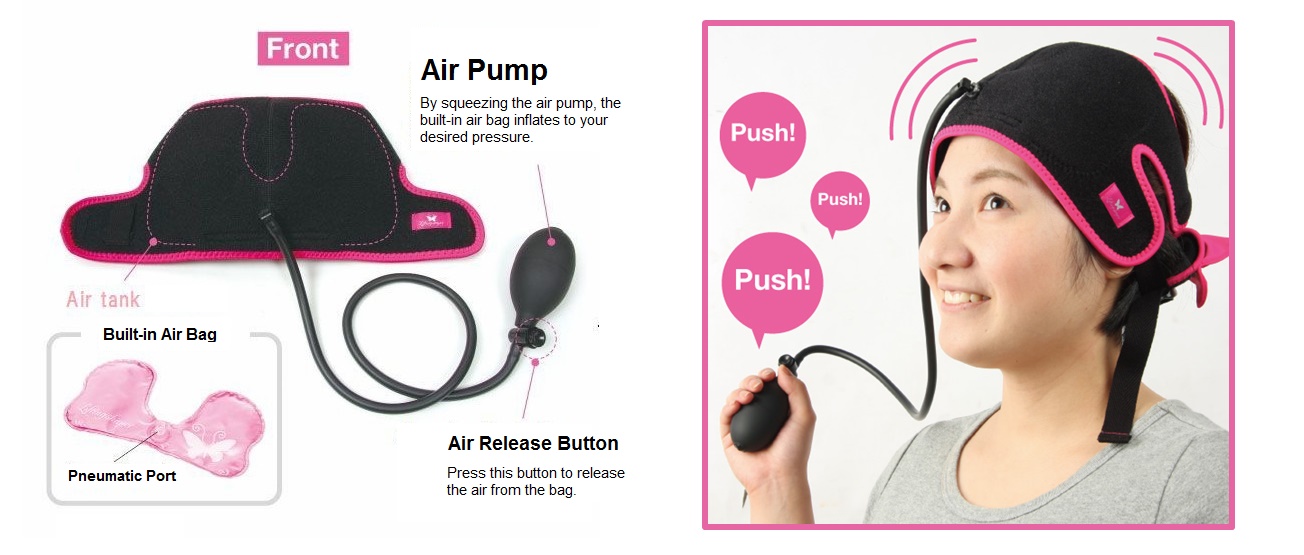 If you're looking for a way to tighten your face, lose sagging cheeks and drooping eyes, and feel more relaxed and positive about your body image, try the Lifting Shaper—a gentle, easy-to-use air bag that inflates to massage and shape your face. Just attach the shaper to your head, inflate to a comfortable pressure using the hand pump, release the pressure after 20 seconds, and repeat as necessary. With daily practice, the manufacturer suggests that the Lifting Shaper can sculpt your face into a more youthful and symmetrical profile by gently pulling loose muscles taut.

The Chin Shape Belt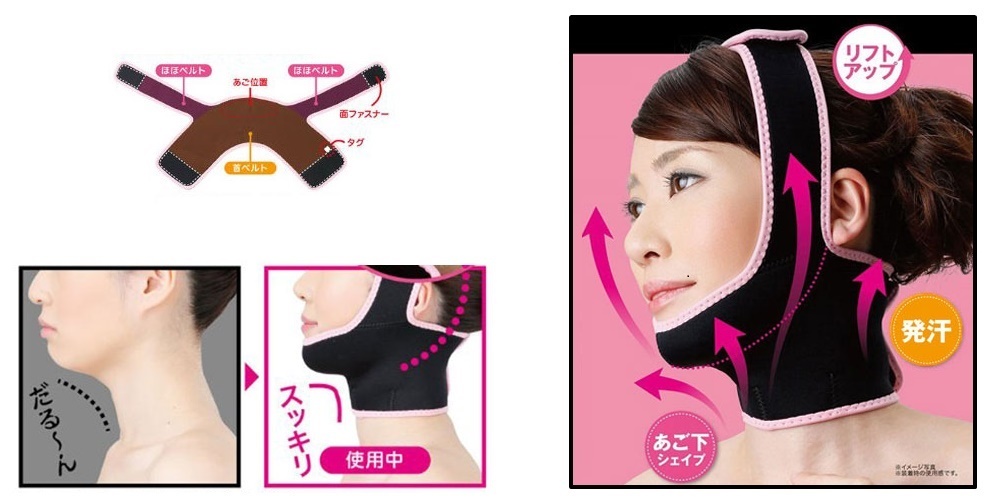 Can't seem to lose that double chin? The Chin Shape Belt aims to tighten loose skin around your throat, jaw, and chin by gradually compressing and pushing it upward for a natural, smooth finish. Designed to soak up water, the belt stimulates sweating to tighten and shape skin throughout the process. Because the belts are built for comfort and crafted from flexible material, you can take your beauty routine just about anywhere your self-consciousness allows. Perfect for wearing around the house while doing chores, working on your computer, or enjoying a peaceful hobby.

Where to Buy Wonderfully Weird Japanese Beauty Products
Take care of your skin, and it will take care of you. No matter your age, it's never too early or too late to begin taking your skin care seriously. Be sure to browse FROM JAPAN's full selection of Japanese beauty products to find a gadget as unique as your personal beauty routine.