In Japan, Valentine's Day is a time for women to step up and express their love with gifts of chocolate, and there may be no better gift than Japanese chocolate. Whether celebrating Valentine's Day with friends or family, or romancing that special someone, these 10 sophisticated Japanese chocolates are sure to leave your Valentine craving more!
Share the Tradition of Meiji Chocolate
Meiji, the maker of Japan's most famous milk chocolate bar, has been around for over 90 years and is a perfect brand for gifting to chocolate aficionados and connoisseurs of Japanese culture.
Meiji Milk Chocolate Bar

Understated in appearance, the Meiji Milk Chocolate Bar packs a darker, richer flavor and thicker, silkier texture than most other Japanese chocolate brands; and with distinct notes of toasty caramel and cocoa, you can savor the rich flavor long after the final bite. Meiji Milk Chocolate Bars are divided into grids of 12–15 squares, making them easy to share with loved ones and friends.

Meiji Almond Chocolates & Macadamia Chocolates


Whether you prefer sweet or salty, you can't go wrong with Meiji's perfect marriage of chocolate and nuts. Their trademark milk chocolate enrobes your choice of crispy almonds or macadamias, creating an addictive treat that will have you peeking into the box in the hope that you haven't already devoured all of them!

Meltykiss Chocolates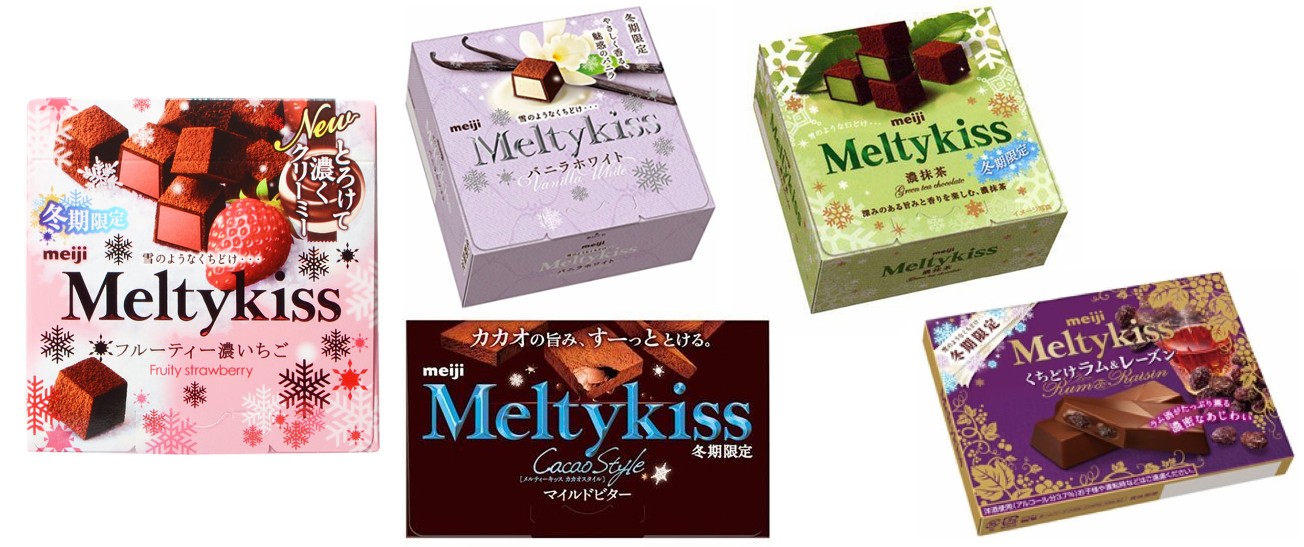 True to their name, Meltykiss chocolates literally melt in your mouth. These cocoa-powdered cubes and wafers hide exquisite fillings within: strawberry, rum raisin, and brandy and orange, to name a few. Chocolate collectors will find even more to love with Meltykiss' gentei (limited edition) flavors, like green tea and roasted soybean, which are often released exclusively around the winter holidays. Whichever flavor you decide to try, remember this: Always savor, never chew.

Explore the World of Ezaki Glico's Sophisticated Pocky
Ezaki Glico's Pocky has been going strong for over 50 years and is perhaps Japan's most famous chocolate snack. Since the introduction of the original chocolate-covered pretzel stick, Glico unceasingly continues to release an ever-expanding lineup of bold, new flavors, much to the pleasure of Pocky's dedicated fans.
Glico Champagne Series


Released to herald 2017, Glico's Champagne Series is a collaboration with the award-winning Japanese pastry chef Hironobu Tsujiguchi, and adds a touch of refinement to three of Glico's most popular treats: Pocky, Caplico and Almond Premio. The Champagne Pocky is flavored with a fruity sparkling wine, and is roughly one-third longer than and twice as thick as Glico's original Pocky.

Adult Amber Otona no Kohaku Pocky


If you prefer enjoying your Pocky with a splash of single-malt Scotch, then Glico's Adult Amber Otona no Kohaku Pocky is sure to hit the spot. Featuring a unique, malt-flavored pretzel stick coated in whisky-scented chocolate, this limited-edition flavor is a team effort between Ezaki Glico and 93-year-old Japanese whisky brewery Suntory.

Men's Pocky & Heartful Pocky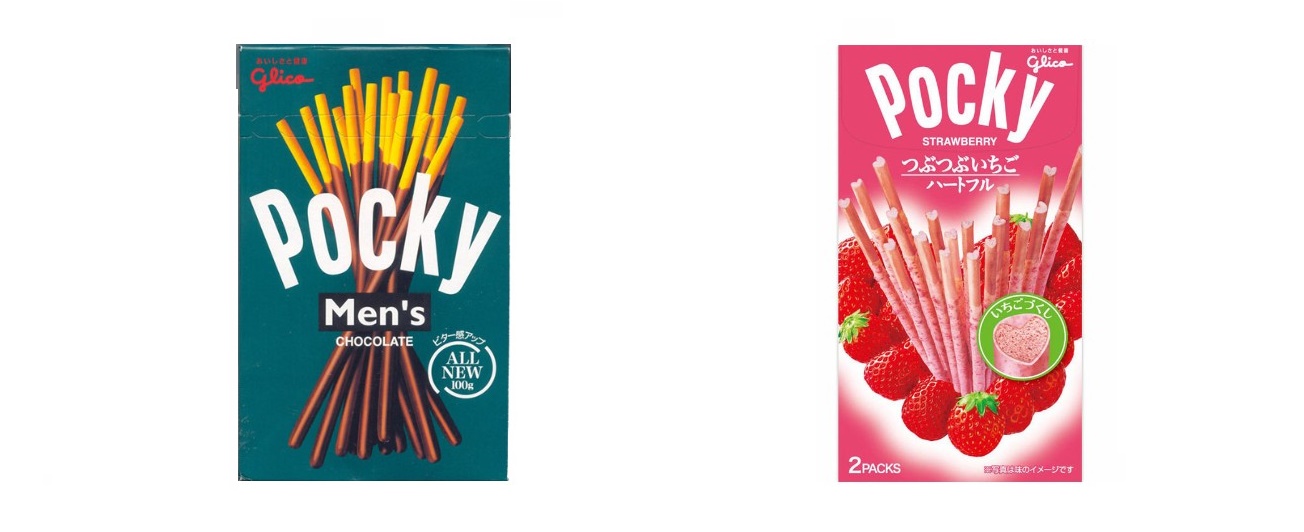 A sort of "his and hers" Pocky pairing, Men's Pocky and Heartful Pocky can nonetheless be enjoyed by anyone with a sweet tooth. Men's Pocky features muted packaging that hints at the richer, darker chocolate-covered sticks stored within. In the past, it was difficult to find this flavor on store shelves, but fortunately Glico has made the wise decision to bring Men's Pocky back for the foreseeable future.
Heartful Pocky reimagines the popular snack by shaping the pretzel stick's traditional round shape into a heart. Each stick is dipped in a white chocolate-strawberry coating and peppered with tart strawberry bits, making it a sweet way to say "I love you" to that special someone.

The Mature Chocolate Offerings from Morinaga
Did you know that Morinaga's advertising campaigns helped introduce Japan to the tradition of giving chocolates on Valentine's Day? With nearly a hundred years of history behind them, Morinaga chocolates are a sentimental treat, ideal for sharing with the ones you love.
Carré de Chocolat Cacao 70


Translated, the name simply means "chocolate squares" in French, and their flavor is as understated and refined as the name implies. One of Morinaga's most popular chocolates, Carré de Chocolat Cacao 70 is praised for its rich, dark cacao flavor that finishes with a well-balanced aftertaste. Individually wrapped, these chocolate squares make for the perfect complement to your morning coffee or afternoon tea.
Morinaga- Carre de Chocolat from Anthony Trotter on Vimeo.
Chocoball Grande


Smooth and chocolatey on the outside, light and flavorful on the inside, Chocoballs have long been a popular sweet among Japanese children. Chocoball Grande is Morinaga's "grown-up" variant of the original treat, with exclusive flavors formulated to cater to adult tastes. Two new flavors are released each year, with hazelnut-infused Gianduja and Bitter Caramel scheduled to hit retailers' shelves at the end of January 2017. Unlike the sweeter original kid's version, the Chocoball Grande series offers greater depth by combining three different textures—nuts, cereal, and wafers—and one enticing flavor, all encased in a creamy chocolate coating.

KitKat Redefined: The Chocolatory Series
The KitKat Chocolatory is a chain of upscale pop-up shops in Japan (and select international cities) that features KitKats so sophisticated, you may never go back to the original.
KitKat Moleson


Sold exclusively from the KitKat Chocolatory stores, the innovative KitKat Moleson made history as the first KitKat bar to be offered with toppings of chopped almonds and cranberries—each tiny piece carefully arranged by hand. Individually wrapped, these hard-to-find KitKats add an exquisite twist on the internationally popular chocolate, and the finesse of its sweet, sour and crunchy combination must be experienced to be believed.

KitKat "Everyday Luxury" Series


Inspired by the original KitKat Moleson, the "Everyday Luxury" KitKat was created as a way to make the refined treat more accessible to a nation uniquely in love with KitKat's endless list of limited-edition flavors. The "Everyday Luxury" edition includes the KitKat Moleson's trademark cranberry and almond topping, now in finer pieces embedded in the chocolate's surface.

Buying Japanese Chocolates for Your Valentine
When buying chocolate from abroad, it's important to consider the expiration date. Rest assured, all the products listed here have stable shelf lives, which means you can order your Valentine the unique gift of Japanese chocolates without worrying that they might expire during shipping.
Japan has a special relationship with chocolate that must be experienced firsthand to truly be appreciated, so shop FROM JAPAN for these sophisticated sweets and more, and explore the world of Japanese chocolate!