* This article was updated on May 31, 2021
Sailor Moon Eternal has teamed up with Japanese eyeglasses company Jins to bring out this gorgeous collection of Sailor senshi-inspired eyewear, glasses cases, and glasses straps. This collection features designs inspired by Sailor Moon, Chibi Usa, Sailor Uranus, Sailor Neptune, Sailor Pluto, and Sailor Saturn. The collection is Japan-exclusive, but you can get your hands on some of these gorgeous glasses by using a buying proxy service like FROM JAPAN. Read on to see how you can order your very own pair of Sailor Moon Eternal x Jins glasses with FROM JAPAN!
How to buy Sailor Moon x Jins Glasses with FROM JAPAN
Step 1. Go to the Sailor Moon x Jins Glasses homepage.
Here you can see the full collection of glasses, glasses cases, and glasses straps. By clicking the 詳細を見る (View Details) button under the product, you will be taken to its individual product page.
Step 2. Make an account with FROM JAPAN and copy and paste the product page URL into the search bar.
Copy and paste the URL of the item's page into FROM JAPAN's search bar like the example below:

Step 3. Hit search and complete the order form.
Once you've hit search, it will take you to our price quote request form where you can fill in the details of your order. Here's an example of a completed form: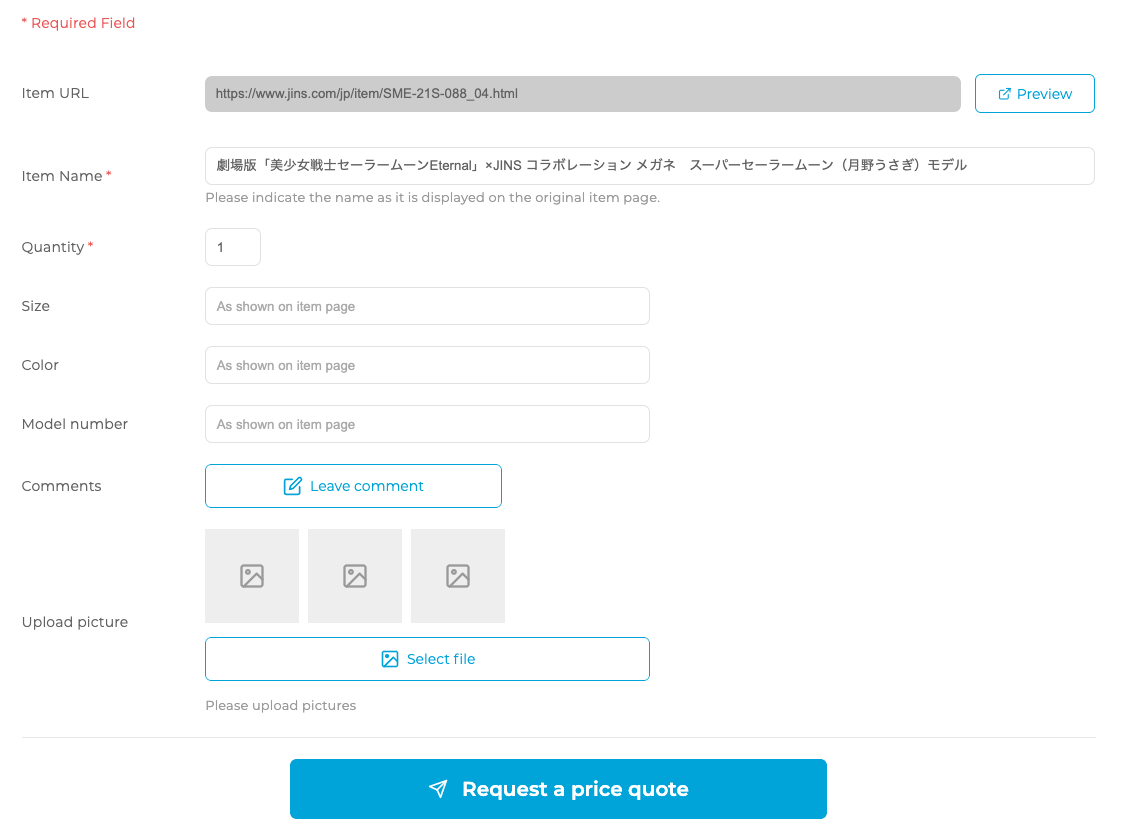 You will need to copy and paste the name as it appears in Japanese. As prescription lenses need to be fitted in-store, we cannot order these for you. You may choose between normal non-prescription clear lenses (通常クリア) and blue light glasses (JINS SCREEN.) Please specify no prescription (度なし) and your preferred type of lenses in the comment field. Our shopping staff will not be able to buy the item without this information, so make sure you include it before sending the price quote request form.
Once we've processed your price quote request, our Shopping Team will send an invoice for the cost of the item. If you are planning to buy multiple items, then you will need to request a separate price quote for each unique item.
Once all of your invoices have arrived and you have paid Charge 1, your items will be ordered and sent to our distribution center. After all of your items have arrived at our warehouse, we will wait for your shipment instructions regarding what items you would like shipped together and your preferred shipping method. At this point, you will be sent to the Charge 2 payment page. Charge 2 includes international and domestic shipping fees, as well as the fee for the purchasing plan.
And then all you have to do is wait for your Sailor Moon Eternal x Jins collaboration items to arrive at your door! We also recommend that you check out our usage guide for more details about our process and fee structure. If you have any more questions about how to use our service, get in contact with our Customer Service team.