It's hard to believe that the Naruto saga is finally ending after 14 amazing years. For many fans who grew up with the franchise, Naruto and Team 7 are more than just characters on the page and screen—they're family. Whether you've been devoted to the series since its Shonen Jump days or have only recently come into the Naruto fold, it's time to celebrate this legendary run in true fandom style—Naruto figures! Here are our nine picks for S-ranked figures released in 2016, guaranteed to help you fulfill your Ninja Way.
S.H.Figuarts – Minato Namikaze (January 2016)

Known as the Yellow Flash of Konoha, Minato is arguably S.H.Figuarts' most impressive Naruto figure, with collectors praising his sturdy paint job, flexible design, and soft, texturized cloak. Exchangeable hands and faces, paired with Minato's special Flying Thunder God Kunai and Rasengan props, allow you to recreate all of his iconic battle stances and noble, Hokage-like poses. His shoulders are even specially designed to allow him to cross his arms with ease, which is no small feat for an articulated figure. Highly detailed, Minato would make a handsome addition to any collection, especially alongside S.H.Figuarts' Naruto figure.
Master Stars: Manga Dimensions – Naruto Uzumaki (June 2016)

Believe it or not, that's not a piece of manga artwork you're looking at! Manga Dimensions' first-ever Naruto figure is of the "#1 hyperactive, knucklehead ninja" himself. Designed to imitate the series' cell-shaded look, this unique collector's piece is the perfect keepsake for fans who fell in love with Naruto through Shonen Jump. The figure is designed with the visual illusion of alternating between 2D and 3D, tricking the eye at certain angles for a convincing depiction of the character as a colored scan from the manga.
MegaHouse: G.E.M. Series – Sasuke Uchiha – Boruto Ver. (August 2016)

We've got to "hand" it to Sasuke—even with only one arm in the fight, he makes a striking figure. Based on his older appearance in Boruto: Naruto the Movie, Sasuke has wised up in more ways than one—his dramatic swordplay is mastery in motion, made even keener by the cool determination in his face. Arguably Sasuke's most fluid figure yet, he's sure to leave his fanboys in awe and his fangirls fanning themselves.
Petit Chara Land – Naruto Shippuden Kuchiyose no Jutsu (October 2016)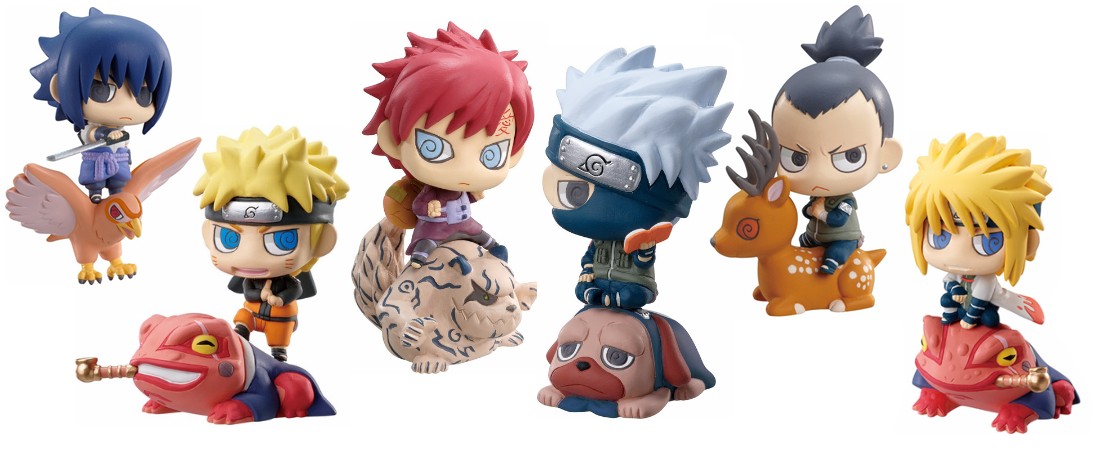 In the world of Naruto, having the right summon at your beck and call can mean the difference between life and death in a heated battle, but it's hard to take these adorable mini-figures quite so seriously (even if Shikamaru seems to). Perched on their faithful summons, these chibified ninja fit easily into even the most cramped collections. Legend says that this set also includes a secret character—who could it be?
Tsume DXtra – Orochimaru (October 2016)

Orochimaru's loyalty might have wavered throughout the Naruto series, but his loyal fan following certainly hasn't! A love letter to the Naruto fandom's favorite serpentine ninja, Tsume's DXtra Orochimaru figure captures the Sannin's fanged smile, cunning personality, and snake-summoning powers all in one kinetic pose. Wielding his Kusanagi sword, Orochimaru looks fantastic alongside Tsume's Sasuke Uchiha, and he's sure to snake his way into the hearts of collectors no matter how far they've progressed through the series.
Gecco – Hatake Kakashi 1/6 Scale (October 2016)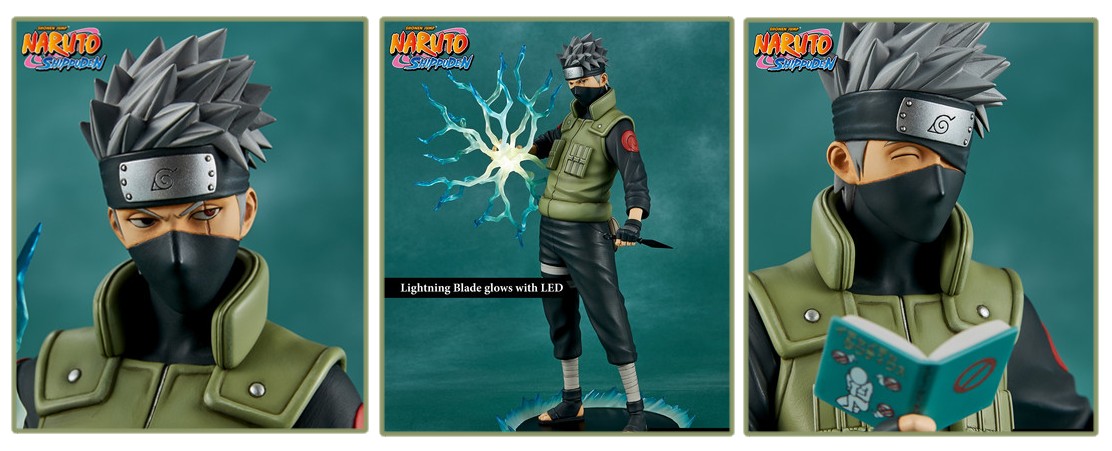 A relatively new addition to the Naruto scene, Gecco first began releasing ultra-detailed Naruto figures in 2014. Fan-favorite sensei and bookworm Kakashi Hatake is Gecco's latest and perhaps most ambitious release with a limited run of only 200 sets. Standing 32 centimeters (over 12 inches) tall, Kakashi comes with multiple facial expressions and interchangeable arms, his personal copy of Make-out Tactics, and an electric extension for his Lightning Blade, complete with an LED base effect. It's no wonder Gecco's Kakashi is such a coveted prize among figure collectors.
Tsume Xtra – Obito Uchiha (October 2016)

One of the most significant characters in Naruto's final arc, Obito "Tobi" Uchiha's only existing figure is rendered in symbolic detail, with Tobi's mask shattering from his face to reveal his true identity and two powerful eyes—one bearing the Mangekyo Sharingan and the other blazing with Madara's Rinnegan. Wielding Madara's Gunbai in his left hand, Obito is portrayed as Madara's successor and Kakashi's dangerous rival. Pose him charging into battle against Kakashi's Lightning Blade to relive the epic final battle of the Ninja Realm.
MegaHouse: G.E.M. Series – Itachi Uchiha Anbu (November 2016)

The mysterious Itachi began his tragic history in the Anbu Black Ops, making this figure a bittersweet commemorative piece for fans. Poised mid-action on a dangerous mission, Itachi prepares to dodge kunai knives and take the fight to his foes with sword in hand. Itachi's latest figure captures one of the most important backstories in the Naruto series with careful attention to realistic detail and anime artwork, and pairs well with MegaHouse G.E.M.'s Kakashi Hatake Anbu.
MegaHouse: Naruto Gals – Hinata Hyuga (January 2017)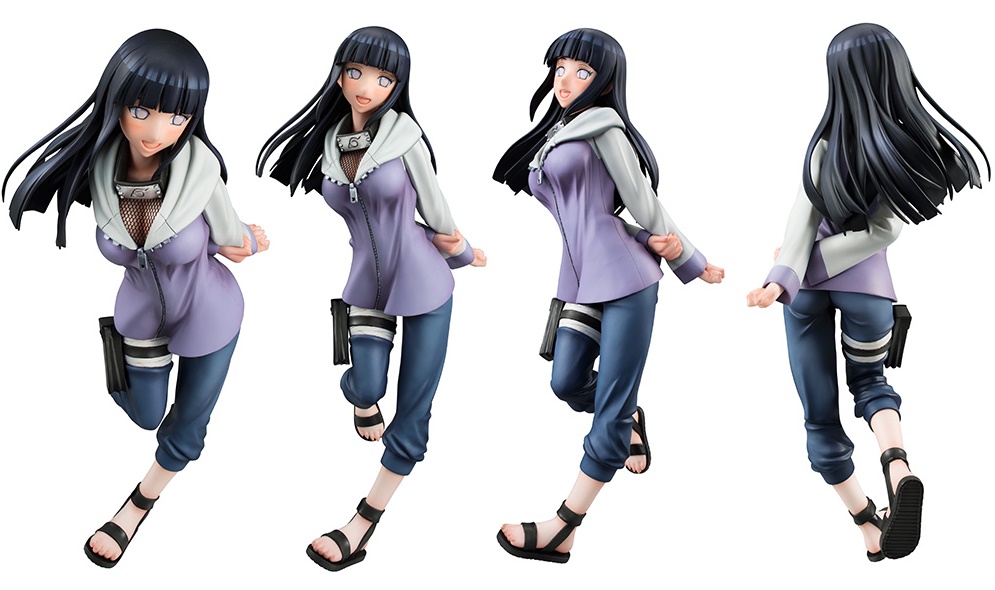 Hinata Hyuga is scheduled to release in early 2017 as the very first figure in MegaHouse's highly anticipated Naruto Gals lineup, shortly after Naruto Shippuden is predicted to air its final episode. Having overcome her trademark shyness in Naruto Shippuden, Hinata is posed with the sweetest smile and an almost playful skip to her step. This is the scaled Hinata figure you've been waiting for, whether she's your inspiration, your waifu, or part of your OTP. (And be on the lookout for Tsunade—the next ninja in the Naruto Gals lineup!)
Keep This Series in Your Life with Naruto Figures from Japan
Even though Naruto is ending, the franchise shows no signs of stopping anytime soon with many promising figures scheduled for release throughout 2017. Don't forget to pay tribute to your Naruto nostalgia with a helping hand from FROM JAPAN—the proxy and shipping service that can help you find all your must-have Naruto figures.