Autumn is finally here, which means it's officially time to "fall" back in love with anime (and anime-inspired) figures! Not sure where to begin? No worries! FROM JAPAN has your shopping list covered with 9 of the most in-demand, best-selling figures of the season.
Ani Statue – Re:Zero: Emilia – Starting Life in Another World (September)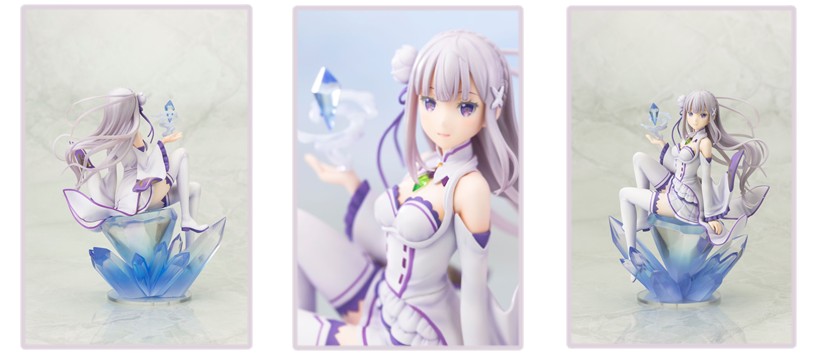 Even fans who haven't seen Re:Zero—one of this season's most popular anime series—are likely to be awed by this gentle portrayal of Emilia. Depicted in delicate colors and as if touched by a soft breeze, this figure nobly captures the fantastical charm of the series and the kind nature befitting the future ruler of the elves. Though Emilia's sculpted in 1/8 scale, her sitting posture keeps her from taking up too much space, making her the perfect figure for even the fullest display shelves and cabinets.
Nendoroid – New Game!: Aoba Suzukaze (October)

Star of the currently airing anime, New Game!, Aoba Suzukaze—the newest game developer at Eagle Jump—comes with all the essentials she needs to survive a day at work: her coffee, ID card, and game pad. Alternate face plates capture Aoba's wide range of emotions, and she even comes with extra legs so you can pose her sitting while enjoying her favorite pastime.
Plum – Fate/Grand Order: Lancer Scathach 1/7 Figure (November)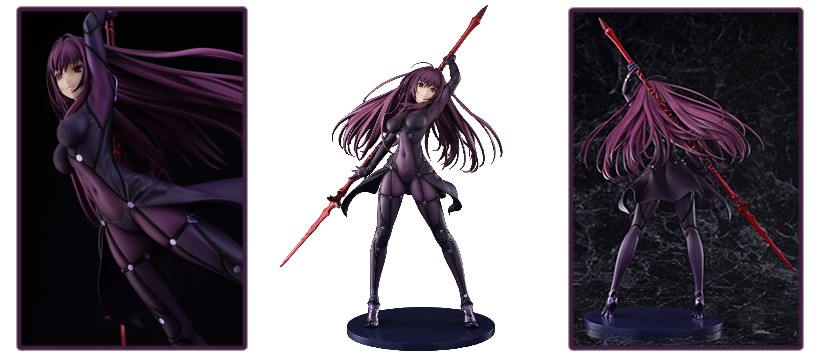 From the hit online RPG, Fate/Grand Order, comes Scathach, Master of Lancer Cú Chulainn from Fate/Stay Night. Her mauve color scheme contrasts dangerously with her blood-red Gáe Bolg and vibrant eyes. With her voluminous hair flowing wildly around her, Scathach's elegant back aligns with her spear's shaft to grant her an untamed, feminine poise. Summon her into your collection as early as November.
Nendoroid – One-Punch Man: Genos (December)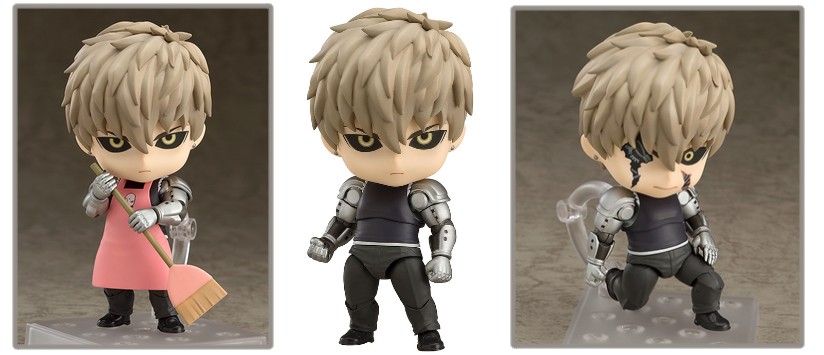 In adorable chibi form, Genos is sure to make fangirls swoon twice as hard. Good Smile Company's latest One Punch Man Nendoroid is an S-rank figure that captures all the super-powered heroics (and comedy) of the "Demon Cyborg." Swap in his damaged face and "machine gun blow" extensions to relive Genos' emotional battle with the Deep Sea King. For a more laid-back mood, "tie" on Genos' pink apron for a battle against the dirt in Master Saitama's apartment. Pose him alongside his idol, Nendoroid Saitama, to recreate the legendary master-student team.
Play Arts Kai – Final Fantasy VII: Advent Children: Sephiroth (December)

The "One-Winged Angel" makes his Play Arts Kai debut as one of the most requested Final Fantasy figures of all time. Scheduled to be released in anticipation of the long-awaited Final Fantasy VII remake, the Sephiroth Play Arts Kai figure is the first articulated, winged version of its kind and based off of his appearance in the Advent Children film. Conveniently, the wing is also detachable for those who want to portray his more "human" side. Don't forget to purchase Play Arts Kai's Cloud Strife alongside Sephiroth for a truly epic clash between Buster Sword and Masamune. Sephiroth makes his advent to many Japanese retailers this December, just in time to herald the new year.
Nendoroid – Kabaneri of the Iron Fortress: Mumei (December)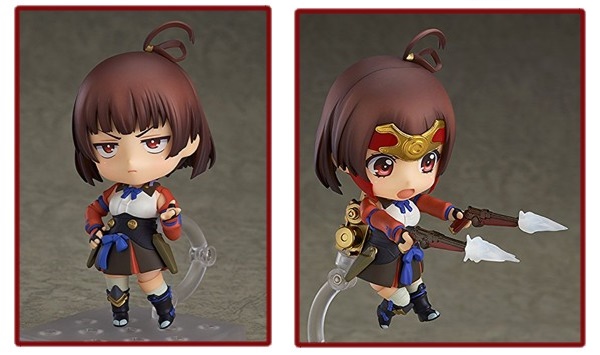 The moment she jumped into the zombie-fighting fray, Mumei became the fan-favorite character from the highly anticipated anime, Kabaneri of the Iron Fortress, which aired last spring. This Nendoroid accurately recreates all her tiniest details, down to the buttons on her blouse and the cogs on her steampunk combat gear. Whether you love Mumei's sassy attitude or her high-flying fighting skills, you can capture the enormous charm of the fandom's favorite Kabaneri in one tiny package.
Figma – Hatsune Miku Racing Ver.: Racing Miku 2016! Figure (December)

Based on the gorgeous artwork of acclaimed animator Mai Yoneyama (Kiznaiver, Kill la Kill, Bleach, Sword Art Online), this year's Racing Miku might be the most artistic one yet! Inspired by the mythological phoenix, Miku's pigtails taper into vibrant, zig-zagging colors as she waves her fiery starter's flag. Soft PVC allows for the most flexible articulation, which means you can recreate all of Miku's official poses with the help of her umbrella prop (open or closed) and additional faces. The Good Smile Company is officially releasing her at the end of December, so be sure to add Racing Miku 2016 to your Vocaloid memorabilia before other fans beat you to the finish line. You can get the past figma of Racing Miku here!
Nendoroid – No Game No Life: Shiro (December)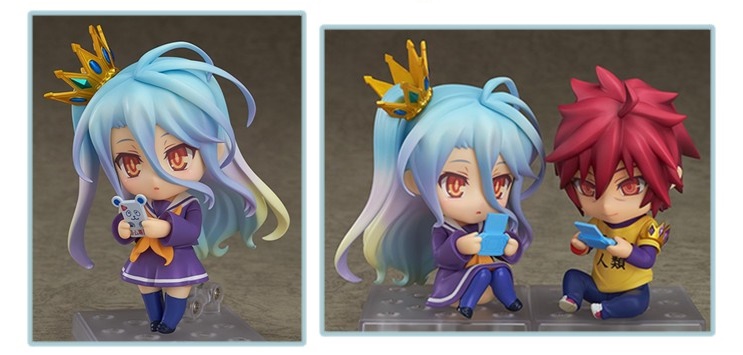 While both Kuuhaku siblings are currently available for preorder in Nendoroid form, Shiro is in higher demand. Whether it's Shiro's eye-catching, rainbow-colored hair, her childish expressions, or her calculating attitude that draws fans in, we may never know. What we do know is that Shiro is so irresistible to collectors that she's one of Good Smile's most popular Nendoroids of the season. Put her on pre-order before she joins another fan's game, and don't forget to purchase Sora, too—Shiro can't survive without him, after all!
Figma – Yu-Gi-Oh!: Dark Magician Girl (December)

Yugi Muto's magical companion finally joins the Figma line—and comes with everything you need to relive your Yu-Gi-Oh! nostalgia. Whether you prefer her winking, smiling softly, or determined and confident, you can express your favorite side of the Dark Magician Girl's personality with one of three face plates. Pose her with her wand and "magic formula" spell book to showcase her knack for magic. She even comes with extra leg parts, so you can pose her kneeling or with one leg bent playfully backward. As one of Figma's most in-demand figures, she's selling out fast, so be sure to add her to your dueling deck before her official release in December!
How to Get Your Hands on These Autumn 2016 Anime Figures
These are just a few of fall 2016's most popular releases, and because they're in high demand, they will likely sell out fast! If you see something you love, be sure to put it on pre-order before it's too late. Whether you're looking to purchase the figures on this list, or searching for a rare must-have to add to your otaku collection, you can shop FROM JAPAN for the best of Japan's anime figures!
Don't forget to check out our picks for 2016's best summer anime figures!