Guide to Pokémon Plushies: Which Pokemon Plushies should I get?
With how popular Pokémon is around the world, we can't deny that this Japanese phenomenon is infinitely merchandisable. Arguably, the best type of Pokemon merch is a Pokemon plushie, because if you've ever found yourself wishing that your favorite Pokémon was real, getting a plushie of your favorite Pokemon is the next best thing.
Today we're going to discuss our favorite 6 types of Pokemon plushies. Feel free to use this guide so you can find the perfect gift for a Pokemon-loving friend, or to figure out which ones you still need to add to your collection!
Pokémon fit Collection
As of October 2021, a total of 540 different Pokémon are featured in the expansive Pokémon fit Collection. This means that if your favorite Pokémon aren't as popular as Pikachu or Eevee, then there's a good chance you'll find a plushie of them here!
The other thing that makes this series appealing is that all of the plushies in the Pokémon fit Collection fit in the palm of your hand — making it very easy for you to take them anywhere! They're perfect if you want to display your love for a certain Pokemon by decorating your desk at work or at home without needing to use up too much space.
This series was released in Pokémon Cafe and Pokémon Centers across Japan, but if you want to order them from abroad, you can find them through Japan proxy shopping websites.
Pokémon Dolls Plushies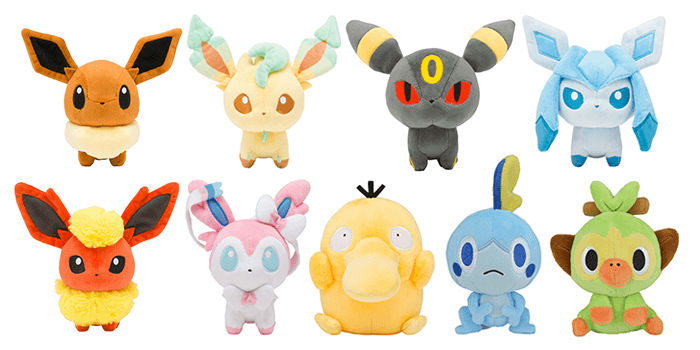 Similar to the Pokemon fit collection, the Pokemon Dolls lineup is also quite extensive and also features Pokemon introduced in some of the more recent games, like Sword and Shield. This collection includes not just plushies themselves, but also keychain versions and versions that have a matching "Pokemon House" mini furniture you can prop your plushie on to.
The design of the Pokemon included in this series are slightly different from how they typically look — Pokemon Dolls are meant to look rounder and cuter, so these are perfect if you want a plushie that shows off a different style to your favorite Pokemon.
Saiko Soda Pokémon Plushies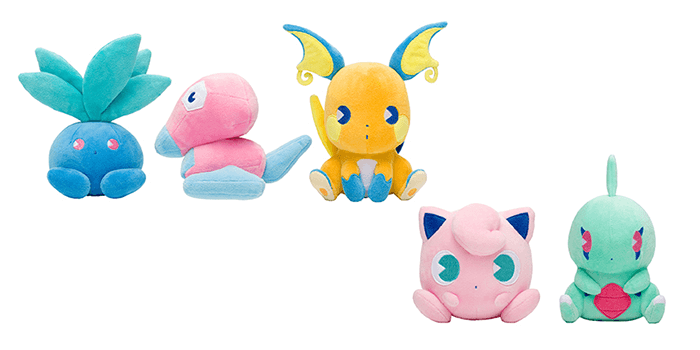 Saiko Soda Pokémon series of plushies were based on the illustrations of Japanese artist F*Kaori, who is known for creating dreamy, pastel-colored images. The name was inspired by the Japanese name for the Soda Pop item that veteran players of Pokemon games will know as a type of medicine used to restore HP.
Just from one look at these plushies, you can immediately tell the "dreamy" influence of F*Kaori's work. They can be the perfect gift for a Pokemon fan who also likes light, pastel aesthetics, or they can also make for a good addition to your collection if you want something unique.
Mocchi-Mocchi Pokemon Plushies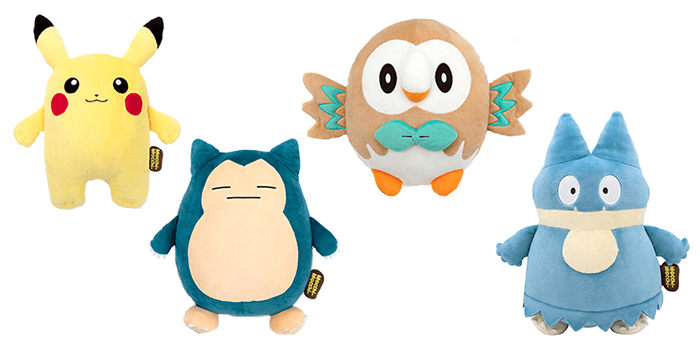 Named after the Japanese word for "soft & springy", the Mocchi-Mocchi Pokemon plushies are perfect for when you just want something cute to hug and squeeze. In fact, these plushies are the perfect size for that — coming in at around 450mm/17in. (H) x 350mm/13in. (W) for each plushie, their size was specifically chosen with the plushie's huggability in mind!
Pyokorin Pokemon Plushies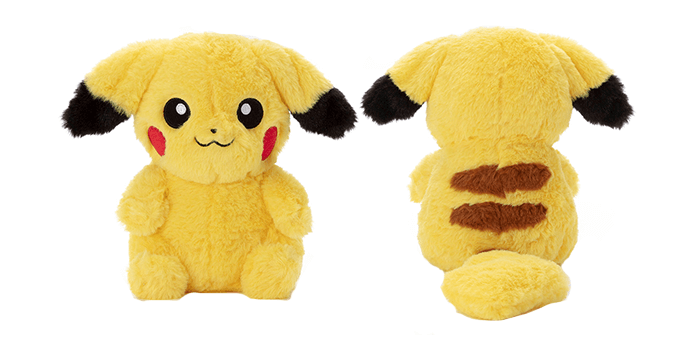 The Pyokorin Pokemon plushie is the most recently released among those in this list. It was only released on February 24, 2022 (less than 3 months ago as of this writing), so as of now, the only version you'll find is that of the ever-popular Pikachu.
The cool thing about this plushie is that if you press its belly, its ears will lift up as if in response! This is perfect for Pokemon-loving kids who might find hours of fun through this plushie's unique feature. We can already think of several other Pokemon who we'd love to see Pyokoroin plushies of, and we're sure we'll be seeing them in Pokemon Centers soon!
Munyumaru Pokemon Plushies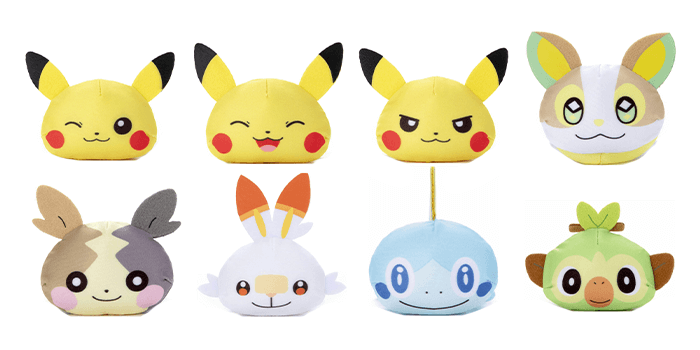 Last but definitely not the least, we have the Munyumaru Pokemon Plushies. Unlike the other plushies we've introduced that have a default sitting position, this set has some of the most popular Pokemon in a lying down position with their face looking forwards and looking as cute as ever.
Munyumaru Plushies are so small that you can fit two of them in one hand! If you get more than one, you can have some fun and stack them on top of each other — their shape makes it easy to do that! Their softness also makes them the perfect wrist support. You can just place them on your wrist for those long days of needing to use a mouse and keyboard, and this little plushie will make sure you stay comfortable for the whole day.
How can I get these plushies if I don't live in Japan?
Lucky for you, there's a great resource where you can get all of the plushies we mentioned above — all in one place and accessible from anywhere in the world!
FROM JAPAN is a proxy shopping service that gets Japan-exclusive items for you and ships them out worldwide. Members of FROM JAPAN get exciting perks such as regular sales and campaigns, free storage of up to 45 days, and a responsive Customer Service team. We're trusted by thousands of customers worldwide — lots of whom have been using our services for many years.
If you're new to our site, here's a quick guide to help you figure out how to get your hands on a wide range of Pokemon plushies delivered straight from Japan!
Step 1: Find items the Pokemon plushie you want through FROM JAPAN's powerful search engine.


Our search engine combines results from a variety of online stores in Japan, so there's no need for you to go through them one-by-one. If you know what you're looking for, simply type in the item's name or brand in Japanese and you'll get dozens if not thousands of item listings pop up.


Step 2: Check the Details of Your Item.


Once you find the items you want, look through the details shown on the product page including the photos, the product price, and on the bottom half of the page, you will see a text box for the Description. Clicking on 英語 for English will give you an automated translation.

Step 3: Add the Items to Your Cart and Pay for Charge 1.
Step 4: Items Arrive at Our Distribution Center for Shipment Instructions
Step 5: Pay for Charge 2.
Step 6: Shipping.

After the Charge 2 payment, your items are prepared for dispatch. We dispatch all items within two working days to ensure that you receive your items speedily.

Step 7: Arrival of your Pokemon plushies!
---
And that's it! The same steps apply when you want to find other types of Pokemon merch, so now you can purchase pretty much any Pokemon goodies your heart desires! For more information on our services, you can visit our Usage Guide. We hope you enjoy your shopping!