Whip out your wish lists, because fall 2017 is an absolute exhibition of anime and JRPG figures, especially for static collectible enthusiasts! Featuring best-selling series like Sword Art Online, Yuri!! on Ice, and Free!, this season's list highlights nine of the most anticipated high-quality anime figures coming out of Japan, including new releases, re-releases, and exclusives sets.
Alter – Love Live! School Idol Festival: Eli Ayase 1/7-Scale Figure (September 2017)

Based on her post-Idolized Maid Café card in the Love Live! School Idol Festival game app, Eli's apparel is a mesmerizing medley of draping checkered prints, lacy ribbons, and frilly bows, best summed up as a patchwork pastiche of Alice in Wonderland with a touch of steampunk. Glitter and metallic paints emphasize the colors in Eli's regalia, made all the more striking by her S-shaped silhouette and the radiant sparkles in her eyes. The perfect singing partner for Alter's Minama Kotori released in July, this Eli Ayase figure debuts her most elaborate performance yet, dancing onto the retail stage this September in stellar 1/7 scale!
ARTFX J – Persona 5: Hero "Phantom Thief ver." 1/8-Scale Figure (September 2017)
Persona 5 shattered records as the fastest- and best-selling game in the series. It's fitting, then, that ARTFX J's figure of the player-named protagonist is depicted dashing mid-getaway across the shattered glass of his latest heist. The leader of the Phantom Thieves of Hearts flows with kinetic energy as trailing coattails accent his lithe legs. Let him steal his way into your collection this September—because while his code name may be Joker, his figure counterpart is no laughing matter!
Good Smile Company – Vocaloid: Hatsune Miku Deep Sea Girl 1/8-Scale Figure (September 2017 Re-release)


Resurfacing after a highly successful plunge into the figure market in 2014, this
Hatsune Miku Deep Sea Girl figure is a treasure trove of underwater wonder inspired by Haruyo's beautiful illustration of Yuuyu-P's hit song "Deep Sea Girl." Miku's azure twin tails drift in the ocean current like voluminous strands of seaweed as she sits upon the seabed surrounded by a diorama of ocean décor while blissfully daydreaming—a prize catch you won't want to release back into the sea!
Altair – High Speed!: -Free! Starting Days-: Makoto & Haruka 1/7-Scale Figures (September 2017)

Altair's whimsical figures of budding swimmers Makoto and Haruka are sure to make a big splash as the first scaled collectibles depicting the characters in their youth. Based on the prequel film Free! Starting Days, these figures capture Makoto's friendliness and Haruka's quietude all while giving a light appearance to their clothing and coiffed hair. Look closely at the translucent splashing water at their feet to see their respective spirit animals—orca and dolphin—forming within the droplets. Overlapping bases let you display the duo together or separately, and nuanced facial expressions offer slightly different emotions depending on the direction the characters are displayed.
Kotobukiya – Sword Art Online: Asuna "Aincrad ver." 1/8-Scale Figure (September 2017 Re-release)

Four years after its successful debut, Kotobukiya's "Aincrad version" Asuna figure is respawning in the otaku market this September. Fans are sure to appreciate Asuna's enchanting sculpt as she hovers gracefully in midair. Garbed in the ceremonial colors of the Knights of the Blood Oath clan, wielding her Lambent Light rapier, and wearing a confident smile, she is fully prepared to handle any danger the digital realms can conjure. If you missed her first release, be sure to put her on pre-order soon—as Sword Art Online's most popular scaled figure to date, she's likely to sell out fast!
MegaHouse – Yuri!!! on Ice: Victor Nikiforov 1/8-Scale Figure (October 2017)

Megahouse is releasing its first scaled Yuri!!! on Ice figure as part of the G.E.M. Series, and it's as elegant as Victor is handsome. The toned sculpture captures the gracefulness of his masterful maneuvers on the rink, and his attractive costume is further flattered by its gleaming leather-like texture. You can either collect this 1/8-scale figure on its own or with a special set Makkachin figurine, both of which will be skating into retailers this October. Until then, you can keep Victor in your collection's spotlight with beautifully sculpted 1/8-scale figures by ARTFX and Toy'sworks.
Phat Company – Fate/Apocrypha: Saber of Red "Novel ver." 1/8-Scale Figure (November 2017)
Portrayed at the pinnacle of her power, this 1/8-scale figure of Mordred stands victoriously on the remains of an enemy Master's golem while effortlessly raising her glowing Noble Phantasm Clarent for a striking blow. Her spiked armor and disassembled horned helm are rendered in all their dark details to emphasize the traitorous knight's rebellious ways. Punctuating her confident poise with a fearless shout (or is it a cocky laugh, perhaps?), this peerless Saber of Red figure by Phat Company is the perfect way to commemorate the release of the Fate/Apocrypha anime.
S.H. Figuarts – Kingdom Hearts II: Sora (November 2017)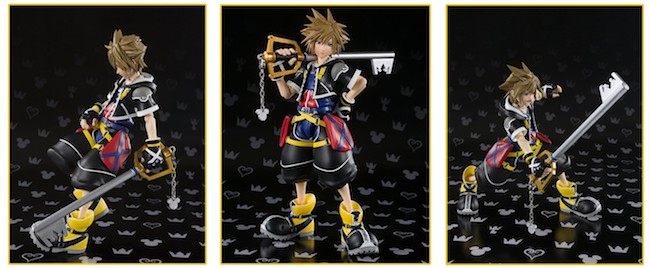 Kingdom Hearts III might be just around the corner, but it's never too late to reminisce about your "simple and clean" memories of Kingdom Hearts II. S.H. Figuart's Sora figure captures the Disney-meets-Square Enix magic of the series' second installment with optional hands and facial expressions that let you bring out every facet of his playful personality. Sora's Keyblade features an authentic metal chain, and his extra-spiky hair looks as though it's been dimensionally rendered straight from the character's original concept art. Whisk him away to the world of your figure collection this November.
The Best Place to Buy High-Quality Anime Figures Online
For collectibles from your favorite fandoms and more, browse FROM JAPAN – your one-stop shop for the best high-quality anime figures!
And don't forget to check out our picks for 2017's best summer anime figures!