What is D4DJ?
Whether they started out from anime, rhythm games, or something in between, Japan has brought forth so many cute idols who fill the world with songs and happiness. We've seen ones who can sing, dance, and play in bands, but one aspect that we're seeing for the very first time in the world of Japanese idols is DJing.
That is, until 2020 came around, when we saw the release of a new musical project from Japanese entertainment giant, Bushiroad. Known as D4DJ (short for Dig Delight Direct Drive DJ), this project features six groups or "units" of girls who are very passionate about DJing. It started off as a manga in October 2020, and it was quickly followed up with the release of a rhythm game called D4DJ Groovy Mix and two anime series called D4DJ First Mix and D4DJ Petit Mix.
If this is the first time you're hearing about this project, don't worry because we've got you covered. In this article, we'll introduce you to each of the units of D4DJ and their respective members, and hopefully by the end, you'll find your new favorite DJ girl!
Happy Around!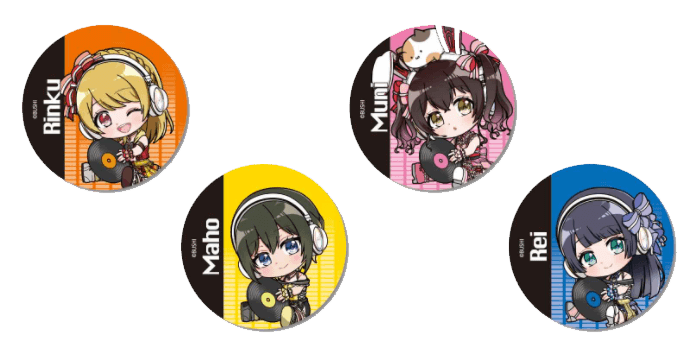 Happy Around! is the central unit of the D4DJ franchise, and their name comes from member Rinku Aimoto, who often says the phrase "Happy around!" when she feels happy. When she is performing, she often couples this phrase with a twirling movement on stage.
The origin of the group is also linked back to Rinku. She used to live in Africa with her parents before she moved back to Japan for high school. After enrolling in Yoba Academy – the setting for the main story of the series – she met the other girls who would eventually form the unit with her: the school's DJ broadcaster, Maho Akashi, the illustrator and VJ, Muni Ohnaruto, and the group's composer and arranger, Rei Togetsu.
Together, the girls of Happy Around! create songs in three different genres: J-pop, Dubstep, and Happy Hardcore.
Peaky P-key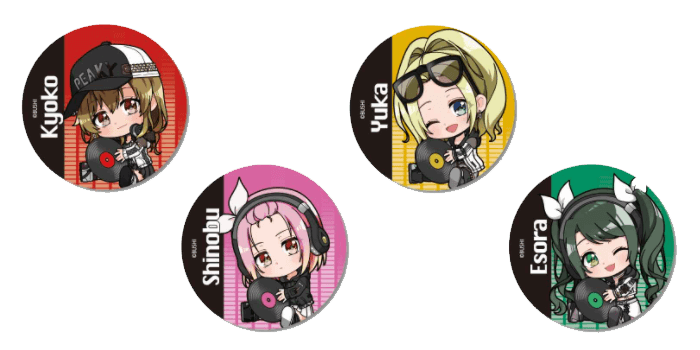 Peaky P-key is another DJ unit whose members are students from Yoba Academy. They were the unit that served as the inspiration for Rinku Aimoto to form Happy Around!
Their music falls under the Techno, Rap, Hip-Hop, and Electro Pop genres and their four members are: the leader Kyoko Yamate, the brains of the group, Shinobu Inoyose, the life of the party, Yuka Jennifer Sasago, and the self-proclaimed "lovely" member, Esora Shimizu.
Photon Maiden
Up next is Photon Maiden, the only DJ unit in the series that is signed under an entertainment agency. The unit has an overall sci-fi theme, and this reflects in the members' futuristic outfits and also in their music's genres, which are trance, techno, and dance.
Their members are the doll-like Saki Izumo, the athletic Ibuki Nijima, the idol enthusiast, Towa Hanamaki, and the theater lover, Noa Fukushima.
Merm4id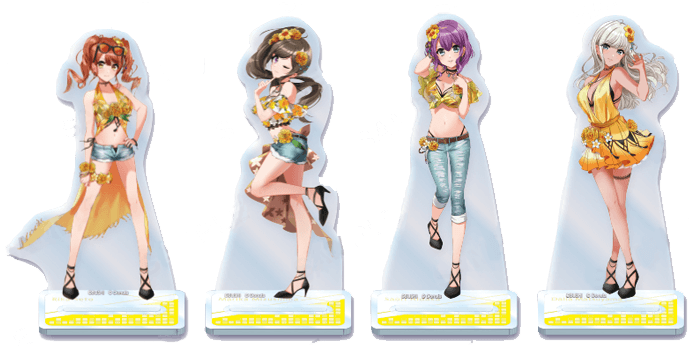 Just like the unit's name, the appearances of the girls from Merm4id have an underwater theme going on. Their members are Rika Seto, Marika Mizushima, Hidaka Saori, and Dalia Matsuyama. As a continuation of the water-related theme, the girls' family names are even taken directly from the names of ports in Japan.
All four girls have a strong desire to become a famous DJ unit. Their songs fall under the genres of EDM, Electro House, and Progressive Trance.
RONDO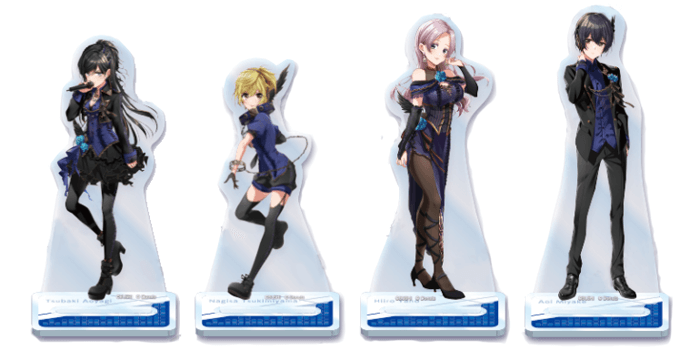 The girls from RONDO are all first-year college students who work at a famous club. Often seen in their typical dark-colored attires, this DJ unit focuses on a more gothic rock kind of style. Their songs are in the heavy alternative metal music genre, mixed with some elements of electronic music.
RONDO consists of the talented vocalist, Tsubaki Aoyagi, the rock music-lover, Nagisa Tsukimiyama, the VJ, Hiiro Yano, and the experienced DJ, Aoi Miyake.
Lyrical Lily
Last but not the least, is Lyrical Lily. The girls in this DJ unit all hail from a prestigious private school, and their go-to attire is lolita-themed. They mix classical music with the genres of house and synthpop in their songs.
Lyrical Lily's members are the kind-hearted Miyu Sakurada, the earnest girl from the school's disciplinary committee, Haruna Kasuga, the cheerful and mischievous Kurumi Shiratori, and the friendly Miiko Takeshita. One fun fact about the group is that their song titles are all inspired by famous literary works, such as The Petit Prince and The Gift of the Magi.
D4DJ x Hololive Collaboration
You might be interested to know that D4DJ also recently collaborated with another phenomenon that is sweeping Japan right now: Hololive! "Candy-Go-Round", a song featuring Hololive Vtubers Roboco, Yozora Mel, Aki Rosenthal, Minato Aqua, and Shiranui Flare was recently added as a playable song to the D4DJ Groovy Mix game.
A collaboration event between D4DJ Groovy Mix and Hololive was also announced prior to the addition of the song, so here's hoping we can see more of our favorite Vtubers alongside our favorite D4DJ girls!
Buy D4DJ Merch with FROM JAPAN!
Now that you know all about D4DJ, you can express your newfound love for these adorable DJing girls through D4DJ merch! Since D4DJ is still pretty new, most of their merch are Japan-exclusive. Luckily, you have FROM JAPAN on your side – grab all the D4DJ merch and any other merch you've set your eyes on, without worrying about distance or exclusivity! Start shopping with FROM JAPAN now!