Demon Slayer: Kimetsu no Yaiba merch – Show your love for Kimetsu no Yaiba!
Demon Slayer: Kimetsu no Yaiba is one of the biggest hits of 2019's anime offering. The story revolves around Tanjiro and Nezuko Kamado, siblings who had their whole family slaughtered by demons. The incident left Nezuko transformed into a demon and Tanjiro resolved to do whatever it takes to change his beloved sister back into a human. Full of beautifully executed fight scenes and lovable characters, Demon Slayer: Kimetsu no Yaiba has developed a dedicated fanbase.
With Demon Slayer's first season finished airing and a film adaptation in the works, it's the perfect time to celebrate this hit shonen series with some Japan-exclusive merch. Read on to see our picks for the best Kimetsu no Yaiba goodies out there. Enjoy!
Demon Slayer: Kimetsu no Yaiba Nendoroids – Tanjiro Kamado and Nezuko Kamado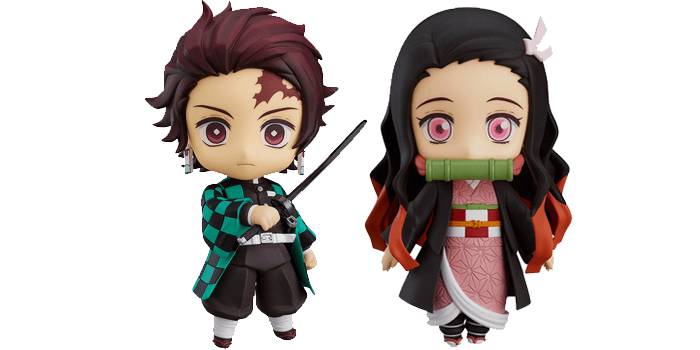 The Kamado siblings are the first Demon Slayer characters to be transformed into adorable Nendoroid figures! Both Tanjiro and Nezuko are fully articulated and come with a range of accessories so you can act out your favorite scenes from the anime. Demon slaying has never been cuter with these Kimetsu no Yaiba Nendoroids!
Demon Slayer: Kimetsu no Yaiba Prize Figures
Thanks to the popularity of Demon Slayer, Banpresto has treated the world to four rounds of gorgeously detailed Demon Slayer prize figures! The current lineup features Tanjiro, Nezuko, Zenitsu, and Inosuke in a variety of colorways making them a must-have item for any Kimetsu no Yaiba superfan!
Demon Slayer: Kimetsu no Yaiba Ichiban Kuji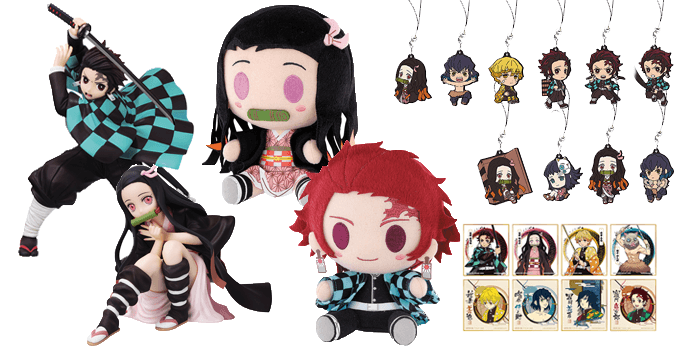 The otaku lottery game Ichiban Kuji has collaborated with Demon Slayer to create a range of otaku goodies featuring fan faves from the series! The collection includes beautiful figures and adorable plushies of Tanjiro and Nezuko, rubber mascots of the whole Demon Slayer crew, and gorgeous high-quality shikishi (mini postcards.) For those who want to add a little demon slaying magic to their lives, look no further than the Kimetsu no Yaiba Ichiban Kuji collection!
Demon Slayer: Kimetsu no Yaiba Q Posket Petit 1 & 2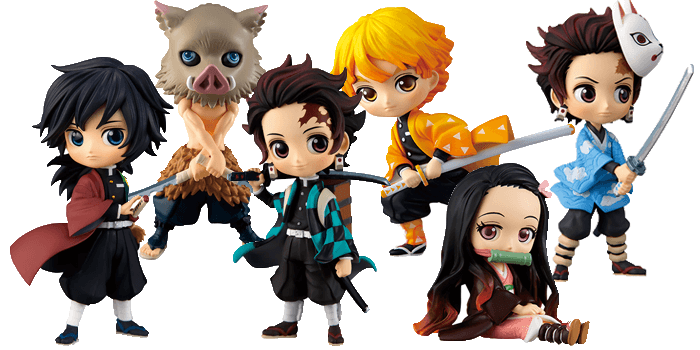 If you want a slice of kawaii with your Demon Slayer merch, then the two Q Posket Petit collections featuring fan faves from the series are perfect for you! The first series of the mini-sized prize figures includes adorable chibi versions of Tanjiro, Nezuko, and Zenitsu, with the second collection featuring an alternate colorway of Tanjiro alongside palm-sized figures of Inosuke and Giyu.
Demon Slayer: Kimetsu no Yaiba Tomonui Plush Mascots
Now you can take your favorite Demon Slayer characters wherever you go with these adorable Tomonui plush mascots from Banpresto! Two rounds of this super-cute series have been released, featuring mascots of Tanjiro, Nezuko, Zenitsu, Inosuke, Giyu, and Shinobu. Now you never have to leave your best boys and girls behind with these Tomonui mascots!
How to buy Demon Slayer merch with FROM JAPAN
Inspired by our list to get your own Demon Slayer merch? Unfortunately most of the items featured in this article can only be found in Japan. But that doesn't mean you have to give up on your demon slaying dreams! By using a shopping and bidding proxy service like FROM JAPAN, you can get all of your Kimetsu no Yaiba goodies shipped directly to your door. Start your otaku shopping today with FROM JAPAN!